Open Access This article is
freely available
re-usable
Review
Effects of Mindfulness Meditation on Conscious and Non-Conscious Components of the Mind
1
Department of Psychology, University of Rome La Sapienza, 00185 Rome, Italy
2
Department of Languages and Literatures, Communication, Education and Society, University of Udine, 33100 Udine, Italy
3
Perceptual Robotics (PERCRO) Laboratory, Scuola Superiore Sant'Anna, 56010 Pisa, Italy
4
Psychiatric Clinic, Department of Medical, Surgical and Health Sciences, University of Trieste, 34149 Trieste, Italy
5
Department of Medicine, University of Udine, 33100 Udine, Italy
*
Author to whom correspondence should be addressed.
Academic Editor: Peter Walla
Received: 31 January 2017 / Accepted: 30 March 2017 / Published: 1 April 2017
Abstract
:
The aim of the present review is to investigate previous studies concerning the effects of meditation and dispositional mindfulness on conscious and implicit or non-conscious attitudes. First we present a brief perspective on conscious and non-conscious states of mind. Then we introduce the fundamental bases of mindfulness meditation. Third we review studies on dispositional mindfulness and meditation that employed either direct or indirect measures to assess explicit and implicit attitudes. Finally, we briefly present how meditation has been associated with the psychotherapeutic practice of psychoanalysis and, hence, as a therapeutic technique to access the unconscious. Until now, few studies have investigated the impact of meditation on non-conscious states of mind and personality; nevertheless, both scientific studies involving implicit measures and reflections from psychotherapy have underlined the importance of meditation in promoting psychological well-being, leading to de-automatization of automatic patterns of responding and to higher levels of self-awareness.
Keywords:
mindfulness; meditation; consciousness; unconscious; implicit attitudes
Author Contributions
Anastasia Fabbro wrote the paper; Cristiano Crescentini helped in the preparation of the manuscript and supervised the work; Alessio Matiz contributed references and suggestions; Andrea Clarici wrote most of the contribution on meditation and the Freudian Unconscious; and Franco Fabbro supervised the work and gave fundamental suggestions for its structuring.
Conflicts of Interest
The authors declare no conflict of interest.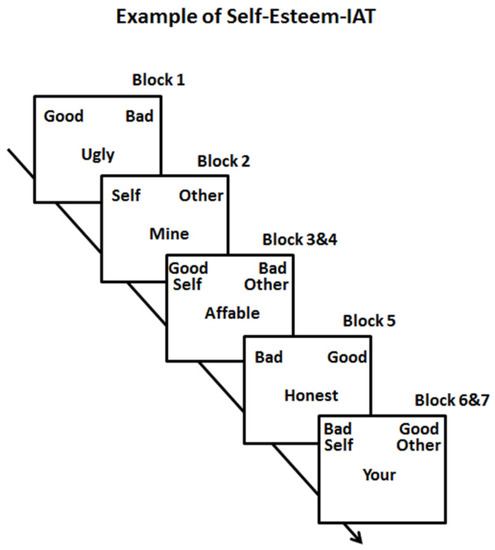 Figure 1.
The schematic structure of a self-esteem IAT is reported. The IAT typically consists of seven blocks of trials (each block typically includes from 20 to 60 trials; blocks 1, 2, and 5 are familiarization blocks ,while blocks 3 and 4 and blocks 6 and 7 are the congruent and incongruent blocks, respectively) in which a series of stimulus words appear at the center of the computer screen one at a time and must be associated to the stimulus categories (good, bad, self, other) shown on the upper left or right corner of the screen by pressing two corresponding response keys (e.g., in the first block good and bad words are presented one at a time, e.g., the bad stimulus word 'ugly' in the example, and have to be classified as being either good (left key) or bad (right key); the right key response is the correct response in the example). The IAT measures the strength of automatic concept-attribute associations. In the example of a self-esteem IAT this occurs between two groups of target words concerning the concepts of self vs. other and words related to good vs. bad dimensions (i.e., positive vs. negative valence words, respectively). The association is tested in both congruent (self + good; other + bad) and incongruent (self + bad; other + good) conditions. A self-esteem IAT effect is reflected by better performance (shorter response times and/or higher rate of correct response) in congruent than incongruent conditions, and indicates that a person automatically (implicitly) associates the self with positive rather than with negative valence (see [
27
,
28
] for further details on the IAT and on the list of stimulus words that can be used for a self-esteem IAT).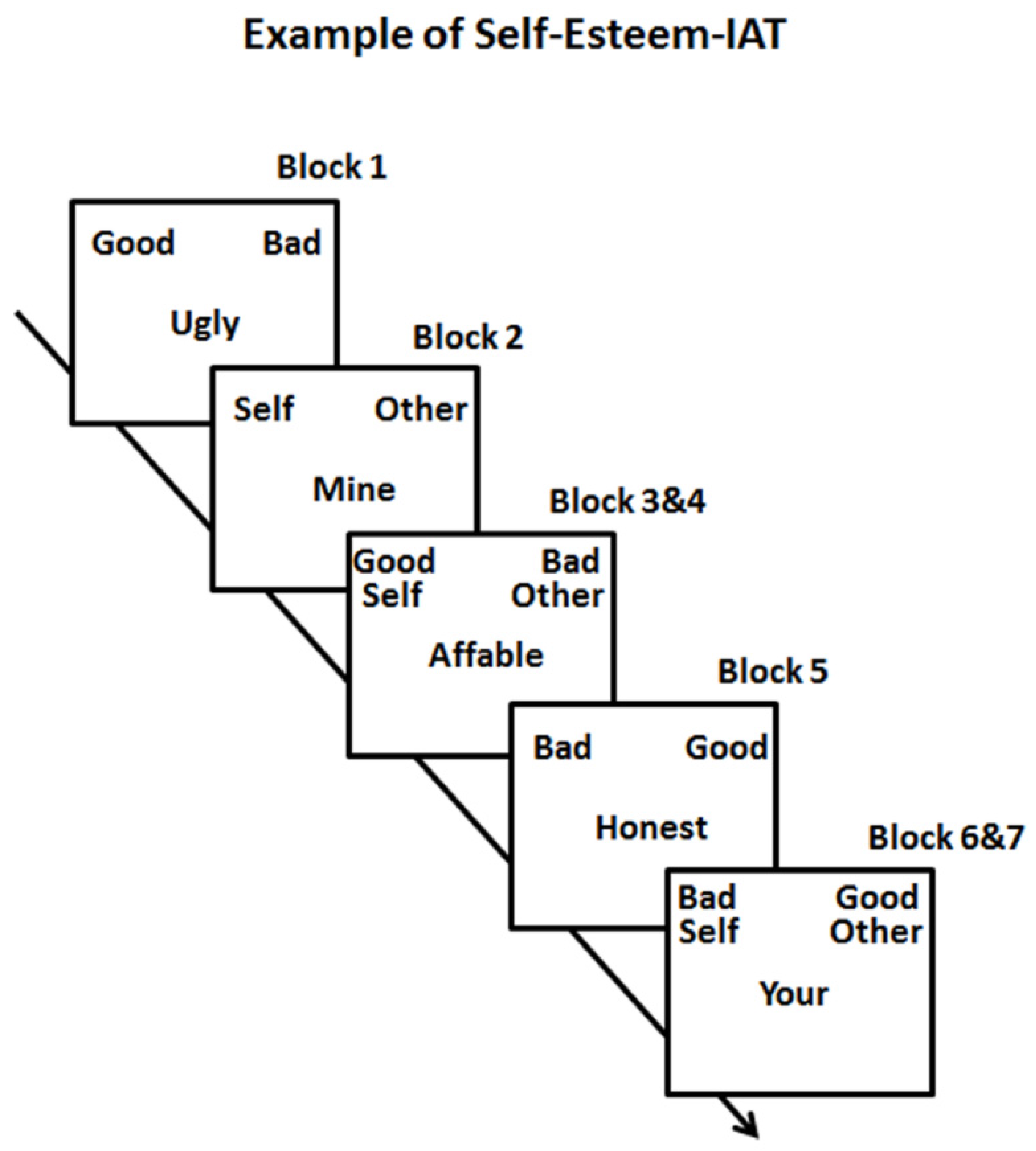 Table 1. Empirical studies of effects of dispositional mindfulness and meditation on implicit and explicit measures.
| Ref. | Study | N | Meditation | State/Trait Mfn | Explicit Measure | Instrument | Implicit Measure | Instrument | Result |
| --- | --- | --- | --- | --- | --- | --- | --- | --- | --- |
| [33] | Brown and Ryan (2003)—study 3 | 90 | - | T | trait mindfulness, affective state | MAAS, Diener and Emmons scale adapted | affective state | IAT | higher mindfulness predicted concordance between implicit and explicit affective experience |
| [34] | Sauer et al. (2011) | 247 | - | T | trait mindfulness, mental distress, emotional behavior | FMI, BDI, STAI, word/picture rating | susceptibility to evaluative conditioning, emotional behavior | evaluative conditioning, emotional Stroop test | "partial support that acceptance facet of mindfulness may be associated with less aversive reactions towards aversive stimuli" (explicitly measured) |
| [35] | Koole et al. (2009) | 130 (study 1), 58 (study 2) | MM (body scan) | S | self-esteem, mood | RSES (study 1), modified RSES (study 2), POMS | self-esteem | name-letter task | brief MM exercises increased association between implicit and explicit self-esteem |
| [36] | Keng et al. (2016) | 79 | MBCT adaptation | S,T | trait mindfulness, dysfunctional attitudes, depressive symptoms, social desirability, sad mood, perceived training efficacy, training adherence, engagement in rumination and distraction | FFMQ, DAS-SF1, BDI, SDS *, VAS, check questionnaire, Likert scale | dysfunctional attitudes | IAT | "brief mindful acceptance training improved implicit dysfunctional attitudes among individuals with high trait mindfulness" and promoted "greater self-concordance between implicit and explicit dysfunctional attitudes" |
| [37] | Crescentini et al. (2014) | 29 | MM (breath, body, thoughts) | T | trait mindfulness, religiousness/spirituality | FFMQ, TCI, INSPIRIT | self-esteem, religiousness/spirituality | IAT | "MM training promoted congruent increases in implicit and explicit religiousness/spirituality" |
| [38] | Remmers et al. (2016) | 72 | MM | S | trait mindfulness, mood changes | KIMS, PANAS | mood changes | IPANAT | "short MM exercise induced down-regulation of negative mood, on both explicit and implicit levels" |
| [39] | Levesque and Brown (2007)—study 2 | 78 | - | T | trait mindfulness, dispositional autonomy, day-to-day motivation for behavior, reflexive awareness | MAAS, subscale of SDS **, adaptation of PLOC, portion of SCS, subscale of RRQ | dispositional autonomy | IAT | "mindfulness moderated the effect of implicit motivational dispositions on day-to-day motivation for behavior" |
| [40] | Waters et al. (2009) | 158 | - | T | trait mindfulness, depressive symptoms, affect, stress symptoms | MAAS, KIMS, CESD, PANAS, PSS | self-association to depression, to anxiety, to smoke, attention | IAT, modified Stroop task | "degree of mindfulness negatively associated with implicit self-identification with depression" |
| [41] | Hutcherson et al. (2008) | 93 | LKM | S | evaluations of photos (self, a close other, 3 neutral strangers), changes in affect | Likert scale, single question | evaluations of photos (self, a close other, 3 neutral strangers) | affective priming task | brief LKM exercises caused higher explicit and implicit feelings of positivity toward strangers, and changes in implicit positivity toward the self |
| [42] | Kang et al. (2013) | 101 | LKM | T | cognitive control, psychological stress | MSIT, PSS | bias toward blacks and homeless | IAT | LKM training reduced implicit bias toward blacks and homeless |
| [43] | Stell and Farsides (2016) | 69 | LKM | S | positive emotions | mDES | racial bias | IAT | short LKM exercises reduced implicit bias on racial group targeted by exercises |
| [44] | Lueke and Gibson (2014) | 72 | MM (heartbeat, breath) | S | state mindfulness | modified item from MAAS | age and racial bias | IAT | short MM practice decreased implicit race and age bias |
| [45] | Lueke and Gibson (2016) | 93 | MM (heartbeat, breath) | S | trait mindfulness, state mindfulness | items from FMI and KIMS, MAAS, FFMQ subscale, TMS, SMS | racial discrimination | modified Trust Game task | short MM practice reduced discriminatory behavior |
| [46] | Whitmarsh et al. (2013) | 18 | - | T | trait mindfulness, grammar knowledge | FFMQ, grammar's bigram state transitions | working memory performance, implicit classification, grammatical classification | acquisition task, preference task, grammatical classification task | "mindfulness reduced habitual responding to unconsciously acquired preferences" |
| [47] | Stillman et al. (2014) | 16 (study 1), 18 (study 2) | - | T | trait mindfulness, depression, cognitive assessment | MAAS, GDS, BTACT | sequence learning task | TLT (study 1), ASRT (study 2) | "negative relationship between mindfulness and implicit sequence learning" |
| [48] | Strick et al. (2012) | 63 (study 1), 34 (study 2) | Zen | S | - | - | unconscious activation of answers | RAT (study 1), RAT + word priming (study 2) | "20 minutes of meditation improved access to the unconscious" |
Notes

: Fields of the table: reference of study inside our paper; main author and year of publication; number of subjects involved; if used, type of meditation practiced in intervention; kind of mindfulness investigated; explicit measure used; instrument for explicit measure; implicit measure used; instrument for implicit measure; result of the study.

Abbreviations

: ASRT, Alternating Serial Response Time Task; BDI, Beck Depression Inventory; BTACT, Brief Test of Adult Cognition by Telephone; CESD, Center of Epidemiologic Studies Depression Scale; DAS-SF1, Dysfunctional Attitude Scale—Short Form 1; FFMQ, Five Facet Mindfulness Questionnaire; FMI, Freiburg Mindfulness Inventory; GDS, Geriatric Depression Scale; IAT, Implicit Association Test; INSPIRIT, index of core spiritual experiences questionnaire; IPANAT, Implicit Positive Affect and Negative Affect Test; KIMS, Kentucky Inventory of Mindfulness Skills; LKM, Loving-Kindness Meditation; MAAS, Mindful Attention Awareness Scale; MBCT, Mindfulness-Based Cognitive Therapy; mDES, modified Differential Emotions Sub-scale; Mfn, Mindfulness; MM, Mindfulness Meditation; MSIT, Multi-Source Interference Task; PANAS, Positive and Negative Affect Schedule; PLOC, Perceived Locus of Causality scale; POMS, Profile of Mood Scales; PSS, Perceived Stress Scale; RAT, Remote Associates Test; RRQ, Rumination-Reflection Questionnaire; RSES, Rosenberg Self-Esteem Scale; S, State mindfulness; SCS, Self-Consciousness Scale; SDS *, Marlowe-Crowne Social Desirability Scale—Short Form C; SDS **, Self-Determination Scale; SMS, State Mindfulness Scale; STAI, State-Trait Anxiety Inventory; T, Trait mindfulness; TCI, Temperament and Character Inventory; TLT, Triplets Learning Task; TMS, Toronto Mindfulness Scale; VAS, Visual Analogue Scale.

© 2017 by the authors. Licensee MDPI, Basel, Switzerland. This article is an open access article distributed under the terms and conditions of the Creative Commons Attribution (CC BY) license (http://creativecommons.org/licenses/by/4.0/).