Open Access This article is
freely available
re-usable
Article
Production and Characterization of Glass-Ceramic Materials for Potential Use in Dental Applications: Thermal and Mechanical Properties, Microstructure, and In Vitro Bioactivity
Institute of Materials Physics and Engineering, Department of Applied Science and Technology, Politecnico di Torino, Corso Duca degli Abruzzi 24, 10129 Torino, Italy
*
Author to whom correspondence should be addressed.
Received: 19 November 2017 / Accepted: 18 December 2017 / Published: 20 December 2017
Abstract
:
Multicomponent silicate glasses and their corresponding glass-ceramic derivatives were prepared and tested for potential applications in dentistry. The glasses were produced via a melting-quenching process, ground and sieved to obtain fine-grained powders that were pressed in the form of small cylinders and thermally treated to obtain sintered glass-ceramic samples. X-ray diffraction investigations were carried out on the materials before and after sintering to detect the presence of crystalline phases. Thermal analyses, mechanical characterizations (assessment of bending strength, Young's modulus, Vickers hardness, fracture toughness), and in vitro bioactivity tests in simulated body fluid were performed. On the basis of the acquired results, different potential applications in the dental field were discussed for the proposed glass-ceramics. The use of such materials can be suggested for either restorative dentistry or dental implantology, mainly depending on their peculiar bioactive and mechanical properties. At the end of the work, the feasibility of a novel full-ceramic bilayered implant was explored and discussed. This implant, comprising a highly bioactive layer expected to promote osteointegration and another one mimicking the features of tooth enamel, can have an interesting potential for whole tooth substitution.
Keywords:
bioactive glasses; glass-ceramics; restorative dentistry; dental implant
3. Results
3.1. Starting Materials
3.1.1. Thermal Analysis
DTA results (T
g
, T
x
, T
m
), along with the thermal expansion coefficients, assessed by DMA, are depicted in
Table 3
. DTA revealed that CEL2 and FaGC showed two crystallization temperatures, whereas only one T
x
was detected for SCNA.
3.1.2. XRD Investigations
As shown in
Figure 2
, CEL2 and SCNA were amorphous materials (only a broad halo is visible in the corresponding XRD spectra of
Figure 2
a,c), whereas FaGC was a glass-ceramic containing fluoroapatite (FA, Ca
10
(PO
4
)
6
F
2
) crystals (
Figure 2
b). Nucleation of FA crystals in FaGC was due to the presence of CaF
2
in the starting composition [
34
]. From a qualitative viewpoint, these results are consistent with the visual appearance of the materials: CEL2 and SCNA, being glasses, were optically transparent to visible light, whereas FaGC, being a glass-ceramic, was opaque and white.
3.2. Glass-Ceramic Derivatives
3.2.1. XRD Investigations
All the three starting materials underwent crystallization upon thermal treatment, thus originating glass-ceramic structures. Specifically, these new phases were identified as follows: Na
2
Ca
2
(Si
3
O
9
) (combeite) and Ca
2
Mg(Si
2
O
7
) (akemanite) in TT-CEL2 (
Figure 3
a); K
3
(Na
3
Ca
5
)Si
12
O
30
F
4
∙H
2
O (canasite) and FA, which was already found in the as-poured FaGC, in TT-FaGC (
Figure 3
b); CaSiO
3
(wollastonite) in TT-SCNA (
Figure 3
c).
3.2.2. Physical and Mechanical Characterizations
The total porosity of all the sintered glass-ceramic samples ranged within 5–10 vol.%, thus assessing that a good degree of densification was achieved after sintering. The data resulting from the mechanical characterizations are shown in
Table 4
. In general, a low standard deviation was determined, which demonstrates the good reproducibility of the specimens.
3.2.3. In Vitro Bioactivity Assessment
3.3. Bilayered Glass-Ceramic Implant
Figure 7
shows the interfacial TT-CEL2/TT-SCNA region of the bilayered glass-ceramic cylindrical implant. This image was acquired by SEM set in back-scattered mode (BSM) to better distinguish the materials of the two layers. In addition, BSM is useful to detect the different phases constituting each layer. As regards TT-SCNA, needle-shaped crystals of wollastonite (white regions) ranging within 10–30 μm in length are clearly distinguishable from the amorphous phase (gray regions). On the contrary, the crystalline phases of TT-CEL2 cannot be clearly detected at this magnification due to the small size of the crystals (below 5 μm) and the low contrast between glassy and crystalline phases.
As shown in
Figure 7
, TT-CEL2 and TT-SCNA layers were successfully joined together without any interfacial defects or cracks. Pores ranging within 5–30 μm are visible in both materials: in fact, as mentioned in the
Section 3.2.2
, a residual porosity is present in the sintered bodies. Future optimization of the glass particle size and pressing conditions will allow a reduction of the pore content of the materials, thus leading to a further improvement of their mechanical properties.
In vitro tests resulted in evidence for the different behaviour of the two regions of the implant put into contact with biological fluids. After immersion for seven days in SBF, no surface modifications occurred on the TT-SCNA layer (
Figure 8
a), as already mentioned in
Section 3.2.3
. On the contrary, a continuous and homogeneous layer of HA, with a thickness of ~40 μm, is clearly visible on the TT-CEL2 surface (
Figure 8
b). Similar results were observed after immersion for one month in SBF (
Figure 9
): TT-SCNA continued to exhibit a bioinert behaviour, whereas a HA layer grew in thickness up to 100–150 μm on the TT-CEL2 surface.
4. Discussion
In this work, three non-commercial multicomponent silicate glasses (CEL2, FaGC, SCNA) were prepared by a melting-quenching process. The corresponding glass-ceramic derivatives (TT-CEL2, TT-FaGC, TT-SCNA) were obtained via thermal treatment of the parent glasses in order to finally produce massive cylindrical or bar-shaped samples.
Future research work should be carried out to extend and support these promising achievements, such as biological in vitro experiments with appropriate cell types and durability tests using solutions that mimic the physiological conditions (e.g., pH) in the oral cavity.
5. Conclusions
Thermal, microstructural, mechanical, and bioactive investigations were carried out on three experimental glass-ceramics (TT-CEL2, TT-FaGC, and TT-SCNA), produced by the thermal treatment of parent silicate glasses, to determine their potential suitability for dental applications. TT-CEL2 shows mechanical properties comparable to those of natural dentine and an excellent apatite-forming ability in SBF (in vitro bioactivity); for these reasons, its use may be promising to replace the roots of the teeth. TT-SCNA is bioinert upon immersion in SBF and exhibits mechanical properties close to those of tooth enamel: therefore, it may be suggested for potential use in restorative dentistry for filling enamel cavities or as material for dental crown fabrication. TT-FaGC may be suggested as material for enamel restoration, too, and is expected to exhibit in vivo anti-carotic properties. Finally, a bilayered TT-CEL2/TT-SCNA prototype implant was successfully fabricated and proposed for total tooth replacement. This approach represents a novel, attractive option to replace and regenerate dental structures, which deserves further investigation and future in-depth analysis.
Author Contributions
F.B. designed the study, performed all the experiments, interpreted the data and wrote the paper. E.V. interpreted the data and wrote the paper.
Conflicts of Interest
The authors declare no conflict of interest.

Figure 1. Preparation of the bilayered glass-derived samples for potential use in dental implantology: casting of (a) CEL2 powders; and (b) SCNA powders in the mould; (c) 1-D pressing; and (d) extraction from the mould.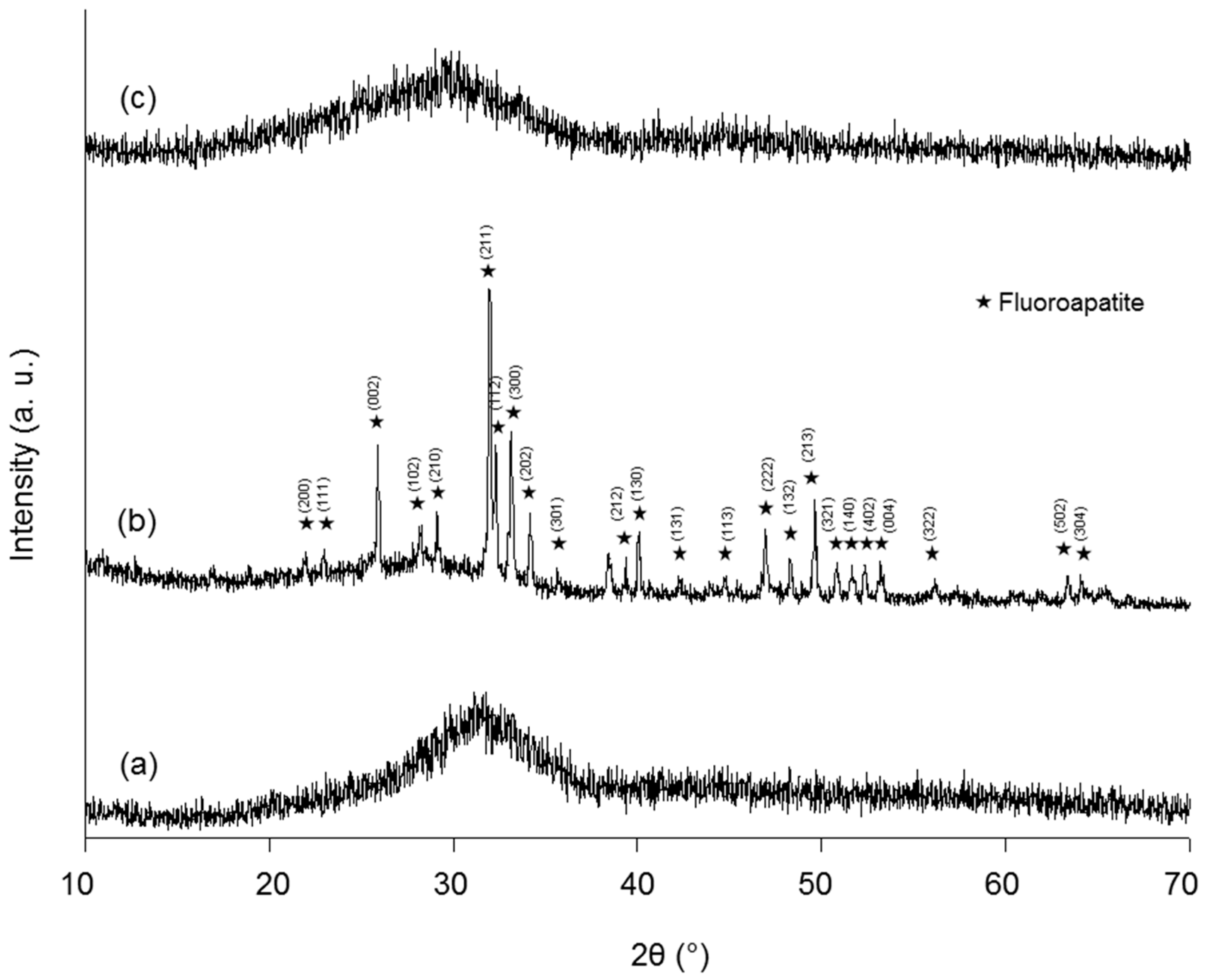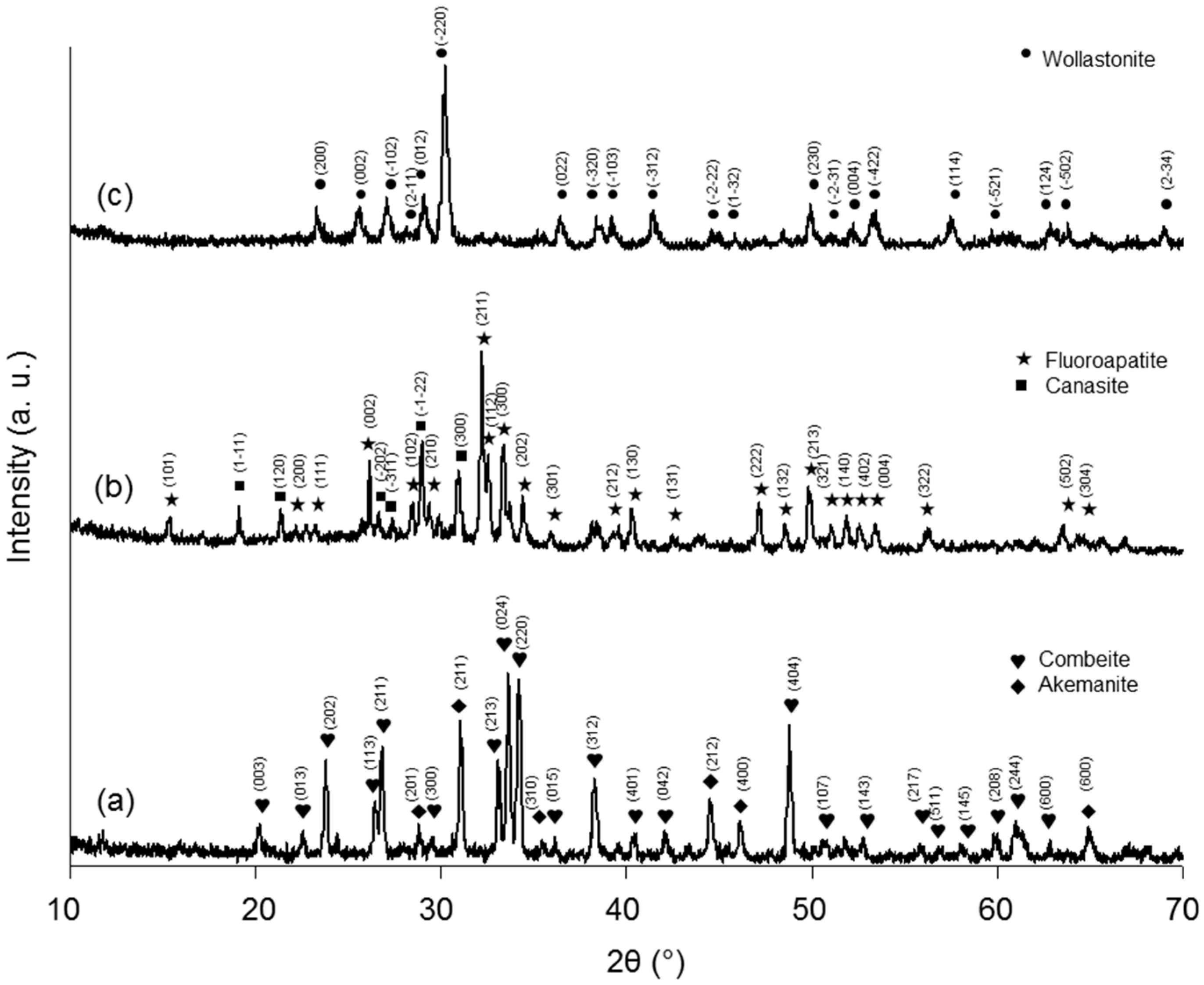 Figure 4. In vitro bioactivity tests carried out on TT-CEL2 samples: (a,b) sample surface after soaking for seven days in simulated body fluid (SBF) and (c) corresponding energy dispersive spectroscopy (EDS) pattern.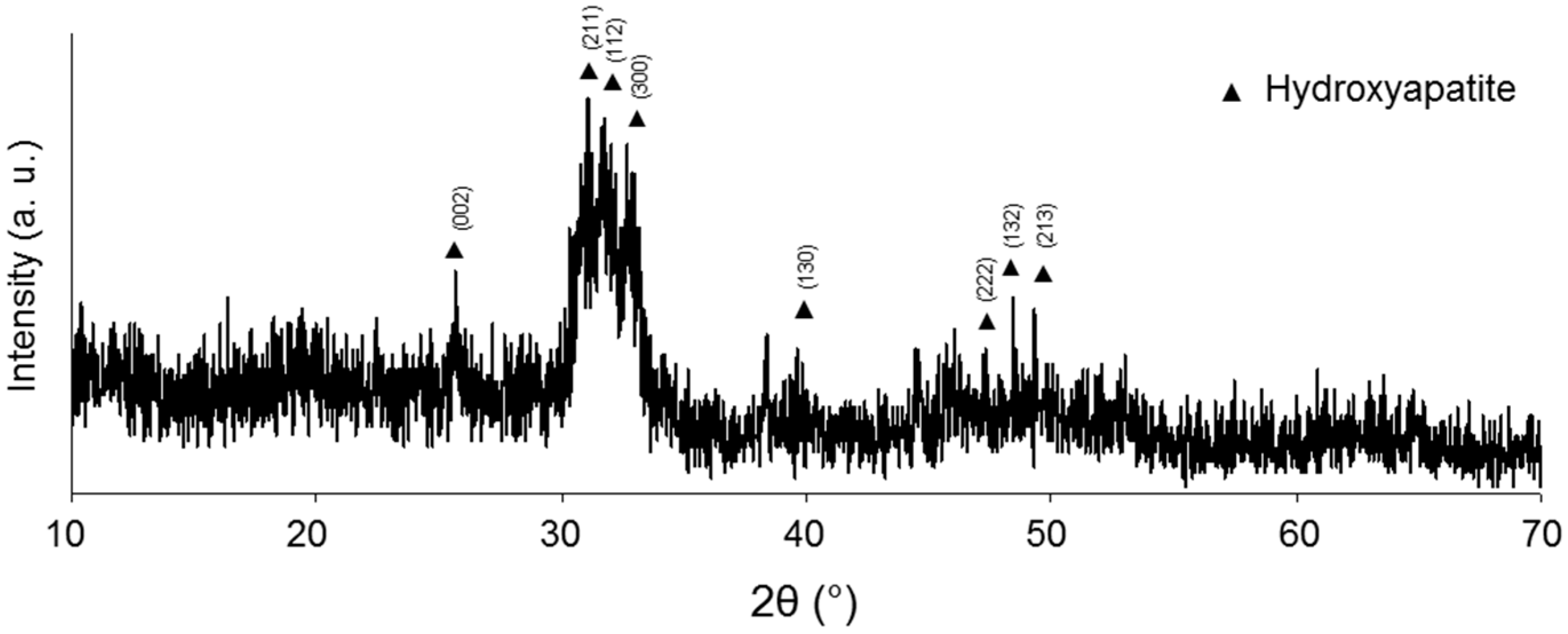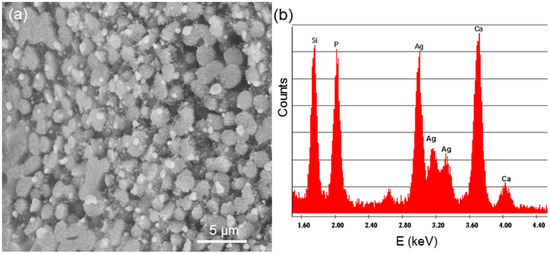 Figure 6. In vitro bioactivity tests carried out on TT-FaGC samples: (a) sample surface after soaking for seven days in SBF and (b) corresponding EDS pattern.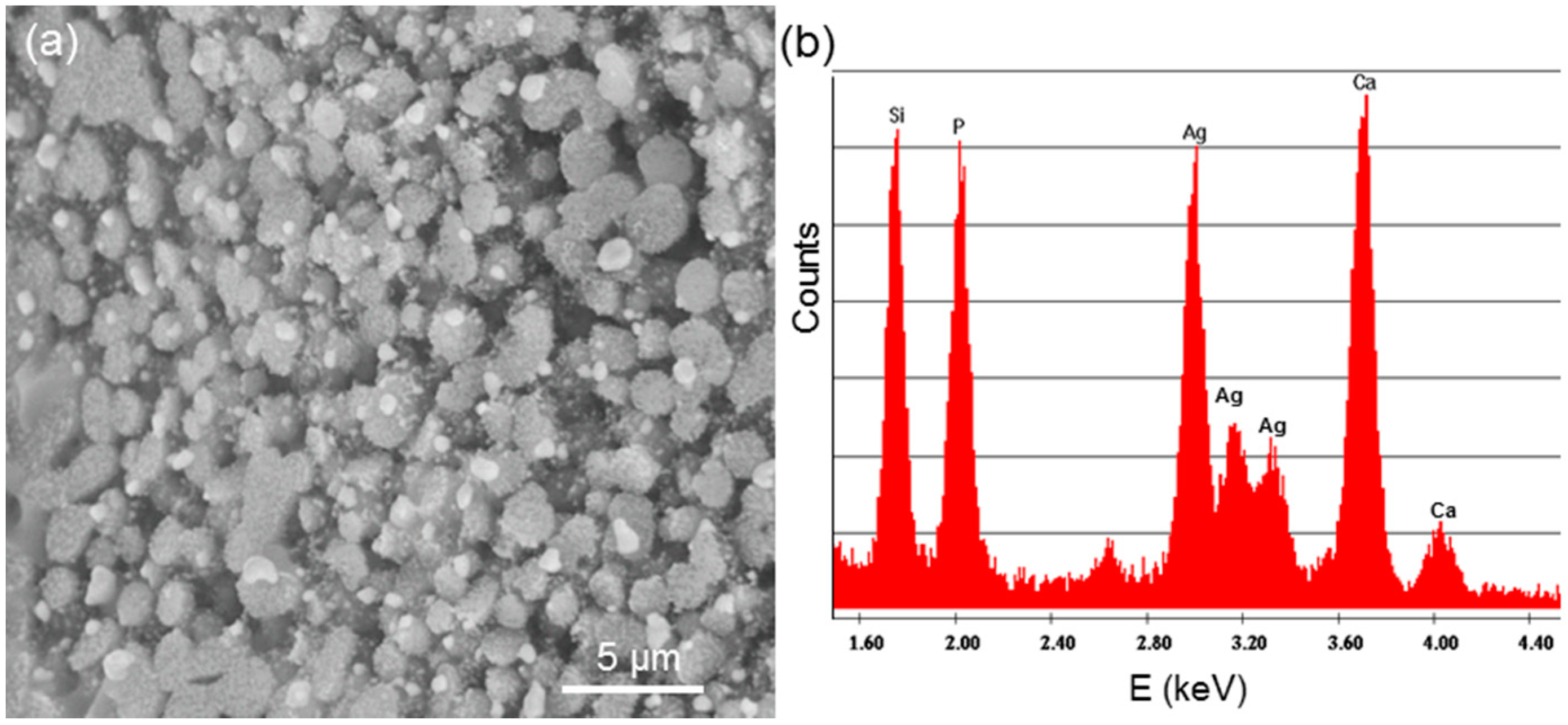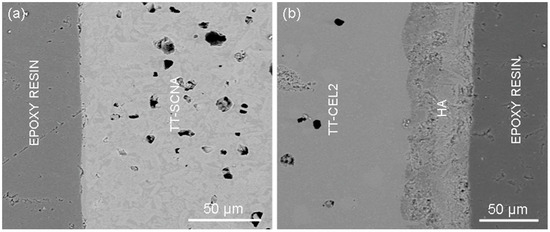 Figure 8. Cross-sections of a bilayered implant after soaking for seven days in SBF: (a) TT-SCNA region and (b) TT-CEL2 region.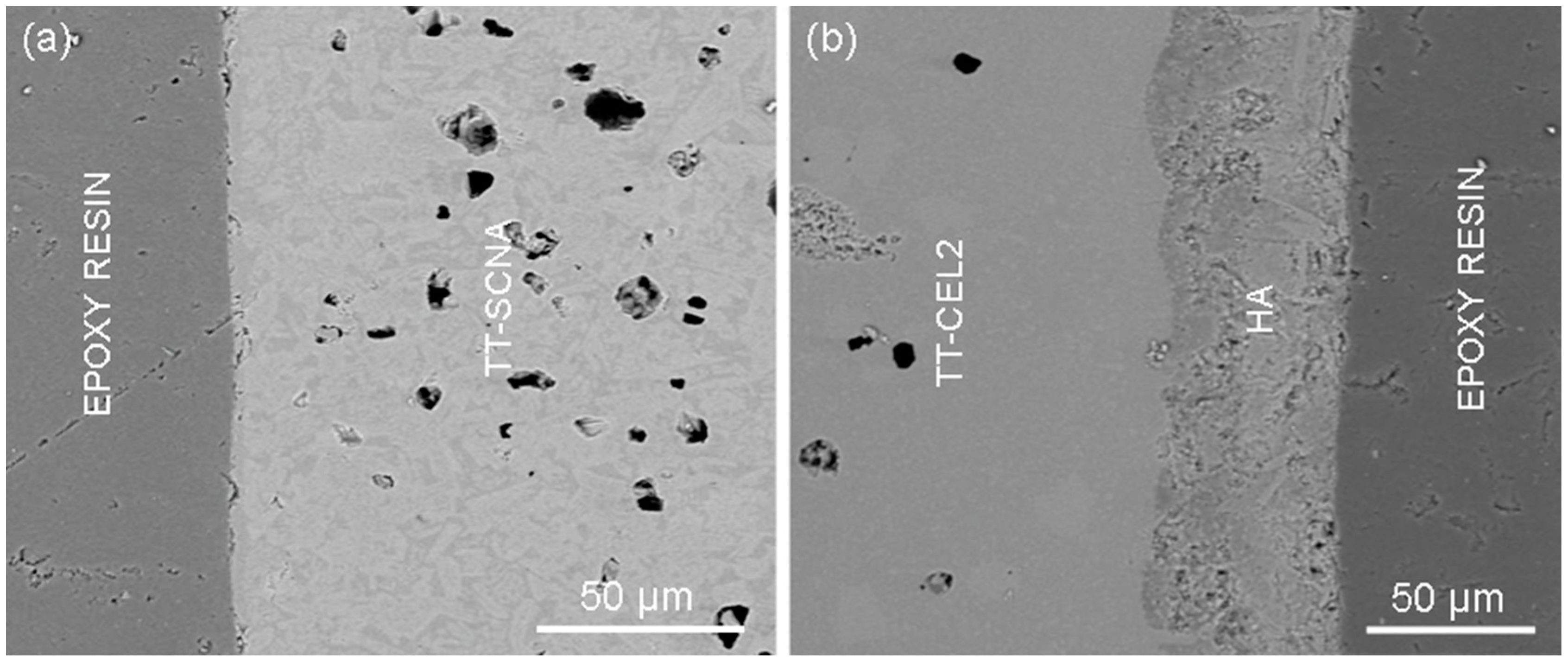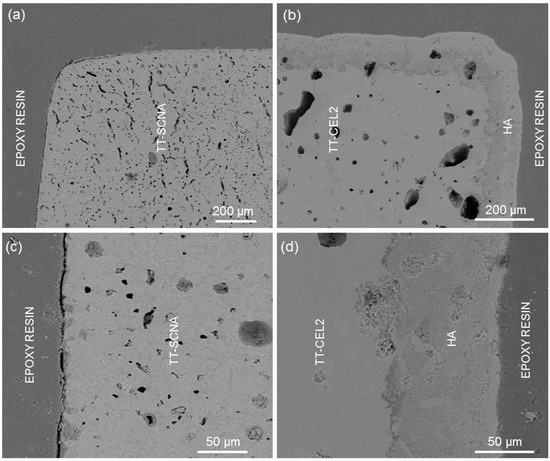 Figure 9. Cross-sections of a bilayered implant after soaking for one month in SBF at different magnifications: (a,c) TT-SCNA region and (b,d) TT-CEL2 region.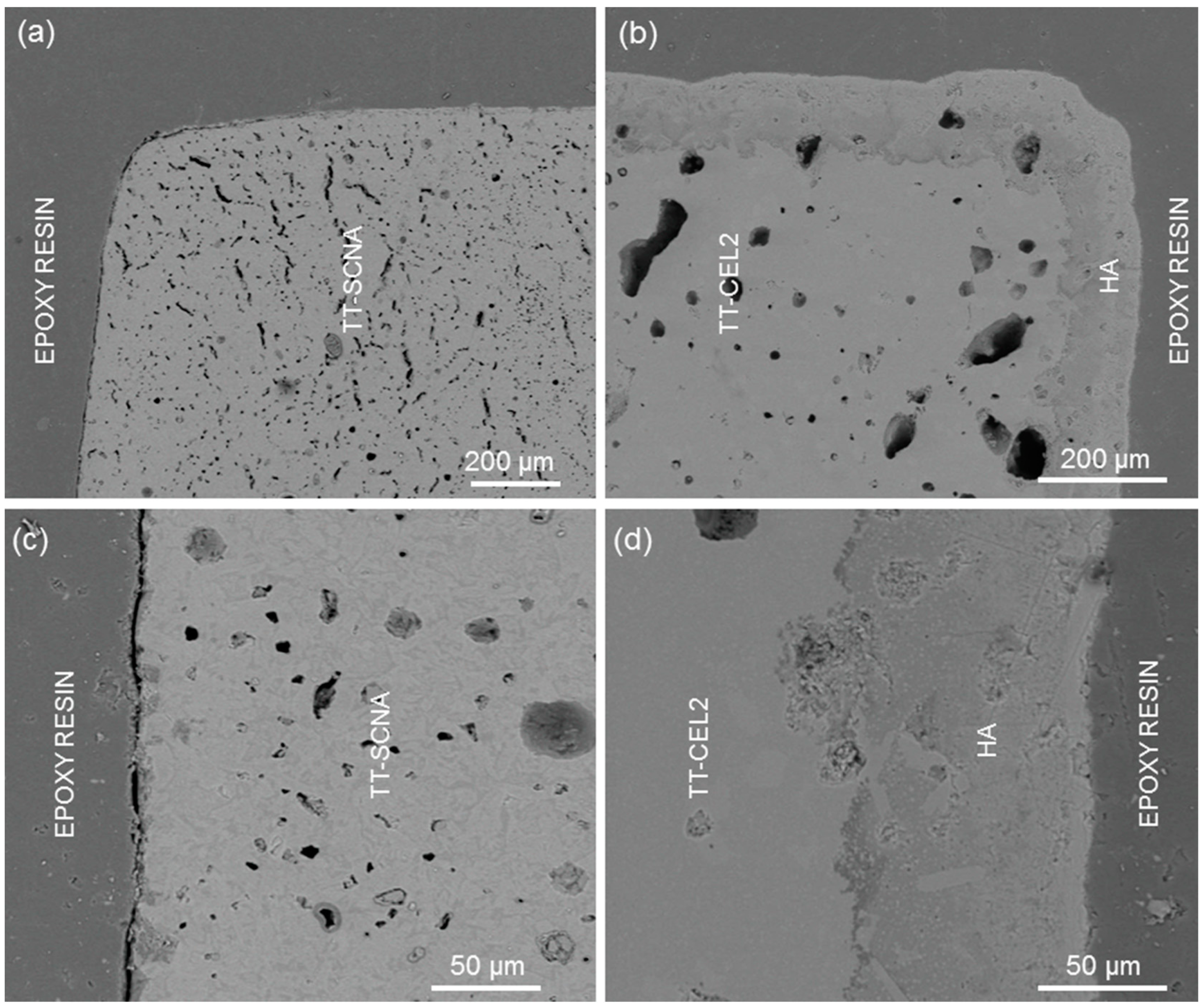 Glass Name
Composition (mol.%)
Melting Conditions
SiO2
P2O5
CaO
Na2O
MgO
K2O
Al2O3
CaF2
CEL2
45
3
26
15
7
4
-
-
1400 °C for 1 h
FaGC
50
6
18
7
3
7
-
9
1550 °C for 1 h
SCNA
57
-
34
6
-
-
3
-
1550 °C for 1 h
Sample
Parent Material
Sintering Conditions

ρ

s (g∙cm−3)
TT-CEL2
CEL2
1000 °C for 3 h
2.46 ± 0.10
TT-FaGC
FaGC
800 °C for 3 h
2.50 ± 0.12
TT-SCNA
SCNA
1000 °C for 3 h
2.53 ± 0.11
| Material | Tg (°C) | Tx (°C) | Tm (°C) | α (×10−6 °C−1) |
| --- | --- | --- | --- | --- |
| CEL2 | 550 ± 10 | 650 ± 10; 850 ± 10 | 1100 | 12.0 |
| FaGC | 520 ± 10 | 730 ± 10; 780 ± 10 | 1300 | 12.7 |
| SCNA | 690 ± 10 | 850 ± 10 | 1200 | 8.7 |
Sample
σb (MPa)

E

(GPa)

HV

(GPa)

K

IC (MPa∙m1/2)
TT-CEL2
65.0 ± 21.0
85.0 ± 2.0
7.4 ± 0.8
2.40 ± 0.25
TT-FaGC
70.0 ± 26.0
55.0 ± 2.0
8.8 ± 1.3
2.19 ± 0.20
TT-SCNA
125.0 ± 24.0
98.0 ± 3.0
11.6 ± 1.2
2.98 ± 0.40
| Property | Dentine | Enamel |
| --- | --- | --- |
| Bending strength (MPa) | 30–120 | 60–200 |
| Elastic modulus (GPa) | 18–26 | 70–100 |
| Hardness (GPa) | 0.7–0.8 | 3.0–5.5 |
| Fracture toughness (MPa∙m1/2) | 2.4–2.5 | 1.0–1.5 |

© 2017 by the authors. Licensee MDPI, Basel, Switzerland. This article is an open access article distributed under the terms and conditions of the Creative Commons Attribution (CC BY) license (http://creativecommons.org/licenses/by/4.0/).