Kinetic and Equilibrium Studies of Sorption of Ammonium in the Soil-Water Environment in Agricultural Areas of Central Poland
Department of Geotechnical Engineering, Faculty of Civil and Environmental Engineering, Warsaw University of Life Sciences, Nowoursynowska 159 St., Warsaw 02-776, Poland
*
Author to whom correspondence should be addressed.
Academic Editor: Samuel B. Adeloju
Received: 14 July 2016 / Revised: 24 August 2016 / Accepted: 13 September 2016 / Published: 22 September 2016
(This article belongs to the Section
Chemistry
)
Abstract
Sorption characteristics of nitrogen compounds is necessary in ascertaining their fate in the soil-water environment. This paper presents a laboratory "batch" experiment for determining the sorption parameters of ammonium in the soil-water environment. Three agricultural soils (silt loam, loam, and sand) with different contents of the clay fraction, significantly affecting the range of the adsorption of contaminants on the surface of solid particles, were chosen as research material. Considering the composition of ammonium nitrate (a commonly used fertilizer in Poland), ammonium solutions with a concentration of 0–52 mg NH
4
+
/L were used as markers. Pseudo-first order, pseudo-second order, and intra-particle diffusion kinetic models were used to describe the mechanisms of ammonium adsorption. Experimental data obtained from the equilibrium tests have been analysed using two-parameter (Freundlich, Langmuir, Temkin) and three-parameter (Redlich-Peterson, Hill, Sips) models. In order to adjust the parameters of the considered isotherms to the experimental data, the method of minimization of the sum of squared errors was used. Additionally, the maximum sorption capacities and reduction ratios of ammonium versus time were assessed. It was observed that the presence of silt loam and loam in the soil profile can increase the possibility of ammonium adsorption up to almost 20%. Taking into consideration the results of the batch tests, it was concluded that ammonium adsorption attains equilibrium within 48 h. Experimental data was best followed by the pseudo-second order equation and the adsorption isotherm conformed to the Redlich-Peterson model for loam and sand.
View Full-Text
►

▼

Figures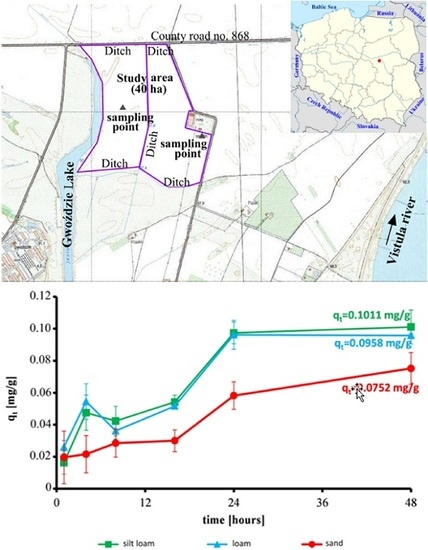 Graphical abstract
This is an open access article distributed under the
Creative Commons Attribution License
which permits unrestricted use, distribution, and reproduction in any medium, provided the original work is properly cited (CC BY 4.0).

Share & Cite This Article
MDPI and ACS Style
Sieczka, A.; Koda, E. Kinetic and Equilibrium Studies of Sorption of Ammonium in the Soil-Water Environment in Agricultural Areas of Central Poland. Appl. Sci. 2016, 6, 269.
Note that from the first issue of 2016, MDPI journals use article numbers instead of page numbers. See further details here.
Related Articles
Comments
[Return to top]