Open Access This article is
freely available
re-usable
Article
Modelling the Contribution of Domestic Heat Pumps to Delivering UK Energy Policy Objectives
CREST (Centre for Renewable Energy Systems Technology), School of Electronic, Electrical & Systems Engineering, Loughborough University, Leics. LE11 3TU UK
*
Author to whom correspondence should be addressed.
Received: 25 December 2012; in revised form: 8 February 2013 / Accepted: 17 February 2013 / Published: 28 March 2013
Abstract
: The UK Government has ambitious targets for CO2 emissions reductions, particularly for the domestic housing stock. One technology that is expected to contribute significantly is heat pumps, both air and ground source. However, recent field trial results suggest that heat pumps in the UK are not delivering to performance expectations. This paper looks at the implications of these results for the UK housing stock's future CO2 emissions. The English Housing Condition Survey dataset is used as the basis for a Monte Carlo simulation in order to model CO2 emissions and energy consumption for the whole of English housing stock out to 2050. The results suggest that, given the current UK electricity grid CO2 emission factor, in the short term poor heat pump performance could lead to a rise in emissions where natural gas boilers are displaced. In the longer term, heat pumps can realise emissions reductions when installed at high penetration levels when combined with a grid decarbonisation strategy. Until grid decarbonisation occurs, an alternative phased strategy is proposed that includes phased replacement of resistive electric heating, first in households in fuel poverty and then the remainder of properties with this heating type. Following this phased strategy, real emissions savings are possible along with a potential reduction in fuel poverty.
Keywords:
heat pumps; Air Source Heat Pumps (ASHP); Ground Source Heat Pumps (GSHP); Standard Assessment Procedure (SAP); Monte Carlo; English Housing Condition Survey (EHCS)
1. Introduction
1.1. Context
It is widely accepted that global climate change is predominantly due to the emissions of greenhouse gases (GHG), 75% of which is attributable to CO2 [1]. In the United Kingdom, 47% of CO2 emissions are due to the production of heat [2], with a significant contributor to that total being the domestic sector [3]. One means of reducing CO2 emissions is via a greater use of renewable energy technology both in the production of electricity and heat. As part of the EU 2020 renewables targets, the UK is aiming for 12% renewable heat [4], 22% of that being from the domestic sector. Studies conducted to support the Government's analysis estimates that by 2020, 7.1% (4.7 TWh per annum) of this domestic renewable heat could be delivered by heat pumps (4.7% from air source, 2.4% ground source) [5]. A later report published mid-2011 has extrapolated models to 2030 with heat pumps in the residential sector predicted to be 55%–75% of all installations [6].
2. Current Situation
2.1. Heat Pump Performance—The Expectation
UK projections are predicated on the assumption that air and ground source heat pumps perform at efficiency levels of 250%–275% and 315%–385% respectively [6]. These levels of performance are consistent with the assumptions in widely used domestic energy models published by BRE, e.g., BREDEM [7], and the Governments own energy performance measure of dwellings, the Standard Assessment Procedure (SAP) [8] (SAP itself being a simplified BREDEM model) with values of 250% for air and 320% for ground source. Manufacturers tend to present more optimistic performance levels for air source of up to 350% [9] and up to 420% for ground source [10]. Furthermore, many energy models developed for academic research, particularly those focusing on UK housing stock and carbon emission scenarios, often use the BREDEM models at their heart, e.g., UKDCM, DeCARB, CDEM [11].
Across all sectors (i.e., residential and non-residential) a predicted total of 66 TWh of heat could be generated from renewable sources by 2020 with 18 Mt of CO2 abated as a result [6]. This projection gives no breakdown of the CO2 abatement contribution from heat pumps; however, air source heat pumps (ASHP) are projected to contribute 40% of the total by 2030 in the residential sector for a medium abatement scenario [6].
With 85% of heating installations currently being natural gas central heating [12], given the 2030 installation levels being considered, heat pumps will be displacing significant amounts of gas central heating. The UK's Energy Saving Trust (EST) states that ASHPs may emit more CO2 than a baseline mains gas boiler system supplying both space and water heating, with Ground Source Heat Pumps (GSHP) being comparable with gas under real operational conditions study [13]. Therefore it is difficult to identify how heat pumps could contribute to such significant CO2 reductions as forecast. On the other hand, this report confirmed that most heat pump installations had lower emissions than the other non-gas grid connected heating alternatives, hence the identified contribution that ASHP's can make to CO2 abatement. In support of this, the aforementioned Office of Climate Change (OCC) report [3] also identified that the main opportunity for renewable heat, from an economic perspective, lies in off gas grid properties. Furthermore, other modelling studies have also identified ASHPs as yielding more CO2 savings than other low-carbon micro-generation heating technologies examined in the same study [14].
2.2. Heat Pump Performance—The Reality
There is a lack of published field trial data for heat pump installations in the UK, with specific studies focusing on user perception (e.g., internal warmth, ease of operation) and economic benefits rather than heat pumps performance in terms of efficiency [15,16,17]. In 2010 the EST [17] published a field trial report on heat pumps in the UK that identified that heat pumps performed at efficiency levels between 160%–220% and 180%–300% for air and ground source respectively, as illustrated in Figure 1. One other study conducted by Croft [18] had results broadly consistent with EST data. When the published studies are investigated more closely, it is concerning that many of the sites studied are clustered geographically and there is no indication whether this may skew the results in terms of ambient temperature, humidity, exposure, etc.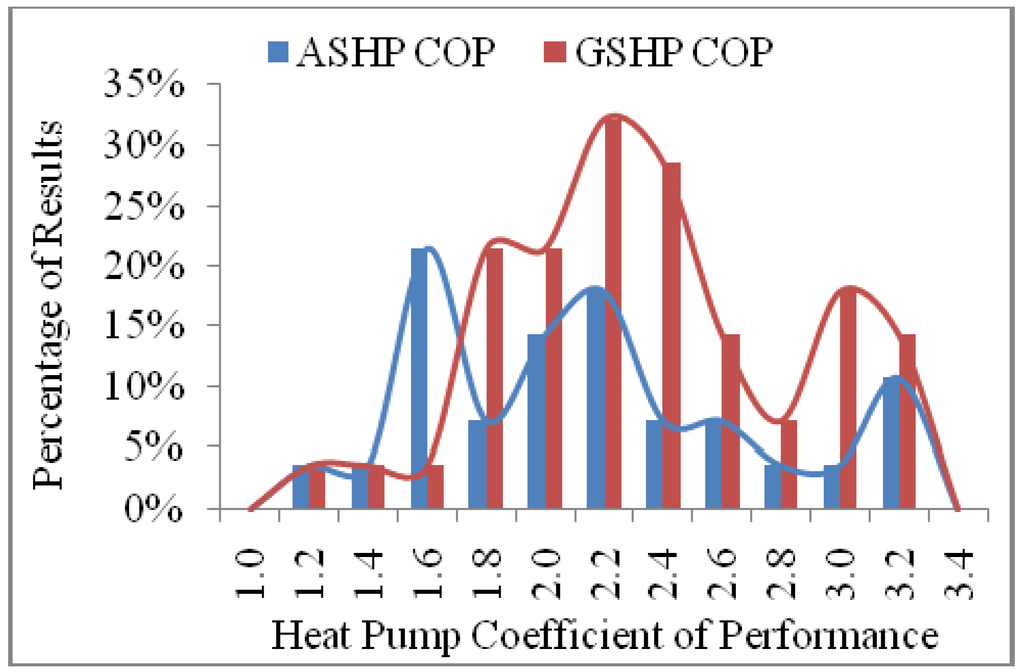 Figure 1.
Energy Saving Trust (EST) field trial results. Data derived from [
17
].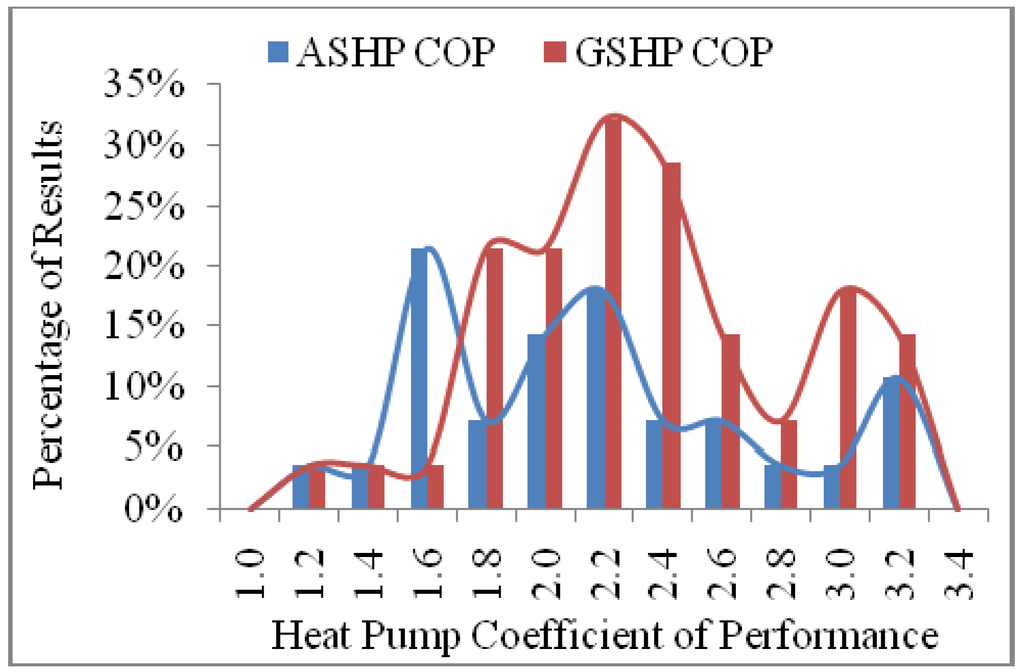 A study in New Zealand [19], which has a similar climate to the UK, investigated the energy performance of ASHP water heaters (i.e., no space heating) both in real-world installations and corresponding models, confirmed that efficiency can drop to as low as 100%–150%, for water heated to 60 °C and for an ambient temperature of 5 °C. This observation is consistent with other ASHP water heater studies [20] that compared performance with an increasing difference between ambient air temperature and water output temperature.
Studies carrying out sensitivity analyses on energy efficiency measures and CO2 emissions [21] identified that modest changes in boiler efficiency (baseline efficiency 70%) of ±10% could result in CO2 emissions varying by 5%. Furthermore, heating demand temperature and external temperature sensitivity analysis also contributed to variations of CO2 emissions by up to 15% and 5% respectively, however this was only as an influence on heat loss calculations and not as an influence on the heating source efficiency, as in the case of heat pumps.
The sensitivity analysis conducted by Firth [21], ASHP studies and modelling by Pollard [19] and the early EST field trial [17] evidence is of concern because, although some of these discrepancies are recognised in The Renewable Energy Review [6], the Government models still appear to be very optimistic with regards future performance and do not recognise the potential significant impact that poor performance of heat pumps could have on Government renewable and CO2 abatement targets. Furthermore, the current modelling methods and Government strategies tend to focus more on absolute values rather than looking at the probability distribution of emission levels or market penetration, for example, which is supported in work by Strachan [22].
In order to address these shortcomings, this study will use field trial data along with Monte Carlo analysis of heat pump efficiency and data from the English Housing Condition Survey (EHCS) [12] to ascertain the potential scale of the discrepancies of heat pump performance and introduce CO2 emissions and energy consumption probability distributions in to the modelling outputs.
3. Methodology
3.1. Standard Assessment Procedure (SAP)
The UK Government's recognised methodology for calculating the energy performance of dwellings, and hence CO2 emissions, is SAP 2005 [8]. SAP is based on the BRE Domestic Energy Model (BREDEM) [7] which provides a framework for the calculation of energy use in dwellings. The method underpinning SAP was first published by the Government and BRE in 1993 and was updated a number of times until the publication of SAP 1998. As this study concentrates on the Government's own forecasts for CO2 emission reduction and heat pump penetration, it is appropriate to use SAP 2005 [8] for the analysis.
Whilst a number of assumptions and generalisations are used within SAP, it does produce a reasonable estimate of the energy needs and CO2 emissions for UK housing when compared with more complex BREDEM models in that output values are similar despite the more simplified SAP methodology. A significant simplification is that SAP does not consider geographical location, so that any given property will yield the same result regardless of where it is located. This is important for this study, as location has been shown to be an important factor that affects CoP values [23]. However, due to the geographically clustered nature of the heat pump performance dataset used here, the influence of location on outputs in the present study is not significant. Furthermore, the sensitivity analysis conducted by Firth [21] supports the use of a simplified model as it identified that in BREDEM the most significant factor on heat pump CoP is external temperature in comparison to, for example, building configuration.
Despite the influence of external temperature on the outputs, no model identified during this study considers the effect that ambient temperature has on the efficiency of the heating system itself, i.e., it is only considered as part of the heat loss/gains calculation, therefore there is no way to properly model the influence of external temperature on the performance of a heat pump fitted property. This is an area that should be considered in further developments of BREDEM models as heat pump installations become more widespread.
The SAP inputs for heat pump and gas boiler performance were derived using a Monte Carlo (MC) modelling approach by producing a range of values following a particular probability distribution that broadly matched the heat pump distribution described previously.
In order to ensure that the results in this study were representative of the UK housing stock, the English Housing Condition Survey (EHCS) dataset from 2007 to 2008 was used, which contains data for over 16,000 properties. As such, the EHCS data along with some standard SAP assumptions were used as the primary input data for the SAP model. It should be noted that a shortcoming identified with the EHCS data was that the basis for certain assumptions were not available, such as that for the EHCS energy efficiency models.
3.2. Modelling Heat Pump and Gas Boiler Efficiency
Although the cumulative dataset from the various field trials is relatively small, it did provide an indication of the performance distribution for heat pumps, and a gamma distribution was ascertained to be a representative Monte Carlo (MC) input distribution for the efficiency of GSHP and ASHP. Subsequently gamma MC distributions were produced using the mean and standard deviation values shown in Table 1 as the definition factors for the distributions.
Table 1. Monte Carlo parameters for heating system performance.
Modelling Scenario
Heating System Performance
Mean
Standard deviation
Mean
Standard deviation
Present
2030
Field Trials ASHP
215%
55%
-
-
Field Trials GSHP
234%
50%
-
-
ASHP COP 2.0
200%
55%
200%
55%
ASHP COP 2.5
250%
55%
250%
55%
ASHP COP 4.5
450%
55%
450%
55%
Gas Boiler
76%
10%
93%
10%
The MC heat pump performance distributions were then applied as the heating system efficiency parameters for the SAP calculation with the EHCS dataset to produce a distribution of the energy requirement for a representative snapshot of the UK housing stock. To provide reference output distributions with which to compare the heat pump data, a gas boiler reference was modelled using a MC weibull distribution with the values shown in Table 1, along with an electrical resistive heating reference using a degenerate distribution of 100%. The input distributions for heat pump and boiler efficiencies are shown in Figure 2, Figure 3.
In addition to heat pump input distributions matching the field trials dataset, further distributions were produced in order to evaluate the sensitivity of the outputs to variations in the MC distribution mean input values for both heat pumps and gas boilers. It was considered unnecessary to evaluate the performance of both heat pump technologies as their input distributions were very similar as illustrated in Figure 2. The values described in Table 1 were chosen to represent:
ASHP COP 2.0—A poor performing heat pump;

ASHP COP 2.5—Heat pump performing as per SAP/BREDEM default;

ASHP COP 4.5—Heat pump performing at the level expected by 2030 [6].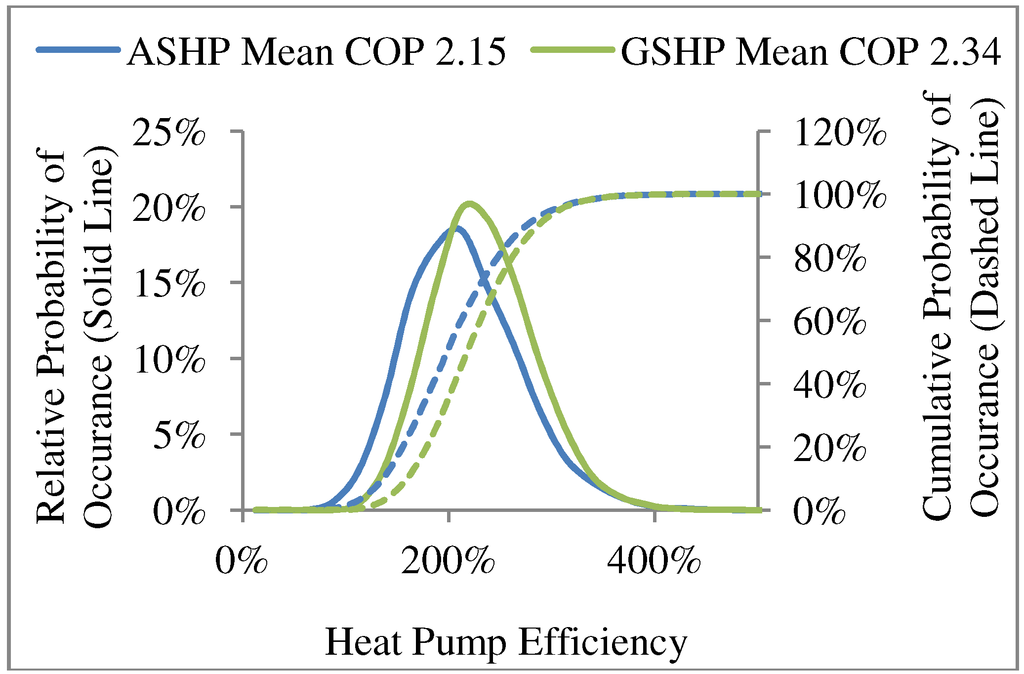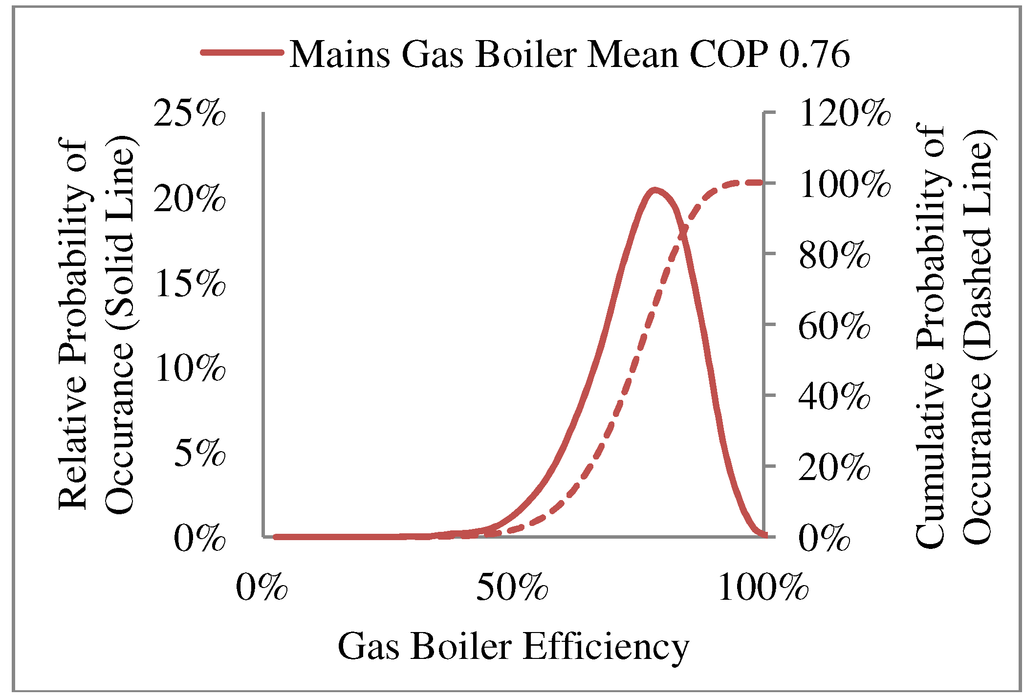 3.3. Annual Energy Consumption and CO2 Emissions
The total annual energy consumption per property was calculated which included all items contained within the SAP model, i.e., Primary space and water heating, secondary resistive heating (e.g., fan heater), central heating pumps, lights and appliances. Total annual CO2 emissions per property were calculated using the total energy consumption and the CO2 emissions intensity values of the national electricity and gas grids [24], also shown in Table 2. It should be noted that the projected electricity grid emission factor for 2030, though consistent with UK Government projections, is subject to considerable uncertainty given possible future scenarios relating to political, social and techno-economic factors [25]. Importantly, these include risks and uncertainties related to the development of the UK's proposed fleet of new nuclear generation facilities.
Table 2. Energy source emissions factors.

| Energy Source | Emissions Factor (kg CO2 per kWh) |
| --- | --- |
| Electricity Grid—Present | 0.55 |
| Mains Gas Grid—Present | 0.19 |
| LPG—Present | 0.21 |
| Oil—Present | 0.27 |
| Electricity Grid—2030 | 0.05 |
Probability and cumulative distributions of total annual property energy consumption and CO2 emissions were produced in order to illustrate how heat pump technologies performed when compared with traditional gas boiler central heating and electrical resistive heating. A cumulative distribution was also produced to illustrate the performance that could be expected of the majority of properties.
In order to ascertain how the variability of performance of heat pumps may affect emissions with penetration levels of 55% and 75% (equivalent to 12.1 million and 16.5 million installations respectively) and the planned decarbonisation of the electricity grid, the mean energy consumption for the 16,000 EHCS properties was extrapolated to cover the entire English housing stock of 22 million properties. By 2030 it is expected that the English housing stock will have grown to 27 million properties; however with the forthcoming tightening of building regulations in 2016 [26], the extra 5 million properties are assumed to be zero carbon, i.e., no CO2 emissions [27]. As a result of this assumption, all the comparison scenarios consider the 22 million properties in the current housing stock only and then project their emissions performance to 2030.
A baseline measure was used that represents the current housing stock; based upon the EHCS (16,000 properties), there is broadly a split of 85% gas central heating and 15% non-central resistive electric heating [12,28], along with other heating types such as oil or LPG boilers and district heating. However, these are of a sufficiently small penetration (<3%) to be disregarded in this case. Furthermore, the total average heating efficiency across the housing stock is cited as being 74% [28], which is broadly consistent with the current UK gas boiler efficiency benchmark, and the emission factors for LPG and oil (the other non-gas grid yet centrally heated heating sources), Table 2, are close to that for natural gas.
4. Results and Discussion
5. Conclusions
This study was conducted to establish the impact on emissions, and to a lesser extent energy consumption, of variably performing heat pump technology as observed in recent field trial data. The context for the study was the UK Government's ambitious targets for heat pump penetration in the English housing stock where all types of heating would be displaced, including relatively efficient mains gas central heating boilers. In this context, heat pumps performing at efficiency levels observed in the field trial, or even at BREDEM model assumed levels, could actually lead to a rise in emissions levels due to the relatively high emissions intensity of the electricity grid. There are however modest savings to be realised from heat pumps operating at efficiencies of 450%.
Given the aspirations for 2030, the only way to realise significant emissions reductions using heat pumps is to concurrently decarbonise the grid. However further analysis similar to that used by Lin [31] is required to understand the efficacy, scale and scope of each strategy. Although outside the scope of this work, the adoption of a suitable probabilistic approach would be beneficial, such as Bayesian inference modelling used in previous studies [32,33]. In the mean time, a phased approach targeting those properties with electric resistive heating, beginning with those in fuel poverty, could realise reasonable emissions savings, in addition to corresponding savings in electricity consumption and hence related reductions in fuel poverty.
Acknowledgment
The authors of this paper would like to express thanks to Ella Quigley for her valuable input.
References
Climate Change 2007: Synthesis Report. Contribution of Working Groups I, II and III to the Fourth Assessment Report of the Intergovernmental Panel on Climate Change

; Pachauri, R.K., Reisinger, A., Eds.; IPCC: Geneva, Switzerland, 2007; pp. 301–320.

Heat Call for Evidence

; Department for Business, Enterprise and Regulatory Reform: London, UK, 2008.

OCC Household Emissions Project–Analysis Pack

; Office of Climate Change: London, UK, 2007.

The UK Renewable Energy Strategy

; HM Government: London, UK, 2009.

The UK Supply Curve for Renewable Heat

; Department of Energy and Climate Change: London, UK, 2009.

The Renewable Energy Review

; UK Committee on Climate Change: London, UK, 2011.
Anderson, B.R.; Chapman, P.F.; Cutland, N.G.; Dickson, C.M.; Doran, S.M.; Henderson, G.

BREDEM-8 Model Description, 2001 update

, BR439 ed; BRE Press: Watford, UK, 2008. [Google Scholar]

The Government's Standard Assessment Procedure for Energy Rating of Dwellings, Revision 3

; BRE Press: Watford, UK, 2005.
Mitsubishi Ecodan Product Brochure. Available online: http://www.engensa.com/heatpumps/uploads/Mitsubishi-Ecodan-Brochure.pdf (accessed on 10 March 2013).
Mitsubishi Product Data. Available online: http://www.intelligentenergysolutions.com/ground-source-heat-pumps_c65.aspx (accessed on 10 March 2013).
Kavgic, M.; Mavrogianni, A.; Mumovic, D.; Summerfield, A.; Stevanovic, Z.; Djurovic-Petrovic, M. A review of bottom-up building stock models for energy consumption in the residential sector.

Build. Environ.

2010,

45

, 1683–1697. [Google Scholar] [CrossRef]

English Housing Survey Housing Stock Report 2008

; Department for Communities and Local Government: London, UK, 2010.

Domestic Heating Systems Ranked by Carbon Emission

; Energy Saving Trust: London, UK, 2008.
Cockroft, J.; Kelly, N. A comparative assessment of future heat and power sources for the UK domestic sector.

Energy Convers. Manage.

2006,

47

, 2349–2360. [Google Scholar] [CrossRef]

The Scottish Renewables Heating Pilot

; The Scottish Government: Edinburgh, Germany, 2008.
European Commission: Directorate-General for Energy and Transport, Case study 269. Available online: http://www.managenergy.net/download/nr269.pdf (accessed 10 March 2013).

Getting Warmer: A Field Trial of Heat Pumps

; Energy Saving Trust: London, UK, 2010.
Kelly, N.J.; Cockcroft, J. Analysis of retrofit air source heat pump performance: Results from detailed simulations and comparison to field trial data.

Energy Build.

2011,

43

, 239–245. [Google Scholar] [CrossRef]
Pollard, A.R.

The Energy Performance of Heat Pump Water Heaters; Branz Study Report 237

; Branz Ltd.: Judgeford, New Zealand, 2010. [Google Scholar]
Morrison, G.L.; Anderson, T.; Behnia, M. Seasonal performance rating of heat pump water heaters.

Solar Energy

2004,

76

, 147–152. [Google Scholar] [CrossRef]
Firth, S.K.; Lomas, K.J.; Wright, A.J. Targeting household energy-efficiency measures using sensitivity analysis.

Build. Res. Inf.

2010,

38

, 25–30. [Google Scholar] [CrossRef]
Strachan, N. UK energy policy ambition and UK energy modelling—Fit for purpose?

Energy Policy

2011,

39

, 1037–1040. [Google Scholar] [CrossRef]
Cabrol, L.; Rowley, P.N. Towards low carbon homes—A simulation analysis of building-integrated air-source heat pump systems.

Energy Build.

2012,

48

, 127–136. [Google Scholar] [CrossRef]
Carbon Trust—Conversion factors. Available online: http://www.carbontrust.com/media/18223/ctl153_conversion_factors.pdf (accessed on 12 March 2013).
Odenberger, M.; Johnsson, F. Achieving 60% CO2 reductions within the UK energy system—Implications for the electricity generation sector.

Energy Policy

2007,

35

, 2433–2452. [Google Scholar] [CrossRef]

Allowable Solutions for Tomorrow's New Homes: Towards a Workable Framework

; UK Zero Carbon Hub: London, UK, 2011.
Department for Communities and Local Government, Household Projections, 2008 to 2033. Available online: https://www.gov.uk/government/uploads/system/uploads/attachment_data/file/6395/1780763.pdf (accessed 10 March 2013).
Shorrock, L.D.; Utley, J.I.

Domestic Energy Fact File 2008

; UK Department for Energy and Climate Change: London, UK, 2008.
Palmer, J.; Boardman, B.; Bottrill, C.; Darby, S.; Hinnells, M.; Killip, G.; Layberry, R.; Lovell, H.

Reducing the Environmental Impact of Housing; Consultancy study in support of the Royal Commission on Environmental Pollution's 26th Report on the Urban Environment

; Environmental Change Institute: Oxford, UK, 2006. [Google Scholar]

A Study of Hard to Treat Homes Using the English House Condition Survey; Energy Analysis Focus Report

; Department for Environment, Food and Rural Affairs: London, UK, 2008.
Lin, C. Identifying Lowest-Emission Choices and Environmental Pareto Frontiers for Wastewater Treatment Wastewater Treatment Input-Output Model based Linear Programming.

J. Ind. Ecol.

2011,

15

, 367–380. [Google Scholar] [CrossRef]
Wilson, D.; Rowley, P.N.; Watson, S.J. Utilising a Risk-Based Systems Approach in the Due Diligence Process for Renewable Energy Generation.

IEEE Syst. J.

2011,

5

, 223–232. [Google Scholar] [CrossRef]
Leicester, P.; Goodier, C.; Rowley, P. Evaluating the Impacts of Community Renewable Energy Initiatives. In Proceedings of the ISES Solar World Congress, Kassel, Germany, 28 August–2 September 2011.
© 2013 by the authors; licensee MDPI, Basel, Switzerland. This article is an open access article distributed under the terms and conditions of the Creative Commons Attribution license (http://creativecommons.org/licenses/by/3.0/).