Open Access This article is
freely available
re-usable
Article
Investigative Study on Nitric Oxide Production in Human Dermal Fibroblast Cells under Normal and High Glucose Conditions
1
Department of Biomedical Engineering, Michigan Technological University, Houghton, MI 49931, USA
2
Doctoral Program in Physical Therapy, Central Michigan University, Mt. Pleasant, MI 48859, USA
*
Author to whom correspondence should be addressed.
Received: 4 September 2018 / Accepted: 31 October 2018 / Published: 9 November 2018
Abstract
:
Diabetic foot ulcers (DFU) are a major health problem associated with diabetes mellitus. Impaired nitric oxide (NO) production has been shown to be a major contributor to the dysregulation of healing in DFU. The level of impairment is not known primarily due to challenges with measuring NO. Herein, we report the actual level of NO produced by human dermal fibroblasts cultured under normal and high glucose conditions. Fibroblasts produce the extracellular matrix, which facilitate the migration of keratinocytes to close wounds. The results show that NO production was significantly higher in normal glucose compared to high glucose conditions. The real-time NO detected was compared to the nitrite present in the culture media and there was a direct correlation between real-time NO and nitrite in normal glucose conditions. However, real-time NO detection and nitrite measurement did not correlate under high glucose conditions. The inducible nitric oxide synthase (iNOS) enzyme responsible for NO production was upregulated in normal and high glucose conditions and the proliferation rate of fibroblasts was not statistically different in all the treatment groups. Relying only on nitrite to assess NO production is not an accurate determinant of the NO present in the wound bed in pathological states such as diabetes mellitus.
Keywords:
diabetic foot ulcers; fibroblast cells; real-time nitric oxide; nitrite
2. Materials and Methods
2.1. Cell Culture and Chemical Supplies
Primary human adult dermal fibroblasts (HDFa, ATCC
®
PCS-201-012™), mouse macrophages (RAW 264.7), penicillin streptomycin, fetal bovine serum (FBS), phosphate buffered saline (PBS), 3-(4,5-dimethylthiazol-2-yl)-2,5-diphenyltetrazolium bromide (MTT) proliferation assay kit and Dulbecco's modified eagle medium (DMEM high glucose 4500 mg/L) were all purchased from ATCC (Manassas, VA, USA). DMEM (no glucose), sodium pyruvate and Hoescht dye were obtained from Fischersci (Hanover Park, IL, USA). Lipopolysaccharide
pseudomonas aeroguinosa
(LPS), Calcein-AM, protease inhibitor cocktail, mouse nitric oxide synthase and dopamine-HCl were purchased from Sigma-Aldrich (St. Louis, MO, USA). Ethidium bromide was acquired from Invitrogen (Grand Island, NY, USA). Human recombinant Interferon γ (hrIFN-γ) was purchased from GenScript (Piscataway, NJ, USA). The primary and secondary antibodies against CD90/Thy1 (ab23894) protein and (iNOS) (ab136918) were purchased from Abcam (Cambridge, MA, USA). The 7.5% SDS polyacrylamide gels and gelatin were acquired from Bio-Rad (Hercules, CA, USA). The Odyssey western blot starter kit 2 was obtained from
LI-COR
(Lincoln, NE, USA). Silicone elastomer base and curing agent (Dow Corning Sylgard
®
184) were obtained from ML Solar LLC (Campbell, CA, USA).
2.2. Real Time NO Measurements from Primary Human Adult Dermal Fibroblasts
Primary adult dermal fibroblasts at passage 1 were cultured and expanded in conventional cell culture plates (100 mm) in DMEM (high or normal glucose levels), 10% FBS and 1% penicillin/streptomycin (complete growth media). At confluency, the cells were reseeded in CellNO trap devices at a density of 0.25–1 × 10
4
cells/cm
2
. Previously, we have reported the detailed fabrication and characterization of the device [
28
]. Briefly, silicone elastomer base and curing agent were dissolved in hexanes, manually cast onto 5 × 5 cm square polyvinylidene fluoride (PVDF) membranes and left to cure in a 50 °C oven for 24 h. The modified membrane was cut into a circle to fit into a 60 mm diameter cell culture plate with the bottom removed forming the upper chamber. The upper chamber was sealed by applying toluene to the edges of the membrane and the plate. A second 60 mm plate with drilled holes and plastic outlets attached was affixed to the upper chamber using toluene and reinforced with epoxy adhesive. The upper chamber was used for cell culture and the lower chamber was used for gaseous transfer. To make the device suitable for cell culture, freshly prepared dopamine solution in Tris-HCl buffer (2 mg/mL) was added to the device and incubated for 12 h. The device was rinsed several times and sterilized using 70% ethanol and ultraviolet light (1 h). Prior to cell culture, the device was coated with gelatin solution (2 mg/mL). After 24–72 h, the cell culture media was changed and substituted with media containing 40 µg/mL of LPS and 200 U/mL of hrIFN-Ƴ or complete growth media (control) under normal glucose (5.5 mM) and high glucose (25 mM) conditions. The device was placed in a standard incubator (37 °C, 65% humidity, 5% CO
2
) and was connected to a calibrated nitric oxide analyzer (NOA) and the real-time NO release profile was measured for 24 h.
2.3. Cell Viability Assay in the CellNO Trap Device
After 24 h, the live-dead assay was carried out using 2 µM calcein AM, 2 µg/mL ethidium bromide and 10 µg/mL Hoescht dye in DMEM media for 10–15 min. The cells were imaged and analyzed using an Olympus fluorescent microscope (model BX51) and Image J1 respectively [
30
].
2.4. Cell Proliferation Assays (MTT Assay)
The fibroblast cells were cultured in 96 well plates at a density of 10,000 cells per well in normal and high glucose cell culture conditions and stimulated with 40 µg/mL and 200 U/mL of LPS and IFN respectively. At the end of 24, 48 and 72 h, MTT assay was performed according to the manufacturer's instructions (Trevigen, 4890-025-K, Gaithersburg, MD, USA) with minor modifications. Briefly, the cell culture media was replaced with 25 µL of the MTT reagent and incubated for 4 h to allow the intracellular reduction of soluble yellow MTT to insoluble formazan dye. The MTT reagent was discarded and 100 µL of Isopropyl alcohol was added to solubilize the dye. The absorbance was read at a wave length of 570 nm using a VERSAmax tunable microplate reader model (Molecular devices, Sunnyvale, CA, USA).
2.5. Nitrite Assay
After 24 h of measurement in the CellNO trap device, the cell culture media from the cell samples under normal and high glucose conditions were collected. The triiodide assay was used to measure the nitrite accumulation in the media [
26
]. Briefly, 50 µL of the media was added to a vial containing a stirring solution of 300 µL of glacial acetic acid and 120 µL of potassium iodide. The vial was connected to a calibrated Sievers Nitric Oxide Analyzer 280i (Zysense, LLC, Boulder, CO, USA) and the NO produced from the nitrite present in the media was measured and normalized to the number of live cells.
2.6. Cell Characterization
Fibroblast cells at passage 2 were cultured in 12 well plates at a cell density of 1 × 104/cm2 in normal and high glucose conditions. At confluency, the cells were fixed in 4% paraformaldehyde for 10 min, rinsed three times in phosphate buffered saline, incubated in blocking buffer for 90 min followed by the primary antibody for 18 h at 4 °C. The cells were rinsed three times in blocking buffer and incubated for 1 h at room temperature with the secondary antibody, stained with 4', 6-diamidino-2-phenylindole (DAPI) and viewed under a fluorescent microscope.
2.7. Western Blot Analysis
Confluent HDFa cells were cultured in 100 mm diameter tissue culture dishes, stimulated with 40 µg/mL of LPS and 200 U/mL IFN-γ in normal and high glucose conditions and incubated for 72 h. Mouse macrophage cells RAW 264.7 were grown to confluency and stimulated with 100 ng/mL of LPS for 18 h and served as the positive control. The cells were quickly washed in ice cold PBS, trypsinized, centrifuged and re-suspended in 200 µL of RIPA buffer in the presence of protease cocktail inhibitors. The cell lysates were incubated for 30 min on ice on a plate shaker and centrifuged at 12,000 rpm for 20 min at 4 °C. The supernatant was collected and the protein concentration determined for each sample using Bradford assay [
31
]. An equal amount of loading buffer containing dithiothreitol was added to each sample, boiled at 100 °C for 5 min and immediately placed on ice for 2 min. About 5.63–9.37 µg of protein was loaded in a 7.5% SDS-PAGE gel and separated by electrophoresis at 100 V for approximately 70 min. The proteins were transferred to immobilon
®
-FL PVDF membrane using the Trans-Blot
®
Turbo™ Transfer System (Bio-Rad) for 7 min. The membrane was incubated in Odyssey blocking buffer (TBS) for 60 min to block nonspecific binding sites followed by incubation in TBS containing 0.2% of tween20 (TBS-T) and the iNOS antibody (1:1000 dilution) for 18 h at 4 °C. After that, the membrane was washed 4 times with TBS (0.1% tween20) and incubated in TBS-T with the secondary antibody (1:20,000 dilution) for 1 h then extensively washed in TBS, visualized by
LI-COR
Odyssey infrared imager and analyzed using Image Studio Lite software Version 5.2.
Statistical analysis was performed in Microsoft Excel using one-way ANOVA followed by a Bonferroni corrected
t
-test with statistical significance set at a 95% confidence level (
p
< 0.05).
Author Contributions
M.P.K and E.C. completed cell culture experiments, protein analysis, data analysis and manuscript writing. J.H and S.W. completed cell culture experiments, data analysis and MTT assays. C.G., S.R. and M.C.F. directed the project, provided clinical relevance, data analysis and wrote/edited manuscript.
Funding
This research was funded by the Portage Health Foundation-Research Excellence Fund Mid-Career Award 2015-025.
Conflicts of Interest
The authors declare no conflict of interest.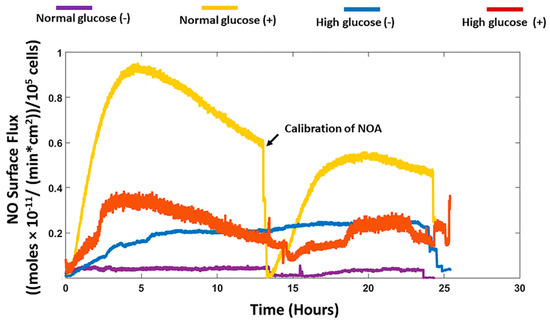 Figure 1. An example of real-time nitric oxide (NO) surface flux (normalized to the cell number) generated from HDFa with (+) and without (−) stimulation cultured under normal (5.5 mM) and high glucose (25 mM) conditions measured with chemiluminescence detection using a CellNO trap.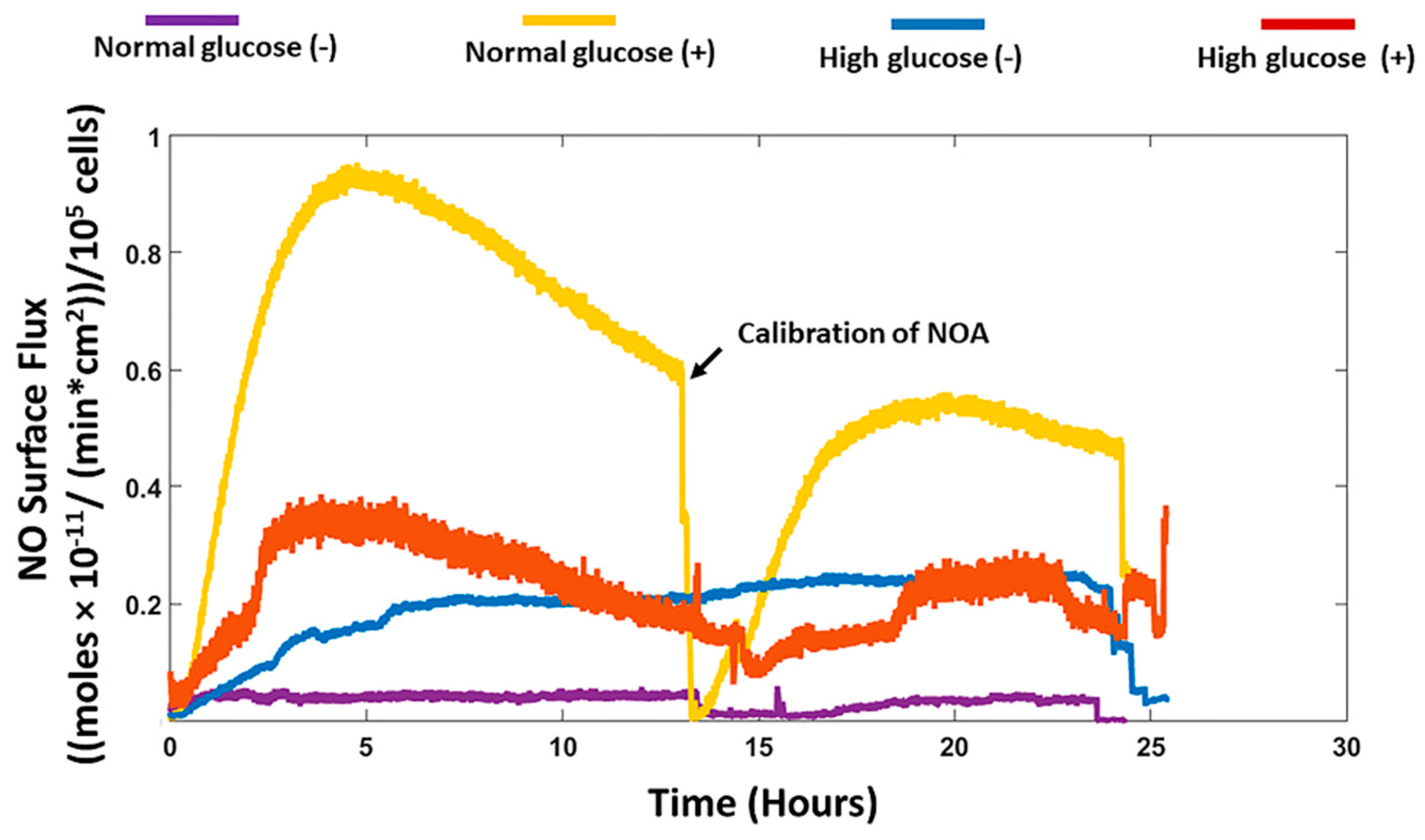 Figure 2.
Cell viability detected by calcein AM and ethidium bromide for primary human adult dermal fibroblasts (HDFa) cultured in normal (5.5 mM) glucose condition with and without stimulation, (
A
,
B
) respectively and high glucose (25 mM) condition without and with stimulation (
C
,
D
) respectively. Scale bar 500 µm. The results are presented as the mean ± standard deviation for
n
= 3, *
p
< 0.05.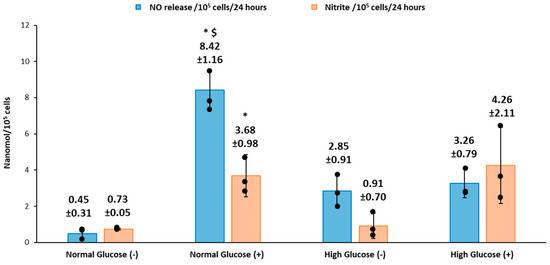 Figure 3.
Total NO compared to nitrite accumulation determined for HDFa with and without stimulation under normal and high glucose conditions. (For
n
= 3, there is statistically significant difference at
p
< 0.05:
*
Normal glucose (LPS/IFN) vs. Normal glucose (without stimulation);
$
Normal glucose (LPS/IFN) versus High glucose (LPS/IFN), dots on each average bar indicate individual data points.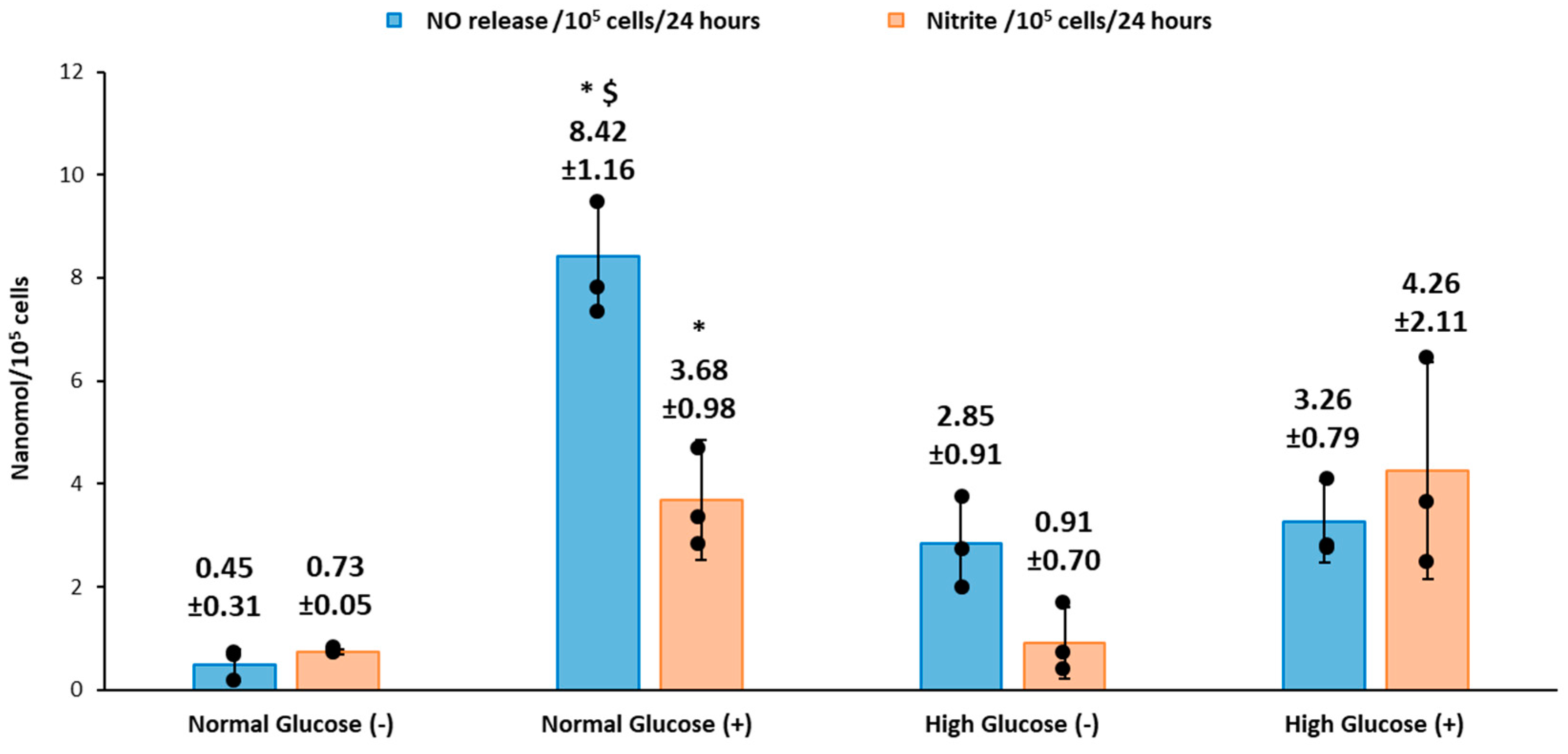 Figure 4. Immunofluorescent staining of CD90 (Thy-1) (green) in HDFa cultured in (A) Normal and (B) High glucose conditions. Cell nuclei (blue). Scale bar 200 µm.


Figure 5. Detection of iNOS expression by western blot analysis of HDFa cultured in normal (NG) and high glucose (HG) conditions with (+) and without (−) stimulation. Predicted band size for iNOS 131 kD and observed band size 125kD with iNOS and RAW 264.7 (M+) as positive controls. MWM—Molecular weight marker.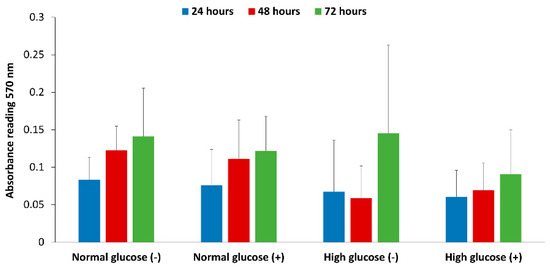 Figure 6.
The rate of proliferation observed in HDFa cultured in normal (5.5 mM) and high glucose (25 mM) conditions with (+) and without (−) stimulation from 24 to 72 h. Three independent experiments were performed in triplicates (
n
= 3).
p
value < 0.05 was considered statistically significant.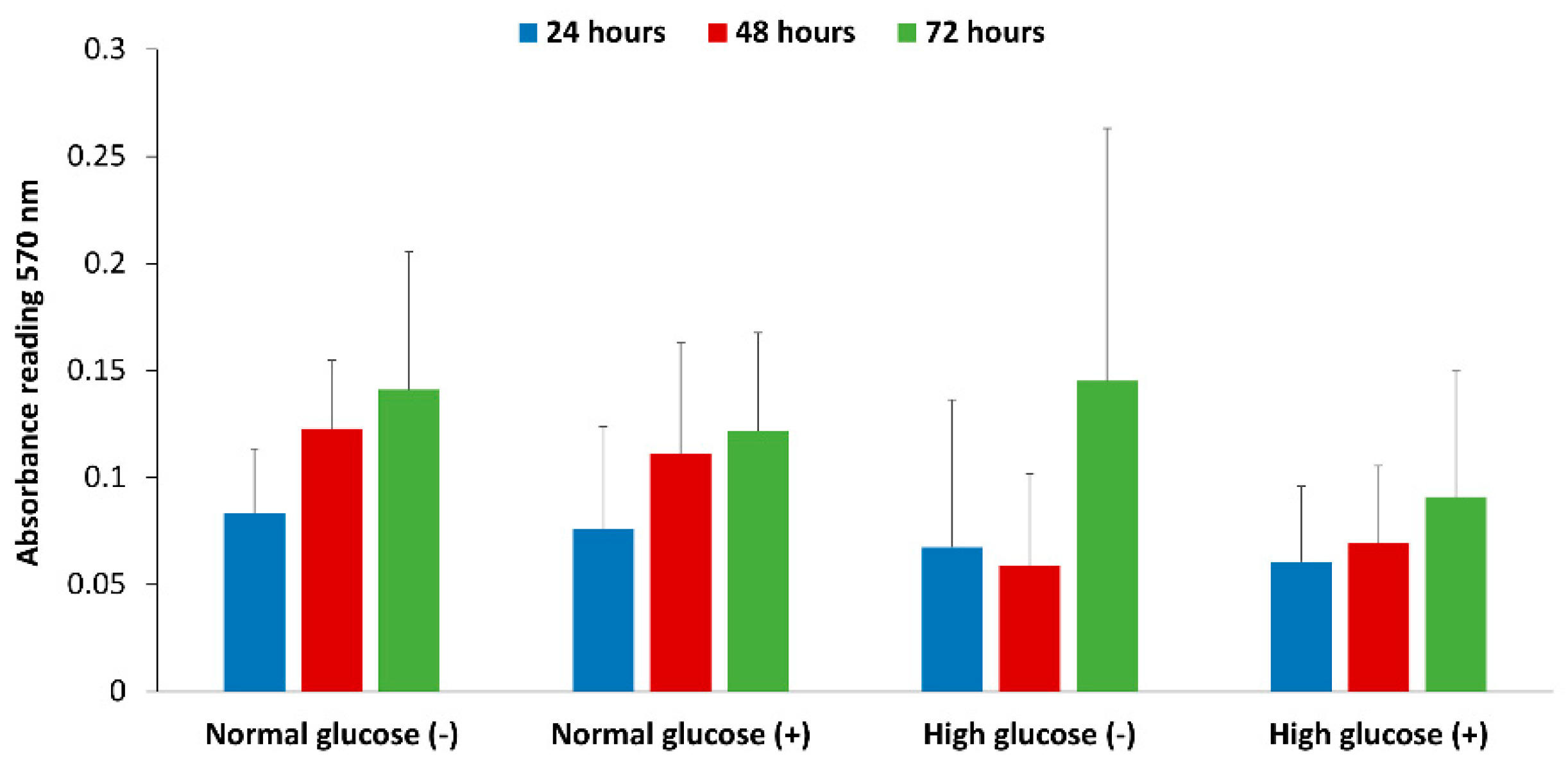 © 2018 by the authors. Licensee MDPI, Basel, Switzerland. This article is an open access article distributed under the terms and conditions of the Creative Commons Attribution (CC BY) license (http://creativecommons.org/licenses/by/4.0/).