Alpha-Difluoromethylornithine, an Irreversible Inhibitor of Polyamine Biosynthesis, as a Therapeutic Strategy against Hyperproliferative and Infectious Diseases
Pacific University School of Pharmacy, Hillsboro, OR 97123, USA
*
Author to whom correspondence should be addressed.
†
These authors contributed equally to this work.
Received: 9 January 2018 / Revised: 2 February 2018 / Accepted: 5 February 2018 / Published: 8 February 2018
Abstract
The fluorinated ornithine analog α-difluoromethylornithine (DFMO, eflornithine, ornidyl) is an irreversible suicide inhibitor of ornithine decarboxylase (ODC), the first and rate-limiting enzyme of polyamine biosynthesis. The ubiquitous and essential polyamines have many functions, but are primarily important for rapidly proliferating cells. Thus, ODC is potentially a drug target for any disease state where rapid growth is a key process leading to pathology. The compound was originally discovered as an anticancer drug, but its effectiveness was disappointing. However, DFMO was successfully developed to treat African sleeping sickness and is currently one of few clinically used drugs to combat this neglected tropical disease. The other Food and Drug Administration (FDA) approved application for DFMO is as an active ingredient in the hair removal cream Vaniqa. In recent years, renewed interest in DFMO for hyperproliferative diseases has led to increased research and promising preclinical and clinical trials. This review explores the use of DFMO for the treatment of African sleeping sickness and hirsutism, as well as its potential as a chemopreventive and chemotherapeutic agent against colorectal cancer and neuroblastoma.
View Full-Text
►

▼

Figures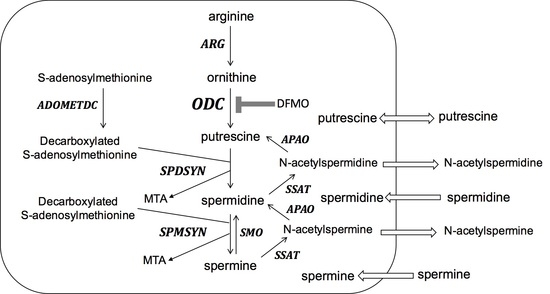 Graphical abstract
This is an open access article distributed under the
Creative Commons Attribution License
which permits unrestricted use, distribution, and reproduction in any medium, provided the original work is properly cited (CC BY 4.0).

Share & Cite This Article
MDPI and ACS Style
LoGiudice, N.; Le, L.; Abuan, I.; Leizorek, Y.; Roberts, S.C. Alpha-Difluoromethylornithine, an Irreversible Inhibitor of Polyamine Biosynthesis, as a Therapeutic Strategy against Hyperproliferative and Infectious Diseases. Med. Sci. 2018, 6, 12.
Note that from the first issue of 2016, MDPI journals use article numbers instead of page numbers. See further details here.
Related Articles
Comments
[Return to top]