Tropospheric and Ionospheric Anomalies Induced by Volcanic and Saharan Dust Events as Part of Geosphere Interaction Phenomena
1
School of Engineering, University of Basilicata, 85100 Potenza, Italy
2
Institute of Methodologies for Environmental Analysis (IMAA), Italian Research Council (CNR), 85050 Tito Scalo (PZ), Italy
3
Graduate School of Science, Chiba University, Chiba 263-8522, Japan
4
Institute of Space Science, National Central University, Chung-Li 320, Taiwan
5
College of Mechanical Engineering and Applied Electronics Technology, Beijing University of Technology, Beijing 100124, China
6
Center of Excellence in Earth Systems Modeling & Observations (CEESMO), Chapman University, Orange, CA 92866, USA
7
Laboratoire de Physique et Chimie de l'Environnement et de l'Espace, Centre National de la Recherche Scientifique (LPC2E/CNRS), 3A, Avenue de la Recherche Scientifique, 45071 Orléans, France
8
Space Research Institute, RAS, Space Geophysics, Russian Academy of Sciences, Profsoyuznaya str., 117997 Moscow, Russia
*
Author to whom correspondence should be addressed.
Received: 8 February 2019 / Revised: 5 April 2019 / Accepted: 10 April 2019 / Published: 17 April 2019
Abstract
In this work, we assessed the possible relation of ionospheric perturbations observed by Detection of Electro-Magnetic Emissions Transmitted from Earthquake Regions (DEMETER), Global Positioning System total electron content (GPS TEC), National Oceanic and Atmospheric Administration (NOAA)-derived outgoing longwave-Earth radiation (OLR), and atmospheric chemical potential (ACP) measurements, with volcanic and Saharan dust events identified by ground and satellite-based medium infrared/thermal infrared (MIR/TIR) observations. The results indicated that the Mt. Etna (Italy) volcanic activity of 2006 was probably responsible for the ionospheric perturbations revealed by DEMETER on 4 November and 6 December and by GPS TEC observations on 4 November and 12 December. This activity also affected the OLR (on 26 October; 6 and 23 November; and 2, 6, and 14 December) and ACP (on 31 October–1 November) analyses. Similarly, two massive Saharan dust episodes, detected by Robust Satellite Techniques (RST) using Spinning Enhanced Visible and Infrared Imager (SEVIRI) optical data, probably caused the ionospheric anomalies recorded, based on DEMETER and GPS TEC observations, over the Mediterranean basin in May 2008. The study confirmed the perturbing effects of volcanic and dust events on tropospheric and ionospheric parameters. Further, it demonstrated the advantages of using independent satellite observations to investigate atmospheric phenomena, which may not always be well documented. The impact of this increased detection capacity in reducing false positives, in the framework of a short-term seismic hazard forecast based on the study of ionospheric and tropospheric anomalies, is also addressed.
View Full-Text
►

▼

Figures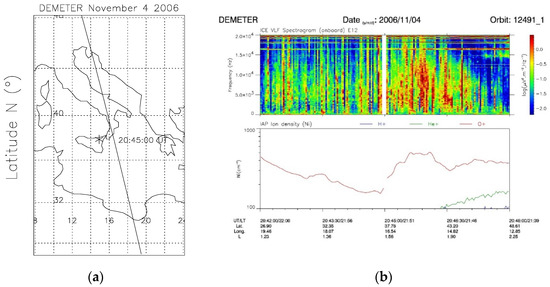 Figure 1
This is an open access article distributed under the
Creative Commons Attribution License
which permits unrestricted use, distribution, and reproduction in any medium, provided the original work is properly cited (CC BY 4.0).

Share & Cite This Article
MDPI and ACS Style
Tramutoli, V.; Marchese, F.; Falconieri, A.; Filizzola, C.; Genzano, N.; Hattori, K.; Lisi, M.; Liu, J.-Y.; Ouzounov, D.; Parrot, M.; Pergola, N.; Pulinets, S. Tropospheric and Ionospheric Anomalies Induced by Volcanic and Saharan Dust Events as Part of Geosphere Interaction Phenomena. Geosciences 2019, 9, 177.
Note that from the first issue of 2016, MDPI journals use article numbers instead of page numbers. See further details here.
Related Articles
Comments
[Return to top]