Oceanic Impact on European Climate Changes during the Quaternary
Department of Natural Sciences, Instituto E. S. Francisco Salinas, C/ Julita Ramos s/n, 37004 Salamanca, Spain
Received: 28 January 2019 / Revised: 1 March 2019 / Accepted: 5 March 2019 / Published: 8 March 2019
Abstract
Integrative studies on paleoclimate variations over oceanic and continental regions are scarce. Though it is known that Earth's climate is strongly affected by sea-air exchanges of heat and moisture, the role of oceans in climate variations over land remains relatively unexplored. With the aim to unveil this influence, the present work studies major climate oscillations in the North Atlantic region and Europe during the Quaternary, focusing on the oceanic mechanisms that were related to them. During this period, the European climate experienced long-term and wide-amplitude glacial-interglacial oscillations. A covariance between the North Atlantic sea surface temperature and climate signals over the continent is especially observed in Southern Europe. The most severe and drastic climate changes occurred in association to deglaciations, as a consequence of major oceanographic reorganizations that affected atmospheric circulation and ocean-atmosphere heat-flow, which led to variation of temperature and precipitation inland. Most deglaciations began when Northern Hemisphere summer insolation was maximal. Increased heating facilitated the rapid ice-sheet collapse and the massive release of fresh water into the Northern Atlantic, which triggered the weakening or even the shutdown of the North Atlantic Deep Water (NADW) formation. Though the extension of ice-sheets determined the high-latitude European climate, the climate was more influenced by rapid variations of ice volume, deep-water formation rate, and oceanic and atmospheric circulation in middle and subtropical latitudes. In consequence, the coldest stadials in the mid-latitude North Atlantic and Europe since the early Pleistocene coincided with Terminations (glacial/interglacial transitions) and lesser ice-sheet depletions. They were related with decreases in the NADW formation rate that occurred at these times and the subsequent advection of subpolar waters along the western European margin. In Southern Europe, steppe communities substituted temperate forests. Once the freshwater perturbation stopped and the overturning circulation resumed, very rapid and wide-amplitude warming episodes occurred (interstadials). On the continent, raised temperature and precipitations allowed the rapid expansion of moisture-requiring vegetation.
View Full-Text
►

▼

Figures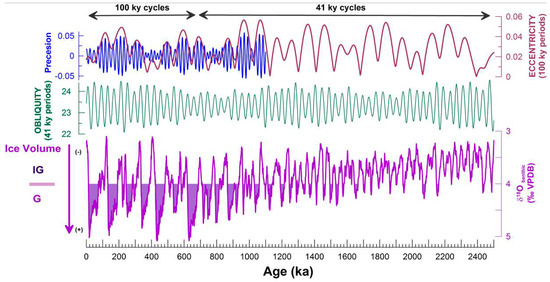 Figure 1
This is an open access article distributed under the
Creative Commons Attribution License
which permits unrestricted use, distribution, and reproduction in any medium, provided the original work is properly cited (CC BY 4.0).

Share & Cite This Article
MDPI and ACS Style
Martin-Garcia, G.M. Oceanic Impact on European Climate Changes during the Quaternary. Geosciences 2019, 9, 119.
Note that from the first issue of 2016, MDPI journals use article numbers instead of page numbers. See further details here.
Related Articles
Comments
[Return to top]