Open Access This article is
freely available
re-usable
Article
Morphological Variability of Submarine Mass Movements in the Tectonically–Controlled Calabro–Tyrrhenian Continental Margin (Southern Italy)
1
Istituto di Geologia Ambientale e Geoingegnera, Consglio Nazionale delle Ricerche, Rome 00015, Italy
2
Department of Earth Sciences, Sapienza University of Rome, Rome 00185, Italy
3
Instituto Geologico y Minero de España (IGME), Rios Rosas 23, 28003 Madrid, Spain
*
Author to whom correspondence should be addressed.
Received: 2 November 2018 / Accepted: 10 January 2019 / Published: 15 January 2019
Abstract
:
The analysis of high resolution morpho–bathymetric data on the Calabro Tyrrhenian continental margin (Southern Italy) enabled us to identify several morphological features originated by mass–wasting processes, including shallow gullies, shelf–indenting canyons and landslides. Specifically, we focus our attention on submarine landslides occurring from the coast down to −1700 m and affecting variable areas from thousands of square meters up to few tens of square kilometers. These landslides also show a large variability of geomorphic features which seems strictly related to the physiographic/morphological domains where the landslide formed. Tectonically–controlled scarps and canyon flanks are typically characterized by several coalescent and nested landslides, with diameters ranging from hundreds to a few thousands of meters. Canyon headwalls are commonly characterized by a cauliflower shape due to an array of small (diameters of tens of meters) and coalescent scars. In all these sectors, disintegrative–like landslides dominate and are generally characterized by a marked retrogressive evolution, as demonstrated by their morphology and comparison of repeated bathymetric surveys at the canyon headwall. Only in the lower part of tectonically–controlled scarps, a few cohesive–like and isolated landslides are present, indicating the main role of slope gradients and height drop in controlling the post–failure behavior of the mobilized material. Open slopes are generally characterized by large–scale (diameters of thousands of meters) and isolated scars, with associated landslide deposits. A peculiar case is represented by the Capo Vaticano Scar Complex that affected an area of about 18 km2 and is characterized by an impressive variability of landslide morphologies, varying also at short distance. The large extent and variability of such scar complex are thought to be associated with the occurrence of a mixed contouritic–turbidite system. By integrating the high–resolution morpho–bathymetric dataset with the results of previous studies, we discuss the main factors controlling the variability in size and morphology of submarine landslides developed in a tectonically–controlled setting and provide preliminary considerations on their potential geohazard in a densely populated coastal area.
Keywords:
landslide scars; canyon; fault escarpments; contourite deposits; multibeam; continental slope
Author Contributions
Conceptualization, D.C.; Funding acquisition, F.C.; Investigation, A.B., D.C., F.C. and E.M.; Visualization, D.C.; Writing – original draft, D.C., A.B., E.M. and D.R.
Funding
The research was funded by the Italian MaGIC (Marine Geohazards along the Italian Coasts) Project and carried out in the framework of RITMARE (Ricerca ITaliana per il MARE) Project.
Acknowledgments
We acknowledge the crews of R/V Urania and Minerva Uno (CNR) together with the researchers and students that took part in the oceanographic cruise. Daniele Casalbore and David Casas also thank the research funding provided by "Progetto di Ateneo 2016" of the University Sapienza of Rome and the Spanish Project Fauces: CTM2015–65461–C2–1–R. The comments of Rajasmita Goswami and two anonymous reviewers are also acknowledged.
Conflicts of Interest
The authors declare no conflict of interest.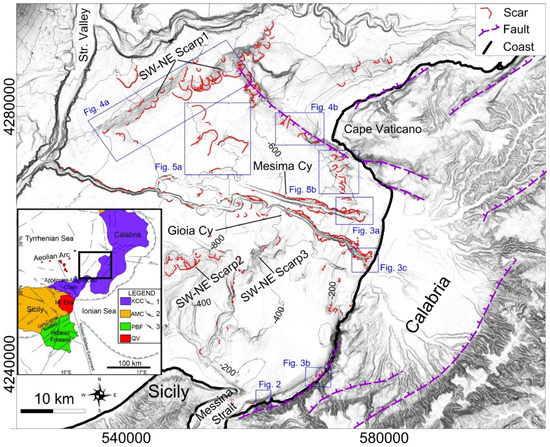 Figure 1.
Shaded relief map (azimuthal light) of the Calabro–Tyrrhenian continental margin encompassed between Cape Vaticano and the Messina Strait (location in the inset), with the indication of the recognized landslide scars (red lines from [
15
]), the main faults (violet lines from [
16
]) and the location of the following figures (blue boxes). The inset shows a simplified structural sketch of Southern Italy (modified from [
17
]); KCC: Kabilo–Calabride Chain Units; AMC: Appennine–Maghrebian Chain Units; PBF: Pelagian Block Foreland Units; QV: Quaternary Volcanoes; 1 regional overthrust of the Kabilo–Calabride units upon the Apennine–Maghrebian; 2 external front of the Apennine–Maghrebian Chain upon the Foreland units and the External Thrust System Chain; 3 main normal and strike–slip faults.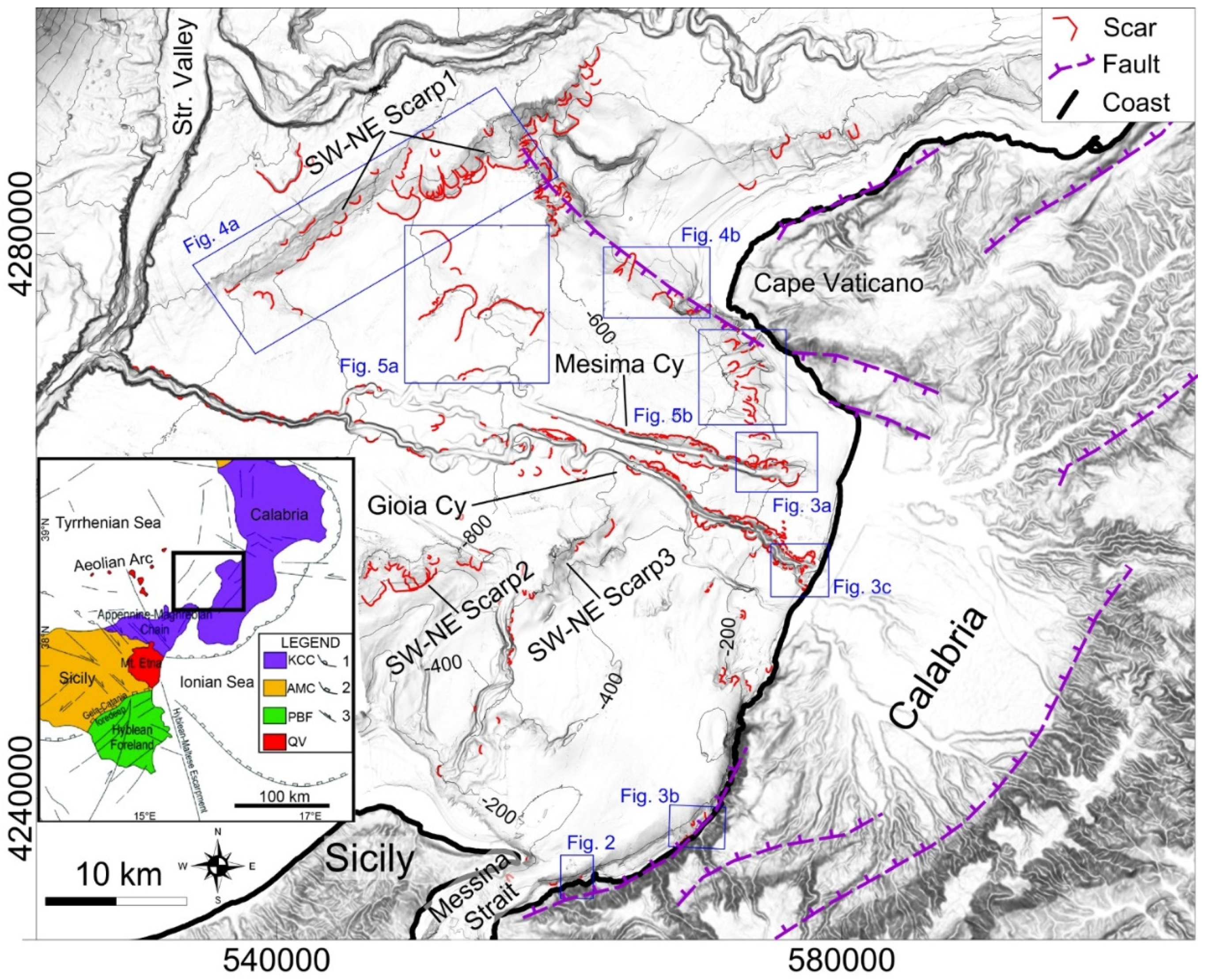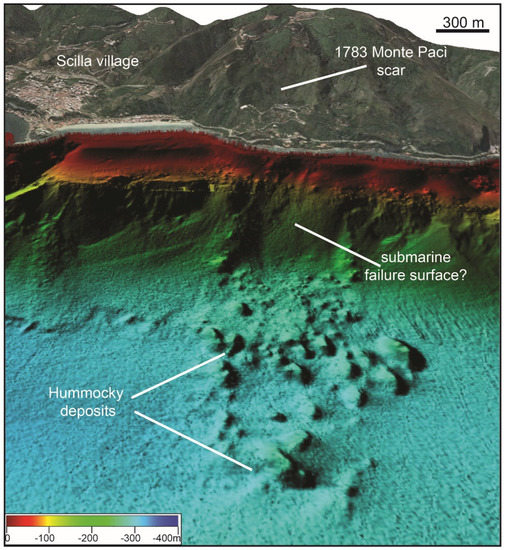 Figure 2.
3–D view of the hummocky deposits related to the 1783 Monte Pacì rocky and tsunamigenic landslide occurring off Scilla village, for location see
Figure 1
.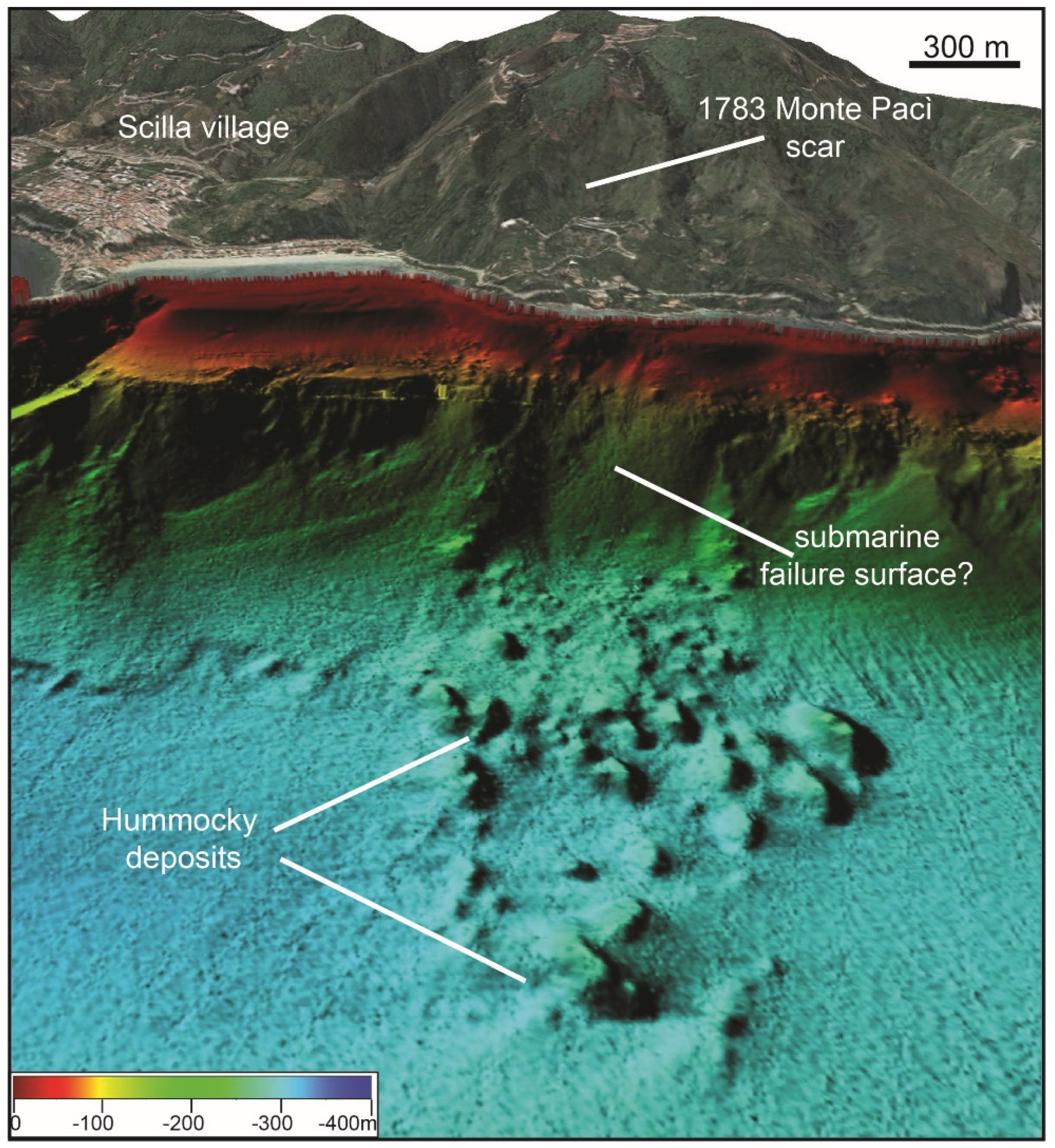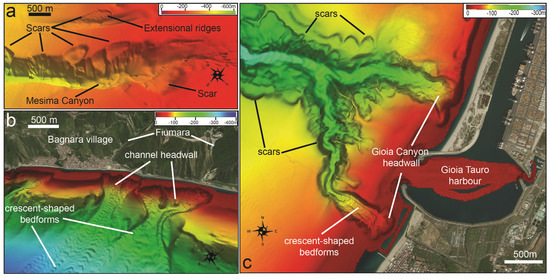 Figure 3.
(
a
) 3–D view of the coalescent landslide scars affecting the outer flanks of the Mesima Canyon (location in
Figure 1
); note also the presence of extensional ridges within a landslide scars affecting a small channel. (
b
) 3–d view of the Bagnara Channels (location in
Figure 1
), where a cauliflower headwall formed by small landslide scars is recognizable along with coaxial trains of crescent–shaped bedforms. (
c
) Shaded relief of the upper reach of Gioia Canyon head (location in
Figure 1
), formed by two branches that isolate the entrance of the Gioia Tauro harbor. Note the cauliflowers shape of the southern headwall of the Gioia Canyon as well as the coalescent and nested landslides scars present along the flanks of the Gioia Canyon.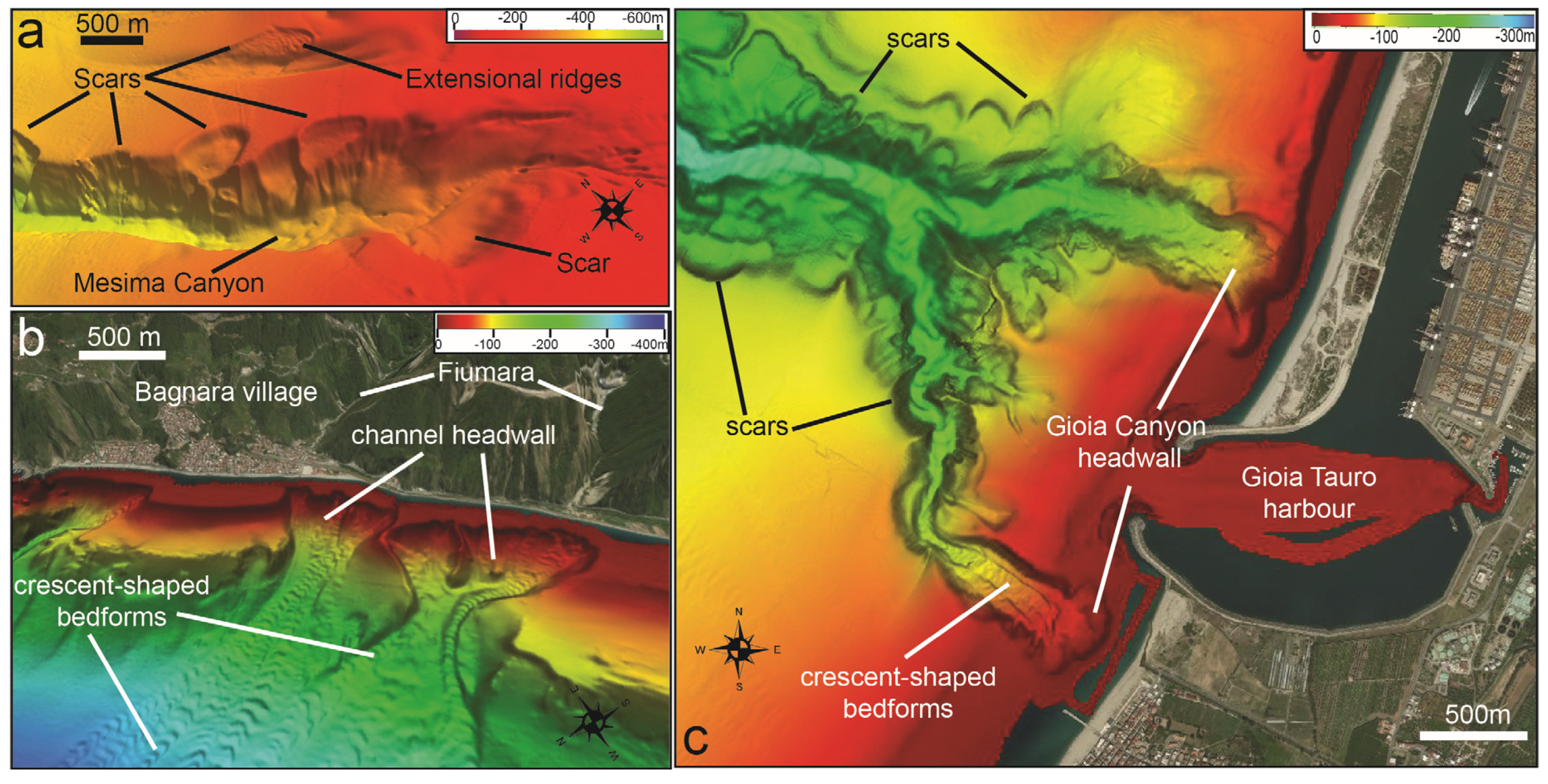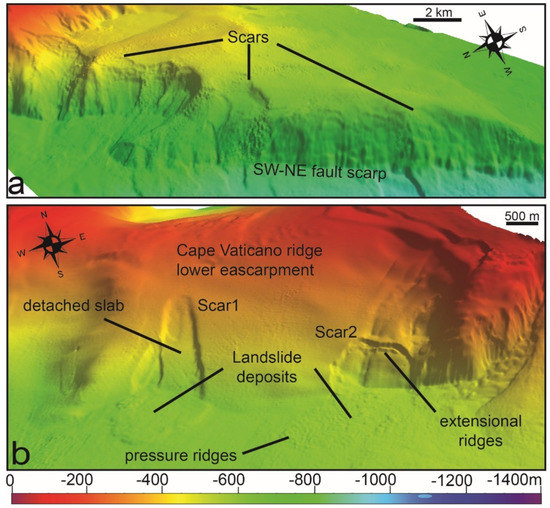 Figure 4.
(
a
) 3–D view of the SW–NE tectonically–controlled escarpment recognized in the lower continental slope off Capo Vaticano ridge (for location see
Figure 1
), largely affected by nested and coalescent disintegrative–like landslides. (
b
) 3–D view of the lower part of the tectonically–controlled escarpment forming the SW flank of Cape Vaticano ridge (for location see
Figure 1
), where isolated and cohesive–like landslide scars (Scars1 and 2) with associated deposits are recognizable.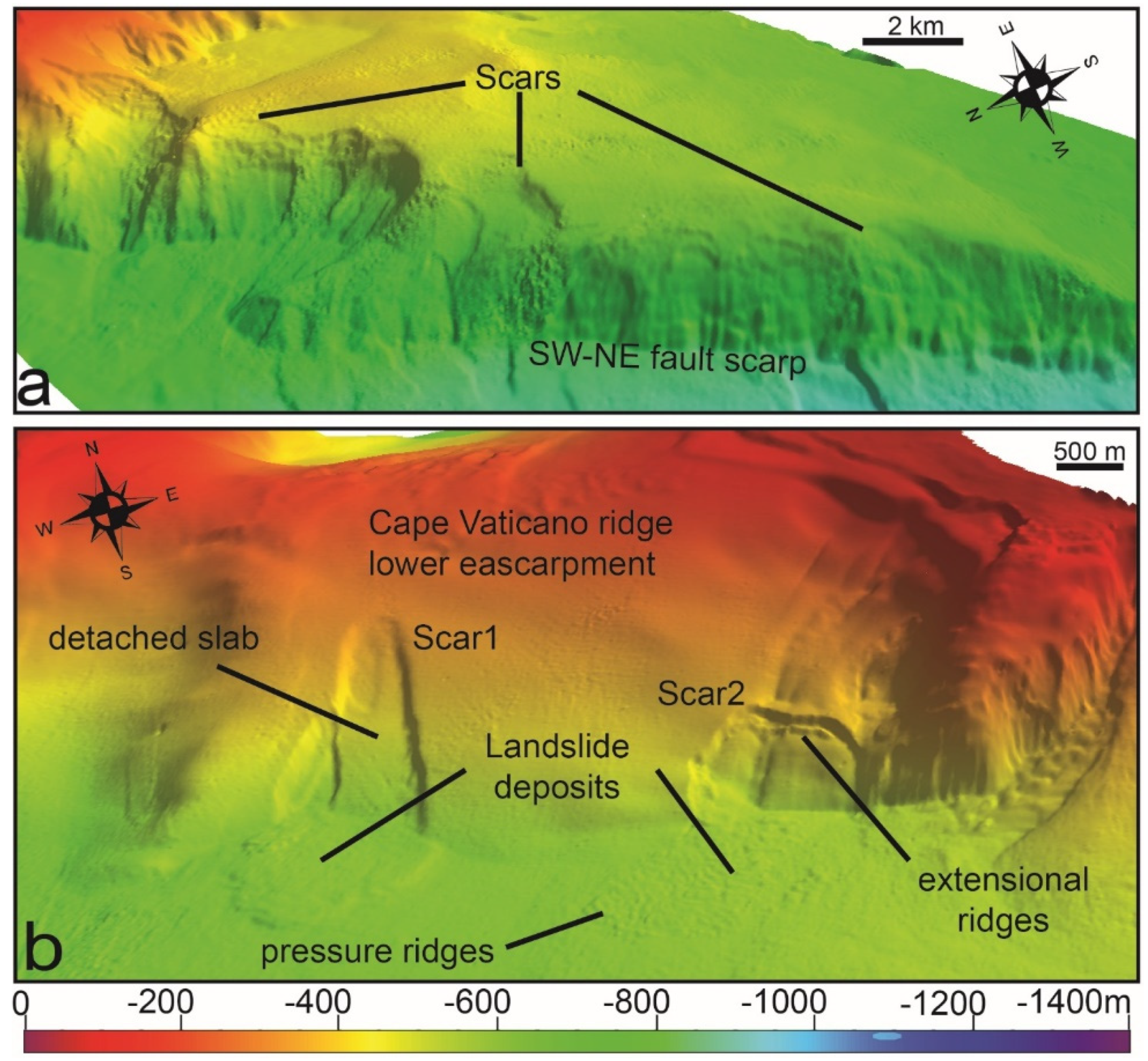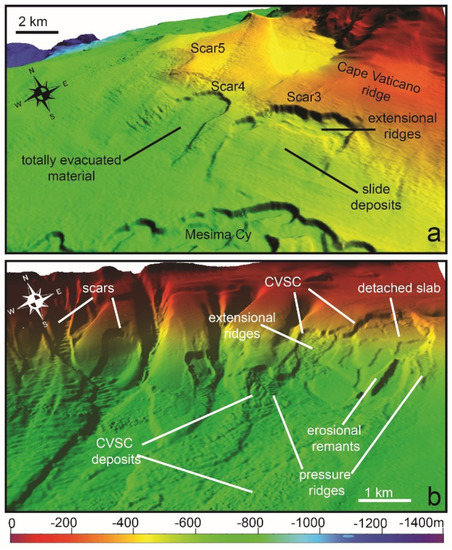 Figure 5.
3–D view of (
a
) the landslide scars affecting the open continental slope encompassed between Cape Vaticano ridge and Mesima Canyon and (
b
) the Capo Vaticano Scar Complex (CVSC) mostly affecting contourite deposits formed on the upper continental slope. For location see
Figure 1
.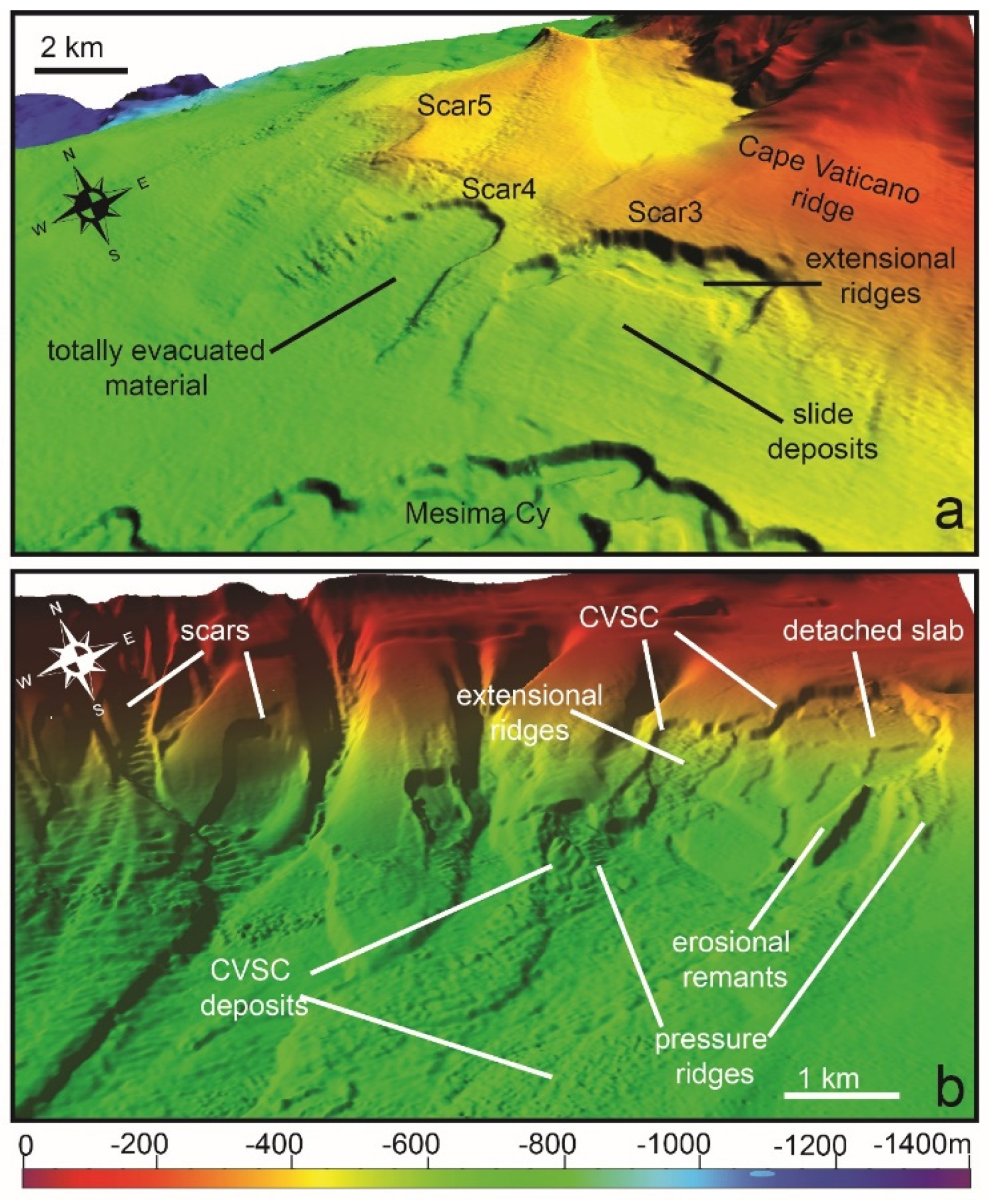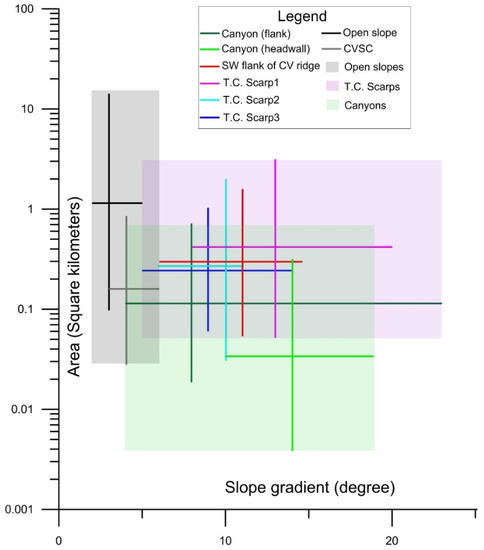 Figure 6. Plot showing the relationship between the minimum and maximum area (vertical lines) of the recognized landslides for each physiographic/morphological domain and the measured slope gradients (horizontal lines); T.C.: Tectonically–controlled.

Table 1. Maximum (max) and minimum (min) values of areas and diameters associated with the landslide scars recognized in each physiographic/morphological domain present in the study area using multibeam bathymetry. CVSC: Capo Vaticano Scar Complex.
| Setting | Diameter min. (m) | Diameter max. (m) | Area min. (km2) | Area max. (km2) | Slope Gradients Range (°) | Average Slope Gradients (°) |
| --- | --- | --- | --- | --- | --- | --- |
| Canyon (headwall) | 50 | 200 | 0.004 | 0.3 | (10–19) | 14 |
| Canyon (flank) | 130 | 1150 | 0.02 | 0.7 | (4–23) | 8 |
| SW flank of Cape Vaticano Ridge | 200 | 1800 | 0.05 | 1.56 | (6–18) | 11 |
| Tectonically–controlled Scarp 1 | 520 | 1900 | 0.05 | 3.2 | (8–20) | 13 |
| Tectonically–controlled scarp 2 | 350 | 1764 | 0.03 | 2 | (6–11) | 10 |
| Tectonically–controlled scarp 3 | 150 | 1400 | 0.06 | 1 | (5–14) | 9 |
| Open slope | 720 | 3700 | 0.1 | 14 | (2–5) | 3 |
| CVSC | 290 | 1400 | 0.03 | 0.8 | (3–6) | 4 |

© 2019 by the authors. Licensee MDPI, Basel, Switzerland. This article is an open access article distributed under the terms and conditions of the Creative Commons Attribution (CC BY) license (http://creativecommons.org/licenses/by/4.0/).