Open Access This article is
freely available
re-usable
Review
Tailoring Signs to Engage Two Distinct Types of Geotourists to Geological Sites
Department of Educational Leadership and Management, Drexel University, 3141 Chestnut Street, Philadelphia, PA 19104, USA
Received: 30 July 2018 / Accepted: 29 August 2018 / Published: 3 September 2018
Abstract
:
Interpretive signs are the silent ambassadors of geosites and serve a diverse audience. The primary aim of this study is to develop signs for geosites targeted at two unique groups of geotourists. A conceptual multidisciplinary geotourist typology is formulated to identify two main classes of geotourists comprising the audience. Latent and archetypal geotourists inhabit various roles at geotourism sites depending on their expectations for the event, affecting the visitor experience via fluid contextual factors. Principally, latent geotourists arrive seeking novel touristic experiences while archetypal geotourists seek knowledge-building opportunities. Because signs represent one fragment of the multi-dimensional visitor experience, an approach that offers a palette of options is advocated. After the unified typology to identify the audience is presented, a multi-layered technique that offers both interpretation and a link to augmented information on signs is suggested. Some best practices in sign design are described and preliminary plans for testing are shared. The author's overriding goal is to refine the mechanics and format of signs to garner maximum attracting and holding power, ensuring that the message is read and the target outcome is achieved. By providing tools to visitors to geological sites that enable them to create narratives that are compatible with their expectations, we facilitate a multi-dimensional constructive experience that engages everyone.
Keywords:
casual leisure; geotourism; interpretation; leisure behavior; recreational specialization; serious leisure; visitor studies
2. Materials and Methods
There is a wealth of studies on geotourists in disparate touristic and informal-learning settings from various parts of the world from which to profit. In order to devise a conceptual multidisciplinary typology of geotourists to understand the potential audience, a perusal of the literature beginning with leisure behavior, followed by a selection of previous geotourist typologies, and ending with tourism-oriented taxonomies is carried out. This ensures that disparate markets, perspectives, and settings are included. Importantly, the conceptual framework also takes mass tourists into account, a group that usually only marketing-oriented typologies have considered in the past. Mass tourists have had a longstanding reputation of poor behavior even before the sustainable tourism movement [
1
,
42
,
43
] and fleeting tourist activities are increasingly common [
44
]. Mass tourists are included because of their volume and because the author agrees that anyone has the potential to be a geotourist [
26
,
27
]. More details of selected studies can be found in
Appendix A
. Outside of the scope of this review are interpretive writing and outcomes obtained from the signs as indicated in
Table 1
.
The results are reported in visual representations and tables. An infographic describes two general classes and four categories and guides one in identifying target audiences. It also informs tourism management, albeit in a perfunctory manner. The new conceptual typology and other relevant literature are used to determine how to present signage at geosites targeted at geotourists to gain maximum attention. A second graphic depicts the kind of signage that should theoretically appeal to the two general classes. During a future study, data will be collected to analyze the effectiveness of a new interpretive format and conceptualized types concomitantly. While the chief focus of unifying the research into one framework is determining how to make a sign with cross-spectrum attractiveness, the conceptual multidisciplinary framework affords benefits to planners and communities as they endeavor to:
provide value-added experiences at destinations,

generate awareness of geoconservation and geoheritage,

create excitement around geological landscapes and the geosciences,

better manage tourists to avoid undesirable behaviors,

anticipate carrying capacity,

spend marketing funds more judiciously,

develop signs that enthrall a universal audience.
3. Literature Review
It is essential to know in advance that the conceptual multidisciplinary typology of geotourists is divided into two general classes: latent and archetypal geotourists. Latent geotourists have the potential to be activated (i.e., to become interested in geology) while archetypal geotourists are the original geotourists, akin to those who have existed for centuries [
1
,
3
,
5
]. These classes are referred to throughout the paper because they also organize visitors into two market segments with unique expectations [
3
,
54
,
55
,
56
]. They will also be the two main target groups for the interpretive panel concept.
3.2. Existing Geotourist Typologies
3.3. Tourism-Oriented Geotourist Typologies
4. Results
The following characteristics, impacts, and requirements of geotourists were derived from the literature:
4.1. A Conceptual Multidisciplinary Typology
Allocating signs is made easier by recognizing differences inherent in latent and archetypal geotourists.
Figure 3
reflects the sum of the literature reviewed. The author suspects that the latent geotourist often steps to the metaphorical shore, as depicted by the shape of the graphic, doing nothing more than snapping a photo [
62
]. On the contrary, the archetypal geotourist will sometimes go to extreme depths in terms of absorbing technical information, spending hours making observations about the geosite both off- and on-site, if resources are obtainable. We can go forward assuming both latent and archetypal geotourists enjoy novel on-site interpretation, but the archetypal geotourist will probably avoid peak times and need less management at the destination. A spectrum capped by novelty and knowledge is depicted by the depth of involvement with the geosite [
62
]. The width of the fields is proportional to the number of each type expected to be encountered. The category colors correspond to the estimated length of time spent engaged with the geosite. When combined with group size, we may begin to see a physical impact factor. Scholastic involvement can start to be estimated by time spent researching using materials provided. Again, this is a formative study and the types will need to be verified.
Four conceptual geotourist categories or personas are thus presented, falling under the two aforementioned classes of latent and archetypal geotourists (see
Table 2
). These hypothesized types depict much of the current literature reviewed here but will be tested for accuracy in the field. The author will now proceed to propound the theoretical sub-types for deliberation.
4.2. Limitations
The typology is primarily meant to provide a unified overview of existing research enabling geotourism professionals to better anticipate the behavior of target audiences. Its utility lies mainly in helping planners to understand the audience at a glance.
One shortcoming of the typology in its current form that plagues the author is the fact that she knows from experience how the pendulum can swing. There are instances when tourists are in different modes, as in Cohen's [
61
] model, like when the wanderer participates in geologist-led tours or when an academic is relegated to the role of photo collector simply because there is no suitable interpretation available. Someone who is really interested in the geosciences can stumble upon a roadside geological trial on a day when driving is the goal, and simply keep driving. There will be crossover between the geotourist types and some ambiguity across the categories presented here. If much overlap is identified, the framework will be adapted to accommodate modes, taking a cue from Cohen [
61
]. The central part of the typology may also need to be further expanded on given the expected range of physical impacts due to time spent on site, existing interest in geology, and group size. As mentioned previously, there are degrees of serious leisure [
59
] that may call for more scrutiny.
Falk and Dierking's free-choice learning and contextual model of learning is a fruitful area to probe into the behavior of visitors at geosites [
32
,
52
,
53
]. It has not yet been applied directly to geotourism settings, but Packer and Ballantyne make noble progress toward that effort [
30
] and their study shows promise. As the researcher begins to look at interpretation through a learning lens, Falk and Dierking's work on the outcomes and benefits of interpretation will undoubtedly yield invaluable knowledge as she writes her dissertation.
The author can only postulate the marketing and tourism management challenges latent tourists present to geosites. Ritchie and Crouch [
41
] established four criteria to consider in the sustainable planning of a destination, specifically nature of demand (audience desires), time of demand (high season), the magnitude of demand (consider site size before attracting a market), and future demand. At the same time there are calls for "demarketing" to actively attract low-impact niche tourists [
22
]. While the author is well acquainted with tourism marketing and management, they are outside of the scope of the paper. The implications of poor tourist management and marketing (vandalism to sites, economic unsustainability) are generally more detrimental than inferior interpretation (no one reads the signs, awareness is not increased), which is why they are necessary to assess here, even if in a passing manner.
4.3. Interpretive Strata
A visualization is presented in
Figure 4
, forming a starting point for planners of interpretation, and aiding in the development of content for target audiences. At Level 1, one should encounter an interpretive sign with universal appeal that is thematic, entertaining, creates excitement about geology, and leaves one wanting more. If one is still curious, a brochure that is affixed to the sign or available at the tourist center or online (Level 2) would be ideal [
26
]. As mentioned, the author envisions a brochure that resembles those in the Bavaria's Most Beautiful Geosites series [
24
] because it offers a lot more information immediately for those whose interest is piqued. Also, one does not need a phone or a data plan to access more facts; an important consideration for international visitors. For those with deep interest who research in advance, a website or archive provides a wealth of peer-reviewed resources (or bibliographies), maps, and other technical sources (Level 3). Preferably, these are also at the visitor's center or tourist office.
5. Discussion
Facilitating Experiences Congruent with Expectations
6. Toward Signs and Interpretive Exhibits
6.1. Archetypal Geotourist: Information Seeking
It is fortuitous that archetypal geotourists tend to source information before arriving at the site [
10
,
54
,
67
] because the provision of populist interpretation becomes easier. They also crave personal development, a sense of accomplishment, self-respect, ego-enhancement [
66
], and usually dislike crowds [
53
,
67
]. As noted, they do appreciate panels on site, but want more information, thus adding a small technical portal that links to advanced resources would be welcome [
26
].
The Carnic Alps Geopark in Austria [
80
] provides links to research oriented toward scholars and specialists [
81
], other geoparks in Austria [
82
], a list of geology books specific to the region [
83
], and geological information for tourists and novices [
84
]. The visitor center in Dellach is dedicated primarily to geology and is full of interactive stations and specimens [
85
]. There truly is something for everyone. Many tools are furnished to construct one's own unique experience.
In Germany, the excellent, albeit didactic, series of geological signs, Bavaria's Most Beautiful Geosites, [
24
] (see
Figure 2
a) links one directly to the website of the Bavarian Environmental Protection Agency. It contains an even more extensive archive of geoscientific data, including interactive maps and high-definition versions of the exhibit panels, making them available to anyone [
24
]. The website also leads to peer-reviewed texts, enabling researchers to study local geology in depth. It is a veritable treasure trove. A list of unique geosites in Germany [
86
] is the type of information that classic geotourists would use to map out a trip.
Naturally, everyone can benefit from the materials arranged for scholars when made available at the visitor or tourist center or on the website. Some academic material will not be obtainable due to subscription restrictions, but bibliographical lists or links to book-purchasing options are helpful points of departure.
6.2. Latent Geotourist: Novel Interpretation
7. Future Research
Collecting data in the field and integrating further research in an iterative process will make the framework stronger. In gauging visitor desires, employing a mixed methods approach that includes the collection of quantitative data to determine whether actual behaviors (not self-reported) are carried out before, during, and after the trip (e.g., monitoring associated websites for searches made, photos posted to social media on-site, geographical tagging at geosites) should yield felicitous results on actual geotourist behavior. The result will be a multidisciplinary geotourist typology that is well-informed, is applicable to a diverse range of uses, operates from several perspectives, and considers every aspect of the geotourist, including how to entertain, teach, attract, and manage them.
Funding
This research received no external funding.
Acknowledgments
I would like to thank my advisor at Clemson University, Robert Bixler. His advice on my research in leisure behavior and geological interpretation was invaluable and his encouragement continues to motivate me. I would also like to thank my reviewers. Their comments were extremely useful in helping me to frame the study.
Conflicts of Interest
The author declares no conflict of interest.
Appendix A

Table A1. An Overview of the Literature Describes the General Placement of Select Texts within the New Conceptual Framework.
Geotourist Types/Market Segments
Brief Notes on Methodology and Results
Comments
Cohen (1979) [61]
Five modes of tourists:
recreational,
diversionary,
experiential,
experimental,
existential
A seminal conceptual framework based on the pursuit of pleasure versus the quest for meaning is posited. Generally speaking, it is about the tourist's search for the novel versus the journey to the authentic.
This general tourist typology remains apt with 'recreational' and 'diversionary' modes lending insight into latent geotourists and 'experiential', 'experimental', and 'existential' modes illuminating archetypal geotourists.
Hose (1998; 2000) [10,63]

Hose (2003) [97]
Dedicated (academic)
Casual (populist)

Intellectually engaged
Physically active
Socially involved
Hose, an early expert in geotourism, devises a typology based on observations at his site. His model contrasts desired levels of interpretation (academic/populist) against format (off-site journals, on- and off-site panels). He adds the verbiage dedicated and casual (2000), reflecting the types of geotourists who want academic and populist interpretation, respectively. This early paper posits what may be the first geotourist typology and remains highly useful.

Hose updates his typology as part of his Ph.D. thesis with a three-sided model adding the personifications of socialite, dilettante student (i.e., intellectually engaged-physically active), photographer and hiker (i.e., intellectually engaged, socially involved), sage, clerk, aloof leader, and private collector (i.e., socially involved, physically active). Clustered centrally in his model are the generalized personifications of the social collector, student, sociable leader, diligent student, and hammerer (i.e., a fossil or mineral enthusiast).
Highly intellectual, 'dedicated' geotourists hand select geosites for the purpose of education and knowledge expansion and the 'casual' geotourists are those who occasionally visit geosites mainly for recreation, pleasure, and some limited intellectual stimulation. This was the basis for the author's original formulation of the latent and archetypal geotourist categories.

The updated version of the typology affords less utility for the author's purposes. Still, the personifications inform the overall framework generally and the classic geotourist (academic) specifically. His personifications may be added after data collection if deemed appropriate.
Mehmetoglu (2004) [66]
Collectivistic
Individualistic
Group and solo visitors (collectivistic and individualistic) to a Norwegian destination of geological significance are studied. Mehmetoglu found that organized tourists opt for idle entertainment, not personal enlightenment in contrast to personal goal-oriented individualistic tourists. Surprisingly, although they are referred to as collectivistic, socializing is not as important as one might expect: novelty is more important to collectivistic tourists than social interaction. It should be noted that novelty is undeniably important to both types.
Although the study does not explicitly mention geotourists, it supports anecdotal and other scholars' philosophies on geotourist habits. Understanding geotourists' preferences for organized or independent travel helps inform ecological impact, openness to socializing and/or crowds, and pre-planning and tells us about mass tourist behavior.
Falk (2006) [62]
Four visitor identities: 1
explorer,
facilitator,
professional/hobbyist,
experience seeker
Visitors to a science center in California are interviewed about their motivations, and content analysis revealed five visitor identities. 'Explorer' is the curiosity-based type with a thirst for knowledge; the 'facilitator' is motivated by push factors (i.e., the demands of others); the 'professional/hobbyist' seeks a deeper intellectual experience; and the 'experiences seeker' is an experience-collector.
The 'explorer' fits the latent geotourist and within that class, the 'professional/hobbyist' reflects the classic geotourist who wants a deeper experience. The 'facilitator' supports the mass geotourist and the 'experience seeker', describes geotourist lite well. Falk's types can be distributed remarkably evenly throughout the typology, which the author discovered after devising her typology, and it lent a measure of legitimacy to its design.
Mao et al. (2009) [67]
Potential geotourists
In this preliminary study to inform destination development, marketing needs, visitor behavior, and geotourist preferences, members of the Geological Society of Australia (GSA) self-reported on their purpose for travel (i.e., to gain knowledge, to satisfy curiosity) in addition to their likelihood of travelling independently to geosites.
While Mao et al. do not explicitly posit types, their examination of members of the GSA contributes to wisdom about archetypal geotourists and is concomitant with Hose's [63] findings.
Grant (2010) [56]
Geo-expert
Geo-specialist
Geo-amateur
Interested visitor
Aware visitor
Unaware visitor
Grant's is a conceptualized pyramid-based model based on prior knowledge, interest, and expertise. The posited typologies are gauged through a marketing lens. Depth of interpretation increases near the top of the pyramid as does expected audience size. The base represents those interested in novel entertainment.
Her 'interested visitor' and 'aware visitor' categories represent the latent geotourist with the highest market potential and entertainment requirements. Her 'geo-expert', 'geo-specialist', and 'geo-amateur' are degrees of archetypal geotourists: a small, knowledgeable group with limited market potential. Her 'unaware visitor' stumbles upon a geosite, like geotourist lite might. Having a marketing background, she points out the advantages of pinpointing the most common types of geotourists in order to better cater to them and theorizes the market can be grown through interpretive interventions.
Hurtado et al. (2014) [64]
Purposeful
Intentional
Serendipitous
Accidental
Incidental
Hurtado et al. applied McKercher and du Cros' [98] cultural tourism typology model to cave tourists at a National Park in Australia, so both latent and archetypal geotourists are part of the subject group. Five types are described based on motivation (i.e., curiosity or education) and positive or negative experience. However, the researcher perceives a gap at the depth of experience end of the spectrum where 'to know more' can put the archetypal geotourist on the same footing with a latent geotourist. Quantitative assessment of actions taken before the visit may be a better indicator than self-reported motivations.
'Serendipitous' and 'accidental' geotourists reflect postulated geotourist lite (latent geotourists) and 'purposeful' and 'intentional' geotourists are similar to archetypal geotourists. The 'incidental' geotourist is omitted from the author's study because she sees limited use in adding this negative-experience group straightaway. This was one of the most useful studies in terms of formulating the original framework proposed in this paper. They also refer to Mao et al.'s study [67], adding to its relevance.
Božić & Tomić (2015) [54]
General geotourist
Pure geotourist
To arrive at tourist values, visitors to several gorges in Serbia self-report their motivations for visiting via a questionnaire. Previous geological awareness was also considered. Their detailed evaluation considers many indicators, some that concern the physical, aesthetic, and interpretative aspects of destinations. Other factors related to infrastructure round out the study, which reflects a tourism marketing perspective that stresses geoconservation.
Their 'general geotourist' strongly supports the author's latent geotourists and their 'pure geotourist' reflects archetypal geotourists with their penchant for planning (research in advance), avoidance of crowds, and knowledge-seeking tendencies.
1 The fifth type was omitted because only one subject out of the sample of 52 personified the 'spiritual pilgrim'.
Appendix B

Table A2. Preliminary Data Collection Plan to Test Existing Signs and the Tools Being Developed to Check Their Attracting and Holding Power and Facility to Appeal to a Broad Audience. Conceptual Geotourist Categories Will Also be Tested.
Subjects
Factors to be Quantified and Qualified
Methods
Objectives
A selection of geosite signs in and near the Alps
Number of words
Number of topics
Word types (technical, thematic)
Links to academic-quality information
Focus (abiotic, biotic, cultural)
Composition * (alignment, contrast, white space)
Aesthetic appeal * (well-chosen photos, timeless)
Display (already vandalized, easy to replace)
Primarily quantitative (content analysis)
Improve attention capture by determining perfect ratio

Determine how much geology focus at geosites

See if the public uses links to find geoscientific information off-site
Sign viewers
Attracting power (% of audience engagement)
Holding power (% of audience sustained interaction)
Primarily quantitative (unobtrusive observation)
Gauge audience engagement with signs
Geotourists
Pre-planning tendency
Obtainment of books (specialized field guides or touristic)
Sourcing of information in advance (practical or technical)
Existing geoscience awareness
Time spent on- and off-site
Mixed (interviews, keyword analytics, observations, and surveys)
Confirm or adapt the visitor types postulated in the conceptual geotourist typology

Determine if they can identify landforms and processes

Estimate ecological-impact factor using temporal and behavioral (group versus solitary) data
Conceptual sign template
Attracting power (% of audience engagement)
Holding power (% of audience sustained interaction)
Sourcing of information in advance (practical or technical)
Brochure taken/looked at
Mixed (observation and keyword analytics)
Did the intervention improve public engagement?
* These can be said to be subjective variables. Photographs will be presented along with support from the literature to back findings.
References
Gilbert, J.; Churchill, G.C.

The Dolomite Mountains: Excursions through Tyrol, Carinthia, Carniola, & Friuli in 1861, 1862, & 1863

; Longman, Green, Longman, Roberts, & Green: London, UK, 1864; Available online: https://archive.org/details/dolomitemountai00churgoog (accessed on 1 September 2018).
Bonnard, C.; Forlati, F.; Scavia, C. Reppwand-Oselitzenbach landslide. In

Identification and Mitigation of Large Landslide Risks in Europe: Advances in Risk Assessment

; CRC Press: Piemonte, Italy, 2004; Available online: https://www.researchgate.net/publication/265493186_Reppwand_-Oselitzenbach_Landslide (accessed on 1 September 2018).
Gordon, J. Geoheritage, geotourism and the cultural landscape: Enhancing the visitor experience and promoting geoconservation.

Geosciences

2018,

8

, 136. [Google Scholar] [CrossRef]
Tourtellot, J. UNESCO's Geoparks 'Clarify' Geotourism. National Geographic. 2011. Available online: https://blog.nationalgeographic.org/2011/11/16/unesos-geoparks-clarify-geotourism/#disqus_thread (accessed on 15 August 2018).
Hose, T.A.

Three Centuries (1670–1970) of Appreciating Physical Landscapes

; Geological Society, London, Special Publications: London, UK, 2016; Volume 417, pp. 1–23. [Google Scholar]
Dowling, R.K.; Newsome, D.

Geotourism: The Tourism of Geology and Landscape

; Goodfellow Pub.: Woodeaton, UK, 2010. [Google Scholar]
Ji, Y. Sustainable Tourism Can Advance Global Development, UN Agency Highlights on World Day. United Nations. 27 September 2017. Available online: https://news.un.org/en/story/2017/09/567262-sustainable-tourism-can-advance-global-development-un-agency-highlights-world (accessed on 3 August 2018).
National Parks Service. NPS Stats: National Park Service Visitor Use. U.S. Department of the Interior, National Parks Service. Available online: https://irma.nps.gov/Stats/ (accessed on 1 July 2018).
IMFBlog. International Monetary Fund. 14 August 2017. Available online: https://0-blogs-imf-org.library.svsu.edu/2017/08/14/chart-of-the-week-icelands-tourism-eruption/ (accessed on 1 July 2018).
Hose, T.A. European "Geotourism"—Geological interpretation and geoconservation promotion for tourists. In

Geological Heritage: Its Conservation and Management

; Barettino, D., Wimbledon, W.A.P., Gallego, E., Eds.; IGME: Madrid, Spain, 2000; pp. 127–146. ISBN 84-7840-417-1. [Google Scholar]
Gordon, J.E. Rediscovering a sense of wonder: Geoheritage, geotourism and cultural landscape experiences.

Geoheritage

2012,

4

, 65–67. [Google Scholar] [CrossRef]
Hjort, J.; Gordon, J.E.; Gray, M.; Hunter, M.L. Why geodiversity matters in valuing nature's stage.

Conserv. Biol.

2015,

29

, 630–639. [Google Scholar] [CrossRef] [PubMed]
Kim, S.S.; Kim, M.; Park, J.; Guo, Y. Cave tourism: Tourists' characteristics, motivations to visit, and the segmentation of their behavior.

Asia Pac. J. Tour. Res.

2008,

13

, 299–318. [Google Scholar] [CrossRef]
Newsome, D.; Dowling, R.; Leung, Y. The nature and management of geotourism: A case study of two established. iconic geotourism destinations.

Tour. Manag. Perspect.

2012,

2

, 19–27. [Google Scholar] [CrossRef]
Barrie, J. A 320 Million-Year-Old Balancing Rock Formation Was Destroyed by a Group of Young People. Available online: https://inews.co.uk/news/brimham-rocks-damaged-yorkshire/ (accessed on 1 June 2018).
Tang, F. Chinese Tourist Destroys with Three Swift Kicks What Nature Took 3000 Years to Build.

South China Morning Post

. 2 June 2017. Available online: https://www.scmp.com/news/china/society/article/2096657/chinese-tourist-destroys-three-swift-kicks-what-nature-took-3000 (accessed on 1 July 2018).
Whitcomb, D. Boy Scout Leaders Topple Ancient Rock Formation, Trigger Outrage.

Scientific American

. Available online: https://www.scientificamerican.com/article/us-scout-leaders-topple-ancient-roc/ (accessed on 1 July 2018).

"Helft mir, ein Paradies zu Bleiben." ["Help Me to Remain a Paradise."]

; Das Magazin des Deutschen Alpenvereins: Munich, Germany, 2018; p. 10.
Hunter, D. The Trump Administration's Effect on National Parks: It's Been a Hard Summer for Our Public Lands.

Scientific American

. 28 August 2017. Available online: https://blogs.scientificamerican.com/rosetta-stones/the-trump-administrations-effect-on-national-parks/ (accessed on 1 August 2018).
Nordhaus, H. What Trump's Shrinking of National Monuments Actually Means.

National Geographic

. 2 February 2018. Available online: https://news.nationalgeographic.com/2017/12/trump-shrinks-bears-ears-grand-staircase-escalante-national-monuments/ (accessed on 18 July 2018).
Stokes, A.M.; Cook, S.D.; Drew, D. The New Trend in Travel. Travel Industry Association of America and the National Geographic Traveler Magazine. 2003. Available online: http://www.egret.us/clinton/Geotourism%20The%20New%20Trend%20in%20Travel.pdf (accessed on 15 August 2018).
Hose, T.A. 3G's for modern geotourism.

Geoheritage

2012,

4

, 7–24. [Google Scholar] [CrossRef]
Milano, C.; Cheer, J.M.; Novelli, M. Overtourism: A Growing Global Problem. The Conversation. Available online: https://theconversation.com/overtourism-a-growing-global-problem-100029 (accessed on 1 July 2018).
Dowling, R. Geotourism's global growth.

Geoheritage

2010,

3

, 1–13. [Google Scholar] [CrossRef]
Bayerisches Landesamt für Umwelt [Bavarian Environmental Protection Agency]. Geologie: Tiefe Einblicke in den Untergrund [Geology: Deep View into the Underground]. Available online: https://www.lfu.bayern.de/geologie/index.htm (accessed on 1 July 2018).
Clary, R.M.; Wandersee, J.H. Lessons from US fossil parks for effective informal science education.

Geoheritage

2014,

6

, 241–256. [Google Scholar] [CrossRef]
Larwood, J.; Prosser, C. Geotourism, conservation and society.

Geol. Balcanica

1998,

28

, 97–100. [Google Scholar]
Rodriguez Estrada, F.C.; Davis, L.S. Improving visual communication of science through the incorporation of graphic design theories and practices into science communication.

Sci. Commun.

2015,

37

, 140–148. [Google Scholar] [CrossRef]
Barrow, G.C. Interpretation planning and its role in sustainable tourism and visitor management at geoheritage sites.

Int. J. Geoherit.

2013,

1

, 30–38. [Google Scholar]
Packer, J.; Ballantyne, R. Conceptualizing the visitor experience: A review of literature and development of a multifaceted model.

Visit. Stud.

2016,

19

, 128–143. [Google Scholar] [CrossRef]
Wöran, B.; Arnberger, A. Exploring relationships between recreation specialization, restorative environments and mountain hikers' flow experience.

Leisure Sci.

2012,

34

, 95–114. [Google Scholar] [CrossRef]
Falk, J.H.; Storksdieck, M. Science learning in a leisure setting.

J. Res. Sci. Teach.

2009,

47

, 194–212. [Google Scholar] [CrossRef]
Falk, J.H.; Ballantyne, R.; Packer, J.; Benckendorff, P. Travel and learning: A neglected tourism research area.

Ann. Tour. Res.

2012,

39

, 908–927. [Google Scholar] [CrossRef]
Ryan, R.M.; Deci, E.L. Self-Determination Theory and the facilitation of intrinsic motivation, social development, and well-being.

Am. Psychol.

2000,

55

, 68–78. [Google Scholar] [CrossRef] [PubMed]
Sacco, K.; Falk, J.H.; Bell, J. Informal science education: Lifelong, life-wide, life-deep.

PLoS Biol.

2014,

12

, e1001986. [Google Scholar] [CrossRef] [PubMed]
Tilden, F.; Craig, R.B.

Interpreting Our Heritage

; The University of North Carolina Press: Chapel Hill, NC, USA, 2007; ISBN 9780807831809. [Google Scholar]
Cachelin, A.; Paisley, K.; Dustin, D. Opportunity and obligation: A role for outdoor educators in the sustainability revolution.

J. Outdoor Recreat. Educ. Leadersh.

2009,

1

, 141–150. [Google Scholar] [CrossRef]
Hausmann, A.; Toivonen, T.; Slotow, R.; Tenkanen, H.; Moilanen, A.; Heikinheimo, V.; Di Minin, E. Social media data can be used to understand tourists' preferences for nature-based experiences in protected areas: Social media data in protected areas.

Conserv. Lett.

2018,

11

, e12343. [Google Scholar] [CrossRef]
Reden, C. The 28 Most Instagram-Worthy Places in the World to Visit. Skyscanner. Available online: https://www.skyscanner.com.au/news/inspiration/the-30-most-instagram-worthy-places-in-the-world-to-visit (accessed on 1 July 2018).
Cooper, B.C. Instagram-Worthy Spots That Will Kill You.

Fox News

. 15 October 2017. Available online: http://www.foxnews.com/travel/2015/10/14/instagram-worthy-spots-that-will-kill.html (accessed on 15 August 2018).
Ritchie, J.R.B.; Crouch, G.I.

The Competitive Destination: A Sustainable Tourism Perspective

; CABI Pub.: Oxon, UK, 2005. [Google Scholar]
Cohen, E. Toward a sociology of international tourism.

Soc. Res.

1972,

39

, 164–182. [Google Scholar]
Boorstin, D.J.

The Image: A Guide to Pseudo-Events in America

; Atheneum: New York, NY, USA, 1961; Available online: https://archive.org/details/imageorwhathapp00boor (accessed on 31 August 2018).
Urry, J. The Tourist Gaze "Revisited".

Am. Behav. Sci.

1992,

36

, 172–186. [Google Scholar] [CrossRef]
Wandersee, J.H.; Clary, R.M. Learning on the Trail: A content analysis of a university arboretum's exemplary interpretive science signage system.

Am. Biol. Teach.

2007,

69

, 16–23. [Google Scholar]
Bitgood, S. Lessons learned from five decades of experience in visitor studies. In Proceedings of the Annual Meeting Handout, American Alliance of Museums, Baltimore, MD, USA, 21 May 2013; Available online: http://labs.aam-us.org/buildingculturalaudiences/wp-content/uploads/sites/2/2016/07/Lessons-Learned-from-Five-Decades-of-experience-in-Visitor-Studies.pdf (accessed on 15 August 2018). [Google Scholar]
Thompson, D.; Bitgood, S. Chapter 10: The effects of sign length, letter size, and proximity on reading.

Visit. Stud.

2012,

1

, 101–112. [Google Scholar] [CrossRef]
Megerle, H. Naturerlebnispfade: Neue Medien der Umweltbildung und des Landschaftsbezogenen Tourismus? Bestandsanalyse, Evaluation und Entwicklung von Qualitätsstandards [Nature Discovery Paths: A New Medium for Environmental Education and Landscape Tourism? Inventory Analysis, Evaluation, and Development of Best Practices]. Ph.D. Thesis, Geographisches Institut der Universität Tübingen, Tübingen, Germany, 2003. [Google Scholar]
Ham, S.H.

Interpretation: Making a Difference on Purpose

; Fulcrum Publishing: Golden, CO, USA, 2013; ISBN 9781555917425. [Google Scholar]
Beck, L.; Cable, T.; Knudson, L.

Interpreting Cultural and Natural Heritage: For a Better World

; Sagamore Publishing: Champaign, IL, USA, 2018; ISBN 9781571678652. [Google Scholar]
Skibins, J.C.; Powell, R.B.; Stern, M.J. Exploring empirical support for interpretation's best practices.

J. Interpret. Res.

2012,

17

, 25–44. [Google Scholar]
Falk, J.H.; Storksdieck, M.; Dierking, L.D. Investigating public science interest and understanding: Evidence for the importance of free-choice learning.

Public Underst. Sci.

2007,

16

, 455–469. [Google Scholar] [CrossRef]
Falk, J.H. Free-choice environmental learning: framing the discussion.

Environ. Educ. Res.

2005,

11

, 265–280. [Google Scholar] [CrossRef]
Božić, S.; Tomić, N. Canyons and gorges as potential geotourism destinations in Serbia: Comparative analysis from two perspectives—General geotourists' and pure geotourists'.

Open Geosci.

2015,

7

, 531–546. [Google Scholar] [CrossRef]
Gorman, C. Landscape and Geotourism: Market Typologies and Visitor Needs. In Proceedings of the European Tourism and the Environment Conference: Promotion and Protection, Achieving the Balance, Dublin, Ireland, 11–12 October 2007. [Google Scholar]
Grant, C. Towards a Typology of Visitors to Geosites. In Proceedings of the Second Global Geotourism Conference, Mulu, Malaysia, 17–20 April 2010. [Google Scholar]
Stebbins, R.A. Serious leisure: A conceptual statement.

Pac. Sociol. Rev.

1982,

25

, 251–272. [Google Scholar] [CrossRef]
Bryan, H. Recreation specialization revisited.

J. Leisure Res.

2000,

32

, 18–21. [Google Scholar] [CrossRef]
Stebbins, R.A. Casual leisure: A conceptual statement.

Leisure Stud.

1997,

16

, 17–25. [Google Scholar] [CrossRef]
Scott, D. Serious leisure and recreation specialization: An uneasy marriage.

Leisure Sci.

2012,

34

, 366–371. [Google Scholar] [CrossRef]
Cohen, E. A phenomenology of tourist experiences.

Sociology

1979,

13

, 179–201. [Google Scholar] [CrossRef]
Falk, J.H. An identity-centered approach to understanding museum learning.

Curator

2006,

49

, 151–166. [Google Scholar] [CrossRef]
Hose, T. Mountains of fire from the present to the past—or effectively communicating the wonder of geology to tourists.

Geol. Balcania

1998,

28

, 77–85. [Google Scholar]
Hurtado, H.; Dowling, R.; Sanders, D. An exploratory study to develop a geotourism typology model.

Int. J. Tour. Res.

2014,

16

, 608–613. [Google Scholar] [CrossRef]
Bixler, R.D.; James, J.J. First impressions: Exploring the structure of titles for nonformal public interpretive programs.

Visit. Stud.

2014,

17

, 177–190. [Google Scholar] [CrossRef]
Mehmetoglu, M.A. Typology of tourists from a different angle.

Int. J. Hospital. Tour. Admin.

2004,

5

, 69–90. [Google Scholar] [CrossRef]
Mao, I.; Robinson, A.M.; Dowling, R. Potential geotourists: An Australian case study.

J. Tour.

2009,

10

, 71–80. [Google Scholar]
Pralong, J.P.; Reynard, E.A. Proposal for a classification of geomorphological sites depending on their tourist value.

Ital. J. Quat. Sci.

2005,

18

, 315–321. [Google Scholar]
Allan, M.

Toward a Better Understanding of Motivations for a Geotourism Experience: A Self-Determination Theory Perspective

; LAP LAMBERT Academic Publishing: Saarbrücken, Germany, 2012. [Google Scholar]
Robinson, A.M. Geotourism: Who Is the Geotourist? In Proceedings of the Inaugural National Conference on Green Travel, Climate Change and Ecotourism, Adelaide, Australia, November 2008. (unpubl). [Google Scholar]
Pearce, J.; Moscardo, G. Social Representations of Tourist Selfies: New Challenges for Sustainable Tourism. In Proceedings of the BEST EN Think Tank XV. The Environment-People Nexus in Sustainable Tourism: Finding the Balance, Skukuza, South Africa, 17–21 June 2015; pp. 59–73. [Google Scholar]
Aquino, R.; Schänzel, H.; Hyde, K. Unearthing the geotourism experience: Geotourist perspectives at Mount Pinatubo, Philippines.

Tour. Stud.

2018,

18

, 41–62. [Google Scholar] [CrossRef]
Hale, B.W. Mapping potential environmental impacts from tourists using data from social media: A case study in the Westfjords of Iceland.

Environ. Manag.

2018. [Google Scholar] [CrossRef] [PubMed]
Lagally, U.; Loth, G. Experiencing Bavaria's geological heritage—The project "Hundred Masterpieces".

Geoheritage

2016,

9

, 519–531. [Google Scholar] [CrossRef]
Geocaching. Bayerns Schoenste Geotope [Bavaria's Most Beautiful Geosites]. Available online: https://www.geocaching.com/bookmarks/view.aspx?guid=81c36c6c-2711-4c8a-b968-01e26c101735 (accessed on 15 August 2018).
Moreira, J.C. Interpretative panels about the geological heritage: A case study at the Iguassu Falls National Park (Brazil).

Geoheritage

2012,

4

, 127–137. [Google Scholar] [CrossRef]
Naturpark Dobratsch [Nature Park Dobratsch].

Naturpark Dobratsch Broschüre 2010 [Nature Park Dobratsch Brochures 2010]

; Nature Park Dobratsch: Klagenfurt, Austria, 2010. [Google Scholar]
Michor, H. Geschichte des Dorfes Feistritz: Gail und Hofchronik Teil I [History of the Village of Feistritz and Local Chronicle Part I]. Gemeinde Feistritz, Austria, 1950/1951. Available online: http://www.feistritz-gail.gv.at/_Resources/Persistent/def22a9e9ba7432c6c54f78c6cd508d0a92e8356/chronik1.pdf (accessed on 15 August 2018).
Csikszentmihalyi, M.

Flow and the Foundations of Positive Psychology: The Collected Works of Mihaly Csikszentmihalyi

; Springer: Dordrecht, The Netherlands, 2014. [Google Scholar]
Geopark Karnische Alpen. Home Page. Available online: http://www.geopark-karnische-alpen.at/Startpage.1447.0.html?&L=2 (accessed on 10 August 2018).
Geopark Karnische Alpen. Research. Available online: http://www.geopark-karnische-alpen.at/Research.901.0.html?&L=2 (accessed on 10 August 2018).
Geopark Karnische Alpen. Austrian Geoparks. Available online: http://www.geopark-karnische-alpen.at/Austrian-Geoparks.2582.0.html?&L=2 (accessed on 10 August 2018).
Geopark Karnische Alpen. Publications. Available online: http://www.geopark-karnische-alpen.at/Publications.911.0.html?&L=2_ (accessed on 10 August 2018).
Geopark Karnische Alpen. Six Geotrails in Geopark Carnic Alps. Available online: http://www.geopark-karnische-alpen.at/Geotrails.965.0.html?&L=0%22 (accessed on 1 September 2018).
Geopark Karnische Alpen. Visitor Center. Available online: http://www.geopark-karnische-alpen.at/The-Visitor-Center-offers.998.0.html?&L=2 (accessed on 10 August 2018).
Bayerisches Landesamt für Umwelt [Bavarian Environmental Protection Agency]. Geologischer Überblick Bayern [Geological Overview of Bavaria]. Available online: https://www.lfu.bayern.de/geologie/geologie_bayerns/ueberblick/index.htm (accessed on 1 July 2018).
Miller, G. The magical number seven, plus or minus two: Some limits on our capacity for processing information.

Psychol. Rev.

1956,

63

, 81–97. [Google Scholar] [CrossRef] [PubMed]
Hagen, R.; Golombisky, K.

White Space Is Not Your Enemy: A Beginner's Guide to Communicating Visually Through Graphic, Web & Multimedia Design

; CAC Press: Boca Raton, FL, USA, 2017; ISBN 9780240824147. [Google Scholar]
Williams, R.

The Non-Designer's Design Book: Design and Typographic Principles for the Visual Novice

; Peachpit Press: San Francisco, CA, USA, 2008; ISBN 9780321679086. [Google Scholar]
Vignelli, M.

The Vignelli Canon

; Lars Müller Publishers: Zurich, Switzerland, 2017; ISBN 3037782250. [Google Scholar]
United States National Parks Service. Official Maps and Guides/Park Brochures. Available online: https://www.nps.gov/parkhistory/online_books/brochures/unigrid-a-f.htm (accessed on 12 August 2018).
United States National Parks Service. Unigrid. Available online: https://www.nps.gov/parkhistory/online_books/brochures/unigrid/index.htm (accessed on 12 August 2018).
Norman, D.

The Design of Everyday Things: Revised and Expanded Edition

; Basic Books: New York, NY, USA, 2013; ISBN 9788809743564. [Google Scholar]
Wimbledon, W.A.P.; William, A.P.; Smith-Meyer, S.

Geoheritage in Europe and Its Conservation

; EGU General Assembly: Vienna, Austria, 2012; ISBN 978-82-426-2476-5. [Google Scholar]
Jackson, L. We Are the Original Life Hackers.

The New York Times

. 30 May 2018. Available online: https://www.nytimes.com/2018/05/30/opinion/disability-design-lifehacks.html (accessed on 16 August 2018).
North Carolina State University. Universal Design History. Center for Universal Design. Available online: https://projects.ncsu.edu/ncsu/design/cud/about_ud/udhistory.htm (accessed on 27 July 2018).
Hose, T.A. Geotourism in England: A Two-Region Case Study Analysis. Ph.D. Thesis, University of Birmingham, Birmingham, UK, 2003. [Google Scholar]
McKercher, B.; du Cros, H. Testing a cultural tourism typology.

Int. J. Tour. Res.

2003,

5

, 45–58. [Google Scholar] [CrossRef]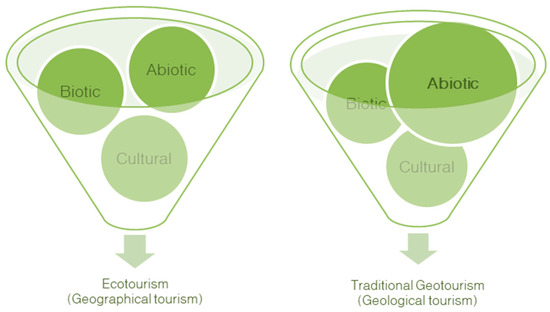 Figure 1.
A visualization of the distribution of focus at geotourism sites, depending on the approach practiced [
24
]. Some geotourism sites provide only slight or nonspecific geoscientific focus to avoid alienating the general public. A means or portal to technical geoscientific information is also needed but not always immediately evident.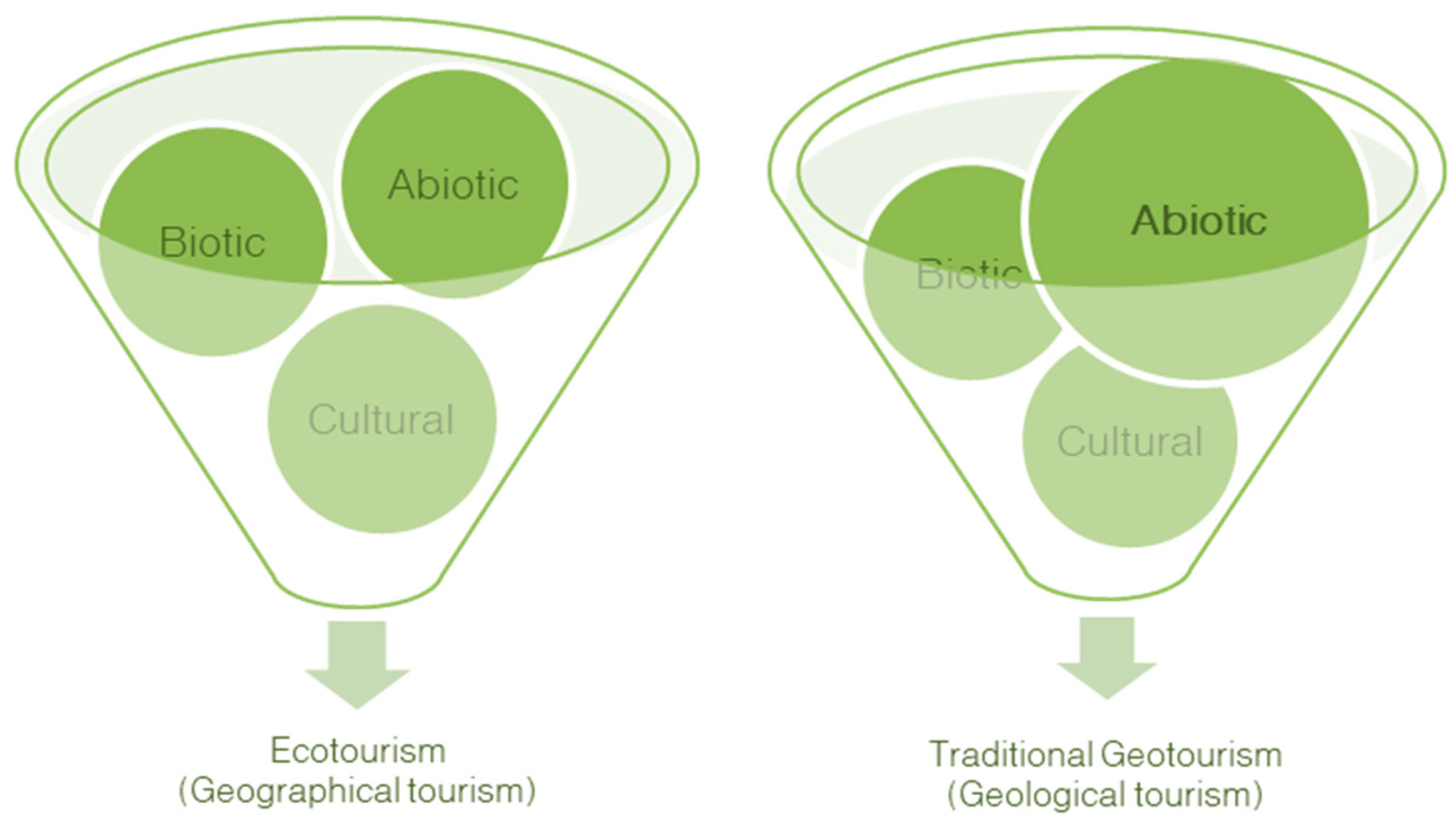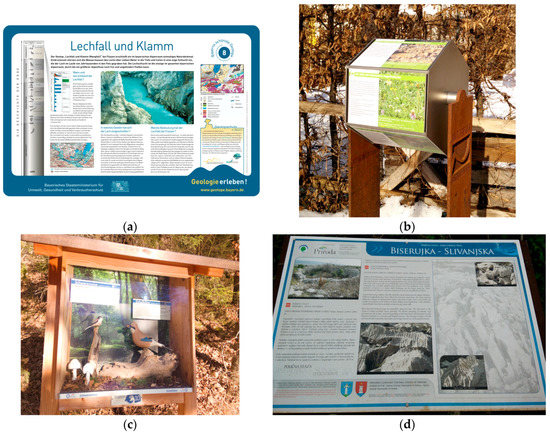 Figure 2.
Various interpretive signage: (
a
) Lech Waterfall and Gorge sign from Bavaria's Most Beautiful Geosites series [
25
] (a direct link to sign can be accessed here (in German):
https://www.lfu.bayern.de/geologie/geotope_schoensten/8/doc/8_schautafel.pdf
); (
b
) three-dimensional sign in Oberstaufen, Bavaria; (
c
) multimedia diorama at Lake Alat, Füssen, Bavaria; (
d
) panel about karst features at Biserujka-Slivanjska Cave in Rudine, Croatia (Krk Island). Photos: Sonja Prendivoj.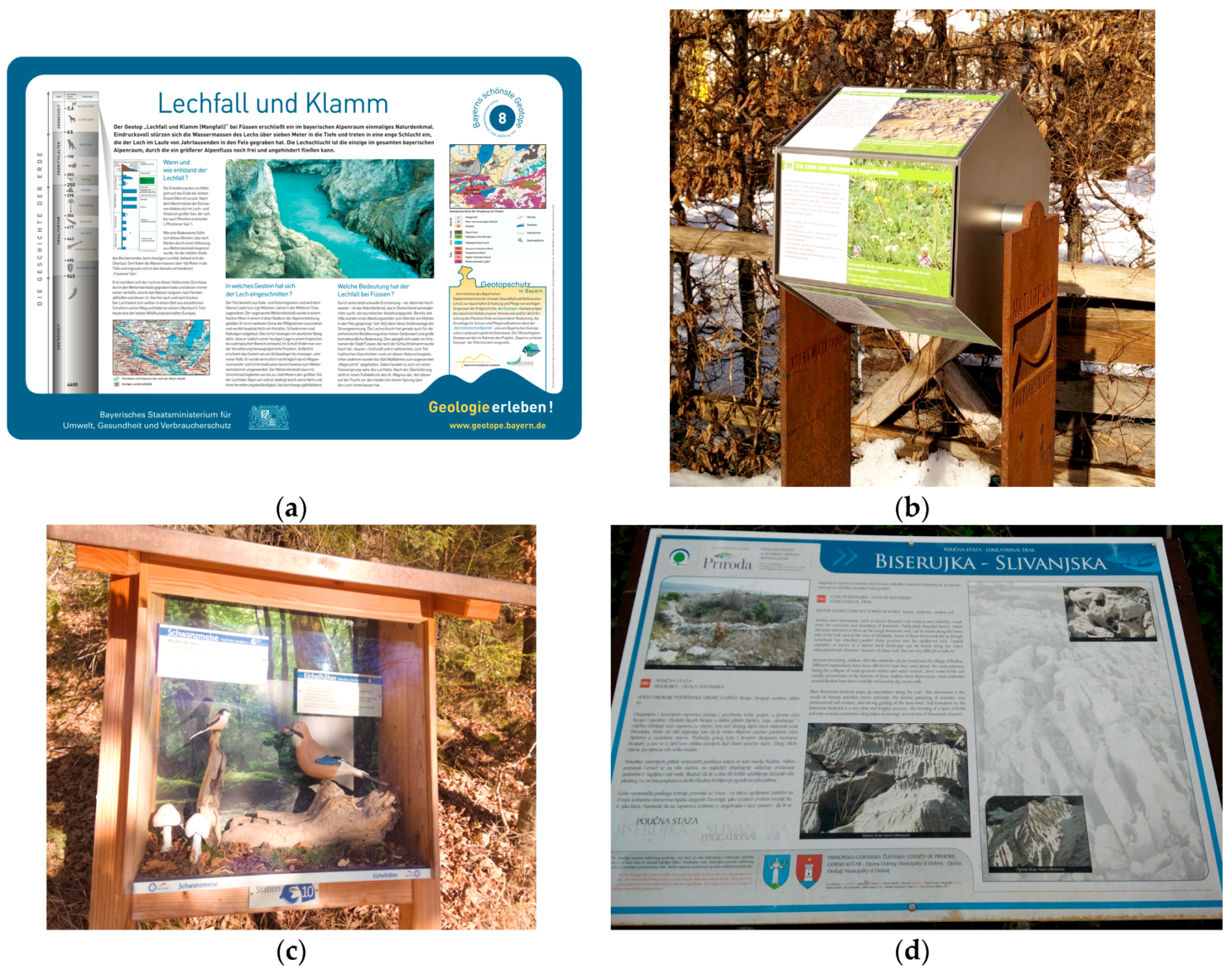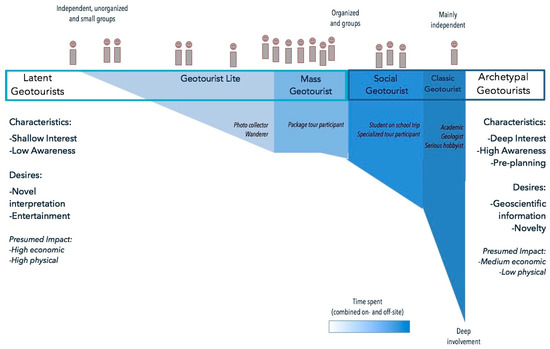 Figure 3. In the conceptual typology, latent geotourists populate the left and archetypal geotourists the right. Characteristics, desires, and presumed impact were factors gleaned from the literature. Personifications were merely added to the graphic for convenience.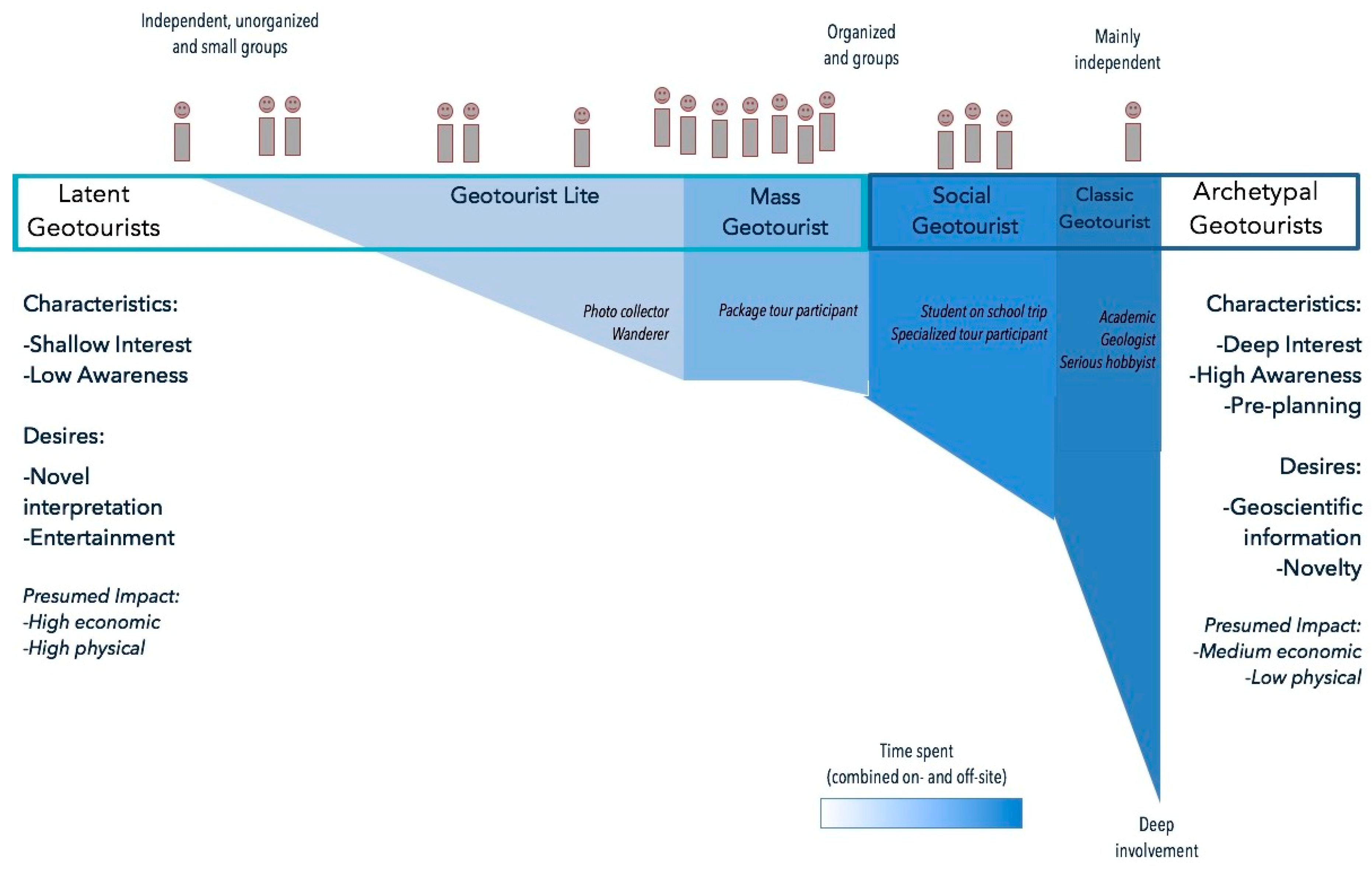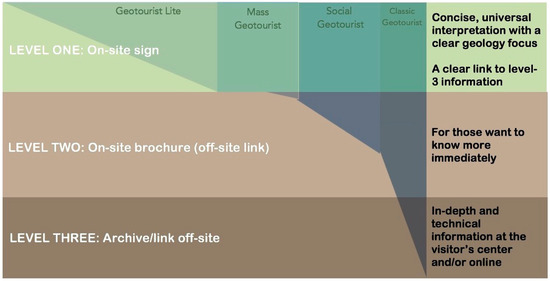 Figure 4. Interpretive strata overlay the typology to indicate what tools different types of geotourists would theoretically like to find related to geosites. The top or surface layer (1) is interpretation while the deepest or bottom layer (3) is strictly information.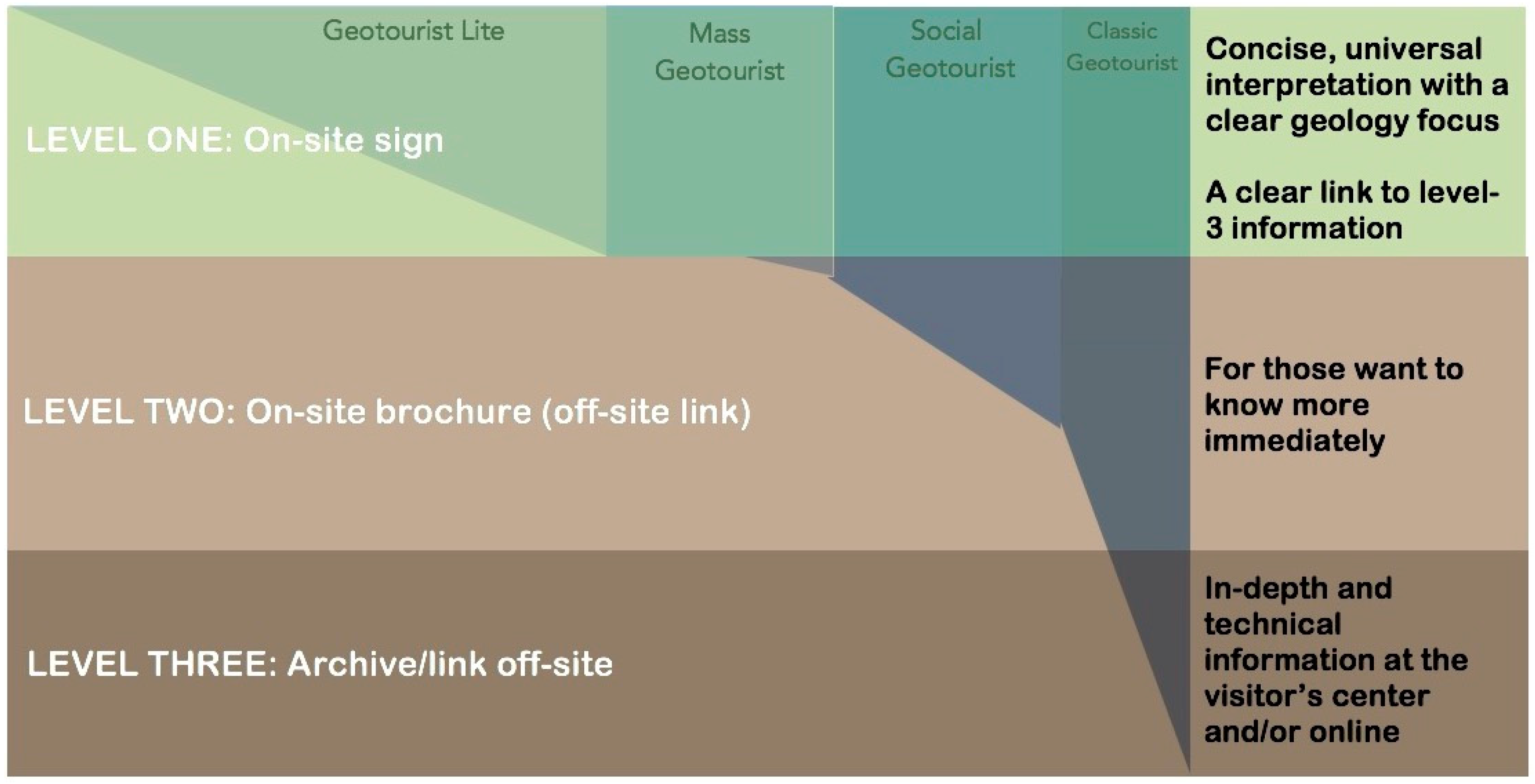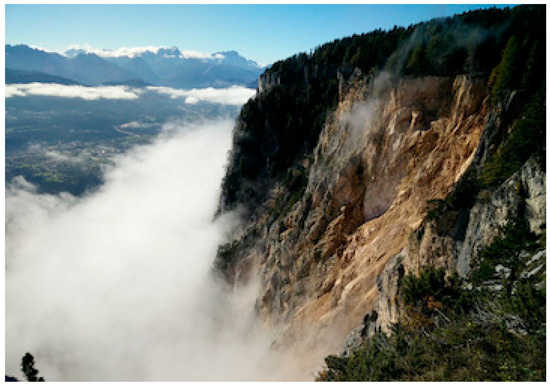 Figure 5. Site of the earthquake and subsequent landslide at Mount Dobratsch as seen from a viewing platform above. The Gail Valley lies below. Photo: Sonja Prendivoj.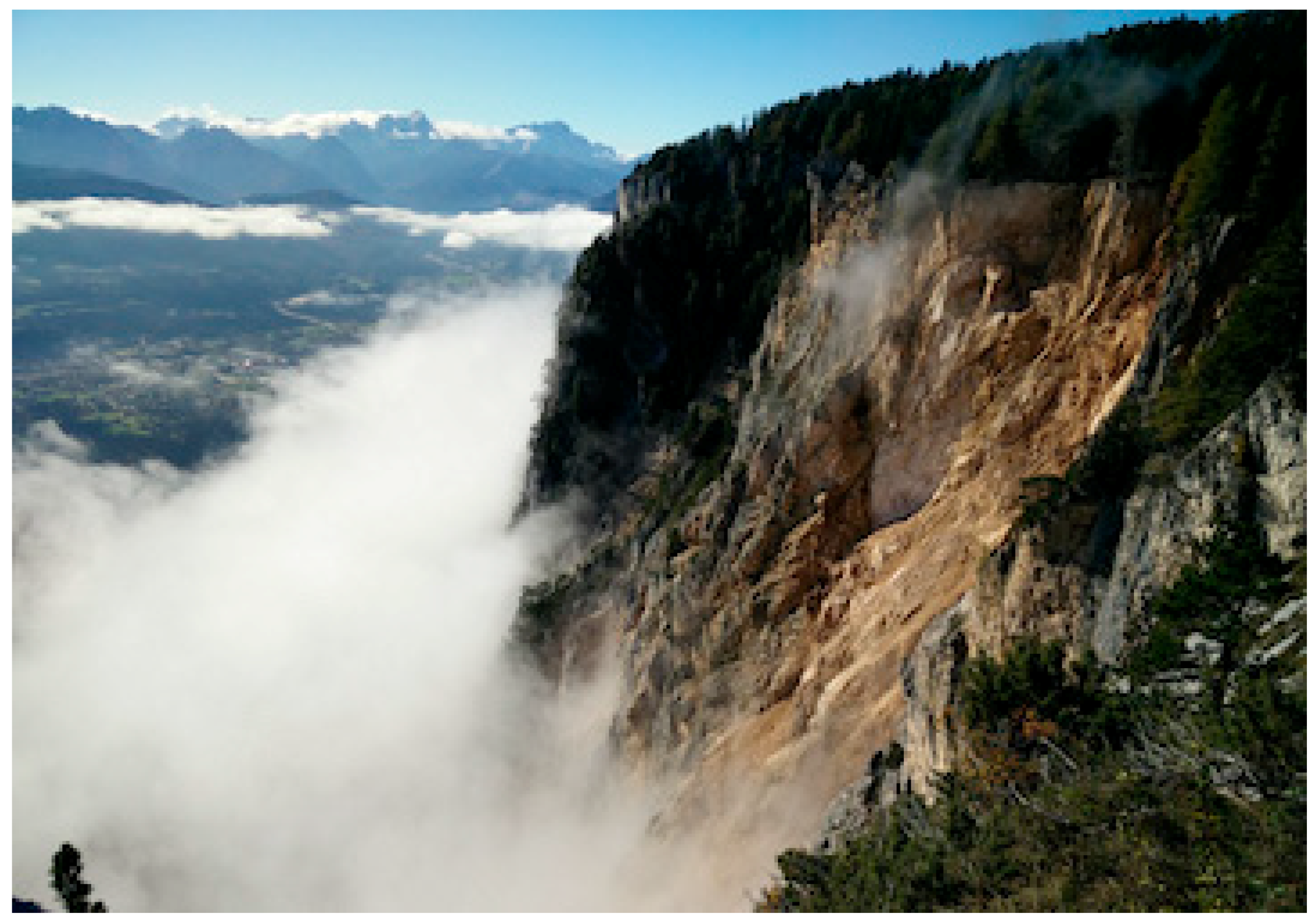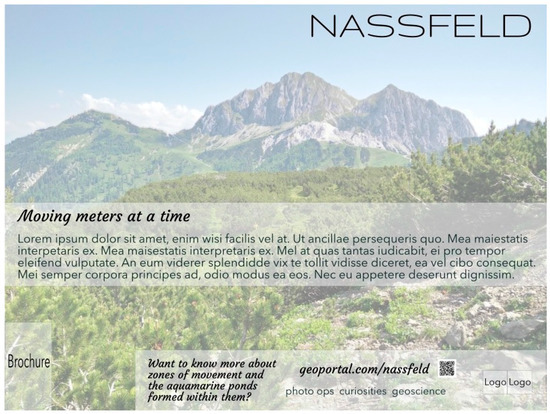 Figure 6.
A mock-up of the sign template. Latin was used for the body since interpretive text is outside of the scope of this paper. The title was written to introduce the topic of deep time to the latent geotourist in a dramatic fashion for a strong first impression [
65
]. It refers to slope movements, which measured up to one meter a year in parts of the Reppwand-Oselitzenbach sagging zone [
2
]. The reason the photo is opaque is to solve the problem of sign placement sometimes encountered by the visitor who does not know where to look [
46
]. It directs the eye but makes the landscape itself the focus, not the photo. The format employs chunking so it does not overwhelm the viewer with text even when several signs are displayed on site. One could be printed for each of the ABCs, allowing one to follow the blended approach some markets demand. The finished sign is meant to be double sided to accommodate international venues with bilingual signs. The size of the sign follows ISO standard A1 or A2 (594 × 841 mm or 420 × 594 mm, respectively). A brochure is attached or available nearby. The author used her working name for the sign concept, 'geo-portal,' as a placeholder for the website link in the graphic.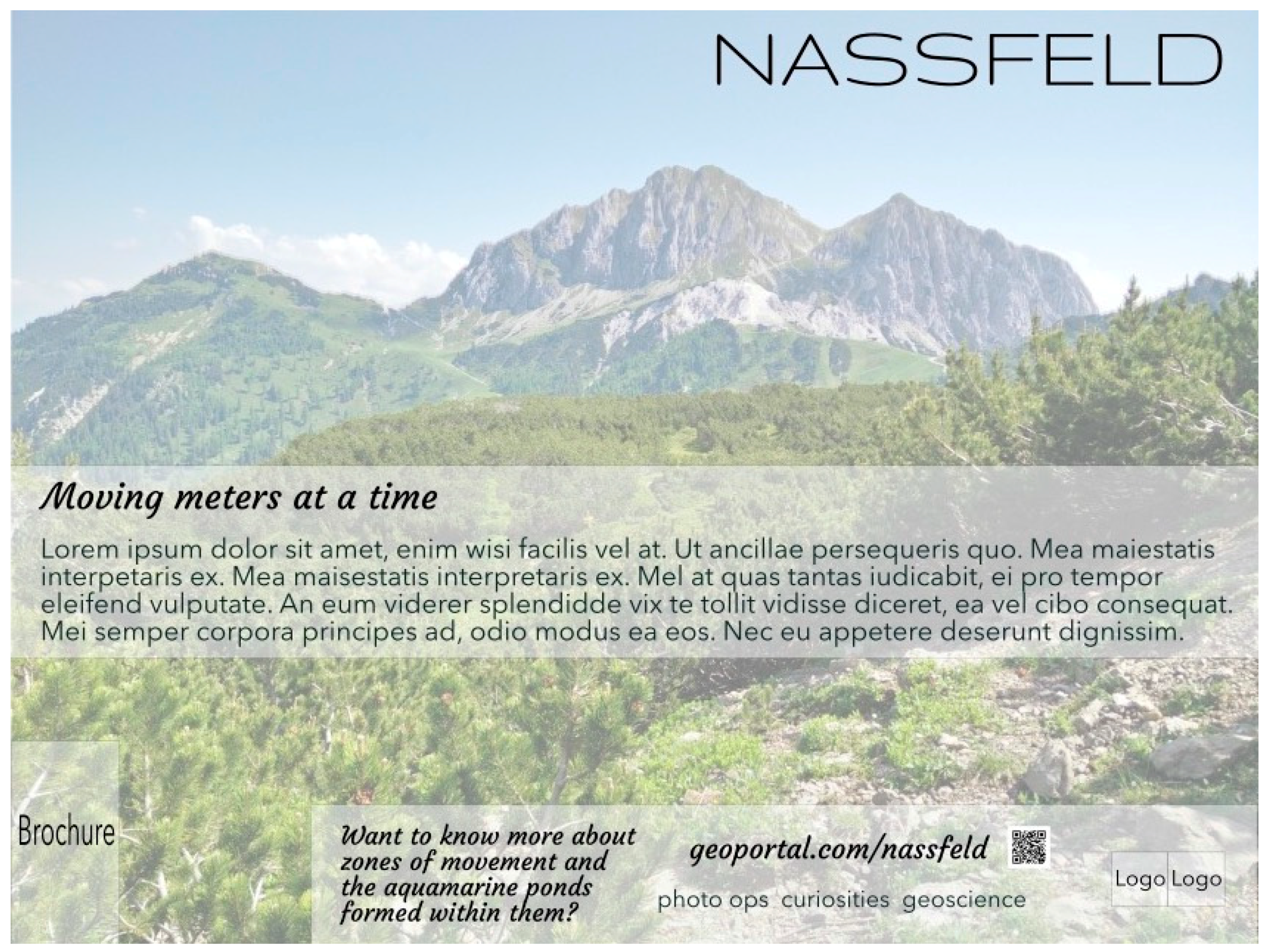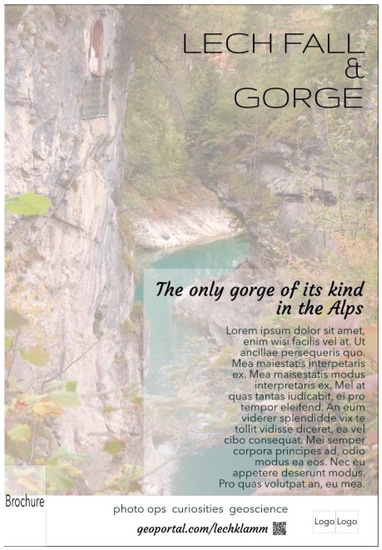 Figure 7.
This is a second rough sketch of the template in progress. The existing brochure from the Bavaria's Most Beautiful Geosites series (see
Figure 2
a) can be employed. Again, the image in the photo guides the eye and does not need to be fully visible. The waterfall opposite the gorge could be served by a second sign to describe historic tales, biological anomalies, or other engaging information. Their relatively small size means several can be installed without causing the Schilderwald effect.
Factor
Considerations
Related Research
Mechanics
Number of words
Number of topics
Type of content (i.e., technical, thematic)
Visual communication (i.e., graphic design)
Attracting, holding power
Display/installation
Rodriguez Estrada and Davis [28]; Wandersee and Clary [45] Bitgood et al. [46]; Thompson and Bitgood [47]; Megerle [48]
Interpretive writing
Text composition
Tilden [36]; Megerle [48]; Ham [49]; Beck and Cable [50]; Skibins [51]
Outcomes
Learning (teaching, raising awareness)
Behavioral (guiding actions)
Emotional (creating meaning)
Barrow [29]; Megerle [48]; Skibins [51];
Falk et al. [52,53]
| Latent Geotourists | Archetypal Geotourists |
| --- | --- |
| Geotourist lite | Social geotourist |
| Mass geotourist | Classic geotourist |

© 2018 by the author. Licensee MDPI, Basel, Switzerland. This article is an open access article distributed under the terms and conditions of the Creative Commons Attribution (CC BY) license (http://creativecommons.org/licenses/by/4.0/).