Contrasting Textural and Chemical Signatures of Chromitites in the Mesoarchaean Ulamertoq Peridotite Body, Southern West Greenland
1
Graduate School of Natural Science and Technology, Kanazawa University, Kanazawa, Ishikawa 920-1192, Japan
2
Department of Geology and Paleontology, National Museum of Nature and Science, 4-1-1, Amakubo, Tsukuba-shi, Ibaraki 305-0005, Japan
3
Institute of Geology and Geoinformation, National Institute of Advanced Industrial Science and Technology (AIST), Geological Survey of Japan, Central 7, 1-1-1 Higashi, Tsukuba, Ibaraki 305-8567, Japan
4
Department of Geosciences and Natural Resource Management, University of Copenhagen, 1350 Copenhagen, Denmark
5
Department of Earth & Atmospheric Sciences, University of Alberta, Edmonton, AB T6G 2R3, Canada
*
Author to whom correspondence should be addressed.
Received: 29 June 2018 / Revised: 24 August 2018 / Accepted: 29 August 2018 / Published: 3 September 2018
Abstract
Peridotites occur as lensoid bodies within the Mesoarchaean orthogneiss in the Akia terrane of Southern West Greenland. The Ulamertoq peridotite body is the largest of these peridotites hosted within the regional orthogneiss. It consists mainly of olivine, orthopyroxene, and amphibole-rich ultramafic rocks exhibiting metamorphic textural and chemical features. Chromitite layers from different localities in Ulamertoq show contrasting characteristics. In one locality, zoned chromites are hosted in orthopyroxene-amphibole peridotites. Compositional zonation in chromites is evident with decreasing Cr and Fe content from core to rim, while Al and Mg increase. Homogeneous chromites from another locality are fairly uniform and Fe-rich. The mineral chemistry of the major and accessory phases shows metamorphic signatures. Inferred temperature conditions suggest that the zoned chromites, homogeneous chromites, and their hosts are equilibrated at different metamorphic conditions. In this paper, various mechanisms during the cumulus to subsolidus stages are explored in order to understand the origin of the two contrasting types of chromites.
View Full-Text
►

▼

Figures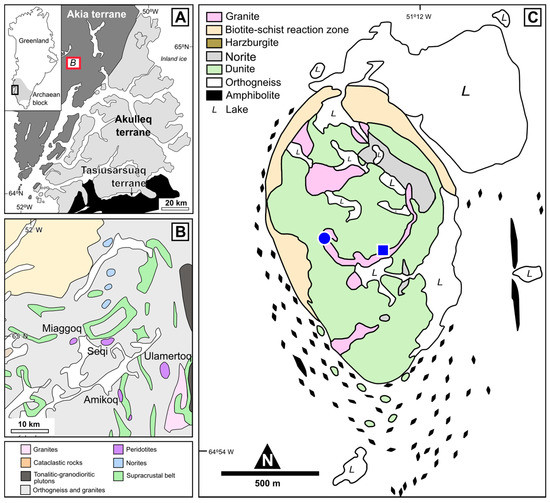 Figure 1
This is an open access article distributed under the
Creative Commons Attribution License
which permits unrestricted use, distribution, and reproduction in any medium, provided the original work is properly cited (CC BY 4.0).

Share & Cite This Article
MDPI and ACS Style
Guotana, J.M.; Morishita, T.; Yamaguchi, R.; Nishio, I.; Tamura, A.; Tani, K.; Harigane, Y.; Szilas, K.; Pearson, D.G. Contrasting Textural and Chemical Signatures of Chromitites in the Mesoarchaean Ulamertoq Peridotite Body, Southern West Greenland. Geosciences 2018, 8, 328.
Note that from the first issue of 2016, MDPI journals use article numbers instead of page numbers. See further details here.
Related Articles
Comments
[Return to top]