A Comparison of the Dinosaur Communities from the Middle Jurassic of the Cleveland (Yorkshire) and Hebrides (Skye) Basins, Based on Their Ichnites
1
Independent Researcher, 14 Green Lane, Dronfield, Sheffield S18 2LZ, UK
2
Curator of Palaeontology, The Hunterian, University of Glasgow, University Avenue, Glasgow G12 8QQ, UK
3
Chancellor's Fellow in Vertebrate Palaeontology, Grant Institute, School of Geosciences, University of Edinburgh, The King's Buildings, James Hutton Road, Edinburgh EH9 3FE, UK
*
Author to whom correspondence should be addressed.
Received: 30 July 2018 / Revised: 21 August 2018 / Accepted: 25 August 2018 / Published: 31 August 2018
Abstract
Despite the Hebrides and Cleveland basins being geographically close, research has not previously been carried out to determine faunal similarities and assess the possibility of links between the dinosaur populations. The palaeogeography of both areas during the Middle Jurassic shows that there were no elevated landmasses being eroded to produce conglomeratic material in the basins at that time. The low-lying landscape and connected shorelines may have provided connectivity between the two dinosaur populations. The dinosaur fauna of the Hebrides and Cleveland basins has been assessed based primarily on the abundant ichnites found in both areas as well as their skeletal remains. In the two basins, the dinosaur faunas are very similar, consisting of non-neosauropod eusauropods, a possible basal titanosauriform, large and small theropods and ornithopods and europodan thyreophorans. The main difference in the faunas is in the sizes. In the Cleveland Basin, the ichnites suggest that there were medium and large theropods alongside small to medium sized ornithopods, whereas, in the Hebrides Basin, the theropods were from small to large and the ornithopods were medium to large. It is suggested that migrations could have taken place between the two areas during the Middle Jurassic. A tentative food chain from the herbivorous dinosaurs to the top predators can be inferred from the footprints.
View Full-Text
►

▼

Figures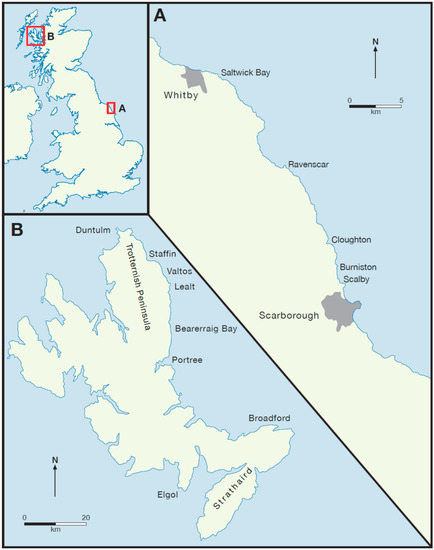 Figure 1
This is an open access article distributed under the
Creative Commons Attribution License
which permits unrestricted use, distribution, and reproduction in any medium, provided the original work is properly cited (CC BY 4.0).

Share & Cite This Article
MDPI and ACS Style
Romano, M.; Clark, N.D.L.; Brusatte, S.L. A Comparison of the Dinosaur Communities from the Middle Jurassic of the Cleveland (Yorkshire) and Hebrides (Skye) Basins, Based on Their Ichnites. Geosciences 2018, 8, 327.
Note that from the first issue of 2016, MDPI journals use article numbers instead of page numbers. See further details here.
Related Articles
Comments
[Return to top]