Open Access This article is
freely available
re-usable
Article
Using Historical Precipitation Patterns to Forecast Daily Extremes of Rainfall for the Coming Decades in Naples (Italy)
1
Met European Research Observatory, 82100 Benevento, Italy
2
UCA, INRA, VetAgro Sup, Unité Mixte de Recherche sur Écosystème Prairial (UREP), 63000 Clermont-Ferrand, France
*
Author to whom correspondence should be addressed.
Received: 28 June 2018 / Accepted: 30 July 2018 / Published: 6 August 2018
Abstract
:
The coasts of the Italian peninsula have been recently affected by frequent damaging hydrological events driven by intense rainfall and deluges. The internal climatic mechanisms driving rainfall variability that generate these hydrological events in the Mediterranean are not fully understood. We investigated the simulation skill of a soft-computing approach to forecast extreme rainfalls in Naples (Italy). An annual series of daily maximum rainfall spanning the period between 1866 and 2016 was used for the design of ensemble projections in order to understand and quantify the uncertainty associated with interannual to interdecadal predictability. A predictable structure was first provided, and then elaborated by exponential smoothing for the purposes of training, validation, and forecast. For the time horizon between 2017 and 2066, the projections indicate a weak increase of daily maximum rainfalls, followed by almost the same pace as it was in the previous three decades, presenting remarkable wavelike variations with durations of more than one year. The forecasted pattern is coupled with variations attributed to internal climate modes, such as the Atlantic Multidecadal Oscillation (AMO) and the Pacific Decadal Oscillation (PDO).
Keywords:
ensemble forecast; exponential smoothing; extreme rainfalls
Author Contributions
N.D. designed and ran the study, and wrote the first draft of the manuscript. G.B. participated in data analysis and finalized the writing of the manuscript.
Funding
This research received no external funding.
Acknowledgments
They thank Anna E. Dudek (AGH University of Science and Technology, Department of Applied Mathematics, Krakow, Poland) for her valuable comments.
Conflicts of Interest
The authors declare no conflict of interest.
Figure 1. (a) Very wet-day precipitation (during days exceeding the 95th percentile) averaged over land areas from 20° N to 50° N for 1951–2013; (b) Related time series (grey) and trend (black).


Figure 2. (a) Buishand statistic to determine years of departure from homogeneity; (b) Histogram of the frequency distribution with the bell-shaped curve of normal (Gaussian) distribution superimposed; (c) Attractor in the time-space domain.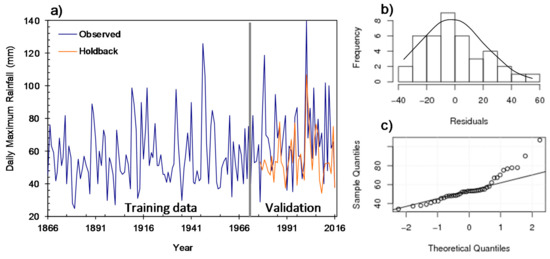 Figure 3. (a) Observed time series (blue curve 1866–2016), and simulated time series in the validation period between 1977 and 2016 (red curve); (b) Histogram of the Studentized residuals versus predicted values (validation period) with the bell-shaped curve of normal (Gaussian) distribution superimposed; (c) Q-Q (quantile-quantile) plot.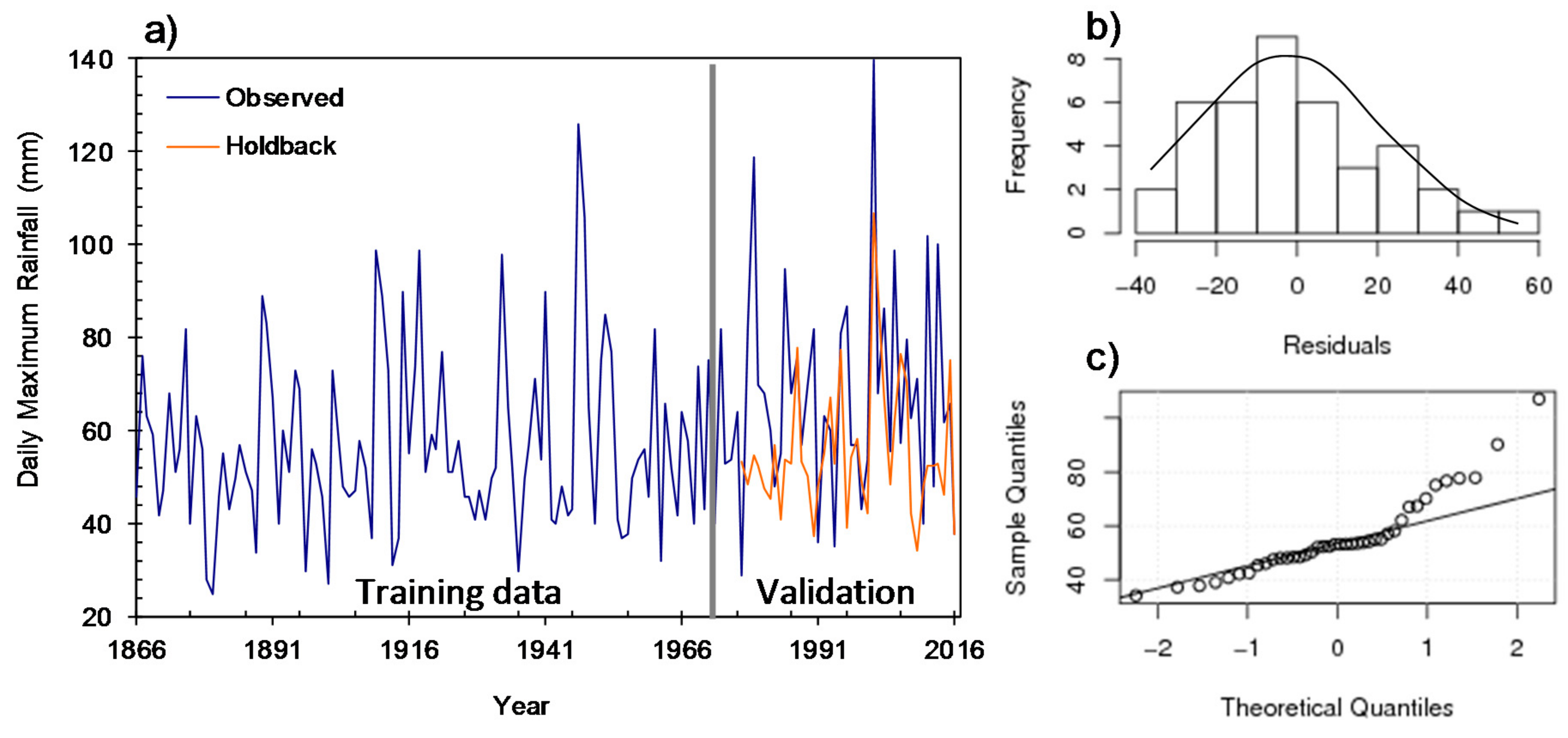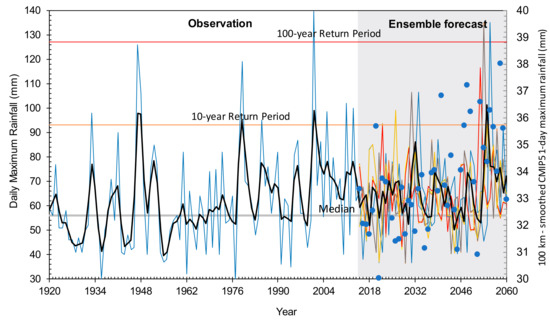 Figure 4.
Evolution of daily maximum rainfall (blue curve) for the observed (1920–2016) and forecasted (2017–2066) periods, with its smoothed five-year Gaussian filter and uncertainty plumes extrapolation (bold black and colour curves, respectively). Long-term median value (bold grey line) and 10 and 100-year return periods are also reported (orange and red lines, respectively). Dots in blue are the CMIP5 (Coupled Model Intercomparison Project Phase 5) model mean (rcp8.5) precipitation extremes (one-day maximum) from General Circulation Model (GCM) projections at a horizontal resolution of 100 km, as derived from the ETCCDI (Expert Team on Climate Change Detection and Indices;
http://etccdi.pacificclimate.org
) extremes indices archive (via Climate Explorer).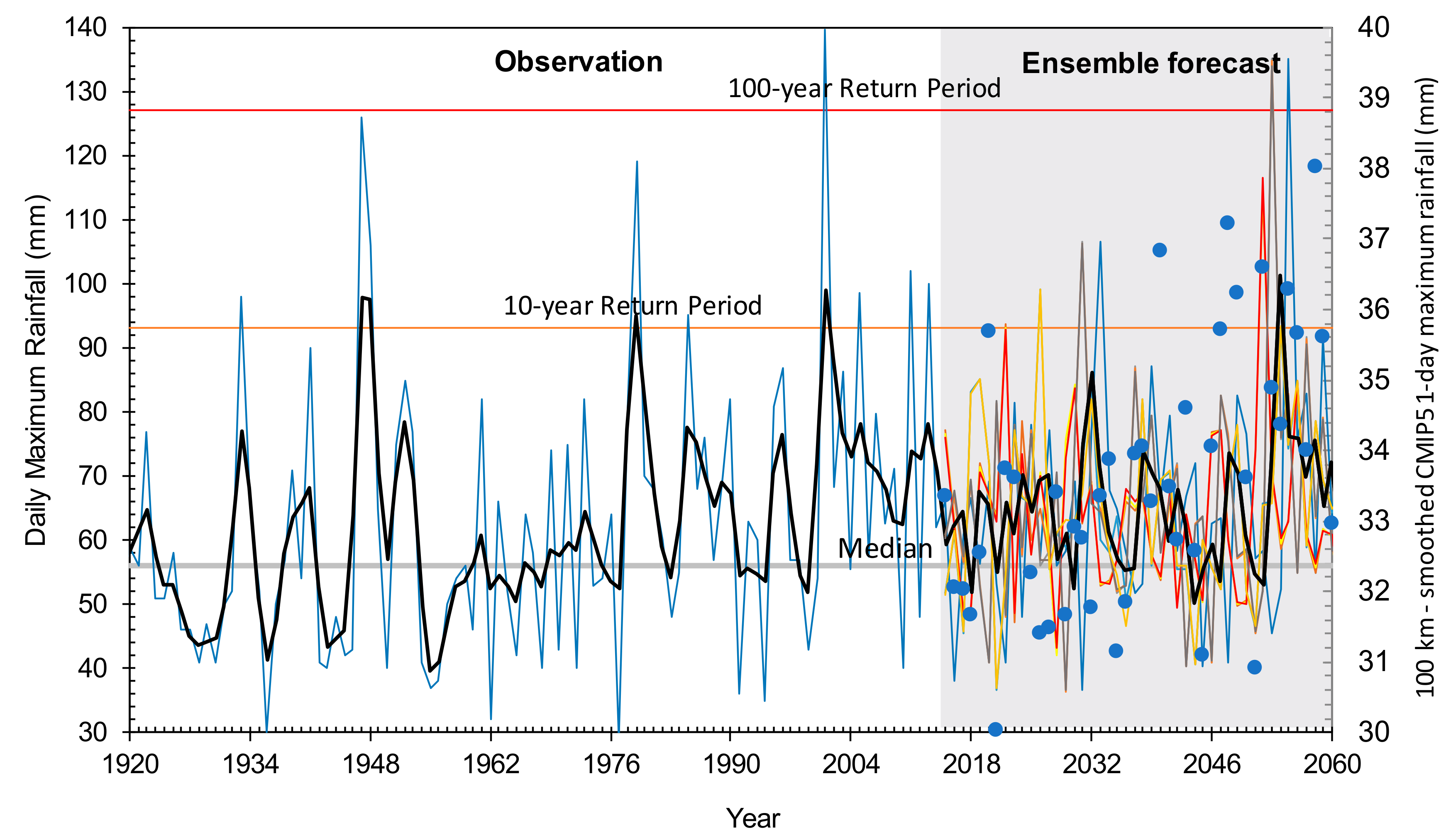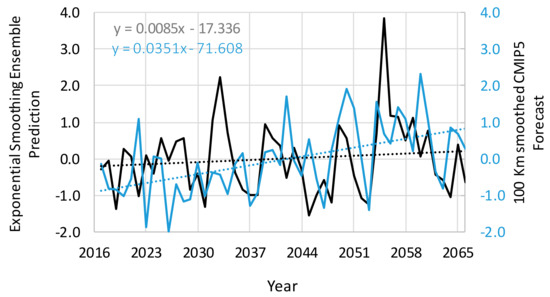 Figure 5. Standardised anomalies of forecasted daily maximum rainfall in Naples, by both exponential smoothing (black curve) and CMIP5 model mean (blue curve), as well as respective linear trends.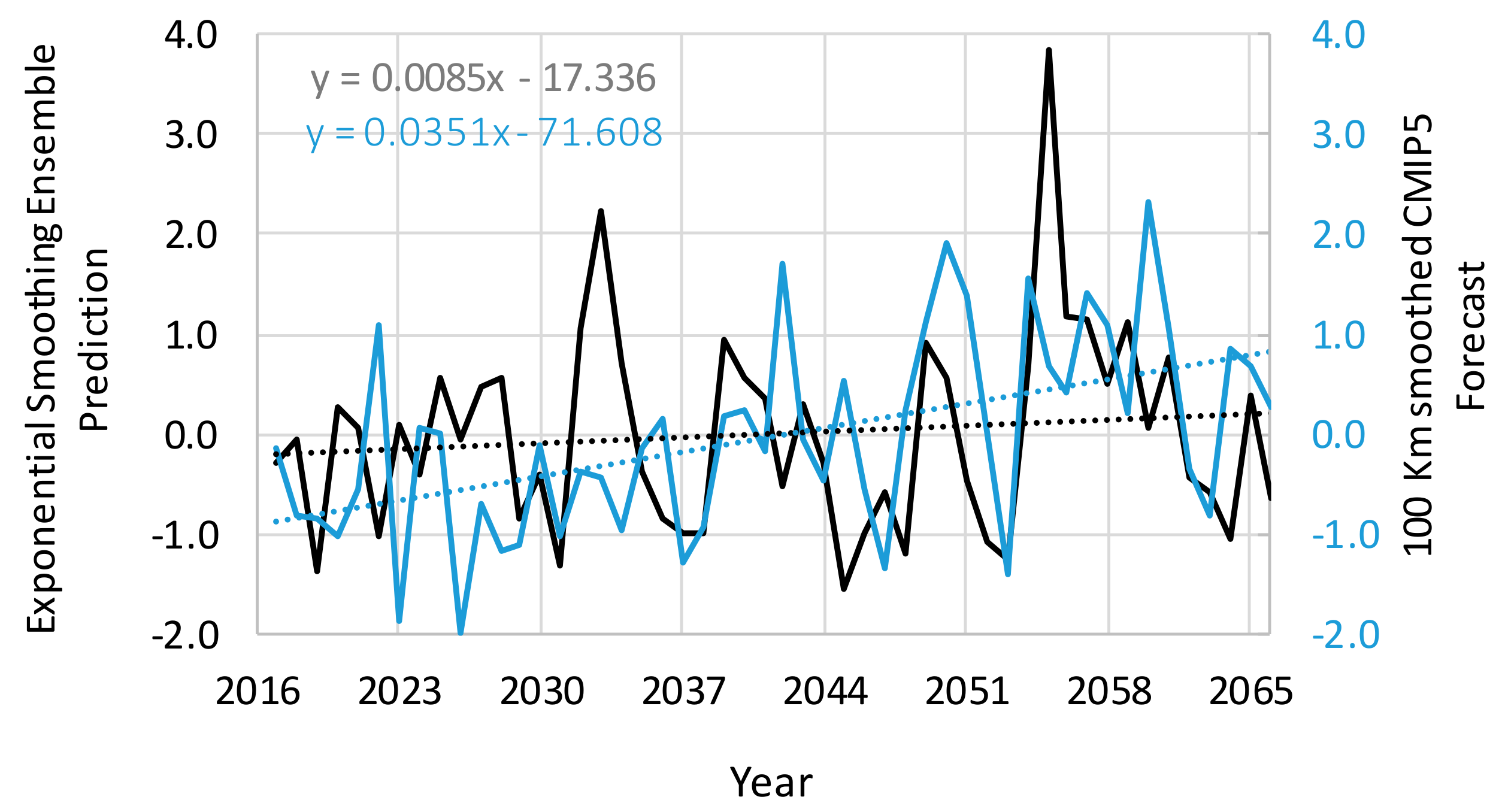 Figure 6. (a) Return period of daily maximum rainfall in Naples by GEV (generalized extreme value) distribution; (b) Cross-correlation between smoothed maximum rainfall and teleconnection index (Pacific Decadal Oscillation (PDO) + (6 + AMO)0.5). Note that the cross-correlation goes beyond the critical value at lag = 0.


Figure 7. Comparison between daily maximum rainfall in Naples and climatological indices in the period 1873–2016: (a) With standardized NAO (North Atlantic Oscillation); (b) With standardized Atlantic multidecadal oscillation and Pacific decadal oscillation ().

© 2018 by the authors. Licensee MDPI, Basel, Switzerland. This article is an open access article distributed under the terms and conditions of the Creative Commons Attribution (CC BY) license (http://creativecommons.org/licenses/by/4.0/).