Ti-Nb Mineralization of Late Carbonatites and Role of Fluids in Its Formation: Petyayan-Vara Rare-Earth Carbonatites (Vuoriyarvi Massif, Russia)
1
Geological Institute, Kola Science Centre, Russian Academy of Sciences, 14, Fersmana Street, 184209 Apatity, Russia
2
Resource center for Geo-Environmental Research and Modeling (GEOMODEL), St. Petersburg State University, 1, Ulyanovskaya Street, 198504 Saint Petersburg, Russia
*
Author to whom correspondence should be addressed.
Received: 6 July 2018 / Revised: 24 July 2018 / Accepted: 25 July 2018 / Published: 28 July 2018
Abstract
This article is devoted to the geology of titanium-rich varieties of the Petyayan-Vara rare-earth dolomitic carbonatites in Vuoriyarvi, Northwest Russia. Analogues of these varieties are present in many carbonatite complexes. The aim of this study was to investigate the behavior of high field strength elements during the late stages of carbonatite formation. We conducted a multilateral study of titanium- and niobium-bearing minerals, including a petrographic study, Raman spectroscopy, microprobe determination of chemical composition, and electron backscatter diffraction. Three TiO
2
-polymorphs (anatase, brookite and rutile) and three pyrochlore group members (hydroxycalcio-, fluorcalcio-, and kenoplumbopyrochlore) were found to coexist in the studied rocks. The formation of these minerals occurred in several stages. First, Nb-poor Ti-oxides were formed in the fluid-permeable zones. The overprinting of this assemblage by residual fluids led to the generation of Nb-rich brookite (the main niobium concentrator in the Petyayan-Vara) and minerals of the pyrochlore group. This process also caused niobium enrichment with of early generations of Ti oxides. Our results indicate abrupt changes in the physicochemical parameters at the late hydro (carbo) thermal stage of the carbonatite formation and high migration capacity of Ti and Nb under these conditions. The metasomatism was accompanied by the separation of these elements.
View Full-Text
►

▼

Figures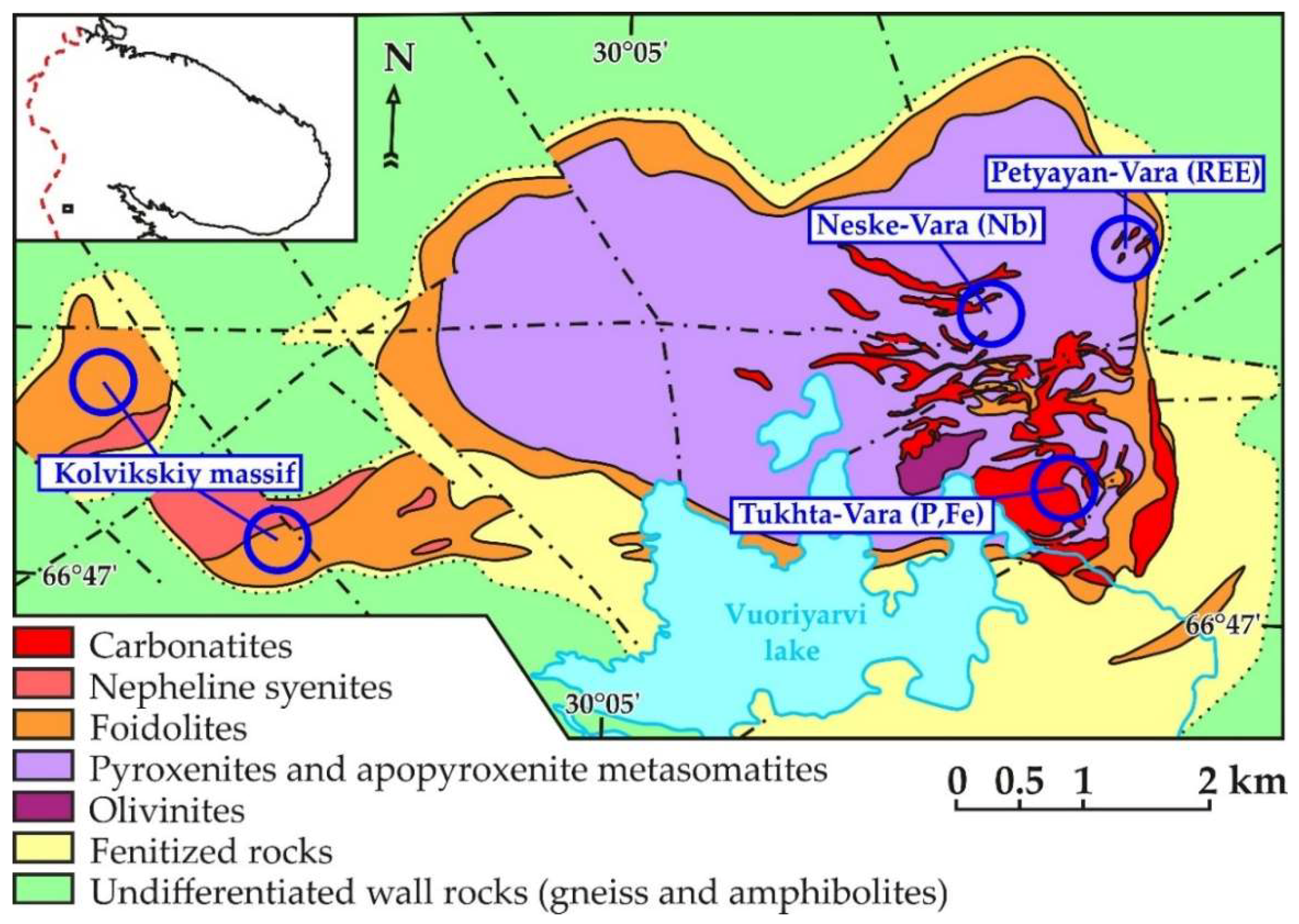 Figure 1
This is an open access article distributed under the
Creative Commons Attribution License
which permits unrestricted use, distribution, and reproduction in any medium, provided the original work is properly cited (CC BY 4.0).

Share & Cite This Article
MDPI and ACS Style
Kozlov, E.; Fomina, E.; Sidorov, M.; Shilovskikh, V. Ti-Nb Mineralization of Late Carbonatites and Role of Fluids in Its Formation: Petyayan-Vara Rare-Earth Carbonatites (Vuoriyarvi Massif, Russia). Geosciences 2018, 8, 281.
Note that from the first issue of 2016, MDPI journals use article numbers instead of page numbers. See further details here.
Related Articles
Comments
[Return to top]