Open Access This article is
freely available
re-usable
Review
Review of Snow Data Assimilation Methods for Hydrological, Land Surface, Meteorological and Climate Models: Results from a COST HarmoSnow Survey
1
Deutscher Wetterdienst (DWD), Offenbach 63067, Germany
2
Anadolu University, Faculty of Engineering, Department of Civil Engineering., Eskisehir 26555, Turkey
3
Deltares, Operational Water Management Department, Delft 2600 MH, The Netherlands
4
Politecnico di Milano, Department of Civil and Environmental Engineering, P.zza L. da Vinci 32, Milano 20133, Italy
5
European Centre for Medium-Range Weather Forecasts (ECMWF), Reading RG2 9AX, UK
6
Météo-France—CNRS, CNRM, UMR 3589, CEN, Saint Martin d'Hères F-38400, France
7
School of Science and Engineering, Reykjavik University; Reykjavik, 101, Iceland
8
UGA, CNRS, Institut des Géosciences de l'Environnement (IGE), UMR 5001, Grenoble 38041, France
9
Department of Agroecology and Biometeorology, Czech University of Life Sciences Prague, Kamycka 129, Prague 165 21, Czech Republic
10
Met Office, FitzRoy Road, Exeter, Devon EX1 3PB, UK
11
Norwegian Meteorological Institute, Oslo 0313, Norway
12
Finnish Meteorological Institute, Helsinki FI-00560, Finland
*
Author to whom correspondence should be addressed.
Received: 28 September 2018 / Accepted: 7 December 2018 / Published: 14 December 2018
Abstract
:
The European Cooperation in Science and Technology (COST) Action ES1404 "HarmoSnow", entitled, "A European network for a harmonized monitoring of snow for the benefit of climate change scenarios, hydrology and numerical weather prediction" (2014-2018) aims to coordinate efforts in Europe to harmonize approaches to validation, and methodologies of snow measurement practices, instrumentation, algorithms and data assimilation (DA) techniques. One of the key objectives of the action was "Advance the application of snow DA in numerical weather prediction (NWP) and hydrological models and show its benefit for weather and hydrological forecasting as well as other applications." This paper reviews approaches used for assimilation of snow measurements such as remotely sensed and in situ observations into hydrological, land surface, meteorological and climate models based on a COST HarmoSnow survey exploring the common practices on the use of snow observation data in different modeling environments. The aim is to assess the current situation and understand the diversity of usage of snow observations in DA, forcing, monitoring, validation, or verification within NWP, hydrology, snow and climate models. Based on the responses from the community to the questionnaire and on literature review the status and requirements for the future evolution of conventional snow observations from national networks and satellite products, for data assimilation and model validation are derived and suggestions are formulated towards standardized and improved usage of snow observation data in snow DA. Results of the conducted survey showed that there is a fit between the snow macro-physical variables required for snow DA and those provided by the measurement networks, instruments, and techniques. Data availability and resources to integrate the data in the model environment are identified as the current barriers and limitations for the use of new or upcoming snow data sources. Broadening resources to integrate enhanced snow data would promote the future plans to make use of them in all model environments.
Keywords:
COST Action ES1404; HarmoSnow; snow measurements; snow models; data assimilation; remote sensing
2. European Survey on Usage of Snow Observations in Data Assimilation, Forcing, Monitoring, Validation, or Verification
The survey was conducted via an online questionnaire from September 2015 to December 2017 on the COST HarmoSnow website. This questionnaire (see
Supplementary Material
: COST ESSEM 1404 working group 3 survey: Questionnaire and results) was compiled by COST HarmoSnow experts in snow modeling and data assimilation and distributed across the COST, EUMETSAT H-SAF and GCW member networks. The questionnaire was answered by 51 participants from 31 countries. The survey consists of 32 questions in six sections and one text box for additional comments (see
Supplementary Material
: COST ESSEM 1404 working group 3 survey: Questionnaire and results), which are also available at the COST HarmoSnow website. Most questions used multiple choice answers. This procedure ensures clear answers and space for further explanations was provided. A weighting of the answers was not made, but we are aware of their heterogeneity in terms of institutional representativeness and implications for the representativeness of our derived conclusions. The evaluation was performed manually.
3. Results
The results of the survey are presented in this section, grouped into sub-sections according to the thematic topic that the survey questions address. Description and interpretation of the results is therefore separated into: the range of participants in the survey; the modeling environments used by participants, the data assimilation methods used; snow observations used in these DA methods; treatment of background and observation errors; quality control methods used; data exchange policy and requirements; and plans for future observation use.
3.1. Participating Countries and Institutions
The distribution of the number of answers among the countries is shown in
Figure 1
. It shows that all responses were from countries from the northern hemisphere, with the majority from central Europe (27). With the Nordic countries, Russian Federation, the USA and Canada, most countries in the boreal forest belt answered the survey. These countries contain regions that always have seasonal snow in northern hemisphere winter, while for countries in central and southern Europe the number of days with snow cover is more variable and depends on several factors. For reporting countries having relatively lower latitude and high altitudes, snow in the climatological mean is limited to the mountains, however it is an important factor for meteorological and hydrological applications. Most European countries involved in the COST action provided at least one answer, thus the dataset of answers provides a solid base for analysis to obtain an overview on the utilization of snow data in NWP systems, hydrological models, special snow models and treatment of snow in other model environments (
Figure 2
).
In general, multiple responses from each country were not expected since most snow DA activity takes place within the national met service of that country, which is a fairly standard situation in most European countries. The national weather services in the countries with huge territories (Russia, Canada and the USA) include regional institutions with their own capabilities to produce local weather forecasts.
3.2. Modeling Environment, Model Domain and Resolution
The assessment results have been partitioned according to the type of modeling environment that the respondent has identified as using. Among respondents, 16 institutes use numerical weather prediction models (full or limited area) with DA, six without DA, 23 institutes use hydrological models (e.g., conceptual, operational, snowmelt models, runoff models, etc.), 10 institutes use reanalysis and four institutes employ special snow models. In eight institutes other (miscellaneous) models (e.g., snow cover, land surface, multi-layer snow), with snow observations are used (
Figure 2
). In addition to meteorological and hydrological services, 11 universities and two companies participated in the survey. The resolutions of the models span from the global scales down to kilometer scale resolutions and even to the river catchment areas according to the modeling environment, clearly proving the declared importance of snow observations over a range of spatial scales.
3.3. Data Assimilation Methods
3.4. Snow Observations in Data Assimilation through Different Models
Snow observations from SYNOP and additionally ground-based measurements are the most important data sources for NWP and hydrologic models (
Figure 4
). For the latter, ground-based remote sensing data are also very important. The most important snow parameters used in DA are snow depth and SWE, which are processed by incremental update for NWP or update of absolute values in hydrologic and other snow models.
According to the answers, snow height (depth) is the most preferable information for DA in NWP models. For these data, the importance of an active reporting of snow-free conditions (zero snow depth) in the SYNOP messages together with the exchange of non-GTS stations data is crucial. For hydrologic models, both snow height (depth) and SWE are popular for use in DA, as complementary products to streamflow assimilation. For this group of models, forcing variables (precipitation, temperature) can also be used in the assimilation process to update state variables. The main snow variable analyzed in almost every type of model is SWE.
Most hydrologic model users that responded to the survey use ground-based remote sensing measurements, while this is not the case for NWP or reanalysis users. The ground-based measurement systems include ultrasonic or laser distance sensors, photogrammetry, COSMIC neutron sensors and others. Further details on in situ snow measurements are given in the results of the parallel COST HarmoSnow survey on in situ snow measurement practices and techniques, [
11
].
Preprocessed remote sensing satellite products are also often used in both NWP and hydrology. Satellite radiances are used much less and climatological data are appropriated for hydrological applications. Additional data, used by survey participants include external snow analysis or multi-sensor satellite products. Preprocessed snow products are used in all model environments but these products have special importance in NWP without DA, reanalysis and miscellaneous models. The used products are, e.g., from IMS snow cover, satellite (MODIS, SEVIRI, AVHRR), SAF (H-SAF, LSA-SAF), NWP-based snow analysis or reanalysis.
The process of analyzing variables is mostly incremental update of first guess from model forecast for NWP models and update of absolute values for hydrological models. However, the modelers use both processes together in some applications. Model forecasts are the main background field used in snow data assimilation for all model types. However, a very limited number of answers include pre-analysis or external analysis and climatology as a background field.
Independently of the modeling environment most DA systems perform a snow analysis every 24 h (
Figure 5
). This is important for the assimilation of remote sensing data since not all satellite products are available on a daily basis. Even daily products for SWE based on passive microwave remote sensing data have a coarse resolution (in the order of tens of kilometers) while SWE products from active microwave sensors can reach a resolution of tens of meters but are only available every few days (e.g., 35 days with ERS and Environmental Satellite (ENVISAT) in the past decades and nowadays six days with Sentinel 1).
The observation data latency, i.e., the time from the measurement acquisition to the availability in a numerical model is another important parameter, which has to be considered for time-critical applications. More than 50% of the survey answers indicate that the observation latency should not exceed 24 h. For research applications or in climate studies, a longer latency might be acceptable. However, more than 25% of the answers show that the observations should be available within 3 h, which is a strong constraint for the observation data processing and exchange.
3.5. Background and Observation Error Estimations Used in Snow Data Assimilation
The background error estimates are done either by distance weighting or taken as a fixed value in most of the NWP models, the former is more commonly used compared to the latter. The variance of ensembles is another method used in limited applications. A few institutes working on NWP also indicated that background errors are not accounted for in their system. For the other model communities, the answers are more varied and include no estimate, fixed value, distance weights, stochastic noise, defined algorithms with clearly more emphasis on variance of ensembles, which is most likely due to the choice of EnKF for DA methodology.
According to the survey there is no standard approach for observation error estimates. Generally, standard deviations or fixed values according to the measurement errors (in principle different for different observation types) are used in NWP models. Some of the institutes do not use error estimates assuming uncorrelated observed data except for the anomalous observations identified and rejected by quality control procedures. In the other modeling environments, observation errors are defined by measurement errors, standard deviations, confidence intervals, rough estimates, stochastic noise, error covariance matrices, or error estimates are simply not accounted for.
Observation error specification has a large impact on DA efficiency.
Figure 6
illustrates the two-meter air temperature forecast (range 12-h and 3-day) difference from December 2016 to February 2017, between a test experiment, where the snow observation error was doubled in the ECMWF snow DA, and a reference experiment, using the ECMWF operational system [
134
]. It shows generally colder conditions in the northern hemisphere. Doubling the observation error gives relatively more weight to the model background in the test experiment compared to the reference experiment. Since the ECMWF model tends to overestimate snow, this results in more snow on the ground in the test than in the reference experiment, and therefore generally lower air temperature forecasts. Slight and noisy differences in non-snow-covered areas are non-significant and due to the fact that the test and the control experiments differ.
3.6. Quality Control of Snow Observations or Products
One of the important features of DA systems is the quality control of the data [
164
]. It is performed by using previous model forecasts for comparison with observations. This allows identification and elimination of spurious data. Furthermore, it is possible to calibrate observing systems and identify biases or changes in observation system performance when this comparison is performed repeatedly [
165
].
Quality control of snow observations and products is performed in the large majority of the model environments used in this survey (
Figure 7
.). Filtering of outliers, manual and automatic treatment of missing data or implausible values is used in all model environments with different levels of sophistication. DA in NWP is used for this purpose, as some responses from the survey show.
Consistency or sanity checks are used to examine whether the observation absolute value or rate of change with time is physically realistic or not [
165
]. In addition, buddy checks are used for the comparison of observations close together and background checks consider a realistic change of the observation in comparison to the model prediction [
165
]. In comparison with a quality control, the number of institutes performing a snow data consistency check is lower. For this data preprocessing manual and automatic methods exist, based on basic physical principles, where the snow cover field is of particular importance. Consistency of snow height with the existence of snow cover is one of the commonly used checks, i.e., check if snow cover is present where observations of non-zero snow depth exist.
3.7. Data Exchange Policy and Access Requirements for the Observations
The survey indicates that two thirds of all answers were positive towards the possibility of snow data exchange with other groups. The NWP community seems more flexible compared to other modeling groups in this sense. This should be moderated by the fact that a relatively higher spatial resolution and catchment scale of hydrological applications could be a constraint on the feasibility of data exchange. In most cases GTS for NWP models and FTP protocol for the other models is required for data access, but web access or central data hubs are also used.
3.8. The Plans to Use the New or Upcoming Observation Sources
Concrete plans for using new or upcoming data sources of snow observations exist for all model environments, in particular for NWP with DA, hydrology, and reanalysis. In detailed answers of the survey, the use of more satellite data (optical, microwave) and also more ground-based remote sensing data, GPS or COSMIC ray sensors, or additional non-SYNOP networks are of interest. Current barriers and limitations for the use of these data are primarily data availability and lack of resources needed to integrate the data into the model environment. Survey responses showed these barriers to be common across model environments used.
4. Summary and Discussion
According to the outcomes of the literature review, surveys and the action ES1404 itself together with HarmoSnow field campaigns and from snow HarmoSnow DA school activities, the key messages have been recognized and special attention is given to them in this section. These key items are (i) using conventional snow observations from national networks for DA and model validation, (ii) sustainable ways to create snow products for users by combining remote sensing and conventional snow observations with modeling results and (iii) snow observations errors for data assimilation and modelling systems.
4.1. How to Get and Use Conventional Snow Observations from National Networks for Data Assimilation and Model Validation
Data assimilation systems employed in model environments for numerical weather prediction, hydrology, or special snow models make extensive use of present-day measurement networks. The range of measurement instruments and techniques in use is also indicated by the results of the parallel considering COST HarmoSnow survey on in situ snow measurements [
11
]. The literature review reveals the importance of conventional snow observations for DA and model calibration and validation, and the potential benefits of obtaining additional observations from national networks, according to the survey responses, concrete plans for using new or upcoming data sources of snow observations exist for use in snow models of NWP, hydrology or other modeling environments.
Some strategies exist, or are underway, towards an improved and more extended usage of conventional snow observations to include observations from high-resolution national networks into NWP, hydrological and climate models, as the availability, and therefore use, of such data very limited [
22
,
134
]. They include the following: (1) The WMO "Snow Watch" initiative, which recognises the importance of near-real-time in situ observations of snow cover and snow depth to the global observing system. The Snow Watch action has secured approval by Executive Council 69 for an amendment to [
166
] in order to make daily reporting of snow cover and snow depth a mandatory requirement for all stations with the capability to do so. Of particular note, this explicitly includes the requirement to report values of zero snow depth, when snow is not present, in order to provide valuable additional information for assimilation into weather forecasting models. (2) The ECMWF data assimilation study with additional snow data [
22
,
134
], clearly demonstrates the benefits to NWP forecast accuracy from assimilation of additional national network snow reports. (3) The monitoring of SYNOP station snow depth reports to detect problems in the snow analysis. A continuous monitoring allows also to identify progress in observation availability and frequency of reporting, which becomes more important with a broader application of automatic snow measurements [
167
].
4.2. Sustainable Ways to Create Snow Products for Users by Combining Remote Sensing and Conventional Snow Observations with Modeling Results
Until now, spaceborne derived snow products are not widely applied in operational NWP systems. In situ measurements are used to retrieve snow height for data assimilation, since for SWE the satellite products still not meet the requirements of DA in NWP. For SCE a number of combined and operational products exist, which includes also in situ measurements [
168
] and can be used to constrain the model SCE but SWE is the most interesting variable. Therefore, a number of blended satellite products have been developed, which merge visible, near-infrared, and passive microwave observations [
169
,
170
,
171
,
172
] and could be used for DA. Microwave satellite observations are combined with conventional in situ observations in some products (H-SAF), while optical satellite observations together with conventional in situ observations are assimilated into NWP models. The ESA GlobSnow project is another example providing combined products for models. It was shown recently by [
94
] that the coarse resolution of space-borne radiometers (in the order of tens of kilometers) for existing SWE products (H-SAF and GlobSnow) can be improved by assimilation together with in situ observations of snow depth, where the improved resolution enhances spatial details in the retrieved SWE. For hydrology, the DA is also very important for the implementation of spaceborne snow products used in streamflow forecasts. A variational method based on Moving Horizon Estimation (MHE) is used in [
16
], in application to the conceptual rainfall-runoff model HBV. Snow cover extent (SCE), snow water equivalent (SWE), soil moisture (SM) and in situ measurements of streamflow data were assimilated using large assimilation windows of up to one year. For the first time, H-SAF products were used for hydrological forecasting systems and their added value was verified. Although blended satellite products could serve in filling gaps of observation data or providing validation data, ideally, blending of products should happen only within the DA process due to the preferred separation of observation sources. Furthermore, blended products often contain information from models that have different assumptions than the model, which uses these products in assimilation.
4.3. Snow Observations Errors for Data Assimilation and Modelling Systems
Snow observations and products are subject to quality control as well as consistency checks, which are performed manually or automatically in the large majority of the model environments used in this survey. Furthermore, the observation error of snow measurements consisting of instrument error and representativeness error (e.g., [
173
,
174
] is an important parameter used in snow DA. Results from the survey show that if an estimation of the observation error of snow measurements for DA is used, a prescribed constant value is chosen in many cases. The observation error sensitivity study performed with the ECMWF snow DA system showed the impact of this parameter on the global NWP forecast skills (
Section 3.5
,
Figure 6
). Since the observation error consists of two components for the derivation of this error from reported values in literature, the context of the measurements has to be taken into account [
159
,
175
,
176
,
177
,
178
].
The detailed review and assessment of the survey carried out by measurement communities [
11
] report on the quality of data and potential problems and provide valuable feedback for modelers on instrument errors. For instance, the results from the COST HarmoSnow field campaign in Iceland [
16
] showed that for SWE the observation error as relative standard deviation of 10% is possible if a suitable amount of measurements (i.e., minimum 3) is performed. However, this only account for the instrument error. In complex and windy terrains the total observation error can be much larger, which reflects the limited representativeness of snow measurements.
5. Conclusions
Based on the practices of a number of countries, review of the literature, and evaluation of the survey on use of snow observations in the modelling environment, conclusions can be drawn on: (i) the status and future evolution of conventional snow observations from national networks and satellite products for DA and model validation, including availability, error characteristics and reliability, towards an improved usage of conventional snow observations from national networks for data assimilation and model validation; (ii) the review of the methods to combine remote sensing and conventional snow observations with modeling results for user applications; and (iii) snow observations errors for data assimilation and modelling systems.
The results of the survey show that the measurement networks, instruments, and techniques are exploited well by existing DA systems and used in model environments for NWP, hydrology, or special snow models. The survey reveals that there is a fit between the snow macro-physical variables required for DA and those provided by the measurement environment, since snow depth, snow presence, snow density and SWE are the most measured variables. It is also important to take into consideration that in many cases these variables are measured with different instruments and techniques, in particular snow depth and SWE. On the other hand, developments in DA systems are necessary to exploit the evolving capabilities of the observing systems, and vice versa. The increasing automation of the measurements requires enhanced data management in the DA system (quality control, consistency). There is a requirement for remotely sensed snow depth or SWE observations from satellite, to provide snow data in regions with sparse measurement networks, but this necessitates developments in instrument technology (e.g., automatic measurement of snow microstructural properties) and also development of DA systems in order to make use of such observations. There are also concrete future plans on using enhanced snow observations for all model environments, in particular for NWP with DA, hydrology, and reanalysis. Data availability and resources to integrate the data in the model environment are the current barriers and limitations for the use of new or upcoming snow data sources independent of the model environment used.
The further outcomes from the survey support new, innovative and upgraded observing strategies; enhanced usage of snow data for scientific research and applications; a broader overview and easier access to existing snow measurements and snow model data for the benefit of different applications, such as NWP models, hydrological, climatology and climate change research. Further support of these aims is provided by the related COST HarmoSnow activities of the parallel survey on snow measurements and the training school on data assimilation in Europe [
179
]. The monitoring of floods, droughts, snow avalanches and hydropower production could benefit from improved real-time snow measurements for assimilation into operational prediction models to improve hydrological, meteorological and climate forecasting while a further integration and harmonization of the European snow network into global networks (e.g., WMO GCW) supports the strengthening WMO and EUMETSAT activities on snow observations. The main scientific impact will emerge from improved snow and weather products via better knowledge of snow properties and their evolution. It will induce a lasting structural improvement of the interaction between participating communities, thus very relevant for the Intergovernmental Panel on Climate Change (IPCC) and Copernicus (Global Monitoring for Environment and Security). Policy and decision makers at all levels from local safety to global environment policy will benefit from improved knowledge on current and future snow cover and climate conditions.
Author Contributions
Conceptualization, J.H., A.S.S., P.d.R., S.P., D.C.F, C.D.M., R.A.M., M.L., M.D., G.P., V.P., D.V.-S, A.N.A.; Methodology, J.H., A.S.S., P.d.R., S.P., D.C.F, C.D.M., R.A.M., M.L., M.D., G.P., V.P., D.V.-S, A.N.A.; Writing (original draft preparation), A.S.S., J.H., P.d.R., S.P., D.C.F, C.D.M., R.A.M., M.L., M.D., G.P., V.P., D.V.-S, A.N.A.; Writing (review and editing), J.H., A.S.S., P.d.R., S.P., D.C.F, C.D.M., R.A.M., M.L., M.D., G.P., V.P., D.V.-S, A.N.A.
Funding
This research is part of the COST Action ES1404 activity funded by the COST programme.
Acknowledgments
We thank all of the participants of the COST Action ES1404 for their support and fruitful comments to the results. We also thank all of the respondents to the survey who provided the material for this study. We are grateful to Sylvain Joffre, who had a key role in planning and initiating the COST Action ES1404.
Conflicts of Interest
The authors declare no conflict of interest.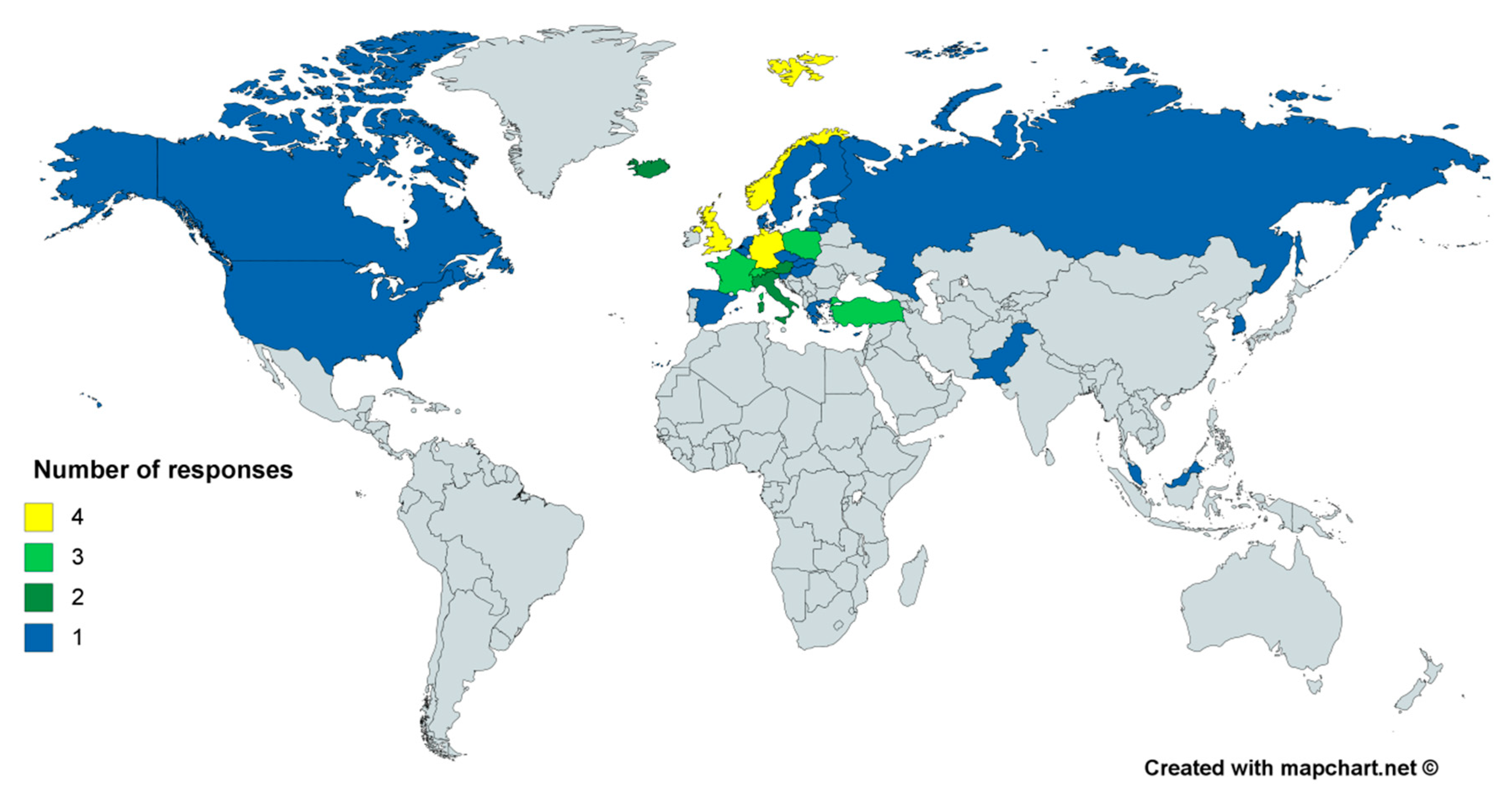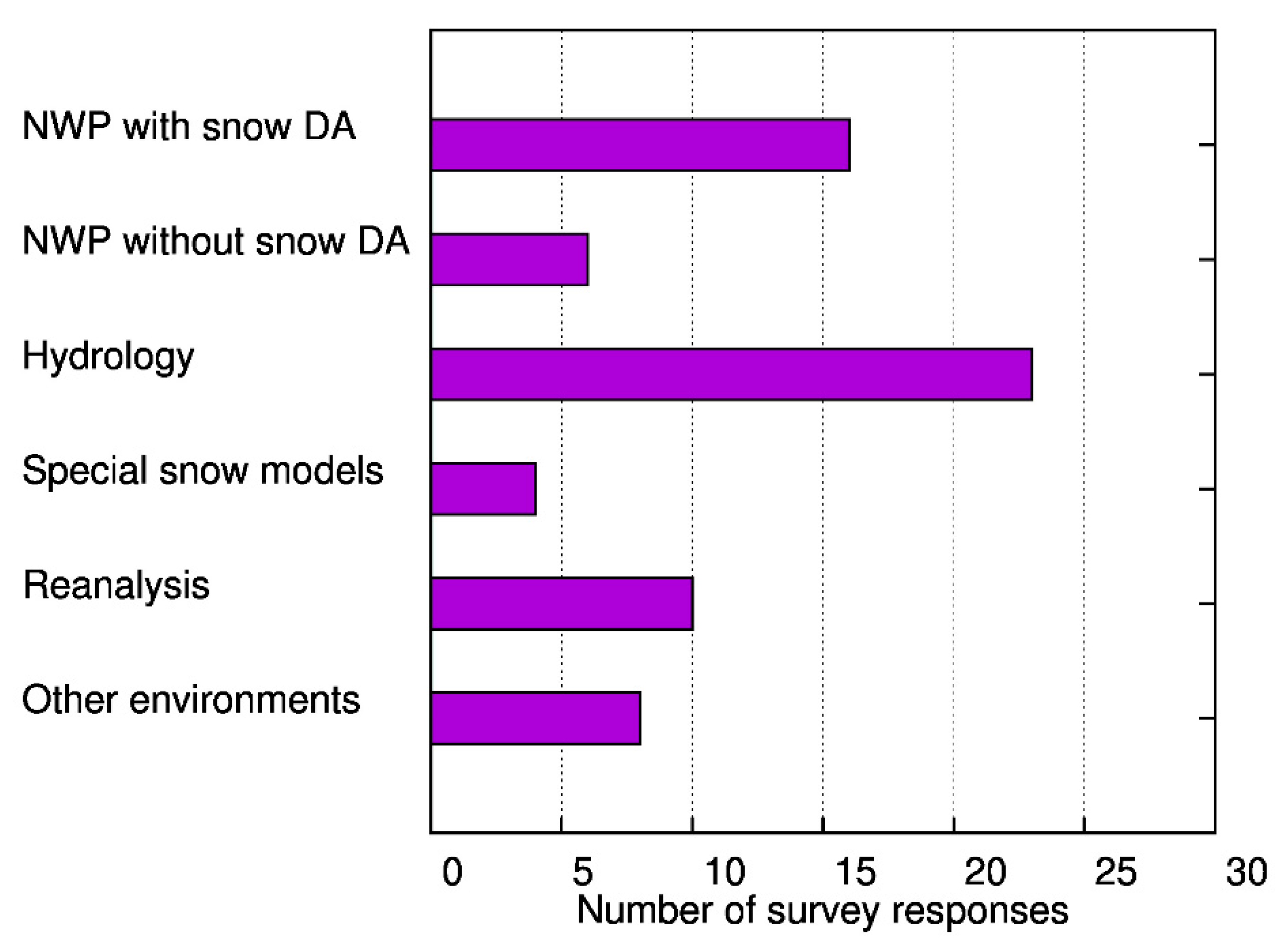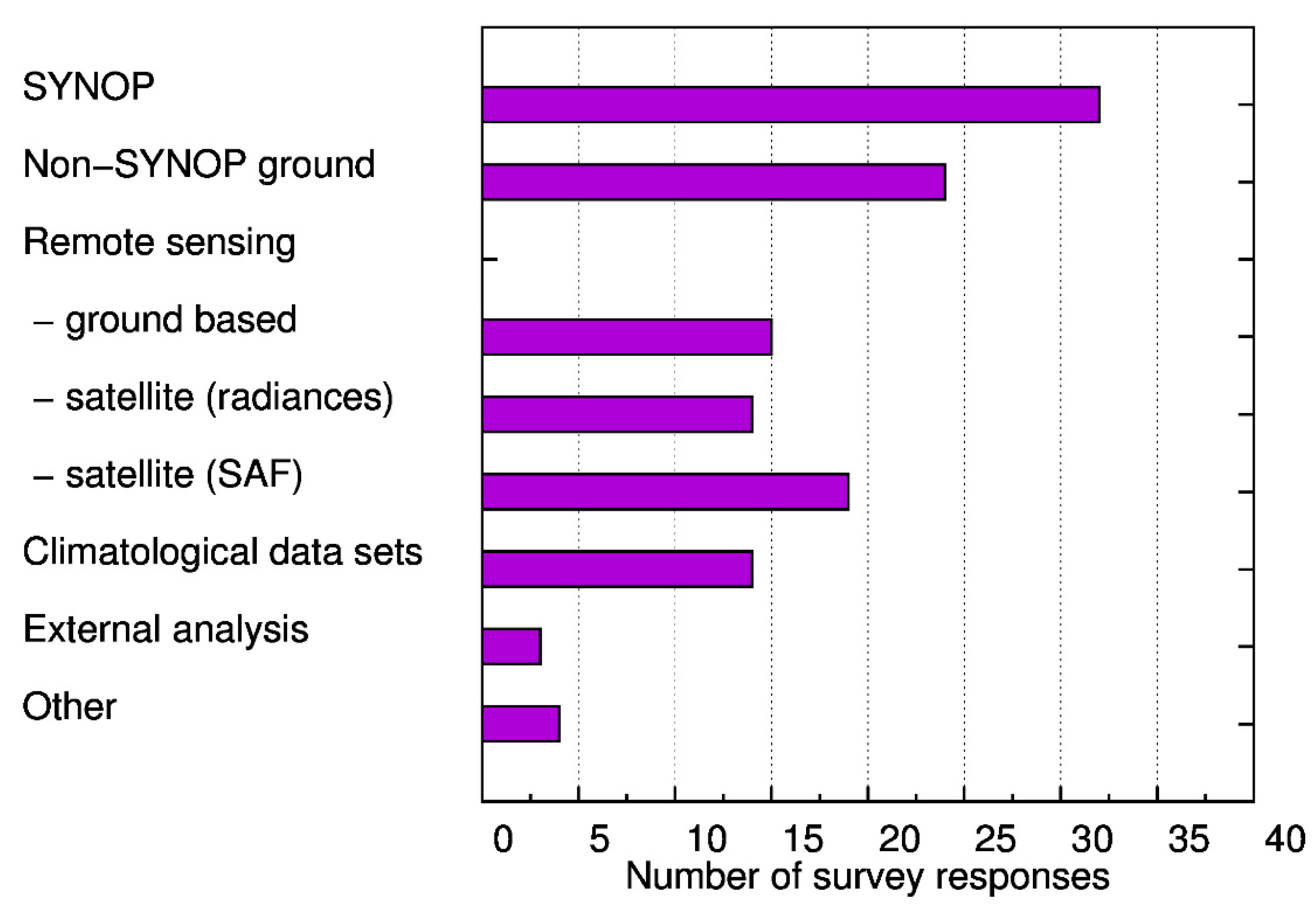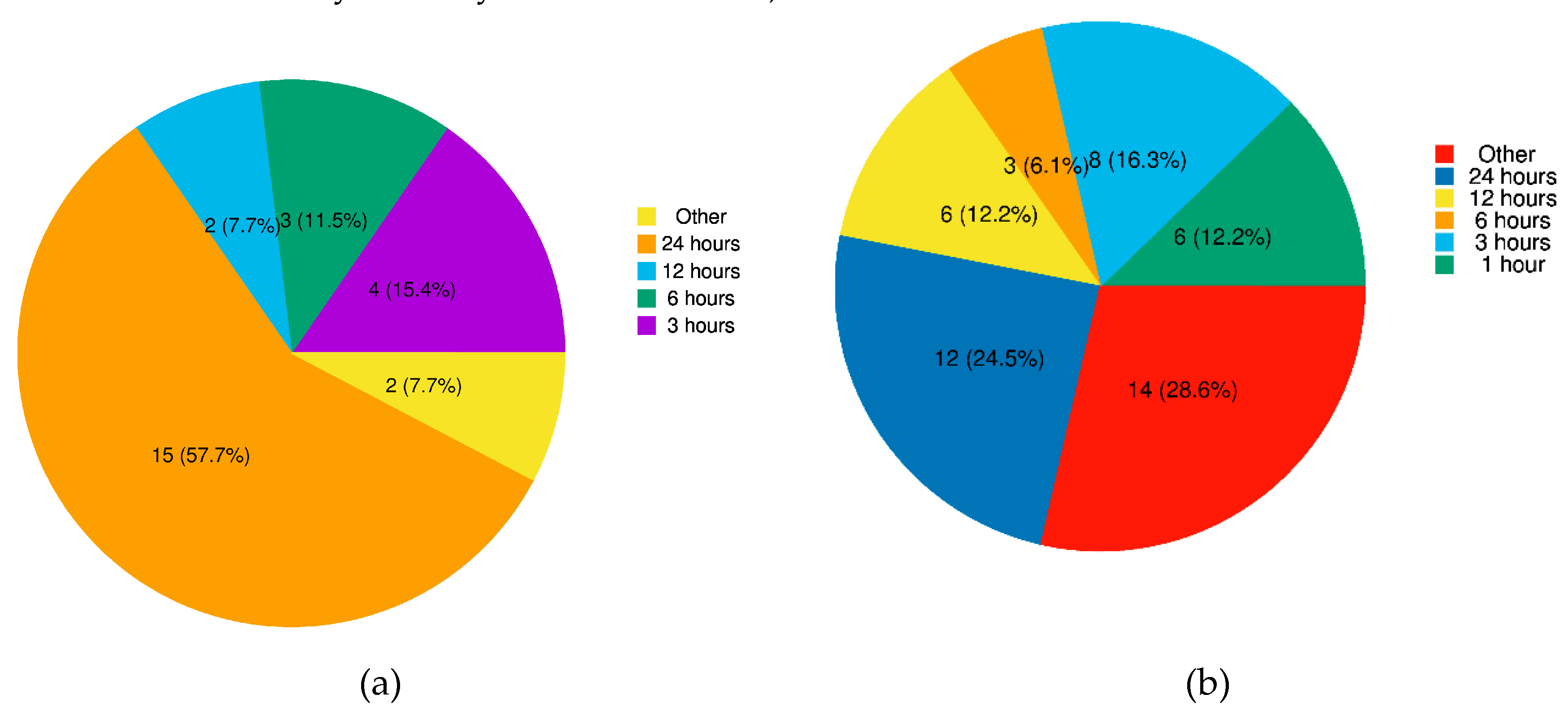 Figure 6. Impact, shown as mean temperature difference in K (01 December 2016 to 28 February 2017), of doubling snow observation error in the ECMWF snow data assimilation system used for NWP, on two-meter air temperature 12-h and 72-h forecasts.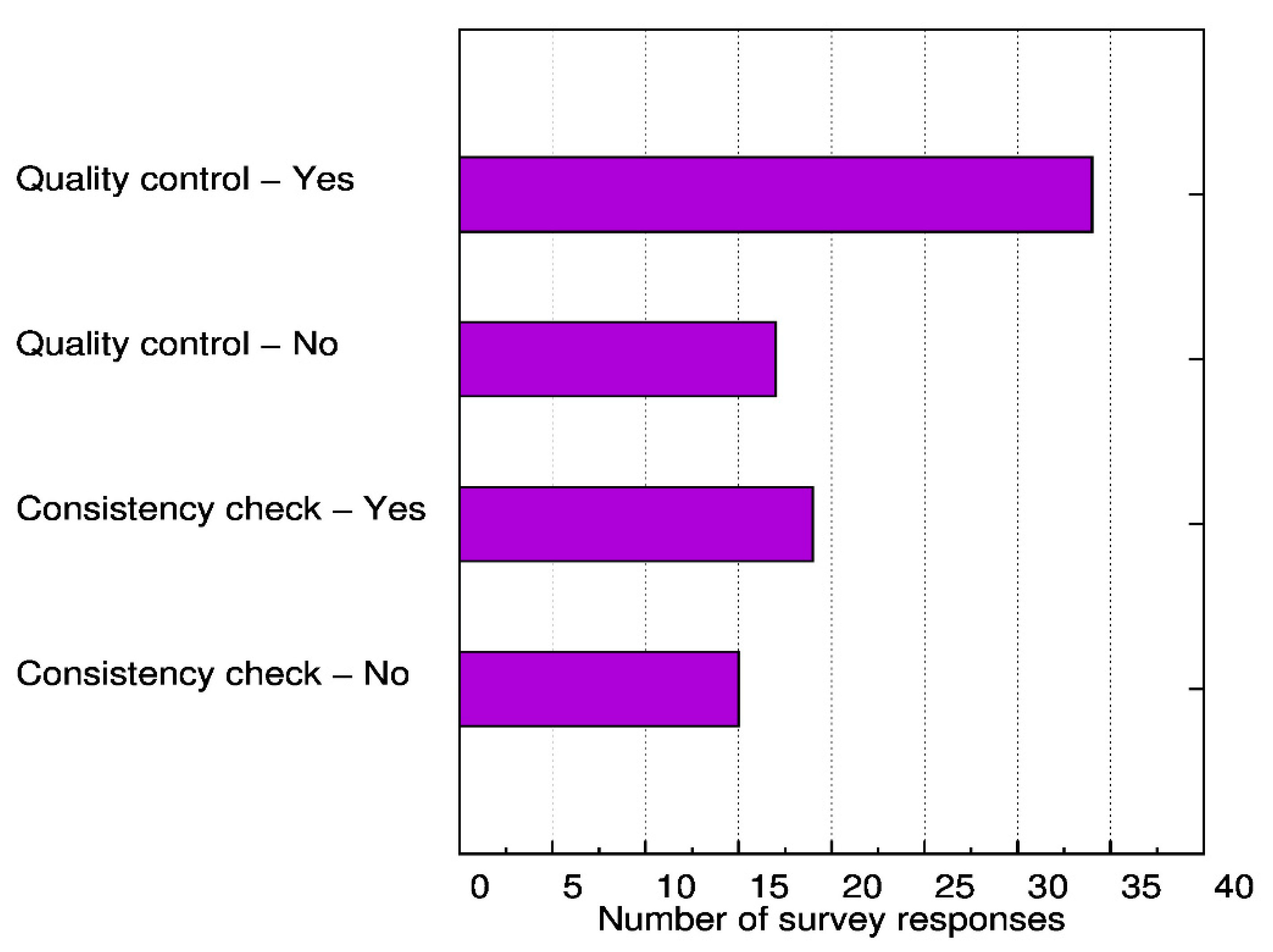 © 2018 by the authors. Licensee MDPI, Basel, Switzerland. This article is an open access article distributed under the terms and conditions of the Creative Commons Attribution (CC BY) license (http://creativecommons.org/licenses/by/4.0/).