Time-Space Characterization of Wellbore-Cement Alteration by CO2-Rich Brine
Géosciences Montpellier, CNRS-Université de Montpellier, Place Eugène Bataillon, 34095 Montpellier, France
*
Author to whom correspondence should be addressed.
Received: 26 September 2018 / Revised: 27 November 2018 / Accepted: 12 December 2018 / Published: 15 December 2018
Abstract
The risk of CO
2
leakage from damaged wellbore is identified as a critical issue for the feasibility and environmental acceptance of CO
2
underground storage. For instance, Portland cement can be altered if flow of CO
2
-rich water occurs in hydraulic discontinuities such as cement-tubing or cement-caprock interfaces. In this case, the raw cement matrix is altered by diffusion of the solutes. This fact leads to the formation of distinctive alteration fronts indicating the dissolution of portlandite, the formation of a carbonate-rich layer and the decalcification of the calcium silicate hydrate, controlled by the interplay between the reaction kinetics, the diffusion-controlled renewing of the reactants and products, and the changes in the diffusion properties caused by the changes in porosity induced by the dissolution and precipitation mechanisms. In principle, these mass transfers can be easily simulated using diffusion-reaction numerical models. However, the large uncertainties of the parameters characterizing the reaction rates (mainly the kinetic and thermodynamic coefficients and the evolving reactive surface area) and of the porosity-dependent diffusion properties prevent making reliable predictions required for risk assessment. In this paper, we present the results of a set of experiments consisting in the alteration of a holed disk of class-G cement in contact with a CO
2
-rich brine at reservoir conditions (
P
= 12 MPa and
T
= 60 °C) for various durations. This new experimental protocol allows producing time-resolved data for both the spatially distributed mass transfers inside the cement body and the total mass transfers inferred from the boundary conditions mass balance. The experimental results are used to study the effect of the fluid salinity and the
p
CO
2
on the overall reaction efficiency. Experiments at high salinity triggers more portlandite dissolution, thinner carbonate layers, and larger alteration areas than those at low salinity. These features are accompanied with different spatial distribution of the alteration layers resulting from a complex interplay between salinity-controlled dissolution and precipitation mechanisms. Conversely, the effect of the
p
CO
2
is more intuitive: Increasing
p
CO
2
results in increasing the overall alteration rate without modifying the relative distribution of the reaction fronts.
View Full-Text
►

▼

Figures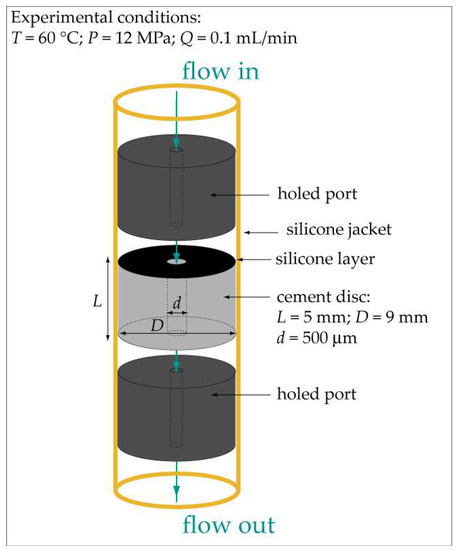 Figure 1
This is an open access article distributed under the
Creative Commons Attribution License
which permits unrestricted use, distribution, and reproduction in any medium, provided the original work is properly cited (CC BY 4.0).

Share & Cite This Article
MDPI and ACS Style
Garcia-Rios, M.; Gouze, P. Time-Space Characterization of Wellbore-Cement Alteration by CO2-Rich Brine. Geosciences 2018, 8, 490.
Note that from the first issue of 2016, MDPI journals use article numbers instead of page numbers. See further details here.
Related Articles
Comments
[Return to top]