Open Access This article is
freely available
re-usable
Review
Olfactory Generalization in Detector Dogs
1
Canine and Equine Research Group, School of Environmental and Rural Science, University of New England, Armidale, NSW 2351, Australia
2
School of Psychology, University of New England, Armidale, NSW 2351, Australia
*
Author to whom correspondence should be addressed.
Received: 30 August 2019 / Accepted: 18 September 2019 / Published: 19 September 2019
Abstract
:
Simple Summary
Dogs are valued for their odor detection capabilities in a vast range of fields. They help to find hidden and elusive targets, such as explosives, narcotics, missing persons, and invasive or endangered species, amongst an extensive list. In all these roles, dogs are required to find real target odors that vary somewhat from those with which they were trained. For example, dogs might be trained with an explosive mixture or certain explosive compounds, and then must be able to find homemade explosives of differing compositions or manufacturing processes. This ability, to respond to similar odors in the same way as they would respond to the originally trained odor, is known as generalization. A failure to generalize can result in dogs missing targets in working scenarios. Although generalization is usually desired to some extent, dogs must also discriminate against related odors that are not targets. Therefore, research that investigates factors that can influence dogs' tendency to generalize, and conversely to discriminate, can inform training strategies to improve detection outcomes. However, this field requires further research with greater application to practical training.
Abstract
Generalizing to target odor variations while retaining specificity against non-targets is crucial to the success of detector dogs under working conditions. As such, the importance of generalization should be considered in the formulation of effective training strategies. Research investigating olfactory generalization from pure singular compounds to more complex odor mixtures helps to elucidate animals' olfactory generalization tendencies and inform ways to alter the generalization gradient by broadening or narrowing the range of stimuli to which dogs will respond. Olfactory generalization depends upon both intrinsic factors of the odors, such as concentration, as well as behavioral and cognitive factors related to training and previous experience. Based on the current research, some training factors may influence generalization. For example, using multiple target exemplars appears to be the most effective way to promote elemental processing and broaden the generalization gradient, whereas increasing the number of training instances with fewer exemplars can narrow the gradient, thereby increasing discrimination. Overall, this research area requires further attention and study to increase our understanding of olfactory generalization in dogs, particularly detector dogs, to improve training and detection outcomes.
Keywords:
canine; detection; discrimination; odor; scent; sniffer dog; target; training; variation
1. Introduction
Olfaction may be the most fundamental sense for dogs, being optimized to perceive and comprehend the world around them in great detail. This remarkable olfactory sense is harnessed by humans to aid in the detection of an enormous range of elusive targets, including explosives (e.g., [
1
]), narcotics (e.g., [
2
]), missing persons (e.g., [
3
]), and invasive or endangered species (e.g., [
4
]), amongst an extensive list. Training dogs for these scent detection tasks usually entails training a behavioral response that is associated with a specific target odor (e.g., [
5
]). However, odors are typically comprised of a complex matrix of volatile organic compounds that vary somewhat, even between different examples of the same commodity. Since it is usually impossible to train with every potential variant of a target odor, detector dogs must learn to display the same behavioral response when they encounter novel variations of a learned odor.
To perform detection tasks, dogs must process a massive amount of olfactory information and respond to new and changing stimuli. An essential mechanism by which they do this is stimulus generalization, a phenomenon which allows organisms to categorize stimuli that are perceptually similar and thus likely to share associated outcomes [
6
,
7
,
8
]; which occurs in contrast to discrimination, allowing organisms to treat different stimuli as having differing outcomes [
9
]. Generalization and discrimination can, therefore, shape dogs' perception of the odor stimuli that they encounter. In turn, this impacts their role as odor detectors by regulating how they respond to variations in target odors and discriminate these from non-target odors.
The tendency of dogs to generalize responding to odors other than one on which they were trained can considerably influence detector dog outcomes—too little generalization can lead to dogs missing targets, and too much generalization can lead to an increase in false responses. As an example, narcotics-detection dogs trained with pure cocaine samples must generalize their training by responding to cocaine variants containing different impurities, or of different origins or manufacturing processes. Conversely, they must be sufficiently discriminatory and refrain from responding to similar odors that pose no risk, such as snapdragon flowers, which emit the same primary odor compound as cocaine, methyl benzoate (C
8
H
8
O
2
) [
10
]. Depending on the desired detection outcomes for specific targets and the risks associated with either misses or false alarms, trainers might try to encourage dogs to be more general or more discriminatory. Olfactory generalization and discrimination are, therefore, critical factors in dogs successfully transferring learning from training contexts to authentic working contexts. However, currently, there is a shortage of research that explicitly investigates olfactory generalization in detector dogs.
2. The Generalization Gradient
Plotting response frequencies to similar stimuli after conditioning produces a "generalization gradient" [
11
]. This is usually depicted as a Gaussian curve with the response probability on the
y
-axis, with the peak centered around a conditioned stimulus, where animals have had the opportunity to respond to similar stimuli on the same dimension [
8
,
12
]. The curve shows an orderly decrease in the probability of responding as the stimuli become increasingly dissimilar to the conditioned stimulus (see
Figure 1
). Essentially, this gradient illustrates an animal's sensitivity to variations of a learned stimulus. As such, the width of a generalization gradient reflects the extent to which an animal has generalized learning to other similar stimuli along a continuum; a broad category encompassing more difference indicates greater generalization, while a narrow and more specific category indicates greater discrimination [
8
]. This same curve is predictable even for complex stimuli that vary along more than one dimension when those dimensions are transformed into a single axis [
13
,
14
]. Generalization gradients are useful to conceptualize and predict generalization and discrimination of olfactory stimuli, including complex odors and mixtures. The slope of the gradient also conveys the ability of an animal to discriminate between stimuli—the steeper the slope, the greater the level of discrimination and the flatter the slope, the greater the level of generalization.
Generalization gradients have been observed relatively consistently across a range of species and stimulus dimensions of different sensory domains. Many of the first explicit observations of the generalization gradient involved pigeons responding to different wavelengths of light (e.g., [
9
,
12
]). Since then, generalization gradients have been demonstrated in many different perception tests with a range of species, from humans and vertebrates to invertebrates. For example, some stimulus dimensions that have produced generalization gradients have included: Sound frequency (e.g., [
15
]), degrees of rotation (e.g., [
16
]), spatial location (e.g., [
17
]), shapes (e.g., [
18
]), and monomolecular odors (e.g., [
19
]). Moreover, generalization gradients can be predictive of responses to multi-dimensional, complex stimuli, such as perceived aggressiveness [
20
] and trustworthiness [
21
] in humans. Similarly, this same pattern likely governs canine responses towards complex odor variations.
3. Generalization of Structurally-Similar Compounds
4. Generalization of Mixtures and Components
5. Generalization of Similar Complex Odors
6. Conclusions
Understanding the generalization and discrimination tendencies of dogs to trained olfactory stimuli affords better awareness of how to alter their response patterns through training. This is valuable to detector dog operations, in which we must train dogs to respond to varying targets with both sensitivity and specificity. However, there is currently little research that explicitly and systematically tests olfactory generalization in detector dogs, meaning there are still gaps in the literature. Specifically, there is a need for further research that translates readily to practical application with working detector dogs to improve training and detection outcomes.
Current research suggests that dogs perceive odor differences in compounds differing in carbon-chain length in a graded fashion. This provides an opportunity for the systematic study of factors that might alter their olfactory generalization gradients, especially those factors that could be used readily in training and have been found to affect generalization in other sensory domains, such as motivation [
83
], intervals between training [
84
], and schedules of reinforcement [
85
,
86
]. Furthermore, there is evidence that elemental or configural perception can be dependent on the specific odorants in a mixture. Therefore, a greater range of odorants that are operationally-valid should be tested with dogs to determine whether they can generalize between them to actual target mixtures, particularly to create effective training aids such as pseudo scents. Finally, explicit testing of generalization in a range of relevant complex odor targets could be carried out, with a systematic approach to the analysis of errors. This might be combined with gas chromatography-mass spectrometry to determine degrees of odor similarity and compound identities to determine how dogs might generalize or discriminate between them.
Author Contributions
Conceptualization, A.Y.M.; writing—original draft preparation, A.Y.M.; writing—review and editing, A.Y.M., W.Y.B., L.B.; visualization, A.Y.M.; supervision, W.Y.B., L.B.
Funding
This review was undertaken as part of a Master of Rural Science degree for which Ariella Y Moser receives an Australian Government Research Training Program stipend scholarship and support from UNE School of Environmental and Rural Science postgraduate funds.
Conflicts of Interest
The authors declare no conflict of interest.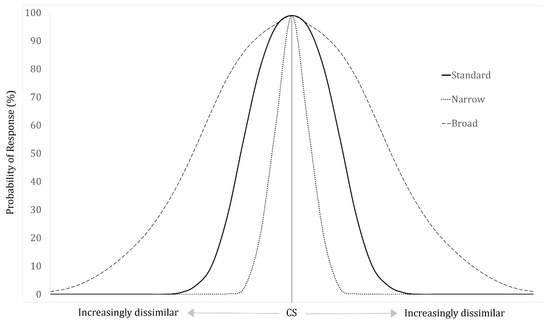 Figure 1. Three theoretical generalization gradients varying along one spectrum, illustrating the probability of responding to the conditioned stimulus (CS) at the peak, with graded decreases in responses as the stimuli become increasingly dissimilar. The narrow peak depicts the least generalization, with fewer responses to stimuli as they deviate from the CS. The broad peak depicts the most generalization, with the greatest probability of responding to stimuli differing from the CS.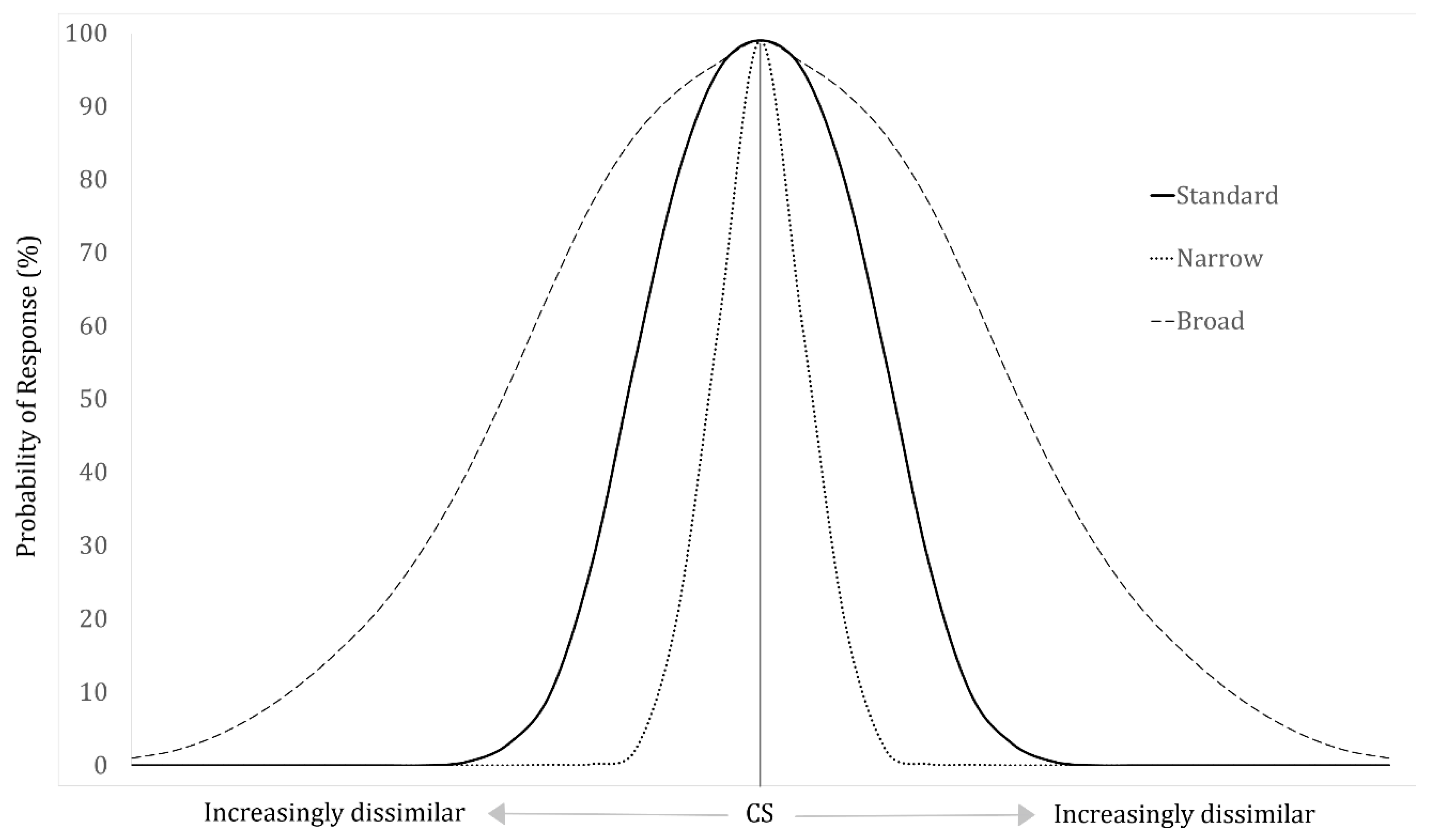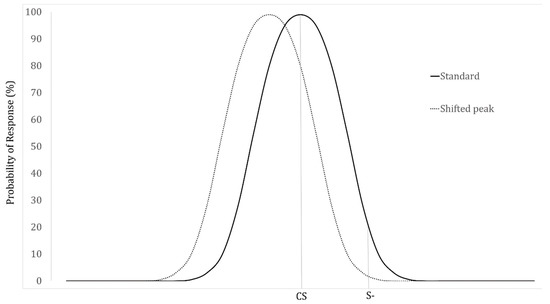 Figure 2. Theoretical peak shift of a generalization gradient. The gradient is shifted away from the negative stimulus (S-) so that fewer responses are made towards it. In the shifted peak, the highest rate of responding is no longer to the conditioned stimulus (CS).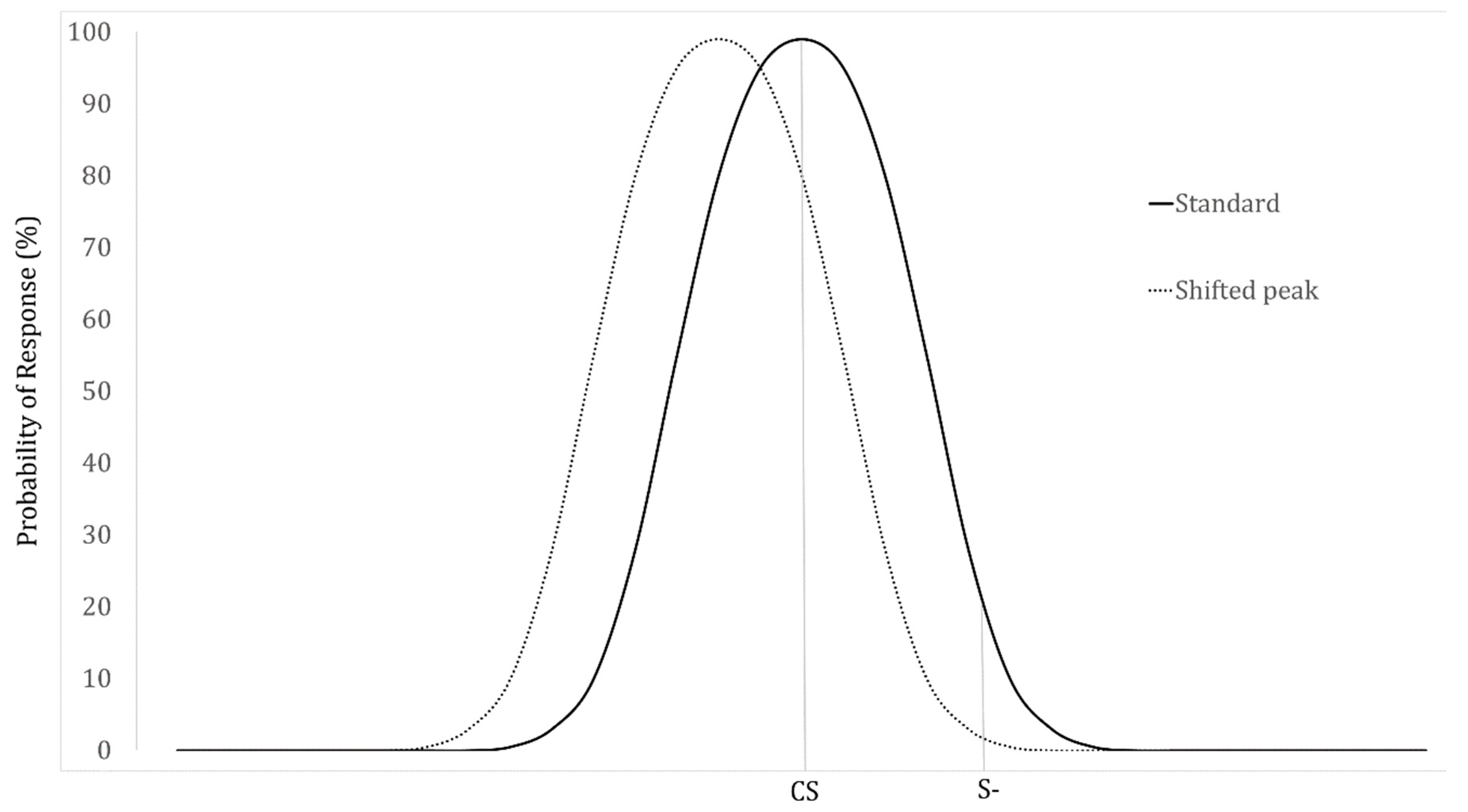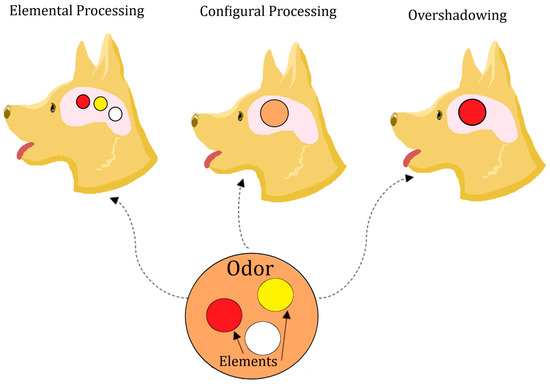 Figure 3. Illustration of some potential processing methods of an odor mixture. Elemental processing shows the dog perceiving all three elements or components; configural processing shows the dog perceiving the odor in its entirety but not its separate elements; overshadowing shows a type of elemental processing in which one salient component is perceived while the others are not. These different perceptions reflect what the dog would be likely to respond to after training with this odor stimulus.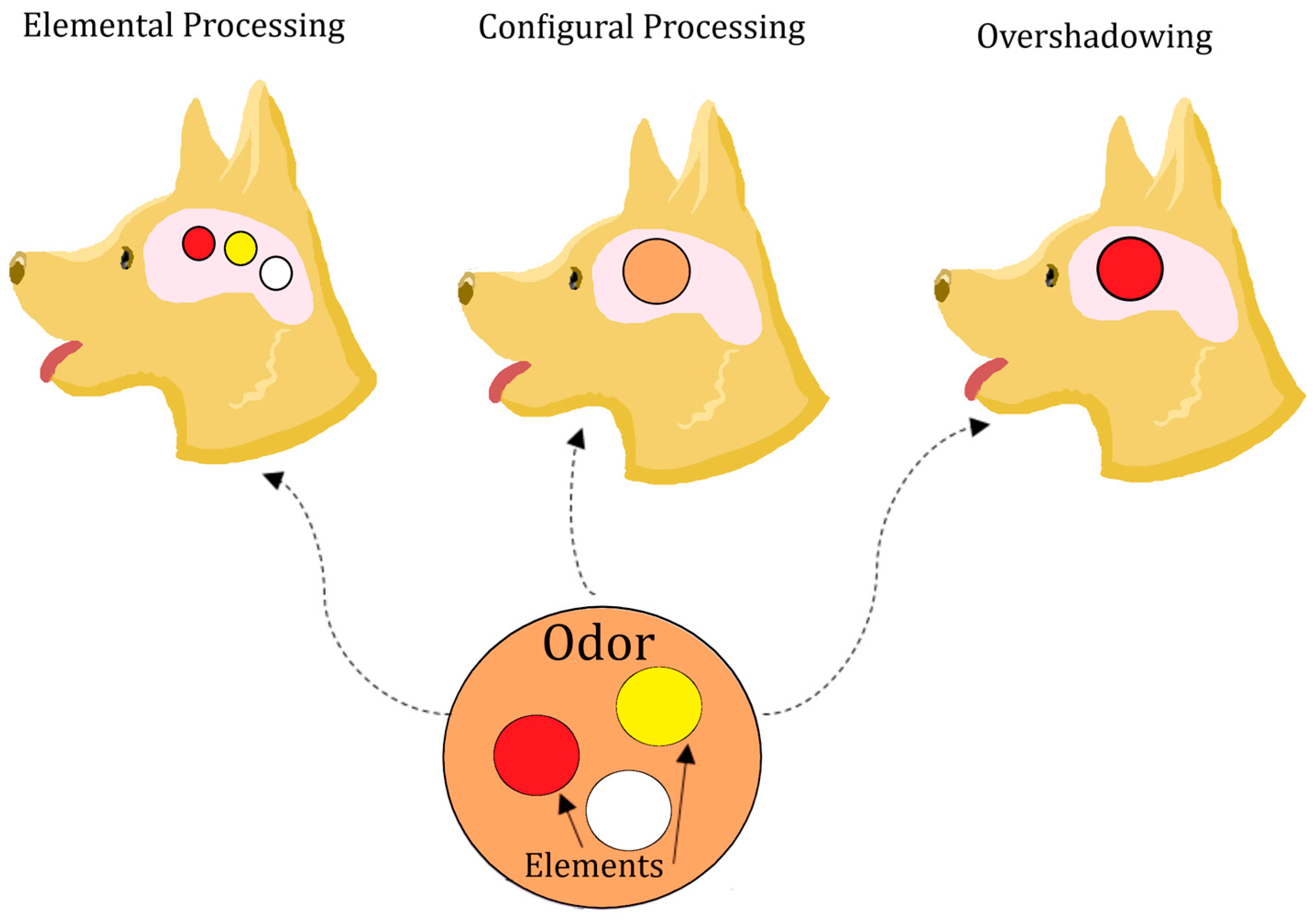 © 2019 by the authors. Licensee MDPI, Basel, Switzerland. This article is an open access article distributed under the terms and conditions of the Creative Commons Attribution (CC BY) license (http://creativecommons.org/licenses/by/4.0/).