Animal Research, Accountability, Openness and Public Engagement: Report from an International Expert Forum
1
Animal Welfare Program, Faculty of Land and Food Systems, University of British Columbia, Vancouver, BC V6T 1Z4, Canada
2
Department of Clinical Sciences, Swedish University of Agricultural Sciences, 75007 Uppsala, Sweden
3
Principal Adviser, Animal Welfare, Ministry for Primary Industries, Wellington 6140, New Zealand
4
The Center for Alternatives to Animal Testing (CAAT), Johns Hopkins Bloomberg School of Public Health, Baltimore, MD 21205, USA
5
School of Sociology and Social Policy, University of Nottingham, Nottingham NG7 2RD, UK
6
Maurice Young Centre for Applied Ethics, University of British Columbia, Vancouver, BC V6T 1Z4, Canada
7
Department of Zoology, University of British Columbia, Vancouver, BC V6T 1Z4, Canada
8
Director Research Governance, South Eastern Sydney and Illawarra Shoalhaven Local Health Districts, Conjoint Professor, University of New South Wales, Sydney 2036, Australia
9
The Humane Society of the United States, Washington, DC 20037, USA
*
Author to whom correspondence should be addressed.
Received: 18 July 2019 / Revised: 18 August 2019 / Accepted: 20 August 2019 / Published: 29 August 2019
Simple Summary
The issues of openness, transparency and public engagement about animal research have taken focus in several different countries in recent years. This paper gives an account of a two-day-long expert forum that brought together policy experts and academics from Australia, Canada, Germany, New Zealand, Sweden, the United Kingdom and the United States. The aim was to share current governance practices regarding openness and transparency of animal research and to brainstorm ideas for better public engagement. The facilitated conversations were transcribed and analysed to create this report and recommendations that encourage international policy-makers and other stakeholders to engage in genuine dialogue about the use of animals in research.
In November 2013, a group of international experts in animal research policy (n = 11) gathered in Vancouver, Canada, to discuss openness and accountability in animal research. The primary objective was to bring together participants from various jurisdictions (United States, Sweden, Australia, New Zealand, Germany, Canada and the United Kingdom) to share practices regarding the governance of animals used in research, testing and education, with emphasis on the governance process followed, the methods of community engagement, and the balance of openness versus confidentiality. During the forum, participants came to a broad consensus on the need for: (a) evidence-based metrics to allow a "virtuous feedback" system for evaluation and quality assurance of animal research, (b) the need for increased public access to information, together with opportunities for stakeholder dialogue about animal research, (c) a greater diversity of views to be represented on decision-making committees to allow for greater balance and (d) a standardized and robust ethical decision-making process that incorporates some sort of societal input. These recommendations encourage aspirations beyond merely imparting information and towards a genuine dialogue that represents a shared agenda surrounding laboratory animal use.
View Full-Text
►

▼

Show Figures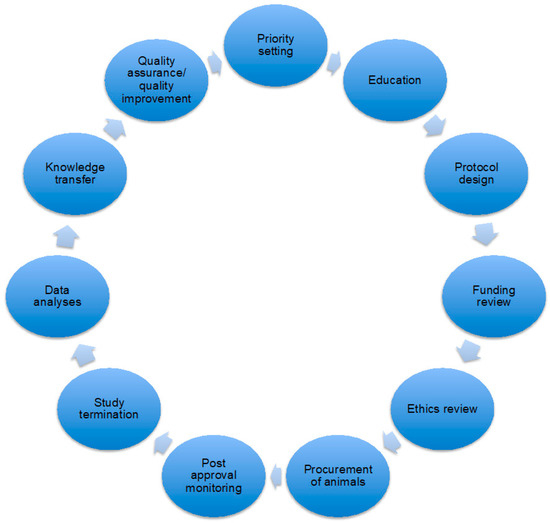 Figure 1
This is an open access article distributed under the
Creative Commons Attribution License
which permits unrestricted use, distribution, and reproduction in any medium, provided the original work is properly cited

MDPI and ACS Style
Ormandy, E.H.; Weary, D.M.; Cvek, K.; Fisher, M.; Herrmann, K.; Hobson-West, P.; McDonald, M.; Milsom, W.; Rose, M.; Rowan, A.; Zurlo, J.; von Keyserlingk, M.A. Animal Research, Accountability, Openness and Public Engagement: Report from an International Expert Forum. Animals 2019, 9, 622.
Show more citation formats
Show less citations formats
Note that from the first issue of 2016, MDPI journals use article numbers instead of page numbers. See further details
here
.