Increasing River Temperature Shifts Impact the Yangtze Ecosystem: Evidence from the Endangered Chinese Sturgeon
1
Key Laboratory of Freshwater Biodiversity Conservation, Ministry of Agriculture and Rural Affairs of P. R. China, Wuhan 430223, Hubei Province, China
2
Yangtze River Fisheries Research Institute, Chinese Academy of Fishery Sciences, Wuhan 430223, Hubei Province, China
3
Department of Maritime Police and Production System, The Institute of Marine Industry, Gyeongsang National University, Tongyeong-si 53064, Gyeongsangnam-do, Korea
*
Authors to whom correspondence should be addressed.
Received: 15 July 2019 / Revised: 13 August 2019 / Accepted: 14 August 2019 / Published: 20 August 2019
Simple Summary
A river thermal regime is critically influencing the aquatic ecosystem and human-induced water temperature alteration occurs commonly worldwide. In large river systems, thermal alterations do not readily arise because of the huge water volume. The Yangtze River has the third greatest water flow, is the third longest river, and is one of the most human-influenced rivers in the world. Here, we found that the entire water temperature regime in the Yangtze River has been changed by damming and will shift further under future dam construction. We think that this, in conjunction with the impacts of global warming, means that saving the Chinese sturgeon by regulating water temperature is critically difficult. Also, river thermal shifts not only threaten fish but also affect the whole Yangtze aquatic ecosystem.
The Yangtze River has the third greatest water flow and is one of the most human-influenced rivers in the world. Since 1950, this river system has experienced drastic human interventions, leading to various environmental changes, including water temperature. In this study, based on observations during the past sixty years, we found that the seasonal temperature regime has been altered, both temporally (1–5 °C variation) and spatially (>626 km distance). Temperature shifts not only delay the timing of fish spawning directly, but also lead to degeneration in gonad development. Temperature regime alterations have delayed the suitable spawning temperature window by approximately 29 days over a decade (2003–2016). It confirmed that a period of lower temperature, higher cumulative temperature, and relatively higher temperature differences promoted the maturation of potential spawners based on the correlation analysis (
p
< 0.05). Also, thermal alterations were highly correlated with reservoir capacity upstream (R
2
= 0.866). On-going cascade dam construction and global warming will lead to further temperature shifts. Currently, rigorous protection measures on the breeding population of the Chinese sturgeon and its critical habitats is urgently needed to prevent the crisis of the species extinction. Increasing river thermal shifts not only threaten the Chinese sturgeon but also affect the entire Yangtze aquatic ecosystem.
View Full-Text
►

▼

Show Figures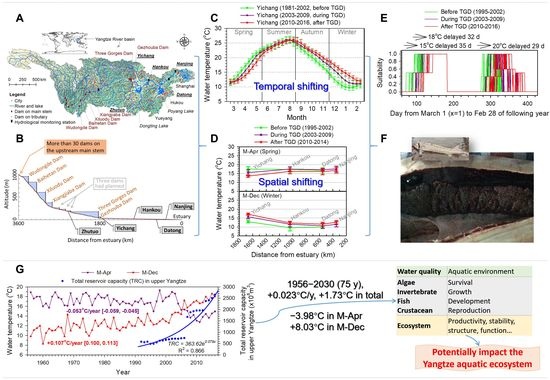 Graphical abstract
This is an open access article distributed under the
Creative Commons Attribution License
which permits unrestricted use, distribution, and reproduction in any medium, provided the original work is properly cited

MDPI and ACS Style
Zhang, H.; Kang, M.; Wu, J.; Wang, C.; Li, J.; Du, H.; Yang, H.; Wei, Q. Increasing River Temperature Shifts Impact the Yangtze Ecosystem: Evidence from the Endangered Chinese Sturgeon. Animals 2019, 9, 583.
Show more citation formats
Show less citations formats
Note that from the first issue of 2016, MDPI journals use article numbers instead of page numbers. See further details
here
.