Effect of Varying Inclusion Levels of Fossil Shell Flour on Growth Performance, Water Intake, Digestibility and N Retention in Dohne-Merino Wethers
1
Department of Livestock and Pasture Science, Faculty of Science and Agriculture, University of Fort Hare, Alice 5700, South Africa
2
SAMRC Microbial Water Quality Monitoring Centre, University of Fort Hare, Alice 5700, South Africa
3
Department of Animal Science, Faculty of Agriculture and Environmental Science, Bindura University of Science Education, Bindura 263, Zimbabwe
4
Applied and Environmental Microbiology Research Group (AEMREG), Department of Biochemistry and Microbiology, University of Fort Hare, Alice 5700, South Africa
*
Author to whom correspondence should be addressed.
Received: 29 July 2019 / Accepted: 6 August 2019 / Published: 16 August 2019
Simple Summary
With the recent negative public opinion on chemical-based feed additive in many nations of the world (for the health implication and environmentally hazard it posed), naturally occurring feed additive are urgently needed to replace and support the sustainable development in livestock production. The potential of Fossil shell flour as performance enhancer was investigated in this study. The major finding was that fossil shell flour increased growth performance, apparent nutrient digestibility, N retention and make minimum use of water in Dohne-Merino wethers. Hence it could be an alternative to chemical-based feed additive in livestock production.
This study was carried out to determine the effect of varying levels of Fossil shell flour (FSF) supplementation on growth performance, water intake, digestibility and N retention in Dohne Merino sheep pursuant to establishing the optimum inclusion rate of this supplement in Dohne Merino diets. Sixteen Dohne-Merino wethers (18 ± 1.5 kg body weight) were used in a complete randomized design with four animals per treatment. Sheep were fed a basal diet without FSF addition (control, T1), or with the addition of FSF (2%, T2), (4%, T3) or (6%, T4) of the diet for 105 days. Treatment 3 (4% FSF) has the highest values of dry matter intake, total weight gain, N retention and for most of the apparent digestibility nutrients (CP, EE and Ash) compared to treatment T1, T2 and T4(
p
< 0.05). The urinary and fecal N excretion also significantly decreased in the FSF treated diets compared to the control (
p
< 0.05). Water intake values were highest in control and were significantly (
p
< 0.05) different from those in treatments 2 and 4, but not to treatment 3. It is concluded that 4% inclusion rate of FSF will give the best improvement on growth performance, diet digestibility and N retention of Dohne-Merino sheep. Also, the addition of FSF in the diets of sheep is a safe natural additive that can help to reduce environmental pollution by reducing fecal and urinary N excretion.
View Full-Text
►

▼

Show Figures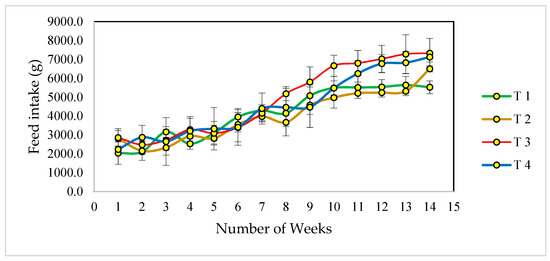 Figure 1
This is an open access article distributed under the
Creative Commons Attribution License
which permits unrestricted use, distribution, and reproduction in any medium, provided the original work is properly cited

MDPI and ACS Style
Ikusika, O.O.; Mpendulo, C.T.; Zindove, T.J.; Okoh, A.I. Effect of Varying Inclusion Levels of Fossil Shell Flour on Growth Performance, Water Intake, Digestibility and N Retention in Dohne-Merino Wethers. Animals 2019, 9, 565.
Show more citation formats
Show less citations formats
Note that from the first issue of 2016, MDPI journals use article numbers instead of page numbers. See further details
here
.