Talking to Dogs: Companion Animal-Directed Speech in a Stress Test
1
Department of Cognitive Biology, University of Vienna, Althanstrasse 14, 1090 Vienna, Austria
2
Department of Behavioral Biology, Konrad Lorenz Research Station, University of Vienna, Althanstrasse 14, 1090 Vienna, Austria
3
Department of Special Education, Institut für Sonderpädagogische Entwicklungsförderung und Rehabilitation, University of Rostock, August-Bebel-Str. 28, 18055 Rostock, Germany
*
Authors to whom correspondence should be addressed.
Received: 3 June 2019 / Revised: 25 June 2019 / Accepted: 27 June 2019 / Published: 4 July 2019
Simple Summary
Companion animal-directed speech is a current topic of research, interesting due to its similarity to infant-directed speech. Dog owners seem to almost subconsciously use this high-pitched and repetitive way of speaking, slightly adapted, for dogs. The aim of this study was to investigate dog-directed speech in different contexts and examine whether owner personality and relationship quality affect it. We found that owners' personality and gender affect their dog-directed speech. The majority of the modifications of dog-directed speech could be explained by a differential use of voice pitch and range. Our study supports the idea that voice pitch was used to communicate affect, whereas pitch range was used as an attention-getting strategy. Based on our results, we conclude that dog-directed speech is adjusted depending on context, gender, and personality. Societal value in this study consists of its contribution to basic knowledge of how we talk to animals, which may help in preventing accidents (e.g., dog bites) as well as improving animal training.
Companion animal-directed speech (CADS) has previously been investigated in comparison to infant-directed speech and adult-directed speech. To investigate the influence of owner caregiving, attachment pattern, and personality on CADS, we used the Ainsworth strange situation procedure. It allowed us to assess voice source parameters of CADS across different contexts. We extracted speech parameters (voicing duration, voice pitch, pitch range, and jitter) from 53 dog owners recorded during the procedure. We found that owner personality and gender but not caregiving/attachment behavior affect their voice's pitch, range, and jitter during CADS. Further, we found a differential and context-specific modification of pitch and range, consistent with the idea that pitch communicates affect, whereas range is more of an attention-getting device. This differential usage, and the increased pitch, emphasize and support the parallels described between CADS and infant-directed speech. For the first time, we also show the effect of personality on CADS and lay the basis for including jitter as a potentially useful measure in CADS.
View Full-Text
►

▼

Show Figures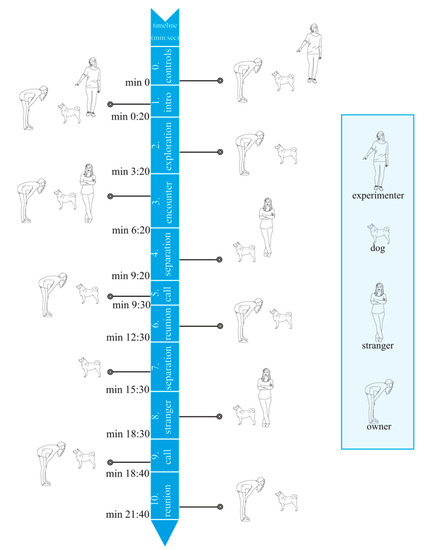 Figure 1
This is an open access article distributed under the
Creative Commons Attribution License
which permits unrestricted use, distribution, and reproduction in any medium, provided the original work is properly cited

Note that from the first issue of 2016, MDPI journals use article numbers instead of page numbers. See further details
here
.