Prevalence and Zoonotic Potential of
Giardia intestinalis

in Dogs of the Central Region of Mexico

1

Doctorado en Ciencias Biológicas, Facultad de Ciencias Naturales, Universidad Autónoma de Querétaro, Avenida de las Ciencias S/N Juriquilla, Delegación Santa Rosa Jáuregui, Querétaro C.P. 76230, Mexico

2

Maestría en Salud y Producción Animal Sustentable, Facultad de Ciencias Naturales, Universidad Autónoma de Querétaro, Avenida de las Ciencias S/N Juriquilla, Delegación Santa Rosa Jáuregui, Querétaro C.P. 76230, Mexico

3

Cuerpo Académico Salud Animal y Microbiología Ambiental, Facultad de Ciencias Naturales, Universidad Autónoma de Querétaro, Avenida de las Ciencias S/N Juriquilla, Delegación Santa Rosa Jáuregui, Querétaro C.P. 76230, Mexico

4

Cuerpo Académico Consolidado de Salud Pública, Unidad de Investigaciones en Salud Pública "Dra. Kaethe Willms", Facultad de Ciencias Químico Biológicas, Universidad Autónoma de Sinaloa, Ave. de las Américas y Blvd. Universitarios, Ciudad Universitaria, Culiacán, Sinaloa C.P. 80100, Mexico

*

Author to whom correspondence should be addressed.

†

These authors contributed equally to this study.

Received: 30 April 2019 / Revised: 1 June 2019 / Accepted: 3 June 2019 / Published: 6 June 2019
Simple Summary
Giardia intestinalis is a parasite that causes disease in different species, including humans and dogs. It is prevalent worldwide and disease in humans is mainly the consequence of poor hygiene habits and close interaction with infected animals. Because cross infections can be seen between humans and dogs, it is critically important to know which genotypes affect each species, useful for determining if dogs are the source of infection for humans in a particular setting. The aim of this study was to determine if dogs in the central region of Mexico play a significant role in human infections from this same area. Sampling of dog feces was performed in animal shelters, dog breeding establishments, animal control facilities and homes. Direct coproparasitoscopic diagnosis was performed; PCR and RFLP analysis were used to obtain genotypes. Results from all of the positive samples show that the genotypes from dogs matched G. intestinalis assemblage A, which does cause infection and disease in humans. These findings highlight the fact that infection in dogs by G. intestinalis needs to be controlled in order to stop transmission amongst the dog population, and, most importantly, to prevent human contagion.
Abstract
Giardia intestinalis
is a protozoan of worldwide distribution capable of infecting a large number of species, including humans and domestic animals. Dogs represent a risk to public health due to cross-infections by the zoonotic assemblages. However, there is little information concerning the prevalence and frequency of this parasite and its assemblages in dogs of the central region of Mexico, thus this study aimed to contribute to this matter. A total of 402 feces samples from dogs of different settings (shelter, breeding establishments, domestic and stray) were obtained and direct coproparasitoscopic examination by flotation revealed a prevalence of 25%. PCR was performed for amplification of the
β-Giardin
gene, to which 24 samples were positive. Assemblages were obtained through RFLP analysis, using enzymes
Hae III
to obtain the main genotypes (A–G), and
Hha I
to subtype assemblage A. All 24 samples were genotyped as assemblage A, with 83% as AI and 17% as AII. Thus, these findings confirm that dogs in the central region of Mexico are a risk for zoonotic transmission of this parasite, emphasizing the importance of a much needed control of the disease in this species.
View Full-Text
►

▼

Figures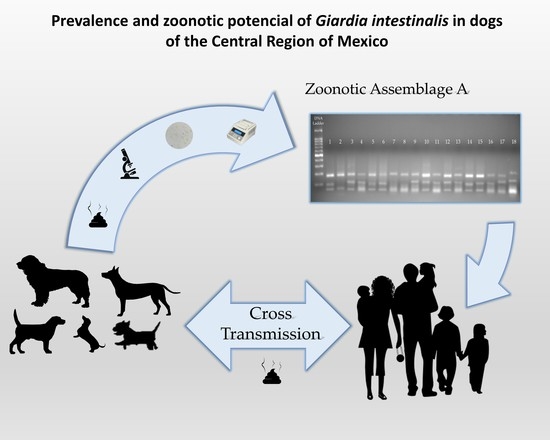 Graphical abstract
This is an open access article distributed under the
Creative Commons Attribution License
which permits unrestricted use, distribution, and reproduction in any medium, provided the original work is properly cited (CC BY 4.0).

Share & Cite This Article
MDPI and ACS Style
Godínez-Galaz, E.M.; Veyna-Salazar, N.P.; Olvera-Ramírez, A.M.; Milián-Suazo, F.; Perea-Razo, C.A.; Bernal-Reynaga, R.; Cantó-Alarcón, G.J. Prevalence and Zoonotic Potential of Giardia intestinalis in Dogs of the Central Region of Mexico. Animals 2019, 9, 325.
Note that from the first issue of 2016, MDPI journals use article numbers instead of page numbers. See further details here.
Related Articles
Comments
[Return to top]