Life-History Traits of the Black Soldier Fly,
Hermetia illucens

(L.) (Diptera: Stratiomyidae), Reared on Three Manure Types

Department of Entomology, Texas A&M University, 2475 TAMU, College Station, TX 77845, USA

*

Author to whom correspondence should be addressed.

Received: 26 February 2019 / Revised: 13 May 2019 / Accepted: 21 May 2019 / Published: 25 May 2019
Simple Summary
The growing global human population raises concern about future food security. Such growth may lead to an increase in animal production, which raises concern about waste management. Rearing insects on animal manure could be an efficient solution to manage animal waste; but a better understanding of bioconversion of different manure types by targeted insects is necessary in order to develop such systems. Black soldier fly larvae are voracious feeders that are capable of digesting a wide range of organic material, including manure. Previous research has demonstrated that black soldier flies can convert manure into valuable biomass (i.e., aquaculture and poultry feed) while reducing nutrients and dry matter by 50% or more, and odorous volatile compounds by up to 100%. The purpose of this study was to evaluate the performance of select life-history traits of black soldier fly larvae fed three types of manure (poultry, swine, and bovine). The results may supplement existing data or give new perspective on how this insect may be used for waste management while producing an alternative feed.
Abstract
Structural changes and growth of animal production systems have resulted in greater volumes of manure. Current manure storage methods pose a potential environmental threat. Lessening these issues is a key concern for the animal production industry. The primary aim of this research was to evaluate black soldier fly (BSF) performance when fed poultry, swine, or dairy manure at different rates (18 or 27 g/2 d until 40% prepupation). The results indicated that larvae fed with the control diet (Gainesville diet) were the heaviest (+31–70%); however, for other life-history traits, those fed the higher feed rate of poultry manure produced comparable results to the control. Larvae fed more resource, regardless of manure type, weighed more as larvae (+3–9%), pupae (+22–48%), and adults (+18–42%), developed faster (up to 3–4 d), had a higher percentage reach the prepupal stage (+2–16%), lived longer as adults (+1 d), and converted more resource to biomass (up to 1% more) than those fed at the lower rate. Yet, no difference was detected in dry matter (DM) reduction across feed rate for a given manure type. Based on these results, all three manure types can be digested by black soldier fly larvae, thus demonstrating their potential for waste management.
View Full-Text
►

▼

Figures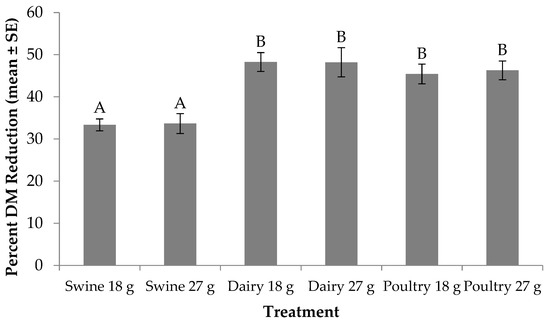 Figure 1
This is an open access article distributed under the
Creative Commons Attribution License
which permits unrestricted use, distribution, and reproduction in any medium, provided the original work is properly cited (CC BY 4.0).

Share & Cite This Article
MDPI and ACS Style
Miranda, C.D.; Cammack, J.A.; Tomberlin, J.K. Life-History Traits of the Black Soldier Fly, Hermetia illucens (L.) (Diptera: Stratiomyidae), Reared on Three Manure Types. Animals 2019, 9, 281.
Note that from the first issue of 2016, MDPI journals use article numbers instead of page numbers. See further details here.
Related Articles
Comments
[Return to top]