Effect of Dietary Supplementation of
Moringa Oleifera

on the Production Performance and Fecal Methanogenic Community of Lactating Dairy Cows

Beijing Key Laboratory for Dairy Cow Nutrition, Sino-US Joint Lab on Nutrition and Metabolism of Ruminants, Feed Research Institute, Chinese Academy of Agricultural Sciences, Key Laboratory of Feed Biotechnology of the Ministry of Agriculture, Beijing 100081, China

*

Author to whom correspondence should be addressed.

Received: 25 February 2019 / Revised: 9 May 2019 / Accepted: 20 May 2019 / Published: 22 May 2019
Simple Summary
High-quality forages such as protein-rich ingredients are essential to maximize production performance in dairy production. However, enteric methane produced by methanogenesis represents a substantial waste of feed energy for ruminants. Thus, it is important to evaluate the environmental effect when such feed ingredients are used to provide necessary nutrients. The aim of the present study was to examine the effects of dietary supplementation of Moringa oleifera on the production performance and fecal methanogenic community in lactating cows. The study's main results suggest that inclusion of Moringa oleifera improved milk fat content and changed the composition and diversity of methanogens. This study indicates that secondary metabolites from Moringa oleifera may regulate fermentation conditions and associations between some methanogens and other microbes. These findings provide basic information on the utilization of alternative forage resources for dairy cows and can help to better understand the regulation of microbial metabolic function and methane emissions.
Development of alternative forage resources is of great importance to provide necessary nutrients and minimize greenhouse gas emissions in ruminant production. The aim of this study was to examine the effects of dietary supplementation of
Moringa oleifera
on the production performance and fecal methanogenic community in dairy cows using methyl-coenzyme M reductase α-subunit gene. Sixty-four cows were allocated to one of four treatments: basal diet without
M. oleifera
(control) or low (3%
w/w
, M3), medium (6%, M6), or high (9%, M9) supplementation with
M. oleifera
. This study demonstrated that different supplementation levels of
Moringa oleifera
in the diet achieved similar feed intake and milk production, but adding 6% of
Moringa oleifera
improved milk fat content. Two families, two phyla, three genera, and three species in total were identified among the four treatments. The fecal archaeal community in the control treatment was predominated by
Methanobrevibacter
(39.1% of the total sequence reads) followed by
Methanosphaera
and
Methanocorpusculum
at the genus level. The increased abundance of the
Methanosphaera
genus and
Methanosphaera
sp. ISO3-F5 species was induced by secondary metabolites of
Moringa oleifera
in the diet. Results indicated that
Moringa oleifera
supplementation not only improved dairy product quality but could also potentially reduce methane emissions.
View Full-Text
►

▼

Show Figures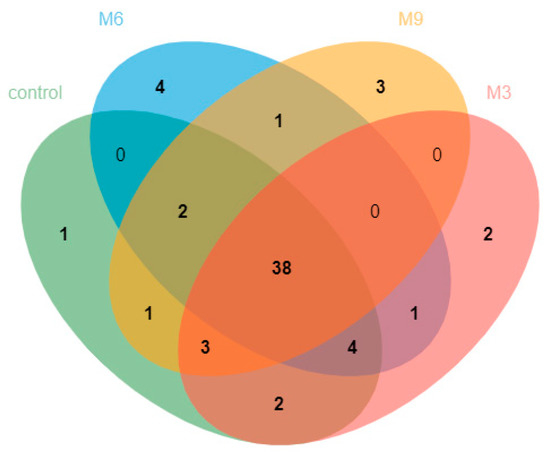 Figure 1
This is an open access article distributed under the
Creative Commons Attribution License
which permits unrestricted use, distribution, and reproduction in any medium, provided the original work is properly cited

Note that from the first issue of 2016, MDPI journals use article numbers instead of page numbers. See further details
here
.