Nucleus, Cytoskeleton, and Mitogen-Activated Protein Kinase p38 Dynamics during In Vitro Maturation of Porcine Oocytes
1
Department of Animal Science, National Chung Hsing University, Taichung 40227, Taiwan
2
Division of Animal Science, School of Agriculture and Natural Resources, University of Phayao, Phayao 56000, Thailand
3
Bachelor Program of Biotechnology, National Chung Hsing University, No. 250, Kuokuang Rd., Taichung 402, Taiwan
4
Department of Animal Science and Biotechnology, Tunghai University. 181, Sec. 3, Taichung Harbor Road, Taichung 407, Taiwan
5
Graduate Institute of Biomedical Sciences, China Medical University, Taichung 40402, Taiwan
6
Translational Medicine Research Center, China Medical University Hospital, Taichung 40402, Taiwan
7
Department of Bioinformatics and Medical Engineering, Asia University, Taichung 41354, Taiwan
*
Author to whom correspondence should be addressed.
†
These authors contributed equally to this study.
Received: 13 February 2019 / Revised: 10 April 2019 / Accepted: 11 April 2019 / Published: 13 April 2019
Simple Summary
The exact roles played by p38 during oocyte maturation are not completely known and is the main theme of this study. The subcellular localization of p-p38 was increased along the progression of porcine oocyte maturation. Alterations in p38 expression and activation appeared to participate in regulating oocyte maturation, along with the progressive reorganization of the cytoskeleton and redistribution of cytoplasmic p-p38.
Abstract
The mitogen-activated kinase (MAPK) p38, a member of the MAPK subfamily, is conserved in all mammalian cells and plays important roles in response to various physiologic cues, including mitogens and heat shock. In the present study, MAPK p38 protein expression in porcine oocytes was analyzed during in vitro maturation (IVM) by Western blotting and immunocytochemistry. The levels of p-p38 or activated p38 and p38 expression were at the lowest in the germinal vesicle (GV) stage oocyte, gradually rising at the germinal vesicle breakdown (GVBD) and then reaching a plateau throughout the IVM culture (
p
< 0.05). Similarly, the expression level of total p38 was also lower in the GV oocyte than in the oocyte of other meiotic stages and uprising after GVBD and remained high until the metaphase III (MII) stage (
p
< 0.05). In the GV stage, phosphorylated p38 (p-p38) was initially detectable in the ooplasm and subsequently became clear around the nucleus and localized in the ooplasm at GVBD (18 h post-culture). During the metaphase I (MI) and metaphase II (MII) stages, p-p38 was evenly distributed throughout the ooplasm after IVM for 30 or 42 h. We found that the subcellular localization increased in p-p38 expression throughout oocyte maturation (
p
< 0.05) and that dynamic reorganization of the cytoskeleton, including microfilaments and microtubules, was progressively changed during the course of meiotic maturation which was likely to be associated with the activation or networking of p38 with other proteins in supporting oocyte development. In conclusion, the alteration of p38 activation is essential for the regulation of porcine oocyte maturation, accompanied by the progressive reorganization and redistribution of the cytoskeleton and MAPK p38, respectively, in the ooplasm.
View Full-Text
►

▼

Figures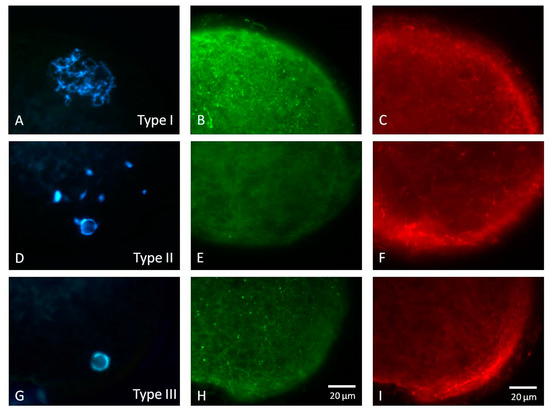 Figure 1
This is an open access article distributed under the
Creative Commons Attribution License
which permits unrestricted use, distribution, and reproduction in any medium, provided the original work is properly cited (CC BY 4.0).

Share & Cite This Article
MDPI and ACS Style
Intawicha, P.; Tsai, L.-K.; Yen, S.-Y.; Lo, N.-W.; Ju, J.-C. Nucleus, Cytoskeleton, and Mitogen-Activated Protein Kinase p38 Dynamics during In Vitro Maturation of Porcine Oocytes. Animals 2019, 9, 163.
Note that from the first issue of 2016, MDPI journals use article numbers instead of page numbers. See further details here.
Related Articles
Comments
[Return to top]