Grading Distress of Different Animal Models for Gastrointestinal Diseases Based on Plasma Corticosterone Kinetics
Rudolf-Zenker-Institute of Experimental Surgery, University Medical Center, 18057 Rostock, Germany
*
Author to whom correspondence should be addressed.
Received: 13 February 2019 / Revised: 25 March 2019 / Accepted: 31 March 2019 / Published: 3 April 2019
Simple Summary
Animal welfare is an important aspect of biomedical research. Many regulations have been implemented to combine high quality of research with minimal harm to laboratory animals. These guidelines also demand a prospective severity assessment of each animal model. A comparison of distress between animal models could allow realistic harm and benefit analysis and an appropriate use of refinement methods. However, studies comparing distress between different animal models are still rare. One good parameter for analyzing distress is the concentration of the stress hormone corticosterone in the blood. Therefore, we compared the corticosterone kinetics of distinct gastrointestinal animal models. The aim of this study was to evaluate which parameter the highest corticosterone concentration or the duration of increased stress hormone level could be used to quantify distress. We observed a significant increase of corticosterone 30 min after stress induction in all animal models. However, the corticosterone kinetics differed between the distinct interventions. Both the absolute value and the duration of increased corticosterone level correlated directly with an assessed distress score. We conclude that both variables of corticosterone kinetics are valid parameters to compare distress between animal models.
Abstract
Comparative studies for evaluating distress in established animal models are still rare. However, this issue is becoming more important as a consequence of worldwide appreciation of animal welfare. One good parameter for evaluating distress is the quantification of corticosterone. We hypothesized that not just the absolute value but also the duration of increased corticosterone concentration in the blood is an important aspect for evaluating animal distress. Therefore, we analyzed plasma corticosterone concentrations 30, 60, 120, and 240 min after induction of pancreatitis by cerulein, liver damage by carbon tetrachloride, liver damage by bile duct ligation, and after orthotopic injection of pancreatic cancer cells. We also evaluated corticosterone kinetics after injection of distinct carrier substances. Compared to phosphate buffered saline, dimethyl sulfoxide leads to dose-dependent higher and longer-lasting circulating corticosterone concentrations. In all disease models, we observed significantly increased corticosterone concentration 30 min after stress induction. However, the corticosterone kinetics differed among the animal models. Both the absolute value of corticosterone concentration and the duration correlated positively with the quantification of animal distress by a score sheet. This suggests that both variables of corticosterone kinetics might provide a solid basis for comparing and grading distress of different animal models.
View Full-Text
►

▼

Figures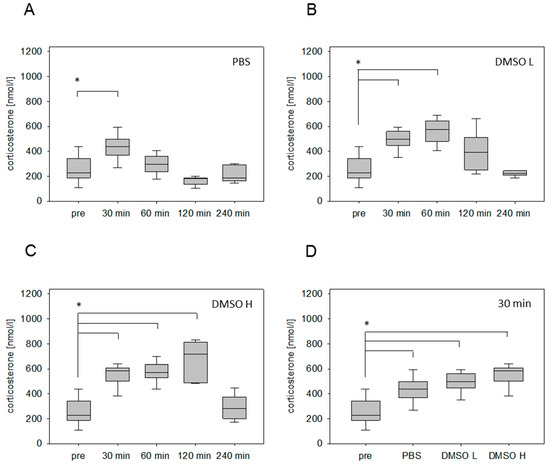 Figure 1
This is an open access article distributed under the
Creative Commons Attribution License
which permits unrestricted use, distribution, and reproduction in any medium, provided the original work is properly cited (CC BY 4.0).

Share & Cite This Article
MDPI and ACS Style
Kumstel, S.; Tang, G.; Zhang, X.; Kerndl, H.; Vollmar, B.; Zechner, D. Grading Distress of Different Animal Models for Gastrointestinal Diseases Based on Plasma Corticosterone Kinetics. Animals 2019, 9, 145.
Note that from the first issue of 2016, MDPI journals use article numbers instead of page numbers. See further details here.
Related Articles
Comments
[Return to top]