Data Mining and Validation of AMPK Pathway as a Novel Candidate Role Affecting Intramuscular Fat Content in Pigs
Jilin Provincial Key Laboratory of Animal Embryo Engineering, College of Animal Sciences, Jilin University, Changchun 130062, China
*
Authors to whom correspondence should be addressed.
†
These authors contributed equally to this work.
Received: 25 March 2019 / Revised: 26 March 2019 / Accepted: 27 March 2019 / Published: 1 April 2019
(This article belongs to the Section
Pig
)
Simple Summary
Intramuscular fat (IMF) is increasingly being recognized as a key meat trait in the modern pork industry. The aims of this research were to identify potential signaling pathways associated with IMF content in the longissimus dorsi (LD) muscle of different pig breeds and investigate the gene expression levels in the screened signaling pathways. Our results indicated that the AMPK signaling pathway may be related to IMF deposition in the LD muscle of pigs. The results of qRT-PCR analysis showed that the expression of ten key hub genes (AMPK, ADIPOR1, ADIPOR2, LKB1, CAMKKβ, CPT1A, CPT1B, PGC-1α, CD36, and ACC1) differed between the LD muscle of Min and Large White pigs. The protein expression levels of AMPK, LKB1, CaMKK2, CPT1A, and ACC1 were similar to the genes expression patterns in the LD muscle of Large White pigs. The results of this study provide novel insights into the regulatory function of the AMPK signaling pathway in relation to the IMF content in the LD muscle of different pigs.
Abstract
Intramuscular fat (IMF) is an important economic trait for pork quality and a complex quantitative trait regulated by multiple genes. The objective of this work was to investigate the novel transcriptional effects of a multigene pathway on IMF deposition in the longissimus dorsi (LD) muscles of pigs. Potential signaling pathways were screened by mining data from three gene expression profiles in the Gene Expression Omnibus (GEO) database. We designed quantitative real-time reverse transcription-polymerase chain reaction (qRT-PCR) arrays for the candidate signaling pathways to verify the results in the LD muscles of two pig breeds with different IMF contents (Large White and Min). Western blot analysis was used to detect the expression levels of several candidate proteins. Our results showed that the AMPK signaling pathway was screened via bioinformatics analysis. Ten key hub genes of this signaling pathway (
AMPK, ADIPOR1, ADIPOR2, LKB1, CAMKKβ, CPT1A, CPT1B, PGC-1α, CD36,
and
ACC1
) were differentially expressed between the Large White and Min pigs. Western blot analysis further confirmed that LKB1/CaMKK2-AMPK-ACC1-CPT1A axis dominates the activity of AMPK signaling pathway. Statistical analyses revealed that AMPK signaling pathway activity clearly varied among the two pig breeds. Based on these results, we concluded that the activation of the AMPK signaling pathway plays a positive role in reducing IMF deposition in pigs.
View Full-Text
►

▼

Figures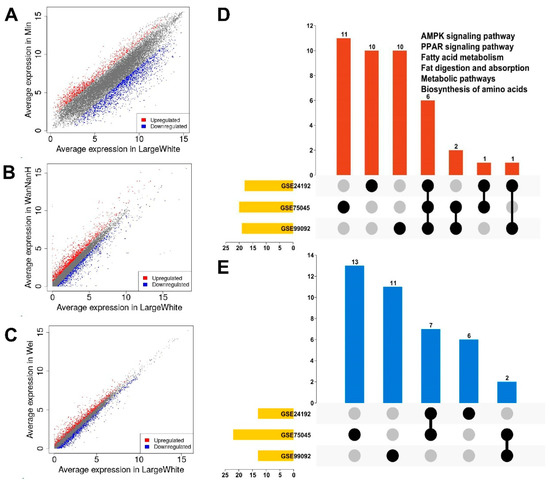 Figure 1
This is an open access article distributed under the
Creative Commons Attribution License
which permits unrestricted use, distribution, and reproduction in any medium, provided the original work is properly cited (CC BY 4.0).

Share & Cite This Article
MDPI and ACS Style
Yao, C.; Pang, D.; Lu, C.; Xu, A.; Huang, P.; Ouyang, H.; Yu, H. Data Mining and Validation of AMPK Pathway as a Novel Candidate Role Affecting Intramuscular Fat Content in Pigs. Animals 2019, 9, 137.
Note that from the first issue of 2016, MDPI journals use article numbers instead of page numbers. See further details here.
Related Articles
Comments
[Return to top]