Using the Footfall Sound of Dairy Cows for Detecting Claw Lesions
1
Institute for Animal Hygiene, Animal Welfare and Animal Behavior, University of Veterinary Medicine Hannover, Foundation, 30173 Hannover, Germany
2
Section of Agricultural and Biosystems Engineering, University of Kassel, 37213 Witzenhausen, Germany
*
Author to whom correspondence should be addressed.
Received: 11 January 2019 / Revised: 26 February 2019 / Accepted: 1 March 2019 / Published: 1 March 2019
Simple Summary
Claw lesions affect the health and well-being of dairy cows and are the third most frequent reason for culling. The most common method to identify cows affected by claw lesions is the assessment of locomotion. However, this requires apart from a trained observer a lot of time. And time is an important limiting factor especially with increasing herd sizes. Thus, regarding the detection of claw lesions, a sensor-assisted, automated system to be implemented on farms should be developed. This system analyzes the footfall sound of cows to distinguish lame from non-lame animals. Using a runway with sensors for recording the footfall sound, we found that cows with non-infectious diseases such as sole ulcers showed a less forceful gait pattern than healthy ones. It is known that particular cows with non-infectious diseases have a greater sensitivity to pain. Therefore the established system is capable of selecting cows that take more cautious steps. This character of abnormal gait pattern is in turn a sign of lameness. Therefore, the automated system as developed in this study is a promising tool for detecting lameness in dairy cows on farms.
An important factor for animal welfare in cattle farming is the detection of lameness. The presented study is part of a project aiming to develop a system that is capable of an automated diagnosis of claw lesions by analyzing the footfall sound. Data were generated from cows walking along a measurement zone where piezoelectric sensors recorded their footfall sounds. Locomotion of the animals was scored and they were graded according to a three-scale scoring system (LS1 = non-lame; LS2 = uneven gait; LS3 = lame). Subsequently, the cows were examined by a hoof trimmer. The walking speed across the test track was significantly higher in cows with LS1 compared to those with LS2 and LS3 and thus, they were showing a smoother gait pattern. The standard deviation of volume (SDV) in the recorded footfall sound signal was considered as a factor for the force of a cow's footsteps. Cows with non-infectious claw lesions showed lower SDV than healthy cows and those with infectious claw diseases. This outcome confirmed the hypothesis that the evaluated cows affected by non-infectious claw lesions have a greater sensitivity to pain and demonstrate a less forceful gait pattern. These first results clearly show the potential of using footfall sound analysis for detecting claw lesions.
View Full-Text
►

▼

Show Figures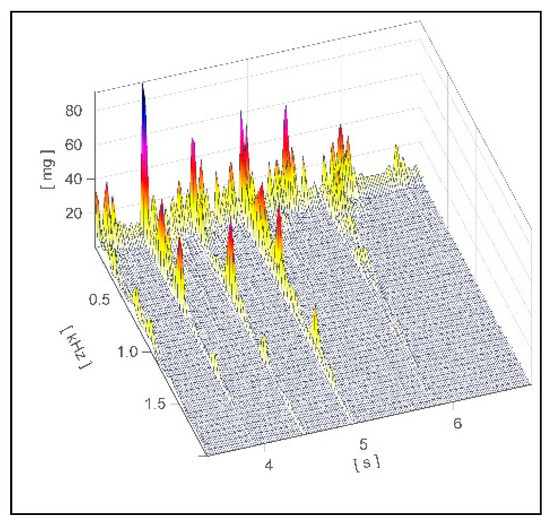 Figure 1
This is an open access article distributed under the
Creative Commons Attribution License
which permits unrestricted use, distribution, and reproduction in any medium, provided the original work is properly cited

Note that from the first issue of 2016, MDPI journals use article numbers instead of page numbers. See further details
here
.