Replacement of Fish Meal by Defatted Yellow Mealworm (
Tenebrio molitor

) Larvae in Diet Improves Growth Performance and Disease Resistance in Red Seabream (

Pargus major

)

1

Graduate School of Agriculture, Ehime University, 3-5-7, Tarumi, Matsuyama, Ehime 790-8566, Japan

2

South Ehime Fisheries Research Center, Ehime University, 1289-1, Funakoshi, Ainan, Ehime 798-4292, Japan

3

Department of Global Environment Studies, Faculty of Environmental Studies, Hiroshima Institute of Technology, 2-1-1 Miyake, Saeki, Hiroshima 731-5193, Japan

*

Author to whom correspondence should be addressed.

Received: 11 February 2019 / Revised: 1 March 2019 / Accepted: 17 March 2019 / Published: 19 March 2019
Simple Summary
Yellow mealworm is a potential novel protein source for sustainable food production, especially for aquaculture. In this study, the intake of a diet including defatted mealworm larvae was compared with a control diet containing fish meal from anchovy in a feeding trial with red seabream. As a result, the growth of red seabream fed the diet including defatted mealworm larvae with complete replacement of fish meal was higher than that of fish fed the control diet. Moreover, red seabreams fed diets including mealworm larvae gained disease resistance against pathogenic bacteria. The defatting process is thought to be important for insect-based diets, and the potential functional benefits for cultured fish from the diets, such as acquiring disease resistance, are remarkable.
Yellow mealworm (
Tenebrio molitor
) larvae are a potential alternative animal protein source for sustainable aquaculture. However, reports on the successful complete substitution of fish meal with yellow mealworm larvae in an aquaculture diet have been limited. In this study, we conducted a feeding trial with red seabream (
Pagrus major
) being fed diets with partial or complete replacement of fish meal with yellow mealworm larvae defatted with a hexane–ethanol solution. Feed intake in red seabream increased in accordance with yellow mealworm larvae inclusion, and diets including 65% defatted mealworm larvae (complete replacement of fish meal) showed significant growth promotion. The addition of the oil fraction from mealworm larvae to diets resulted in growth reduction, despite meeting the nutritional requirements of red seabream. Moreover, the survival rate of red seabreams fed diets with partial replacement of fish meal with mealworm larvae was significantly higher in a challenge test with pathogenic
Edwardsiella tarda
bacteria. The present study demonstrated that yellow mealworm larvae are not merely an alternative animal protein, but have potential as functional feed ingredients for aquaculture production.
View Full-Text
►

▼

Show Figures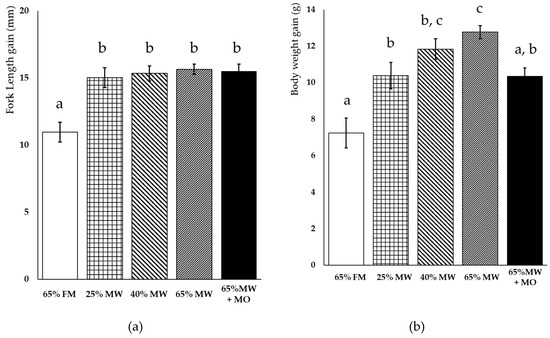 Figure 1
This is an open access article distributed under the
Creative Commons Attribution License
which permits unrestricted use, distribution, and reproduction in any medium, provided the original work is properly cited

MDPI and ACS Style
Ido, A.; Hashizume, A.; Ohta, T.; Takahashi, T.; Miura, C.; Miura, T. Replacement of Fish Meal by Defatted Yellow Mealworm (Tenebrio molitor) Larvae in Diet Improves Growth Performance and Disease Resistance in Red Seabream (Pargus major). Animals 2019, 9, 100.
Show more citation formats
Show less citations formats
Note that from the first issue of 2016, MDPI journals use article numbers instead of page numbers. See further details
here
.