Betaine Improves Milk Yield in Grazing Dairy Cows Supplemented with Concentrates at High Temperatures
Faculty of Veterinary and Agricultural Sciences, The University of Melbourne, Parkville, Victoria 3010, Australia
*
Author to whom correspondence should be addressed.
Received: 27 November 2018 / Revised: 26 January 2019 / Accepted: 10 February 2019 / Published: 13 February 2019
Simple Summary
Heat events during summer can result in dramatic reductions in milk production in grazing dairy cows as they attempt to reduce their accumulated heat load. Therefore, there is interest in dietary manipulations that can decrease heat production or increase heat dissipation. One of the actions of sugar beet-derived betaine is to act as an osmolyte and reduce intracellular ion pumping and heat production. Therefore, this study was conducted to investigate the effects of dietary betaine supplementation on milk and milk component production in grazing dairy cows during hot periods in summer.
Betaine is an organic osmolyte sourced from sugar beet that accumulates in plant cells undergoing osmotic stress. Since the accumulation of betaine lowers the energy requirements of animals and, therefore, metabolic heat production, the aim of this experiment was to investigate if betaine supplementation improved milk yield in grazing dairy cows in summer. One hundred and eighteen Friesian × Holstein cows were paired on days in milk and, within each pair, randomly allocated to a containing treatment of either 0 or 2 g/kg natural betaine in their concentrate ration for approximately 3 weeks during February/March 2015 (summer in Australia). The mean maximum February temperature was 30 °C. Cows were allocated approximately 14 kg dry matter pasture and 7.5 kg of concentrate pellets (fed in the milking shed) per cow per day and were milked through an automatic milking system three times per day. Betaine supplementation increased average daily milk yield by over 6% (22.0 vs. 23.4 kg/day,
p
< 0.001) with the response increasing as the study progressed as indicated by the interaction (
p
< 0.001) between betaine and day. Milk fat % (
p
= 0.87), milk protein % (
p
= 0.90), and milk somatic cell count (
p
= 0.81) were unchanged by dietary betaine. However, betaine supplementation increased milk protein yield (677 vs. 719 g/day,
p
< 0.001) and fat yield (874 vs. 922 g/day,
p
< 0.001) with responses again being more pronounced as the study progressed. In conclusion, dietary betaine supplementation increased milk and component yield during summer in grazing dairy cows.
View Full-Text
►

▼

Show Figures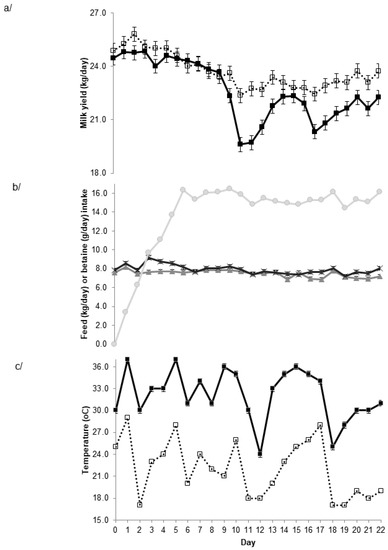 Figure 1
This is an open access article distributed under the
Creative Commons Attribution License
which permits unrestricted use, distribution, and reproduction in any medium, provided the original work is properly cited

MDPI and ACS Style
Dunshea, F.R.; Oluboyede, K.; DiGiacomo, K.; Leury, B.J.; Cottrell, J.J. Betaine Improves Milk Yield in Grazing Dairy Cows Supplemented with Concentrates at High Temperatures. Animals 2019, 9, 57.
Show more citation formats
Show less citations formats
Note that from the first issue of 2016, MDPI journals use article numbers instead of page numbers. See further details
here
.