Indirect Influence of African Swine Fever Outbreak on the Raven (
Corvus corax

) Population

1

Department of Forest Ecology, Forest Research Institute, Sękocin Stary, Braci Leśnej 3, 05-090 Raszyn, Poland

2

Department of Forest Zoology and Wildlife Management, Faculty of Forestry, Warsaw University of Life Sciences, Nowoursynowska 159, 02-776 Warszawa, Poland

*

Author to whom correspondence should be addressed.

Received: 7 November 2018 / Revised: 21 January 2019 / Accepted: 22 January 2019 / Published: 30 January 2019

(This article belongs to the Section

Wildlife

)
Simple Summary
The persecution of ravens ceased in the middle of the 20th century, and consequently their abundance started to rise in most European countries. Ravens are food opportunists that can eat plants, prey on animals, and feed on garbage dumps. However, carrion plays a crucial role in their diet. In Central Poland, the carrion of farm animals (disposed of illegally) was thought to be the main food source for ravens. This changed radically in February 2014, after the first case of African swine fever (ASF) in Poland, and the introduction of strict procedures for the utilization of pig and wild boar carcasses to stop the spread of the virus. This decrease in carrion availability influenced the raven population; ravens changed their diet, i.e., instead of feeding on the carrion of pigs (previously their main dietary component), they ate (among others) the carrion of domestic dogs and cats, and also preyed on small vertebrates. Consequently, the number of breeding raven pairs decreased, and birds produced fewer fledglings. This research showed how certain human activities influence wildlife. The illegal disposal of dead animals, motivated by the desire to save money, resulted in abundant food sources for ravens and an increase in population size.
Abstract
Carrion plays a crucial role in the raven's diet. In the past, domestic pig carrion was widely available in Poland. This changed with an African swine fever (ASF) outbreak and the introduction of strict procedures aimed at stopping the virus from spreading. We compared data from Central Poland (field and forest mosaic, study area of 105 km
2
) for two periods, i.e., before (2011–2014) and after the ASF outbreak (2015–2018). In breeding seasons, nests of ravens were found, juveniles were counted, and the time when juveniles left their nests was recorded. Diet composition data were based on pellet analysis and direct observations of feeding birds. The number of breeding pairs dropped from 12.3 to 7.5 in the second period. Breeding parameters were similar. However, birds in the second period had fewer fledglings per successful pair. Domestic pig carrion was found to be an important food item, and with its limited supply, ravens changed their diet, i.e., they fed on the carrion of dogs and cats or preyed on small vertebrates more often. Overall, our study points to a crucial role of the availability of the carrion of big farm animals (i.e., domestic pig) in maintaining the high density of breeding raven populations.
View Full-Text
►

▼

Figures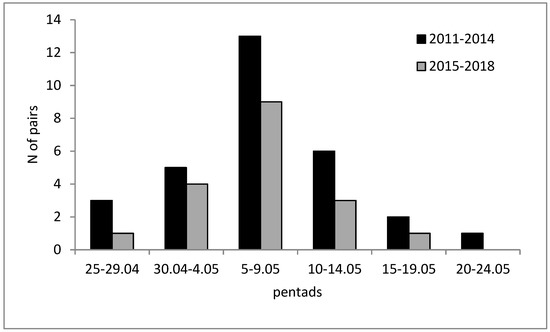 Figure 1
This is an open access article distributed under the
Creative Commons Attribution License
which permits unrestricted use, distribution, and reproduction in any medium, provided the original work is properly cited (CC BY 4.0).

Share & Cite This Article
MDPI and ACS Style
Gryz, J.; Krauze-Gryz, D. Indirect Influence of African Swine Fever Outbreak on the Raven (Corvus corax) Population. Animals 2019, 9, 41.
Note that from the first issue of 2016, MDPI journals use article numbers instead of page numbers. See further details here.
Related Articles
Comments
[Return to top]