Practice of Noseband Use and Intentions towards Behavioural Change in Dutch Equestrians
1
Department of Applied Research, Aeres University of Applied Sciences, P.O. Box 374, 9250 AJ Dronten, The Netherlands
2
Behavioural Biology, Groningen Institute for Evolutionary Life Sciences, University of Groningen, Nijenborgh 7, 9747 AG Groningen, The Netherlands
*
Author to whom correspondence should be addressed.
Received: 24 October 2019 / Revised: 6 December 2019 / Accepted: 9 December 2019 / Published: 12 December 2019
Simple Summary
The space between the noseband and the skin of competition horses is a current welfare issue. The practices regarding the noseband tightness of Dutch horses was studied, as well as the intentions of Dutch equestrians when fastening the noseband. More than half (59%) of Dutch riders had their horses' nosebands tightened according to the new two-finger regulation, implemented 1 April 2019. Dressage horses and older horses wore less tight nosebands compared to show jumping and younger horses. Results of an internet survey on intentions for noseband use showed that 54.5% of the respondents agreed with the new regulation and 62% believe that it will improve horse welfare. The respondents could be categorised into three different groups that differed regarding their own attitude towards noseband tightening behaviour, how peer pressure may affect noseband tightening behaviour, and how they perceived the new regulation. To improve horse welfare, knowledge transfer should include different strategies for different groups. Moreover, to convince equestrians to adhere to, and ensure a successful implementation of, the new regulation, transparency and objective measurements should be put in place.
Understanding equestrians' noseband tightening practices and intentions is necessary to target welfare improvement strategies. Firstly, we measured tightness in dressage and show jumping horses in The Netherlands, shortly after implementation of the two-finger rule by the Royal Dutch Equestrian Federation. Noseband tightness decreased with age, was less tight in dressage horses than in show jumpers, and was dependent on the interaction between competition level and discipline. Fifty-nine percent of the riders tightened nosebands to such an extent that they adhered to the new regulation. Secondly, we conducted an online survey to gain insight into whether riders were aware of noseband use and tightening behaviour. Of the 386 respondents, 54.5% agreed with the new regulations, and 62% believe that it improves horses' welfare. Applying cluster analysis to statements regarding their own attitude, peer pressure, and behavioural control produced three clusters. Noticeably, a lower percentage of Cluster 1 respondents (38%) performing at higher levels was convinced that the new regulation improved welfare than Cluster 2 (77.9%) and 3 (89.0%) respondents. Designing strategies to ensure the successful implementation of the new regulation and to convince equestrians to comply would be most effective if targeted differentially, and should include a transparent and objective form of regulation.
View Full-Text
►

▼

Show Figures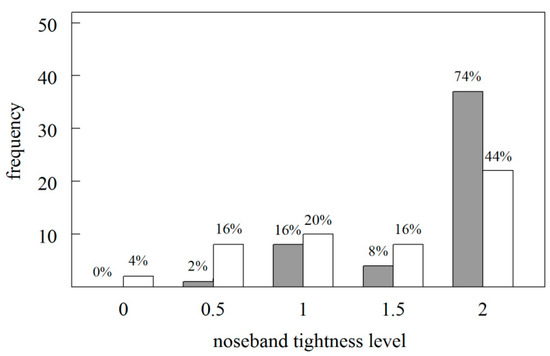 Figure 1
This is an open access article distributed under the
Creative Commons Attribution License
which permits unrestricted use, distribution, and reproduction in any medium, provided the original work is properly cited

Note that from the first issue of 2016, MDPI journals use article numbers instead of page numbers. See further details
here
.