Serum Concentrations of AMH and E2 and Ovarian and Uterine Traits in Gilts
1
Sydney School of Veterinary Science, Faculty of Science, The University of Sydney, Camden, NSW 2570, Australia
2
Australian Pork Limited, Barton, ACT 2600, Australia
*
Author to whom correspondence should be addressed.
Received: 27 September 2019 / Accepted: 8 October 2019 / Published: 15 October 2019
Simple Summary
Poor sow retention is a common issue amongst piggeries that creates excessive wastage. Premature culling is largely attributed to reproductive inadequacy. Thus, it is clear the traditional methods for selecting breeding females are inefficient and early markers of reproductive success are required. The aim of this study was to examine whether circulating levels of anti-Müllerian hormone and oestradiol could be useful indicators of ovarian and uterine traits in young gilts. The findings suggest that at a young age, anti-Müllerian hormone could be used to mark the ovarian reserve. Further research into whether the two hormones could be used to mark uterine capacity is needed.
Poor sow retention due to reproductive failure is a common reproductive inefficiency amongst piggeries. This shows that traditional methods of gilt selection are inadequate and a marker of reproductive success is needed. The aim of this study was to determine whether circulating levels of AMH and E2 at D80 and D160 are associated with uterine and ovarian traits at D160. Uterine weight, horn length and horn diameter were measured, and ovarian follicle counts were determined histologically. There was a negative relationship between both D80 and D160 AMH levels and D160 ovarian follicle populations. There was also a positive relationship between D80 E2 levels and uterine capacity in gilts that were pubertal at D160. The findings indicate that D80 and D160 AMH could be used to predict ovarian reserve and that D80 E2 levels may be indicative of uterine capacity in precocial gilts.
View Full-Text
►

▼

Show Figures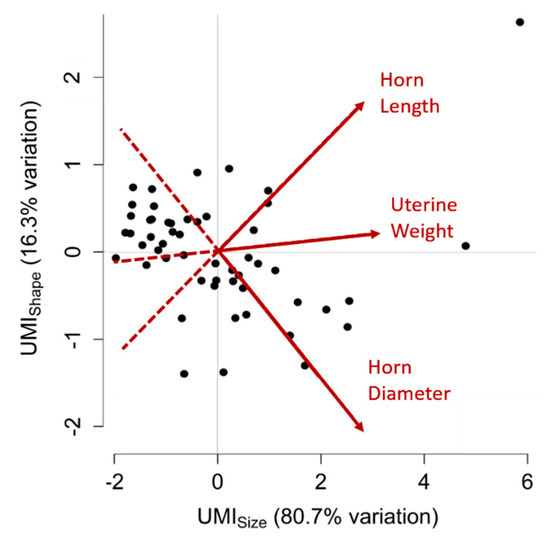 Figure 1
This is an open access article distributed under the
Creative Commons Attribution License
which permits unrestricted use, distribution, and reproduction in any medium, provided the original work is properly cited

Note that from the first issue of 2016, MDPI journals use article numbers instead of page numbers. See further details
here
.