Effect of Feeding Cold-Pressed Sunflower Cake on Ruminal Fermentation, Lipid Metabolism and Bacterial Community in Dairy Cows
1
NEIKER-Granja Modelo de Arkaute, Apdo. 46., 01080 Vitoria-Gasteiz, Spain
2
CICbioGUNE. Parque Científico Tecnológico de Bizkaia, Ed. 801A. Derio, 48160 Bizkaia, Spain
*
Authors to whom correspondence should be addressed.
Received: 14 August 2019 / Revised: 11 September 2019 / Accepted: 27 September 2019 / Published: 1 October 2019
Simple Summary
The use of cold-pressed sunflower cake, a by-product of small-scale biodiesel manufacturing, as a substitute for prilled palm fat in dairy cows' diet, can reduce the extent of unsaturated fatty acid biohydrogenation This favors an accumulation of vaccenic acid in the rumen concomitant with a greater daily duodenal microbial N flow and all without impairing ruminal fermentation, microbial diversity or abundance of dominant populations. In the present study, only changes in relative abundances of less-representative genera were induced.
Cold-pressed sunflower cake (CPSC), by-product of oil-manufacturing, has high crude fat and linoleic acid concentrations, being a promising supplement to modulate rumen fatty acid (FA) profile. This trial studied CPSC effects on ruminal fermentation, biohydrogenation and the bacterial community in dairy cows. Ten cows were used in a crossover design with two experimental diets and fed during two 63-day periods. The cows were group fed forage ad libitum and the concentrate individually. The concentrates, control and CPSC, were isoenergetic, isoproteic and isofat. The ruminal samples collected at the end of each experimental period were analyzed for short-chain fatty acid, FA and DNA sequencing. CPSC decreased butyrate molar proportion (4%,
p
= 0.005). CPSC decreased C16:0 (28%,
p
< 0.001) and increased C18:0 (14%,
p
< 0.001) and total monounsaturated FA, especially C18:1 trans-11 (13%,
p
= 0.023). The total purine derivative excretion tended to be greater (5%,
p
= 0.05) with CPSC, resulting in a 6% greater daily microbial N flow. CPSC did not affect the diversity indices but increased the relative abundances of
Treponema
and
Coprococcus
, and decreased
Enterococcus
,
Ruminococcus
and
Succinivibrio
. In conclusion, the changes in ruminal fermentation and the FA profile were not associated with changes in microbial diversity or abundance of dominant populations, however, they might be associated with less abundant genera.
View Full-Text
►

▼

Show Figures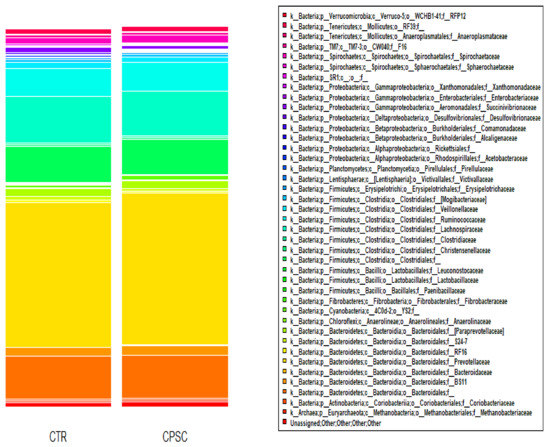 Figure 1
This is an open access article distributed under the
Creative Commons Attribution License
which permits unrestricted use, distribution, and reproduction in any medium, provided the original work is properly cited

MDPI and ACS Style
Zubiria, I.; Garcia-Rodriguez, A.; Atxaerandio, R.; Ruiz, R.; Benhissi, H.; Mandaluniz, N.; Lavín, J.L.; Abecia, L.; Goiri, I. Effect of Feeding Cold-Pressed Sunflower Cake on Ruminal Fermentation, Lipid Metabolism and Bacterial Community in Dairy Cows. Animals 2019, 9, 755.
Show more citation formats
Show less citations formats
Note that from the first issue of 2016, MDPI journals use article numbers instead of page numbers. See further details
here
.
Supplementary File 1:

ZIP-Document (ZIP, 93 KB)

Externally hosted supplementary file 1
Doi: 10.5281/zenodo.3356548
Description: SFigure1. OTUs at genus level significantly different (p<0.05) between rumen samples of cows fed control and cold-pressed sunflower cake in the first period of the experiment (n=5) SFigure2. Relationships between clusters of bacterial genus and rumen short-chain fatty acids independently of treatment. This bipartite network was based on the regularized canonical correlations between relative bacterial abundances and relative concentrations of rumen short-chain fatty acids. Interactions have been filtered for an absolute correlation above 0.55 and are colored following the key shown.