Animals 2019, 9(1), 19; https://doi.org/10.3390/ani9010019 (registering DOI)
Role of Maternal Dietary Protein and Amino Acids on Fetal Programming, Early Neonatal Development, and Lactation in Swine
1
Guangdong Province Key Laboratory of Animal Nutrition Control, College of Animal Science, South China Agricultural University, Guangzhou 510642, China
2
College of Animal Science and National Engineering Research Center for Breeding Swine Industry, South China Agricultural University, Guangzhou 510642, China
3
College of Animal Science, South China Agricultural University, Wushan Avenue, Tianhe District, Guangzhou 510642, China
*
Author to whom correspondence should be addressed.
Received: 3 December 2018 / Revised: 8 January 2019 / Accepted: 9 January 2019 / Published: 13 January 2019
Simple Summary
Dietary protein is an important nutrient source for sows, necessary for not only growth and production, but also other physiological functions. Protein limitations in maternal diets have the potential to impair fetal myogenesis, while excess maternal dietary protein appears to only have minor effects on early fetal muscle formation. Effects of maternal protein deficiency on increased fat deposition in porcine neonates is inconsistent with gene expressions in the neonates. Sufficient maternal dietary protein can enhance porcine milk protein and fat concentration. Understanding the function of protein and amino acids in sows and the effects on their offspring can provide rational approaches for the regulation of piglet growth and further improvements in meat quality in the future.
Abstract
Maternal nutrition plays a vital role in fetal development, early development of neonates, and lactation and regulates the lifetime productivity of offspring. During pregnancy, maternal nutrition alters expression of the fetal genome and the development of tissues and organs via fetal programming. After parturition, maternal nutrition continues to regulate growth and development of piglets through maternal milk, which contains carbohydrates, lipids, proteins and oligosaccharides. Thus, deficiencies in maternal nutrition are detrimental to development of piglets, which can lead to inefficient growth and decreased carcass merit. Protein is an important nutritional component for sows, which not only functions in muscle development, but also plays a vital role in embryonic and neonatal development and lactation. Although effects of maternal undernutrition on neonatal development have been widely studied in sows, the function of different maternal dietary protein levels on fetal development, neonatal growth and lactation performance of sows is largely unknown. Determination of the effects and underlying mechanisms of maternal dietary protein levels on development of piglets is vital to the pork industry. Therefore, we summarized recent reports regarding mechanisms of effects of maternal protein levels on regulation of conceptus growth and early postnatal development though uterine fetal programming and lactation in swine.
View Full-Text
►

▼

Figures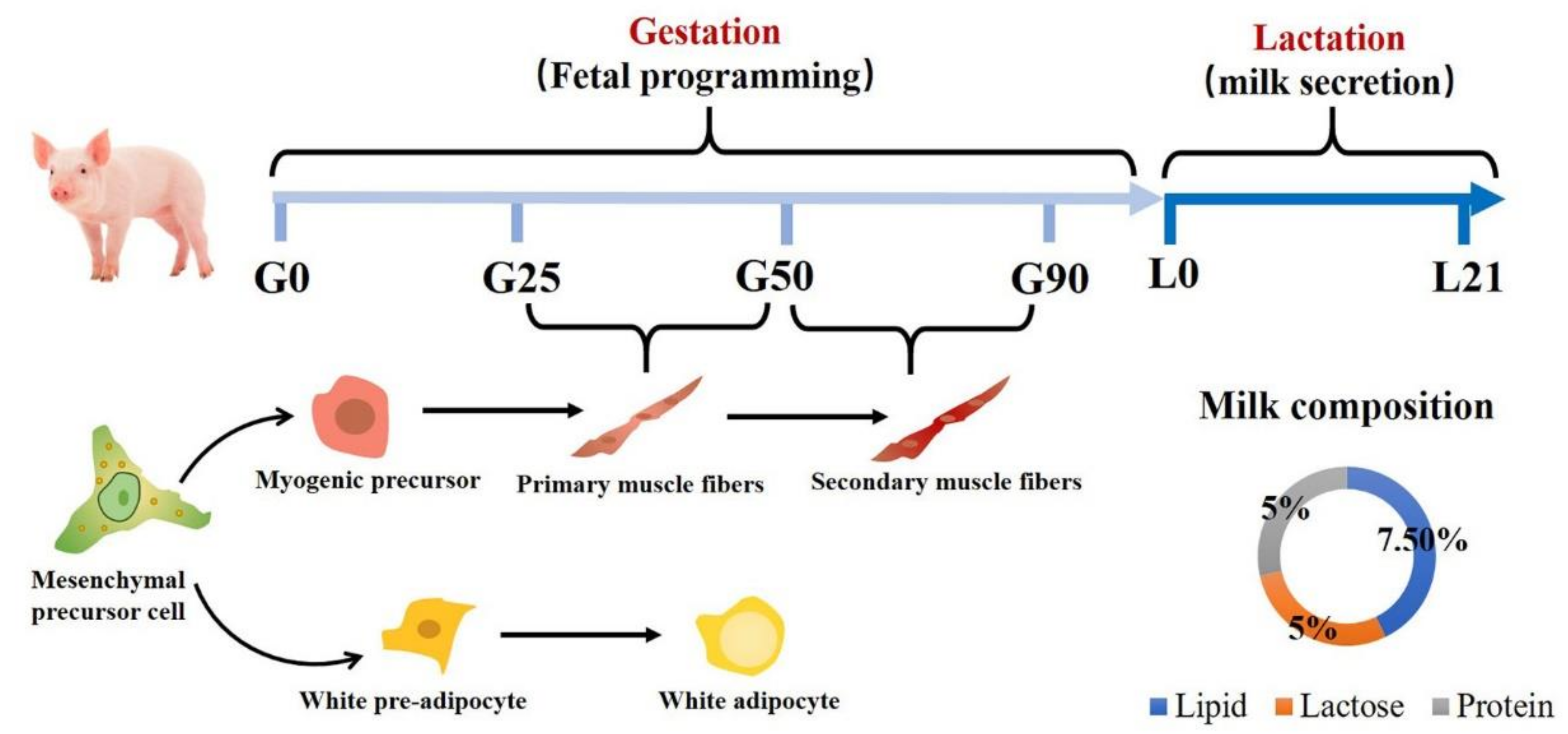 Figure 1
This is an open access article distributed under the
Creative Commons Attribution License
which permits unrestricted use, distribution, and reproduction in any medium, provided the original work is properly cited (CC BY 4.0).
Share & Cite This Article
MDPI and ACS Style
Zhang, S.; Heng, J.; Song, H.; Zhang, Y.; Lin, X.; Tian, M.; Chen, F.; Guan, W. Role of Maternal Dietary Protein and Amino Acids on Fetal Programming, Early Neonatal Development, and Lactation in Swine. Animals 2019, 9, 19.
Note that from the first issue of 2016, MDPI journals use article numbers instead of page numbers. See further details here.
Related Articles
Comments
[Return to top]