Auditory–Visual Matching of Conspecifics and Non-Conspecifics by Dogs and Human Infants
1
Institute of Cognitive Neuroscience and Psychology, Hungarian Academy of Sciences, 1117 Budapest, Hungary
2
Faculty of Education and Psychology, Eötvös Loránd University, 1064 Budapest, Hungary
*
Author to whom correspondence should be addressed.
Received: 5 November 2018 / Revised: 17 December 2018 / Accepted: 2 January 2019 / Published: 7 January 2019
Simple Summary
Comparative investigations on infants' and dogs' social and communicative skills revealed striking similarity, which can be attributed to convergent evolutionary and domestication processes. Using a suitable experimental method that allows systematic and direct comparisons of dogs and humans is essential. In the current study, we used non-invasive eye-tracking technology in order to investigate looking behaviour of dogs and human infants in an auditory–visual matching task. We found a similar gazing pattern in the two species when they were presented with pictures and vocalisations of a dog and a female human, that is, both dogs and infants looked longer at the dog portrait during the dog's bark, while matching human speech with the human face was less obvious. Our results suggested different mechanisms underlying this analogous behaviour and highlighted the importance of future investigations into cross-modal cognition in dogs and humans.
We tested whether dogs and 14–16-month-old infants are able to integrate intersensory information when presented with conspecific and heterospecific faces and vocalisations. The looking behaviour of dogs and infants was recorded with a non-invasive eye-tracking technique while they were concurrently presented with a dog and a female human portrait accompanied with acoustic stimuli of female human speech and a dog's bark. Dogs showed evidence of both con- and heterospecific intermodal matching, while infants' looking preferences indicated effective auditory–visual matching only when presented with the audio and visual stimuli of the non-conspecifics. The results of the present study provided further evidence that domestic dogs and human infants have similar socio-cognitive skills and highlighted the importance of comparative examinations on intermodal perception.
View Full-Text
►

▼

Show Figures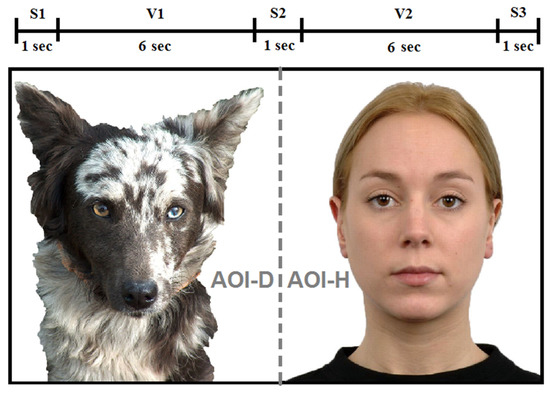 Figure 1
This is an open access article distributed under the
Creative Commons Attribution License
which permits unrestricted use, distribution, and reproduction in any medium, provided the original work is properly cited

Note that from the first issue of 2016, MDPI journals use article numbers instead of page numbers. See further details
here
.