Human Demonstration Does Not Facilitate the Performance of Horses (
Equus caballus

) in a Spatial Problem-Solving Task

1

Centre for Proper Housing of Ruminants and Pigs, Federal Food Safety and Veterinary Office FSVO, Agroscope Tänikon, 8356 Ettenhausen, Switzerland

2

Kantonsschlue Kollegium Schwyz, Kollegiumstrasse 24, 6430 Schwyz, Switzerland

3

Leibniz Institute for Farm Animal Biology, Institute of Behavioural Physiology, Wilhelm-Stahl-Allee 2, 18196 Dummerstorf, Germany

*

Authors to whom correspondence should be addressed.

Received: 8 May 2018 / Revised: 8 June 2018 / Accepted: 12 June 2018 / Published: 13 June 2018
Simple Summary
Horses were confronted with a spatial problem-solving task in which they had to detour an obstacle. Individuals that observed a human demonstrating how to solve the task did not solve the task more often or faster compared with a control group without demonstration. However, horses of both the treatment and control group detoured the obstacle faster over trials. Together with previous research, our results illustrate that horses do not seem to rely on social information when solving a spatial problem-solving task.
Horses' ability to adapt to new environments and to acquire new information plays an important role in handling and training. Social learning in particular would be very adaptive for horses as it enables them to flexibly adjust to new environments. In the context of horse handling, social learning from humans has been rarely investigated but could help to facilitate management practices. We assessed the impact of human demonstration on the spatial problem-solving abilities of horses during a detour task. In this task, a bucket with a food reward was placed behind a double-detour barrier and 16 horses were allocated to two test groups of 8 horses each. One group received a human demonstration of how to solve the spatial task while the other group received no demonstration. We found that horses did not solve the detour task more often or faster with human demonstration. However, both test groups improved rapidly over trials. Our results suggest that horses prefer to use individual rather than social information when solving a spatial problem-solving task.
View Full-Text
►

▼

Show Figures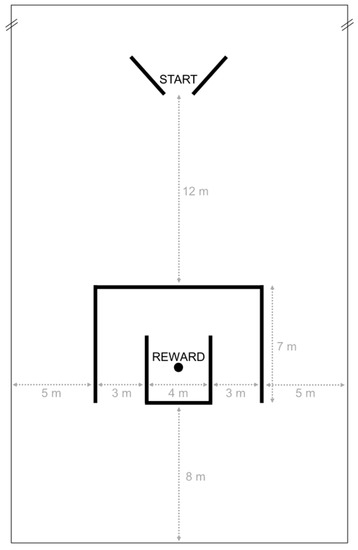 Figure 1
This is an open access article distributed under the
Creative Commons Attribution License
which permits unrestricted use, distribution, and reproduction in any medium, provided the original work is properly cited

Note that from the first issue of 2016, MDPI journals use article numbers instead of page numbers. See further details
here
.