Encoding of Emotional Valence in Wild Boar (
Sus scrofa

) Calls

1

Division of Animal Welfare, Veterinary Public Health Institute, Vetsuisse Faculty, University of Bern, Länggassstrasse 120, 3012 Bern, Switzerland

2

Institute of Agricultural Sciences, ETH Zürich, Universitätsstrasse 2, 8092 Zürich, Switzerland

3

Agroscope, Swiss National Stud Farm, Les longs prés, 1580 Avenches, Switzerland

4

Animal Husbandry, Albrecht Daniel Thaer-Institut, Faculty of Life Sciences, Humboldt-Universität zu Berlin, Philippstrasse 13, 10115 Berlin, Germany

*

Authors to whom correspondence should be addressed.

Received: 30 April 2018 / Revised: 30 May 2018 / Accepted: 1 June 2018 / Published: 5 June 2018
Simple Summary
Animal welfare today is assessed based on both the physical and mental health of animals. However, measuring animal mental health, which includes emotions (i.e., short-term positive or negative reactions to specific events), remains a challenge. Since animals are known to use vocalizations to communicate their emotions to their peers, knowledge about how the structure of vocalizations changes with emotions could be very useful in order to develop noninvasive indicators for assessing animal welfare under captive conditions. The aim of this study was thus to investigate if the type of calls (i.e., grunt, scream, or squeal) or the acoustic structure of the calls emitted by captive wild boars changed according to the emotions they were experiencing. We found that wild boars used different types of calls in positive and negative situations. We also found that their acoustic structure changed according to the emotions. Indeed, calls produced in positive situations were generally shorter and at lower frequencies than those produced in negative situations. It thus seems that wild boars express their emotional state through their vocalizations. Overall, our study gives us better knowledge about how the emotions of captive wild boars could be assessed, and how this compares to domestic pigs.
Measuring emotions in nonhuman mammals is challenging. As animals are not able to verbally report how they feel, we need to find reliable indicators to assess their emotional state. Emotions can be described using two key dimensions: valence (negative or positive) and arousal (bodily activation or excitation). In this study, we investigated vocal expression of emotional valence in wild boars (
Sus scrofa
). The animals were observed in three naturally occurring situations: anticipation of a food reward (positive), affiliative interactions (positive), and agonistic interactions (negative). Body movement was used as an indicator of emotional arousal to control for the effect of this dimension. We found that screams and squeals were mostly produced during negative situations, and grunts during positive situations. Additionally, the energy quartiles, duration, formants, and harmonicity indicated valence across call types and situations. The mean of the first and second formants also indicated valence, but varied according to the call type. Our results suggest that wild boars can vocally express their emotional states. Some of these indicators could allow us to identify the emotional valence that wild boars are experiencing during vocal production and thus inform us about their welfare.
View Full-Text
►

▼

Show Figures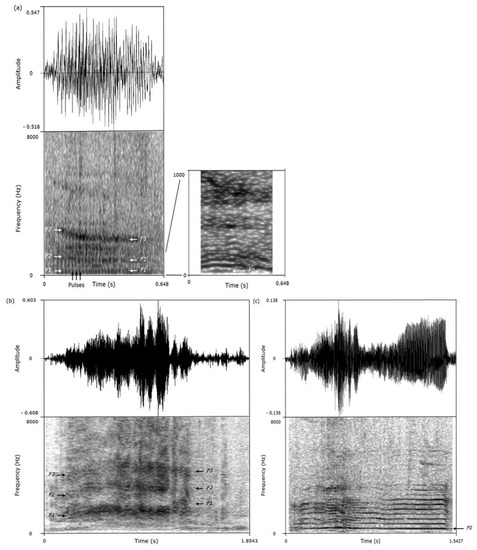 Figure 1
This is an open access article distributed under the
Creative Commons Attribution License
which permits unrestricted use, distribution, and reproduction in any medium, provided the original work is properly cited

MDPI and ACS Style
Maigrot, A.-L.; Hillmann, E.; Briefer, E.F. Encoding of Emotional Valence in Wild Boar (Sus scrofa) Calls. Animals 2018, 8, 85. https://doi.org/10.3390/ani8060085
AMA Style
Maigrot A-L, Hillmann E, Briefer EF. Encoding of Emotional Valence in Wild Boar (Sus scrofa) Calls. Animals. 2018; 8(6):85. https://doi.org/10.3390/ani8060085
Chicago/Turabian Style
Maigrot, Anne-Laure; Hillmann, Edna; Briefer, Elodie F. 2018. "Encoding of Emotional Valence in Wild Boar (Sus scrofa) Calls" Animals 8, no. 6: 85. https://doi.org/10.3390/ani8060085
Note that from the first issue of 2016, MDPI journals use article numbers instead of page numbers. See further details
here
.