Investigating Home Range, Movement Pattern, and Habitat Selection of Bar-headed Geese during Breeding Season at Qinghai Lake, China
1
University of Chinese Academy of Sciences, Beijing 100049, China
2
e-Science Technology and Application Laboratory, Computer Network Information Center, Chinese Academy of Sciences, Beijing 100190, China
3
U.S. Geological Survey, Western Ecological Research Center, Vallejo, CA 94592, USA
4
U.S. Geological Survey, Patuxent Wildlife Research Center, Beltsville, MD 20705, USA
5
Suisun Resource Conservation District, Suisun City, CA 94585, USA
6
Food and Agriculture Organization of the United Nations, Regional Office for Africa, Accra, GA015, Ghana
7
Natural Systems Analysts, Winter Park, FL 32789, USA
*
Author to whom correspondence should be addressed.
Received: 17 September 2018 / Revised: 5 October 2018 / Accepted: 12 October 2018 / Published: 18 October 2018
Simple Summary
The Bar-headed Goose is an important species in Asia, both culturally and ecologically. While prior studies have shown Qinghai Lake supports one of the largest breeding areas for Bar-headed Geese, little is known regarding the species movement ecology during the breeding season. In this study, we examined Bar-headed Goose home range size within the breeding grounds at Qinghai Lake and documented their daily movement patterns and habitat selection. We also identified several key breeding sites surrounding Qinghai Lake. Our research provides valuable information on this sensitive species that could help develop the strategy for waterfowl conservation and disease control.
Abstract
The Bar-headed Goose is the only true goose species or Anserinae to migrate solely within the Central Asian Flyway, and thus, it is an ideal species for observing the effects of both land use and climate change throughout the flyway. In this paper, we investigate the home range, movement pattern, and habitat selection of Bar-headed Geese (
Anser indicus
) during the breeding season at Qinghai Lake, which is one of their largest breeding areas and a major migration staging area in the flyway. We identified several areas used by the geese during the breeding season along the shoreline of Qinghai Lake and found that most geese had more than one core use area and daily movements that provided insight into their breeding activity. We also observed the intensive use of specific wetlands and habitats near Qinghai Lake. These data provide interesting insights into the movement ecology of this important species and also provide critical information for managers seeking to understand and respond to conservation concerns threatening Bar-headed Geese, such as landscape and habitat changes.
View Full-Text
►

▼

Figures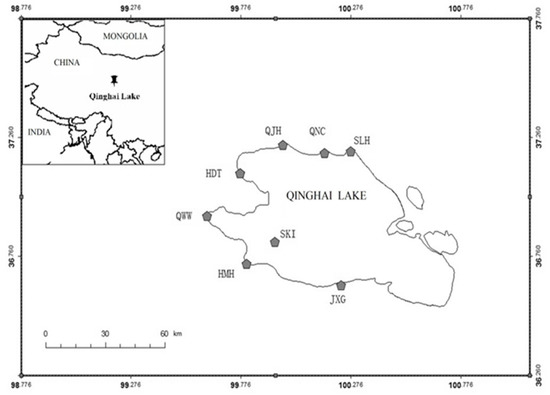 Figure 1
This is an open access article distributed under the
Creative Commons Attribution License
which permits unrestricted use, distribution, and reproduction in any medium, provided the original work is properly cited (CC BY 4.0).

Share & Cite This Article
MDPI and ACS Style
Zheng, R.; Smith, L.M.; Prosser, D.J.; Takekawa, J.Y.; Newman, S.H.; Sullivan, J.D.; Luo, Z.; Yan, B. Investigating Home Range, Movement Pattern, and Habitat Selection of Bar-headed Geese during Breeding Season at Qinghai Lake, China. Animals 2018, 8, 182.
Note that from the first issue of 2016, MDPI journals use article numbers instead of page numbers. See further details here.
Related Articles
Comments
[Return to top]