Field Propagation Experiments of Male African Savanna Elephant Rumbles: A Focus on the Transmission of Formant Frequencies
1
Mammal Communication Lab, Department of Cognitive Biology, University of Vienna, Vienna 1090, Austria
2
ENES Lab, Neuro-PSI, CNRS UMR 9197, University of Lyon/Saint Etienne, 42023 Saint Etienne, France
3
Department of Psychology, University of Cambridge, Cambridge CB2 3EB, UK
4
Department of Psychotherapy, Bertha von Suttner University, St. Poelten 3100, Austria
*
Authors to whom correspondence should be addressed.
Received: 27 August 2018 / Revised: 23 September 2018 / Accepted: 25 September 2018 / Published: 30 September 2018
(This article belongs to the Section
Wildlife
)
Simple Summary
African savanna elephants are highly social and exhibit a complex vocal communication system. They use a low-frequency contact call (termed 'rumble') to maintain social contact over long distances. As sound travels through the environment, however, its intensity level decreases. We used specialized computer software to manipulate acoustic components in male rumbles and simulated different body sizes (large and small). The rumbles were broadcasted and re-recorded at different distances at the Addo Elephant National Park, South Africa. This propagation experiment enabled us to investigate which acoustic components and information content can be transmitted efficiently up to 1.5 km. The results confirm that male rumbles potentially encode information about body size, yet transmission success decreased with distance. Our findings inform on how the environment can influence propagation of savanna elephant rumbles and what kind of information might be transmitted successfully over distance.
African savanna elephants live in dynamic fission–fusion societies and exhibit a sophisticated vocal communication system. Their most frequent call-type is the 'rumble', with a fundamental frequency (which refers to the lowest vocal fold vibration rate when producing a vocalization) near or in the infrasonic range. Rumbles are used in a wide variety of behavioral contexts, for short- and long-distance communication, and convey contextual and physical information. For example, maturity (age and size) is encoded in male rumbles by formant frequencies (the resonance frequencies of the vocal tract), having the most informative power. As sound propagates, however, its spectral and temporal structures degrade progressively. Our study used manipulated and resynthesized male social rumbles to simulate large and small individuals (based on different formant values) to quantify whether this phenotypic information efficiently transmits over long distances. To examine transmission efficiency and the potential influences of ecological factors, we broadcasted and re-recorded rumbles at distances of up to 1.5 km in two different habitats at the Addo Elephant National Park, South Africa. Our results show that rumbles were affected by spectral–temporal degradation over distance. Interestingly and unlike previous findings, the transmission of formants was better than that of the fundamental frequency. Our findings demonstrate the importance of formant frequencies for the efficiency of rumble propagation and the transmission of information content in a savanna elephant's natural habitat.
View Full-Text
►

▼

Show Figures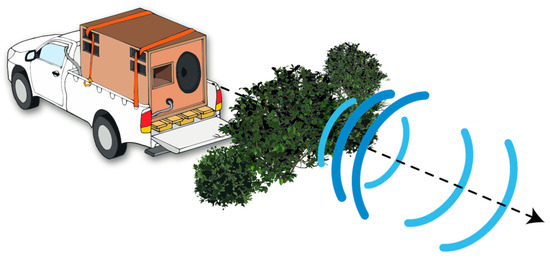 Figure 1
This is an open access article distributed under the
Creative Commons Attribution License
which permits unrestricted use, distribution, and reproduction in any medium, provided the original work is properly cited

Note that from the first issue of 2016, MDPI journals use article numbers instead of page numbers. See further details
here
.