Impact of Feed Delivery Pattern on Aerial Particulate Matter and Behavior of Feedlot Cattle †
1
Department of Animal and Food Sciences, Texas Tech University, Lubbock, TX 79409, USA
2
Livestock Issues Research Unit, USDA-ARS, Lubbock, TX 79409, USA
3
Julie Morrow passed away; however, she has played a critical role in the completion of this work.
*
Author to whom correspondence should be addressed.
Academic Editor: Clive J. C. Phillips
Received: 15 August 2016 / Revised: 13 February 2017 / Accepted: 25 February 2017 / Published: 1 March 2017
Abstract
Fine particulate matter with less than 2.5 microns diameter (PM
2.5
) generated by cattle in feedlots is an environmental pollutant and a potential human and animal health issue. The objective of this study was to determine if a feeding schedule affects cattle behaviors that promote PM
2.5
in a commercial feedlot. The study used 2813 crossbred steers housed in 14 adjacent pens at a large-scale commercial West Texas feedlot. Treatments were conventional feeding at 0700, 1000, and 1200 (CON) or feeding at 0700, 1000, and 1830 (ALT), the latter feeding time coincided with dusk. A mobile behavior lab was used to quantify behaviors of steers that were associated with generation of PM
2.5
(e.g., fighting, mounting of peers, and increased locomotion). PM
2.5
samplers measured respirable particles with a mass median diameter ≤2.5 μm (PM
2.5
) every 15 min over a period of 7 d in April and May. Simultaneously, the ambient temperature, humidity, wind speed and direction, precipitation, air pressure, and solar radiation were measured with a weather station. Elevated downwind PM
2.5
concentrations were measured at dusk, when cattle that were fed according to the ALT vs. the CON feeding schedule, demonstrated less PM
2.5
-generating behaviors (
p
< 0.05). At dusk, steers on ALT vs. CON feeding schedules ate or were waiting to eat (standing in second row behind feeding cattle) at much greater rates (
p
< 0.05). Upwind PM
2.5
concentrations were similar between the treatments. Downwind PM
2.5
concentrations averaged over 24 h were lower from ALT compared with CON pens (0.072 vs. 0.115 mg/m
3
,
p
< 0.01). However, dry matter intake (DMI) was less (
p
< 0.05), and average daily gain (ADG) tended to be less (
p
< 0.1) in cattle that were fed according to the ALT vs. the CON feeding schedules, whereas feed efficiency (aka gain to feed, G:F) was not affected. Although ALT feeding may pose a challenge in feed delivery and labor scheduling, cattle exhibited fewer PM
2.5
-generating behaviors and reduced generation of PM
2.5
when feed delivery times matched the natural desires of cattle to eat in a crepuscular pattern.
View Full-Text
►

▼

Figures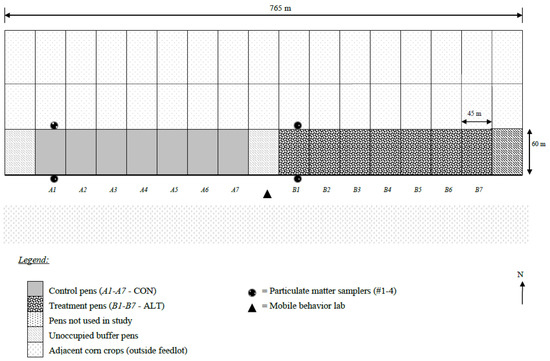 Figure 1
This is an open access article distributed under the
Creative Commons Attribution License
which permits unrestricted use, distribution, and reproduction in any medium, provided the original work is properly cited (CC BY 4.0).

Share & Cite This Article
MDPI and ACS Style
Mitloehner, F.M.; Dailey, J.W.; Morrow, J.L.; McGlone, J.J. Impact of Feed Delivery Pattern on Aerial Particulate Matter and Behavior of Feedlot Cattle †. Animals 2017, 7, 14.
Note that from the first issue of 2016, MDPI journals use article numbers instead of page numbers. See further details here.
Related Articles
Comments
[Return to top]