Establishing Bedding Requirements during Transport and Monitoring Skin Temperature during Cold and Mild Seasons after Transport for Finishing Pigs
1
Department of Animal and Food Sciences, Texas Tech University, Lubbock, TX 79409, USA
2
Department of Animal Science, Iowa State University, Ames, IA 50011, USA
*
Author to whom correspondence should be addressed.
Received: 9 January 2014 / Revised: 13 March 2014 / Accepted: 9 May 2014 / Published: 21 May 2014
Simple Summary
Typically, bedding is used to improve pig comfort and welfare during transport. This study assesses the level of bedding required during transport of finishing pigs in semi-truck trailers. The present study shows that adding more than six bales/trailer of bedding in cold weather and more than three bales/trailer of bedding in mild weather provides no benefit to the pigs. Economic forces would not favor increased bedding with no benefit. Use of infrared thermography may provide a useful tool to indicate when cooling interventions are needed during warm weather.
The broad aim of this study was to determine whether bedding level in the transport trailer influenced pig performance and welfare. Specifically, the objective was to define the bedding requirements of pigs during transportation in commercial settings during cold and mild weather. Animals (n = 112,078 pigs on 572 trailers) used were raised in commercial finishing sites and transported in trailers to commercial processing plants. Dead on arrival (DOA), non-ambulatory (NA), and total dead and down (D&D) data were collected and skin surface temperatures of the pigs were measured by infrared thermography. Data were collected during winter (Experiment 1) and fall/spring (Experiment 2). Total D&D percent showed no interaction between bedding level and outside air temperature in any experiments. Average skin surface temperature during unloading increased with outside air temperature linearly in both experiments (
P
< 0.01). In conclusion, over-use of bedding may be economically inefficient. Pig skin surface temperature could be a useful measure of pig welfare during or after transport.
View Full-Text
►

▼

Show Figures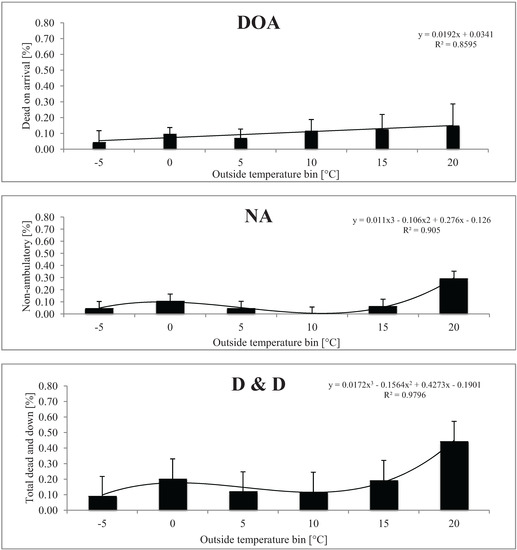 Figure 1

MDPI and ACS Style
McGlone, J.; Johnson, A.; Sapkota, A.; Kephart, R. Establishing Bedding Requirements during Transport and Monitoring Skin Temperature during Cold and Mild Seasons after Transport for Finishing Pigs. Animals 2014, 4, 241-253.
Show more citation formats
Show less citations formats