Effect of Corn Dried Distiller Grains with Solubles (DDGS) in Dairy Cow Diets on Manure Bioenergy Production Potential
Agriculture and Agri-Food Canada, 2000 College Street, Sherbrooke, Quebec, J1M 0C8, Canada
*
Author to whom correspondence should be addressed.
Received: 4 December 2013 / Revised: 22 January 2014 / Accepted: 26 February 2014 / Published: 5 March 2014
Simple Summary
Among the measures proposed to reduce environmental pollution from the livestock sector, animal nutrition has a strong potential to reduce enteric and manure storages methane emissions. Changes in diet composition also affect the bioenergy potential of dairy manures. Corn dried distillers grains with solubles (DDGS), which are rich in fat, can be included in animal diets to reduce enteric methane (CH4) emissions, while increasing the bioenergy potential of the animal manure during anaerobic digestion. The inclusion of 30% DDGS in the cow diet caused a significant increase of 14% in daily bioenergy production (NL methane day−1·cow−1).
The main objective of this study was to obtain scientifically sound data on the bioenergy potential of dairy manures from cows fed different levels of corn dried distillers grains with solubles (DDGS). Three diets differing in corn DDGS content were formulated: 0% corn DDGS (DDGS0; control diet), 10% corn DDGS (DDGS10) and 30% corn DDGS (DDGS30). Bioenergy production was determined in psychrophilic (25 ± 1 °C) sequencing batch reactors (SBRs) fed 3 g COD L
−1
·day
−1
during a two-week feeding period followed by a two-week react period. Compared to the control diet, adding DDGS10 and DDGS30 to the dairy cow diet increased the daily amount of fat excreted in slurry by 29% and 70%, respectively. The addition of DDGS30 increased the cows' daily production of fresh feces and slurry by 15% and 11%, respectively. Furthermore, the incorporation of DDGS30 in the diet increased the daily amounts of dry matter (DM), volatile solids (VS), neutral detergent fiber (NDF), acid detergent fiber (ADF) and hemicellulose by 18%, 18%, 30%, 15% and 53%, respectively, compared to the control diet. While the addition of DDGS did not significantly affect the specific CH
4
production per kg VS compared to the control diet, DDGS30 increased the per cow daily CH
4
production by 14% compared to the control diet.
View Full-Text
►

▼

Show Figures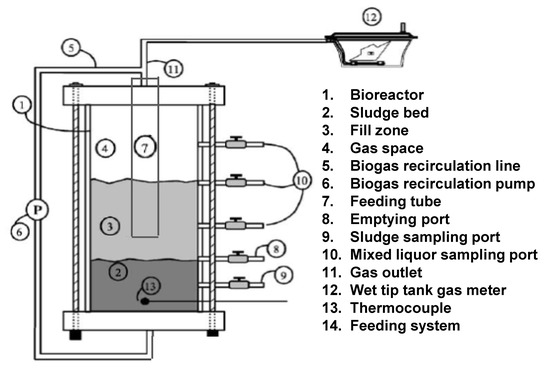 Figure 1

MDPI and ACS Style
Massé, D.I.; Jarret, G.; Benchaar, C.; Saady, N.M.C. Effect of Corn Dried Distiller Grains with Solubles (DDGS) in Dairy Cow Diets on Manure Bioenergy Production Potential. Animals 2014, 4, 82-92.
Show more citation formats
Show less citations formats