Effectiveness of Gel Repellents on Feral Pigeons
Department of Biomedicine, University of Basel, Pestalozzistrasse 20, 4056 Basel, Switzerland
*
Author to whom correspondence should be addressed.
Received: 30 October 2013 / Revised: 12 December 2013 / Accepted: 12 December 2013 / Published: 19 December 2013
Simple Summary
Feral pigeons live in close association in urban areas. They constitute serious health risks to humans and also lead to high economic loss due to costly damage to buildings, historic monuments, statues and even vegetation. While numerous avian repellent systems are regularly introduced onto the market, scientific proof of efficacy and their use from the point of view of animal welfare is lacking. Therefore, two avian gel repellents were studied on free-living feral pigeons in this study. The focus was set on repellent efficacy and animal welfare concerns. This study's aim is to contribute to a better understanding of feral pigeon management in our cities.
Abstract
Millions of feral pigeons (
Columba livia
) live in close association with the human population in our cities. They pose serious health risks to humans and lead to high economic loss due to damage caused to buildings. Consequently, house owners and city authorities are not willing to allow pigeons on their buildings. While various avian repellents are regularly introduced onto the market, scientific proof of efficacy is lacking. This study aimed at testing the effectiveness of two avian gel repellents and additionally examined their application from animal welfare standpoint. The gels used an alleged tactile or visual aversion of the birds, reinforced by additional sensory cues. We mounted experimental shelves with the installed repellents in a pigeon loft and observed the behavior of free-living feral pigeons towards the systems. Both gels showed a restricted, transient repellent effect, but failed to prove the claimed complete effectiveness. Additionally, the gels' adhesive effect remains doubtful in view of animal welfare because gluing of plumage presents a risk to feral pigeons and also to other non-target birds. This study infers that both gels lack the promised complete efficacy, conflict with animal welfare concerns and are therefore not suitable for feral pigeon management in urban areas.
View Full-Text
►

▼

Figures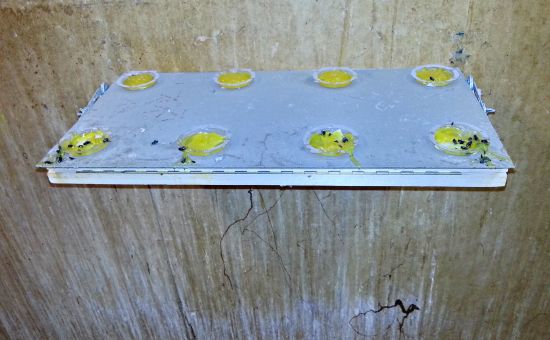 Graphical abstract

Share & Cite This Article
MDPI and ACS Style
Stock, B.; Haag-Wackernagel, D. Effectiveness of Gel Repellents on Feral Pigeons. Animals 2014, 4, 1-15.
Related Articles
Comments
[Return to top]