SARS-CoV-2, a Threat to Marine Mammals? A Study from Italian Seawaters
1
Istituto Zooprofilattico Sperimentale del Piemonte, Liguria e Valle d'Aosta, 10154 Torino, Italy
2
Department of Comparative Biomedicine and Food Science, University of Padua, Legnaro, 35020 Padua, Italy
3
Institute for Animal Health and Food Safety (IUSA), Veterinary School, University of Las Palmas de Gran Canaria, Las Palmas de Gran Canaria, 35416 Canary Islands, Spain
4
Faculty of Veterinary Medicine, University of Teramo, Strada Provinciale 18 Località Piano d'Accio, 64100 Teramo, Italy
5
Italian National Institute for Environmental Protection and Research (ISPRA), via Vitaliano Brancati 60, 00144 Rome, Italy
*
Authors to whom correspondence should be addressed.
Academic Editor: Øivind Bergh
Received: 10 May 2021
/
Revised: 26 May 2021
/
Accepted: 29 May 2021
/
Published: 3 June 2021
Simple Summary
Growing concern exists that SARS-CoV-2, as has already been ascertained for its SARS-CoV and MERS-CoV "predecessors", originated from an animal "reservoir", thereafter spilling over into mankind, possibly anticipated by a viral "passage" into a secondary animal host. Within the dramatic SARS-CoV-2 pandemic context, hitherto characterized by over 110 million cases and almost 2,500,000 deaths on a global scale, several domestic and wild animal species have been reported as being susceptible to natural and/or experimental SARS-CoV-2 infection. In this respect, while some marine mammal species are deemed as potentially susceptible to SARS-CoV-2 infection on the basis of the sequence homology of their ACE-2 viral receptor with the human one, this study addresses this critical issue in stranded sea mammal specimens.
Zoonotically transmitted coronaviruses were responsible for Severe Acute Respiratory Syndrome Coronavirus-2 (SARS-CoV-2), causing the dramatic Coronavirus Disease-2019 (CoViD-19) pandemic, which affected public health, the economy, and society on a global scale. The impact of the SARS-CoV-2 pandemic permeated into our environment and wildlife as well; in particular, concern has been raised about the viral occurrence and persistence in aquatic and marine ecosystems. The discharge of untreated wastewaters carrying infectious SARS-CoV-2 into natural water systems that are home to sea mammals may have dramatic consequences on vulnerable species. The efficient transmission of coronaviruses raises questions regarding the contributions of virus-receptor interactions. The main receptor of SARS-CoV-2 is Angiotensin Converting Enzyme-2 (ACE-2), serving as a functional receptor for the viral spike (S) protein. This study aimed, through the comparative analysis of the ACE-2 receptor with the human one, at assessing susceptibility to SARS-CoV-2 for different species of marine mammals living in Italian waters. We also determined, by means of immunohistochemistry, ACE-2 receptor localization in the lung tissue from different cetacean species, in order to provide a preliminary characterization of ACE-2 expression in the marine mammal respiratory tracts. Furthermore, to evaluate if and how Italian wastewater management and coastal exposition to extreme weather events may led to susceptible marine mammal populations being exposed to SARS-CoV-2, geomapping data were carried out and overlapped. The results showed the potential SARS-CoV-2 exposure for marine mammals inhabiting Italian coastal waters, putting them at risk when swimming and feeding in specific risk areas. Thus, we highlighted the potential hazard of the reverse zoonotic transmission of SARS-CoV-2 infection, along with its impact on marine mammals regularly inhabiting the Mediterranean Sea, while also stressing the need for appropriate action in order to prevent further damage to specific vulnerable populations.
View Full-Text
►

▼

Show Figures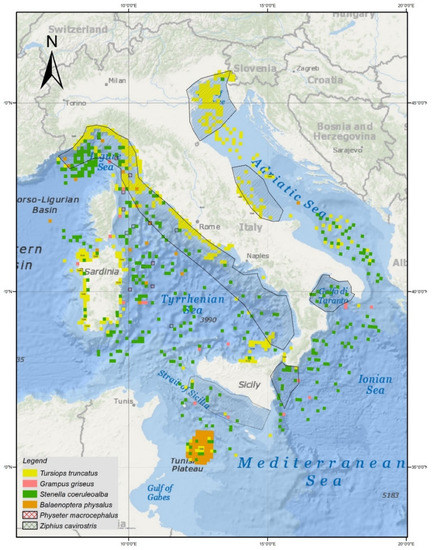 Figure 1
This is an open access article distributed under the
Creative Commons Attribution License
which permits unrestricted use, distribution, and reproduction in any medium, provided the original work is properly cited

MDPI and ACS Style
Audino, T.; Grattarola, C.; Centelleghe, C.; Peletto, S.; Giorda, F.; Florio, C.L.; Caramelli, M.; Bozzetta, E.; Mazzariol, S.; Di Guardo, G.; Lauriano, G.; Casalone, C. SARS-CoV-2, a Threat to Marine Mammals? A Study from Italian Seawaters. Animals 2021, 11, 1663. https://doi.org/10.3390/ani11061663
AMA Style
Audino T, Grattarola C, Centelleghe C, Peletto S, Giorda F, Florio CL, Caramelli M, Bozzetta E, Mazzariol S, Di Guardo G, Lauriano G, Casalone C. SARS-CoV-2, a Threat to Marine Mammals? A Study from Italian Seawaters. Animals. 2021; 11(6):1663. https://doi.org/10.3390/ani11061663
Chicago/Turabian Style
Audino, Tania, Carla Grattarola, Cinzia Centelleghe, Simone Peletto, Federica Giorda, Caterina L. Florio, Maria Caramelli, Elena Bozzetta, Sandro Mazzariol, Giovanni Di Guardo, Giancarlo Lauriano, and Cristina Casalone. 2021. "SARS-CoV-2, a Threat to Marine Mammals? A Study from Italian Seawaters" Animals 11, no. 6: 1663. https://doi.org/10.3390/ani11061663
Note that from the first issue of 2016, MDPI journals use article numbers instead of page numbers. See further details
here
.