Chronic Wasting Due to Liver and Rumen Flukes in Sheep
1
Institute for Parasitology and Tropical Veterinary Medicine, Freie Universität Berlin, Robert-von-Ostertag-Str. 7-13, 14163 Berlin, Germany
2
Clinic for Swine and Small Ruminants, Forensic Medicine and Ambulatory Service, University of Veterinary Medicine Hannover, Foundation, Bischofsholer Damm 15, 30173 Hannover, Germany
*
Author to whom correspondence should be addressed.
Academic Editor: Delia Lacasta
Received: 28 December 2020 / Revised: 12 February 2021 / Accepted: 17 February 2021 / Published: 19 February 2021
Simple Summary
Chronic wasting in sheep is often related to parasitic infections, especially to infections with several species of trematodes. Trematodes, or "flukes", are endoparasites, which infect different organs of their hosts (often sheep, goats and cattle, but other grazing animals as well as carnivores and birds are also at risk of infection). The body of an adult fluke has two suckers for adhesion to the host's internal organ surface and for feeding purposes. Flukes cause harm to the animals by subsisting on host body tissues or fluids such as blood, and by initiating mechanical damage that leads to impaired vital organ functions. The development of these parasites is dependent on the occurrence of intermediate hosts during the life cycle of the fluke species. These intermediate hosts are often invertebrate species such as various snails and ants. This manuscript provides an insight into the distribution, morphology, life cycle, pathology and clinical symptoms caused by infections of liver and rumen flukes in sheep. Furthermore, we address the diagnosis, treatment and prevention measures, as well as the current knowledge about genomic resources.
Grazing sheep and goats are constantly exposed to helminth infections in many parts of the world, including several trematode species that causes a range of clinical diseases. The clinical picture of flukes is dependent upon the organs in which they develop and the tissues they damage within the respective organs. Accordingly, infections with the common liver fluke
Fasciola hepatica
, which, as juvenile worm migrates through the liver parenchyma for several weeks, may be associated with hepatic disorders such as impairment of carbohydrate, protein and fat metabolism, followed by chronic wasting. In contrast, the lancet fluke
Dicrocoelium dendriticum
, which does not exhibit tissue migration and thus does not lead to major tissue damage and bleeding, also does not lead to significant clinical symptoms. Rumen flukes such as
Cotylophoron daubneyi
cause catarrhal inflammation during their migration through the intestinal and abomasal epithelium during its juvenile stages. Depending on the infection intensity this may result in a range of clinical symptoms including diarrhoea, inappetence or emaciation. In this review, we aim to provide an update on the current knowledge on flukes particularly concerning the clinical relevance of the most important fluke species in sheep.
View Full-Text
►

▼

Show Figures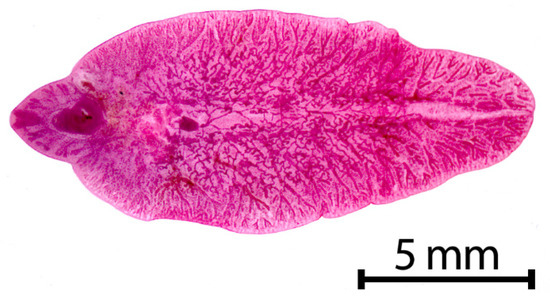 Figure 1
This is an open access article distributed under the
Creative Commons Attribution License
which permits unrestricted use, distribution, and reproduction in any medium, provided the original work is properly cited

MDPI and ACS Style
Kahl, A.; von Samson-Himmelstjerna, G.; Krücken, J.; Ganter, M. Chronic Wasting Due to Liver and Rumen Flukes in Sheep. Animals 2021, 11, 549. https://doi.org/10.3390/ani11020549
AMA Style
Kahl A, von Samson-Himmelstjerna G, Krücken J, Ganter M. Chronic Wasting Due to Liver and Rumen Flukes in Sheep. Animals. 2021; 11(2):549. https://doi.org/10.3390/ani11020549
Chicago/Turabian Style
Kahl, Alexandra, Georg von Samson-Himmelstjerna, Jürgen Krücken, and Martin Ganter. 2021. "Chronic Wasting Due to Liver and Rumen Flukes in Sheep" Animals 11, no. 2: 549. https://doi.org/10.3390/ani11020549
Note that from the first issue of 2016, MDPI journals use article numbers instead of page numbers. See further details
here
.