Role of Dietary Fiber in Poultry Nutrition
Department of Poultry Science, University of Georgia, Athens, GA 30602, USA
*
Author to whom correspondence should be addressed.
Academic Editor: Sylwester Swiatkiewicz
Received: 6 January 2021 / Revised: 31 January 2021 / Accepted: 5 February 2021 / Published: 9 February 2021
Simple Summary
Dietary fiber is an inherent compound found in common vegetables that are fed to broiler chickens. Fiber has the ability to scape digestion and absorption in the small intestine, which makes it able to affect the way other nutrients are absorbed and metabolized in the gastrointestinal tract. The functionality attributed to fiber varies based on chemical and physical structure, and most of the time, it is hard to make a clear differentiation among attributes due to the complexity of carbohydrates found in common feedstuffs. Data on the effect of dietary fiber have been gaining importance due to the use of grains for ethanol production and the search for feed alternatives that could help in sustainable and cost-effective broiler production. Therefore, it is paramount to integrate the current knowledge on the nutritional and physiological attributes of dietary fiber in poultry diets to be able to make correct use of fibrous feedstuffs.
Dietary fiber (DF) is an intrinsic component in plant feedstuffs that has been associated with physiological, structural, and functional changes in the gastrointestinal tract. DF is composed of non-starch polysaccharides (NSP), oligosaccharides, and lignin that scape digestion and enzymatic hydrolysis. In general terms, fiber can be classified as insoluble or soluble based on their solubility in water. Both fiber types have direct nutritional implications in broiler diets. Inclusion of insoluble DF in broiler diets modulates intestinal morphology, digestive organ development, nutrient absorption, growth performance, and intestinal microbiota. Soluble DF is thought to increase intestinal viscosity and is associated with negative changes in intestinal microflora and reduction in nutrient absorption. Nevertheless, there is a group of soluble fibers, integrated by oligosaccharides, that function as prebiotics positively modulating intestinal microbiota. Due to the changes in chemical structure and subsequent variation in functionality, it is a difficult task to assign clear attributes to DF as a whole. Therefore, the following review paper compiles data from research conducted using DF and tries to unify such information into practical decisions to be considered when using DF as a functional nutrient in poultry nutrition.
View Full-Text
►

▼

Show Figures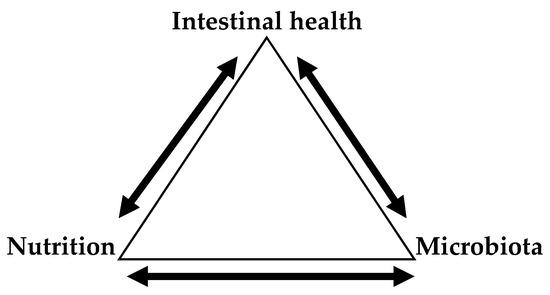 Figure 1
This is an open access article distributed under the
Creative Commons Attribution License
which permits unrestricted use, distribution, and reproduction in any medium, provided the original work is properly cited

MDPI and ACS Style
J. Tejeda, O.; K. Kim, W. Role of Dietary Fiber in Poultry Nutrition. Animals 2021, 11, 461. https://doi.org/10.3390/ani11020461
AMA Style
J. Tejeda O, K. Kim W. Role of Dietary Fiber in Poultry Nutrition. Animals. 2021; 11(2):461. https://doi.org/10.3390/ani11020461
Chicago/Turabian Style
J. Tejeda, Oscar, and Woo K. Kim. 2021. "Role of Dietary Fiber in Poultry Nutrition" Animals 11, no. 2: 461. https://doi.org/10.3390/ani11020461
Note that from the first issue of 2016, MDPI journals use article numbers instead of page numbers. See further details
here
.