Effects of Pre-Cooling on Thermophysiological Responses in Elite Eventing Horses
1
Department of Human Movement Sciences, Faculty of Behavioural and Movement Sciences, Vrije Universiteit Amsterdam, Amsterdam Movement Sciences, Van der Boechorststraat 7-9, 1081 BT Amsterdam, The Netherlands
2
Department of Clinical Sciences, Faculty of Veterinary Medicine, Utrecht University, Yalelaan 112, 3584 CM Utrecht, The Netherlands
3
Department of Population Health Sciences, Utrecht University, Yalelaan 7, 3584 CL Utrecht, The Netherlands
4
Moxie Sport Analysis & Coaching, Looieind 1, 5469 Erp, The Netherlands
*
Author to whom correspondence should be addressed.
Received: 15 July 2020 / Revised: 28 August 2020 / Accepted: 7 September 2020 / Published: 16 September 2020
Simple Summary
Horses have a high metabolic capacity for exercise, producing a great deal of heat, and have a small surface area for heat loss. Under limited circumstances, the regulation of heat loss (i.e., across the respiratory tract and by the evaporation of sweat) means heat build-up in the body is reduced. Thermoregulation can be assisted by cooling the horses down to safely perform exercise in thermally challenging environments. The present study showed that pre-cooling (i.e., cooling between the warm-up and exercise performance) slightly reduced the rise in rectal, shoulder and rump skin temperatures of ten international eventing horses during moderately intense canter training in moderate environmental conditions. During the canter training, heart rate, sweat rate and sweat composition were unaffected by pre-cooling. The pre-cooling strategy chosen here was cold-water rinsing for a short period of time (~8 min). Considering the limited time and space at equestrian events, such a pre-cooling strategy could easily be implemented. Reducing heat strain by pre-cooling may potentially improve equine welfare during events.
In this study, we examined the effects of pre-cooling on thermophysiological responses in horses exercising in moderate environmental conditions (average wet bulb globe temperature: 18.5 ± 3.8 °C). Ten international eventing horses performed moderate intensity canter training on two separate days, and were either pre-cooled with cold-water rinsing (5–9 °C for 8 ± 3 min; cooling) or were not pre-cooled (control). We determined velocity (V), heart rate (HR), rectal temperature (T
re,
), shoulder and rump skin temperature (T
shoulder
and T
rump
), plasma lactate concentration (LA), gross sweat loss (GSL), and local sweat rate (LSR), as well as sweat sodium, chloride and potassium concentrations. The effect of pre-cooling on T
re
was dependent on time; after 20 min of exercise the effect was the largest (estimate: 0.990, 95% likelihood confidence intervals (95% CI): 0.987, 0.993) compared to the control condition, resulting in a lower median T
re
of 0.3 °C. Skin temperature was also affected by pre-cooling compared to the control condition (T
shoulder
: −3.30 °C, 95% CI: −3.739, −2.867; T
rump
: −2.31 °C, 95% CI: −2.661, −1.967). V, HR, LA, GSL, LSR and sweat composition were not affected by pre-cooling. In conclusion, pre-cooling by cold-water rinsing could increase the margin for heat storage, allowing a longer exercise time before a critical T
re
is reached and, therefore, could potentially improve equine welfare during competition.
View Full-Text
►

▼

Show Figures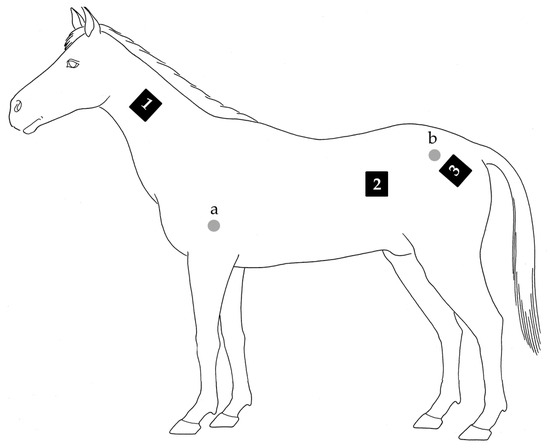 Figure 1
This is an open access article distributed under the
Creative Commons Attribution License
which permits unrestricted use, distribution, and reproduction in any medium, provided the original work is properly cited

MDPI and ACS Style
Klous, L.; Siegers, E.; van den Broek, J.; Folkerts, M.; Gerrett, N.; van Oldruitenborgh-Oosterbaan, M.S.; Munsters, C. Effects of Pre-Cooling on Thermophysiological Responses in Elite Eventing Horses. Animals 2020, 10, 1664.
Show more citation formats
Show less citations formats
Note that from the first issue of 2016, MDPI journals use article numbers instead of page numbers. See further details
here
.