The Weekend Effect on Urban Bat Activity Suggests Fine Scale Human-Induced Bat Movements
1
Department of Biology, University of North Carolina Greensboro, Greensboro, NC 27412, USA
2
School of Life Sciences, Arizona State University, Tempe, AZ 85281, USA
3
Greensboro Science Center, Greensboro, NC 27455, USA
*
Author to whom correspondence should be addressed.
Received: 13 August 2020 / Revised: 7 September 2020 / Accepted: 8 September 2020 / Published: 11 September 2020
Simple Summary
On weekends, people do things differently from weekdays, such as dining at a restaurant, going to a night club, attending a concert or a sporting event, or simply staying up late. These leisure activities in the city can change the environment people live in and can hurt wildlife that also lives in the same city. We recorded bats in the city center and in the city periphery and compared how active bats were. We found that in the city center, bats were less active on weekends than weekdays. The opposite pattern was found in the city periphery. It is possible that bats moved from the city center to the city periphery on weekends. Thus, continuous greenways are important to facilitate bat movements and avoid human–wildlife conflict. City planners can add new parks and/or preserve old-growth vegetation to form the center-to-periphery greenways.
In the urban environment, wildlife faces novel human disturbances in unique temporal patterns. The weekend effect describes that human activities on weekends trigger changes in the environment and impact wildlife negatively. Reduced occurrence, altered behaviors, and/or reduced fitness have been found in birds, ungulates, and meso-carnivores due to the weekend effect. We aimed to investigate if urban bat activity would differ on weekends from weekdays. We analyzed year-round bat acoustic monitoring data collected from two sites near the city center and two sites in the residential area/park complex in the city periphery. We constructed generalized linear models and found that bat activity was significantly lower on weekends as compared to weekdays during spring and summer at the site in the open space near the city center. In contrast, during the same seasons, the sites in the city periphery showed increased bat activity on weekends. Hourly bat activity overnight suggested that bats might move from the city center to the periphery on weekends. We demonstrated the behavioral adaptability in urban wildlife for co-existing with human. We recommend that urban planning should implement practices such as adding new greenspaces and/or preserving old-growth vegetation to form continuous greenways from the city center to the city periphery as corridors to facilitate bat movements and reduce possible human-wildlife conflict.
View Full-Text
►

▼

Show Figures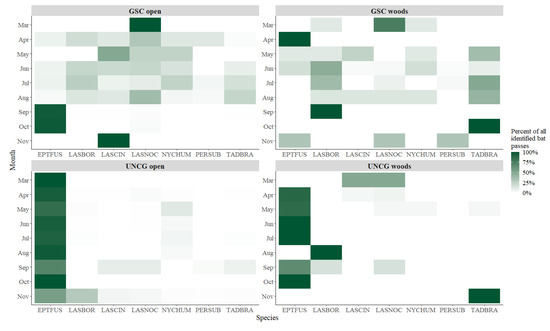 Figure 1
This is an open access article distributed under the
Creative Commons Attribution License
which permits unrestricted use, distribution, and reproduction in any medium, provided the original work is properly cited

MDPI and ACS Style
Li, H.; Crihfield, C.; Feng, Y.; Gaje, G.; Guzman, E.; Heckman, T.; Mellis, A.; Moore, L.; Romo Bechara, N.; Sanchez, S.; Whittington, S.; Wolf, J.G.; Garshong, R.; Morales, K.; Petric, R.; Zarecky, L.A.; Schug, M.D. The Weekend Effect on Urban Bat Activity Suggests Fine Scale Human-Induced Bat Movements. Animals 2020, 10, 1636.
Show more citation formats
Show less citations formats
Note that from the first issue of 2016, MDPI journals use article numbers instead of page numbers. See further details
here
.