Emotion Recognition in Cats
Department of Veterinary Medicine, Animal Physiology and Behavior Unit, University of Bari "Aldo Moro", 70121 Bari, Italy
*
Author to whom correspondence should be addressed.
Received: 31 May 2020
/
Revised: 19 June 2020
/
Accepted: 24 June 2020
/
Published: 28 June 2020
Simple Summary
The ability to perceive other individuals' emotions plays a central role for animals living in social groups. Cats entertain social relationships with individuals of the same species (conspecifics) as well as with humans (heterospecifics). Although previous studies have demonstrated that cats are sensitive to conspecific and human communicative signals, their perception of these species' emotions hasn't been extensively investigated. In the light of this, the aim of the present work was to investigate cats' ability to recognize conspecific and human emotions. Our results demonstrate that cats integrate visual and auditory signals to recognize human and conspecific emotions and they appear to modulate their behavior according to the valence of the emotion perceived. The understanding of cats' socio-cognitive abilities to perceive their close partners' emotions is crucial for improving the quality of human-cat and cat-cat relationships as well as cat welfare in the domestic environment.
Recent studies demonstrated that cats form social bonds with both conspecifics and humans. One of the key factors regulating social interactions is the transfer of emotions between the individuals. The present study aimed at investigating cats' spontaneous ability to match acoustic and visual signals for the recognition of both conspecific and human emotions. Different conspecific (cat "purr" and "hiss") and heterospecific (human "happiness" and "anger") emotional stimuli were presented to the tested population using a cross-modal paradigm. Results showed that cats are able to cross-modally match pictures of emotional faces with their related vocalizations, particularly for emotions of high intensity. Overall, our findings demonstrate that cats have a general mental representation of the emotions of their social partners, both conspecifics and humans.
View Full-Text
►

▼

Show Figures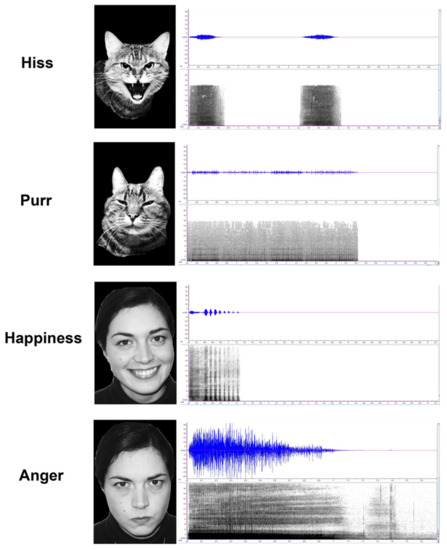 Figure 1
This is an open access article distributed under the
Creative Commons Attribution License
which permits unrestricted use, distribution, and reproduction in any medium, provided the original work is properly cited

MDPI and ACS Style
Quaranta, A.; d'Ingeo, S.; Amoruso, R.; Siniscalchi, M. Emotion Recognition in Cats. Animals 2020, 10, 1107. https://doi.org/10.3390/ani10071107
AMA Style
Quaranta A, d'Ingeo S, Amoruso R, Siniscalchi M. Emotion Recognition in Cats. Animals. 2020; 10(7):1107. https://doi.org/10.3390/ani10071107
Chicago/Turabian Style
Quaranta, Angelo, Serenella d'Ingeo, Rosaria Amoruso, and Marcello Siniscalchi. 2020. "Emotion Recognition in Cats" Animals 10, no. 7: 1107. https://doi.org/10.3390/ani10071107
Note that from the first issue of 2016, MDPI journals use article numbers instead of page numbers. See further details
here
.